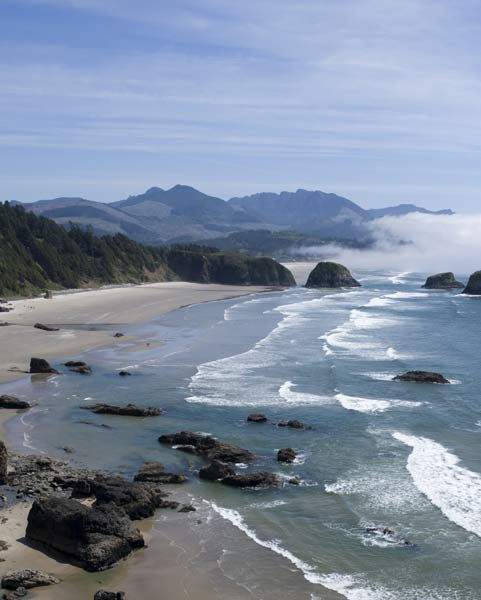 America's Beeriest Beach Towns 2015
Beaches and brews are two of the great staples of summer vacation.
Last year we published the feature "5 of America's Beeriest Beach Towns" and received an overwhelming response from our readers. The story no doubt struck a chord with all those among us who love the smell of the ocean, the sound of the surf and the taste of a fresh beer.
With the dramatic rise in popularity of flavorful, hand-crafted ales and lagers produced by our country's small and independent craft brewers, even remote coastal towns now offer plenty of breweries, brewpubs and bottle shops.
And so, for the summer of 2015, we present five more places to seek out for a beery, beachside getaway:
Bar Harbor, Maine
Everyone should experience the New England coast in summer at some point in their lives—the colonial history and architecture, the seafood, the scenery. And perhaps no place on the eastern seaboard surpasses the beauty of Bar Harbor.
Perched on Mount Desert Island, at the gateway to Acadia National Park, the historic resort town is brimming with charm and gorgeous natural landscapes. Acadia's Sand Beach, which stands out from Maine's otherwise craggy coastline, is a big draw—despite the water's consistent 55-degree temperature.
"It's gorgeous, with the mountains on both sides and the beach right in the middle," says Alf Anderson, an events and development associate with the Bar Harbor Chamber of Commerce. "It's a little cold, but it's gorgeous."
Oh, and the beer. Beer has always been a part of colonial life, and Maine certainly has been ahead of the curve on the American craft scene, going back to the first craft boom of the 1990s.
Today in Bar Harbor, Atlantic Brewing Co. leads the way. Anderson says the brewery's tasting room is the place to be on a Saturday afternoon, though as the largest of Bar Harbor's breweries, Atlantic's beers are "sort of everywhere in town." That includes the wildly popular Bar Harbor Blueberry Ale, a Maine classic.
"I'm not a fruit-beer guy," Anderson concedes, "and I had one the other day for the first time, because I had been holding out, thinking it was probably too sweet. But it's actually a really nice ale with a little bit of a blueberry backbone to it. It was a really nice, drinkable beer."
Built on the grounds of a 19th-century Maine farmstead, Atlantic's 10-acre property includes the brewery's production facility, tasting room and Mainely Meat BBQ eatery. Tours are offered three times daily during the summer season.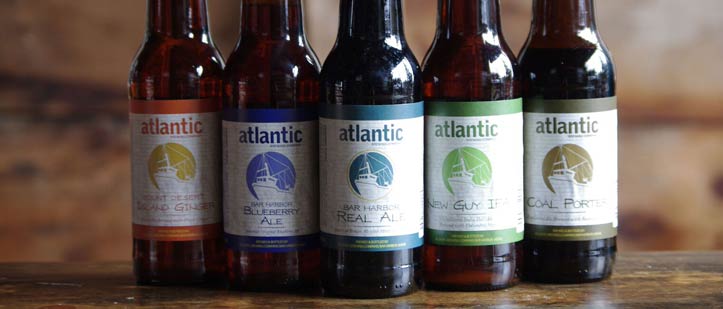 Thirsty Whale and McKay's Public House are among the many go-to bars in Bar Harbor, each with a solid local craft selection. Also check out Seafood Ketch, a waterfront restaurant across the island in Bass Harbor, is also worth a stop—not just for the local brews, but also the inspiring sunsets.
Not into the summer crowds? Visit Bar Harbor in the fall for sublime weather and enjoy the 20th annual Brewfest on Oct. 10 and 11 as part of Acadia's Oktoberfest.
No matter when you visit, though, Bar Harbor's recipe remains the same: "Gorgeous views, delicious lobster and cold, local beer," said Anderson.
Cannon Beach/Seaside, Oregon
Last year we featured Pacific City, Ore., as one of our beeriest beach towns, largely because of the stunning setting of one of Oregon's most acclaimed breweries, Pelican Pub & Brewery.
This time we travel just a bit further up the magnificent Pacific coast on Highway 101, where neighbor towns Cannon Beach and Seaside also play host to some pretty awesome spots to drink craft beer on the beach. While inland cities such as Bend, Hood River and Portland undoubtedly steal the beer spotlight in Oregon, it's not hard to sniff out some excellent craft beer by the sea.
Jeff Kilday has owned the Wine and Beer Haus in Seaside for 16 years. In that time, it's grown from a 100-bottle shop to a selection of more than 500 beers—and still it doesn't seem like enough.
"As Portland groups come out here for vacation, there's more and more need for beer. I think we've seen more people come to the coast that want good beers and need more choice," says Kilday, who also has four rotating Pacific Northwest taps and says he sells boatloads of Worthy Brewing's Worthy Imperial IPA from Bend.
Seaside is a bustling family resort in the summer. Best known for its promenade, which stretches for a mile and a half down the sandy beach, it's the only town on the Oregon coast with a carousel, arcade and fun zone.
Besides the Wine and Beer Haus, check out Seaside Brewing Co., housed in the town's 100-year-old former City Jail Building. And hope that the sought-after Black Dynamite is flowing on draft—it's an 11-percent, 80-IBU stout made with whole vanilla beans, house-roasted organic cacao nibs and a series of specialty malts and oats, then aged in Oregon-distilled bourbon barrels.
Less than a block from the beach is another cool beer spot, U Street Pub & Eatery, which has 15 taps including sours and a nitro version of North Coast's Old Rasputin Imperial Stout from Fort Bragg, Calif.
The more upscale Cannon Beach is a great place to stroll through art galleries or take a hike at beautiful Ecola State Park in between beers. The town also boasts its own brewery, Bill's Tavern and Brewhouse, featuring the tasty Duck Dive Pale Ale and some interesting specialty brews such as Blackberry Beauty.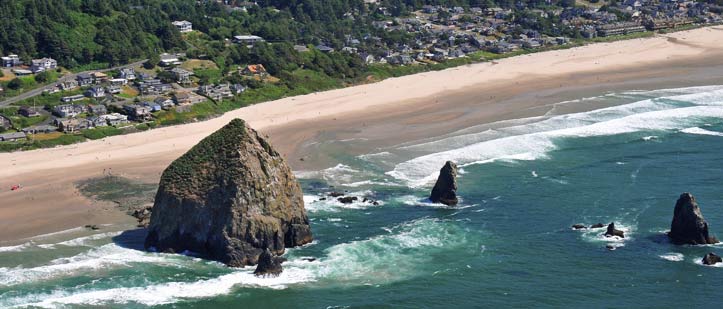 Need some plumbing or garden supplies while on vacation? Then head to the Cannon Beach Hardware and Public House, which Kilday says has "its own little unique personality." It would have to, as a restaurant, bar and hardware store all rolled into one.
By next spring, Cannon Beach will also be home to Pelican Pub & Brewery's third location. Like the original brewery in Pacific City, the venue will have views of an offshore Haystack Rock that rises more than 200 feet from the water.
Honolulu, Hawaii
As if anyone needed more incentive to take in the turquoise waters, pristine beaches and volcanic mountains of the "Aloha State," Hawaii's beer culture is on fire as well.
This is especially true in the capital of Honolulu on Oahu's south shore, where the iconic Waikiki crescent beach is surrounded as much by craft beer as by swaying palm trees. Frothy surf abounds, for sure, and so do glasses of pilsner, saison and pale ale.
"It's a really exploding beer scene there," says Tim Golden, a Hawaii resident who launched the website BeerInHawaii.com. "I mean, it's catching up with the rest of the country, but it's there."
No less than four breweries have opened in Honolulu in the past year alone. Waikiki Brewing Co., located within a quarter-mile of the beach, is housed in one of Cheeseburger Restaurant's unused banquet rooms. The beers range from the lighter blonde ales and hefeweizens one would expect in the tropics, to an IPA and even a black strap molasses porter—indicative of the wide range of styles now found on the island.
The man behind Honolulu's sudden craft movement is Troy Terorotua, a chef who moved to Hawaii from Fort Lauderdale, Fla., in 1997. Terorotua became the beer buyer for Whole Foods Kahala, where he began to bring some quality U.S. craft and international brews into the state, and in May 2012 he opened Hawaii's first true craft-beer bar: Real, a Gastropub.
Terorotua launched Brew'd Craft Pub exactly two years later, and Golden says the two craft-centric bars form the "cornerstones" of Honolulu's beer scene. The lineup at Brew'd includes such mainland stalwarts as Ballast Point, Crooked Stave, Hill Farmstead and Jolly Pumpkin.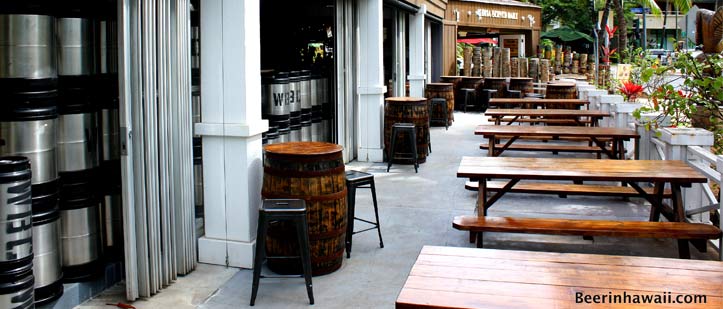 Meanwhile, the beaches on Hawaii's other stunning islands are brimming with beer as well, and Golden says the various beer scenes of the archipelago feed off each other's energy.
If you're on your way to Kona this fall for the Ironman Triathlon World Championships, don't miss Big Island Brewhaus. The brewery scored big in Denver last year with a Great American Beer Festival (GABF) bronze medal for Golden Sabbath, an 8-percent Belgian-style golden strong ale, and a bronze for both Overboard IPA and Golden Sabbath at the World Beer Cup.
"They've got Mexican food there, and the Overboard IPA is very, very good," says Ironman veteran Stefan Judex of Port Jefferson, N.Y. "So is the Red Giant Ale."
San Luis Obispo, California
Is it any wonder a city dubbed "the happiest place in America" also happens to be soaked in craft beer?
Perhaps it's no coincidence that SLO earned that moniker—from none other than Oprah—right around the start of the central California coast's brewing boom. There was a time when tourists taking in the dramatic coastal scenery of Highway 1 had to veer 30 minutes inland to visit the renowned Firestone Walker Brewing Co. Now, however, "beercationers" can enjoy barrells of other breweries throughout SLO County.
"Our region is extremely diverse," says Kylee Jepsen of Visit San Luis Obispo County, "as are the locations of our craft breweries."
It all still begins with Firestone Walker Brewing Co. in Paso Robles. Though smack dab in the middle of wine country, the three-time GABF Mid-size Brewery of the Year has become a destination of its own. But it's not alone anymore—two miles south, check out Barrelhouse Brewing Co., whose half-acre beer garden features a flowing waterfall, picnic tables and a bandstand on the back of a vintage flatbed truck. Barrelhouse is planning a major expansion, and is also is set to open a new 2,000-square-foot, speakeasy-style taproom in the heart of San Luis Obispo's historic downtown.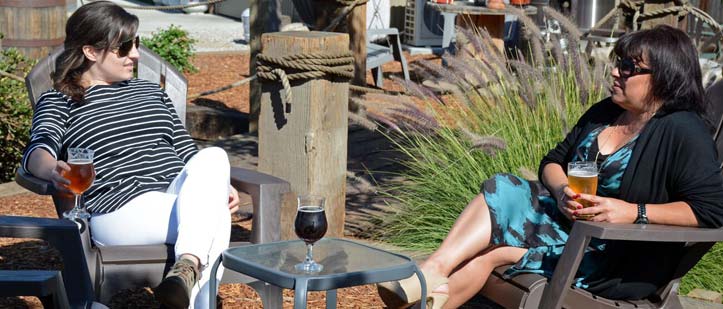 Speaking of SLO itself, beer is springing up everywhere. Seek out the IPA from Tap It Brewing, a 2012 GABF gold medal-winner, and check out Creekside Brewing Co. and Central Coast Brewing, just 10 minutes from the beach.
Tiny Bang the Drum Brewery, which bills itself as the smallest brewery on the Central Coast, produces craft beer and mead on a 15-gallon system—and also, naturally, offers drums for patrons to bang on. Visitors to the funky tasting room can also enjoy a variety of music performers, food trucks, charity fundraisers and craft fairs.
Want a couple pints closer to the sand and surf? The Libertine Pub in Morro Bay specializes in house-brewed, barrel-aged wild ales—including a tart saison brewed with local seawater, hops grown on-site and volcanic rock from the iconic Morro Rock. Shell Beach Brewhouse, with 30 draft beers and nine flat-screen TVs, is also within walking distance of the beach.
For takeout, California Fresh Market in Pismo Beach carries a large selection of local craft brews. Santa Barbara-based Figueroa Mountain Brewing Co. is slated to open another brewery and 6,500-square-foot taproom just a few miles away in Arroyo Grande this summer. In nearby Grover Beach, the beer garden at ManRock Brewing features a giant Jenga set, outdoor heaters and a wood-fired brick pizza oven.
Need more guidance? The recently formed Central Coast Brewers Consortium now puts out a brewery map, and Hop On Beer Tours will take you to all these places via a pub-style limo bus.
For festival-goers, the Seven Sisters Craft Beer & Music Fest will take place July 1-12 at El Chorro Regional Park and Campground on Highway 1 between Morro Bay and SLO, while the Sunset SAVOR the Central Coast food and wine fest, Sept. 26-27 at the historic Santa Margarita Ranch, devotes a courtyard to local brews.
Wilmington, North Carolina
North Carolina is one of the fastest-growing craft beer states in the country, and while Charlotte, Raleigh and Asheville in particular continue to grab all the headlines, no city in the past year has been more responsible for the Tar Heel State's rapid ascension than Wilmington.
Flytrap Brewing, which takes its name from the carnivorous plant that grows in the wild within a 70-mile radius of Wilmington, is among the five new breweries that have opened in Wilmington since 2014. Flytrap's hearty lineup features sours and saisons, while the adventurous Wilmington Brewing Co. offers a wide spectrum of beers from the Amarillo Saison to Coffee Porter and Breakfast Stout.
These newcomers have joined Wilmington mainstay Front Street Brewery, which is celebrating 20 years in 2015. Front Street, whose Kelsie Cole was one of North Carolina's first female head brewers, still anchors the city's beer landscape with three daily tours and full-service restaurant.
There are also many other beer choices within the city limits and on nearby island beaches. Less than seven miles away in Wrightsville Beach, Lighthouse Beer & Wine features more than 400 bottled beers and drafts such as Olde Hickory's Death by Hops and Wicked Weed's Wicked City, which can be enjoyed in an outdoor beer garden. The shop also hosts the annual Lighthouse Beer & Wine Festival in late October.
If you're stocking up in town for a trip to the beach, Bombers Bev Co. bottle shop has now joined Wilmington Brewing Co. as options for crowlers—those handy 32-ounce take-home cans.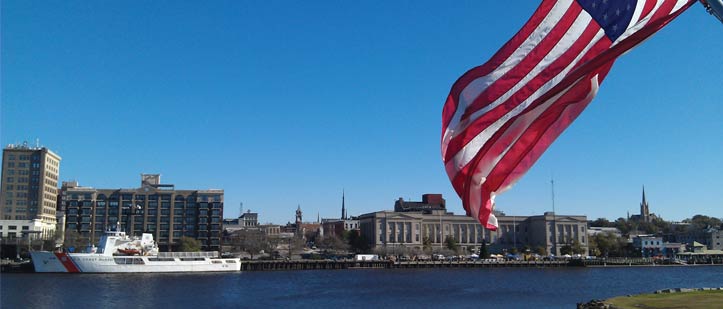 Bombers, one of numerous bottle shops in the greater Wilmington area, is also where the new Port City Brew Bus begins its tours. Brew Bus co-owner Jeremy Tomlinson is stoked about Wilmington's sudden craft beer renaissance. He says a seventh Wilmington-area brewery is expected to open soon, followed by a few more by the end of the year.
"It's such a new scene," Tomlinson says, which means that there hasn't been much time to spread Wilmington's new reputation as a craft beer vacation spot. But with summer as the city's tourist "prime-time", he's confident that word will get around. "We hope that, if not this year then by next year, we will be—for lack of a better term—Asheville on the coast."
CraftBeer.com is fully dedicated to small and independent U.S. breweries. We are published by the Brewers Association, the not-for-profit trade group dedicated to promoting and protecting America's small and independent craft brewers. Stories and opinions shared on CraftBeer.com do not imply endorsement by or positions taken by the Brewers Association or its members.