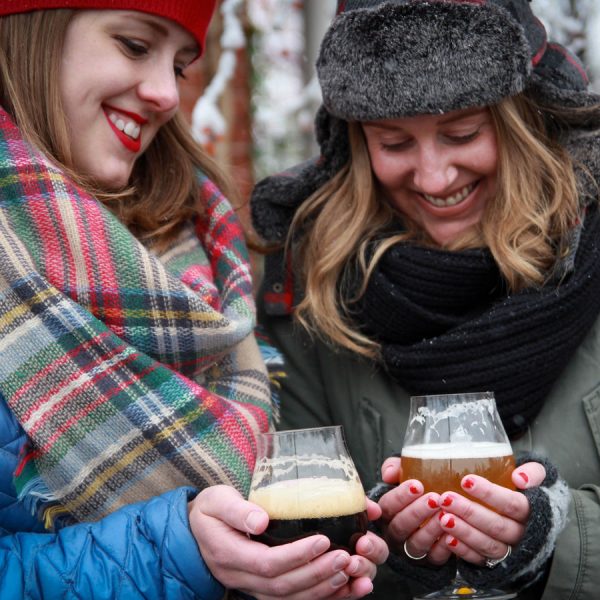 Big Beers to Keep You Cozy This Winter
Don't let anyone tell you that you aren't allowed to drink a stout in the summer or a tropical IPA in the winter. There are no rules when it comes to drinking good beer, other than drink what you want to drink.
(MORE: 8 Barrel Aging Life Lessons)
But when it's blustery outside, and tumbleweeds could roll around on empty brewery porches and patios because everyone's staying inside the tasting rooms, it's the toasty, roasty, chocolatey and barrel aged beers I want in my glass.
(TRAVEL: CraftBeer.com Brewery Finder)
So grab a glass and throw another log on the fire — or more realistically, bump up the thermostat a notch and throw on another blanket and settle in with Netflix. We asked breweries to tell us about their biggest winter releases, and here are the two dozen beers that don't back down on flavor or ABV.
---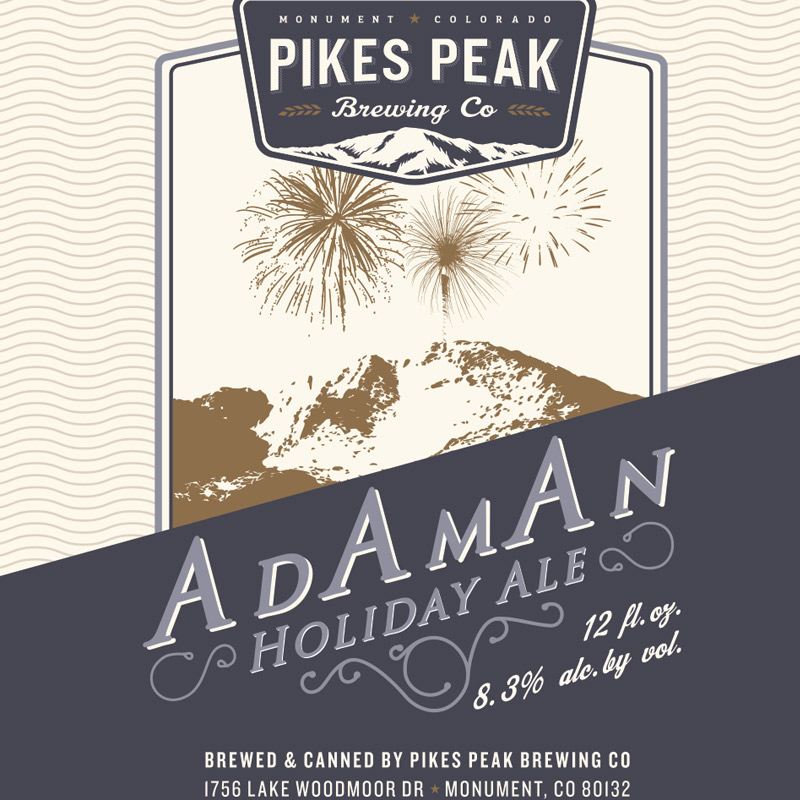 AdAmAn (8.3% ABV) | Pikes Peak Brewing Co. | Monument, CO
Pikes Peak Brewing's winter seasonal is made with honey, cinnamon, orange peel and ginger, and is a tribute to an annual New Year's Eve climb.
"The AdAmAn Club is a unique group of mountaineers, who each year on December 30 and 31, climb the icy slopes of Barr Trail on the east face of world famous Pikes Peak," explains brewery founder and head brewer Chris Wring. "At the stroke of midnight on New Year's Eve, AdAmAn members and their guests ignite a glorious reworks display from the summit to usher in the New Year. Every year one member is added to the club — "add a man" — and they have been making the climb since 1922."
---
Belgian Freeze (8% ABV)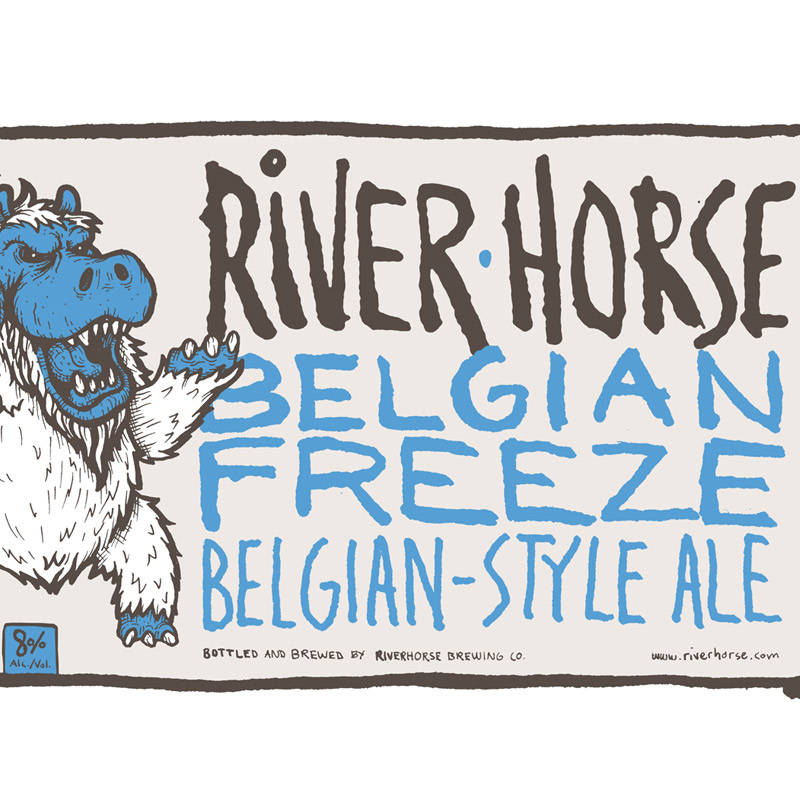 | River Horse Brewing Co. | Ewing, NJ
This Belgian-style ale is made with a variety of malts lending notes of raisin and caramel, combined with Trappist yeast, provide a malty yet spicy remedy that will warm you from the inside — much like the story behind the brewery. Founded by self-described "finance geeks" who felt like they were "living in a world without soul."
"Then this brewery chose us. She forced us to ask ourselves, 'Is this desk job really how I pictured my life?'" explains Andrea Whaley, office manager at River Horse. "We answered that question by taking over River Horse in 2007 and have not looked back. Sometimes, for better or worse, your dreams get the best of you. It's a big world out there and cubicles don't have doors, so you can walk out anytime. Come see us when you can."
---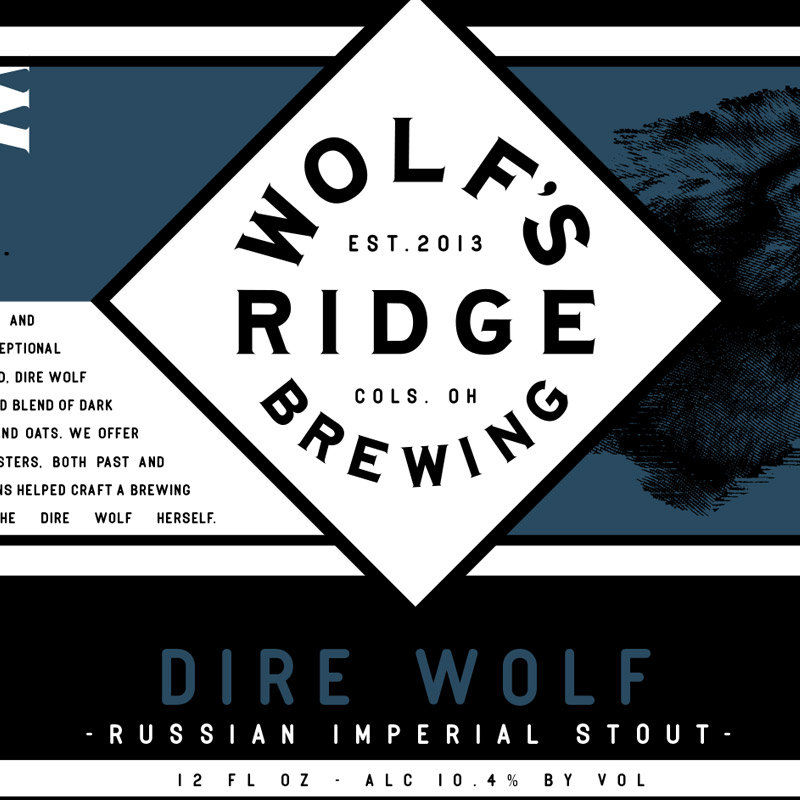 Dire Wolf (10.3% ABV) | Wolf's Ridge Brewing | Columbus, OH
Wolf's Ridge releases special variants of the award-winning Dire Wolf throughout the year, including this bold winter seasonal which blends the flavors of dark chocolates, espresso, caramel, bread and oats.
"We offer this beer as a toast to Ohio brewmasters, both past and present, whose unique cultural traditions helped craft a brewing community as substantial as the Dire Wolf herself," says Chris Davison, head brewer.
This is the first season you can find it in 12 oz. bottles.
---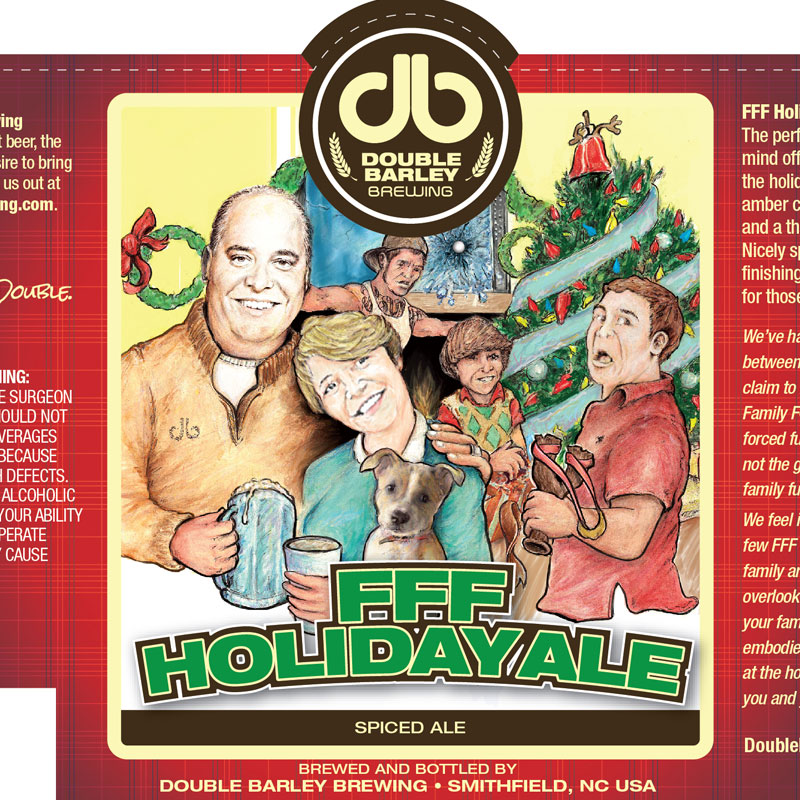 FFF Holiday Ale (10.4% ABV) | Double Barley Brewing | Smithfield, NC
FFF Holiday Ale is a Belgian strong ale with a blend of spices and vanilla extract. The brewery says, "This beer was created not only to represent the holiday season but, more importantly, to help you survive the holiday season! Whether you have one to tolerate the influx of your family or you give one to that annoying uncle so he's more tolerable, this beer will do the trick."
We'll take two, please.
---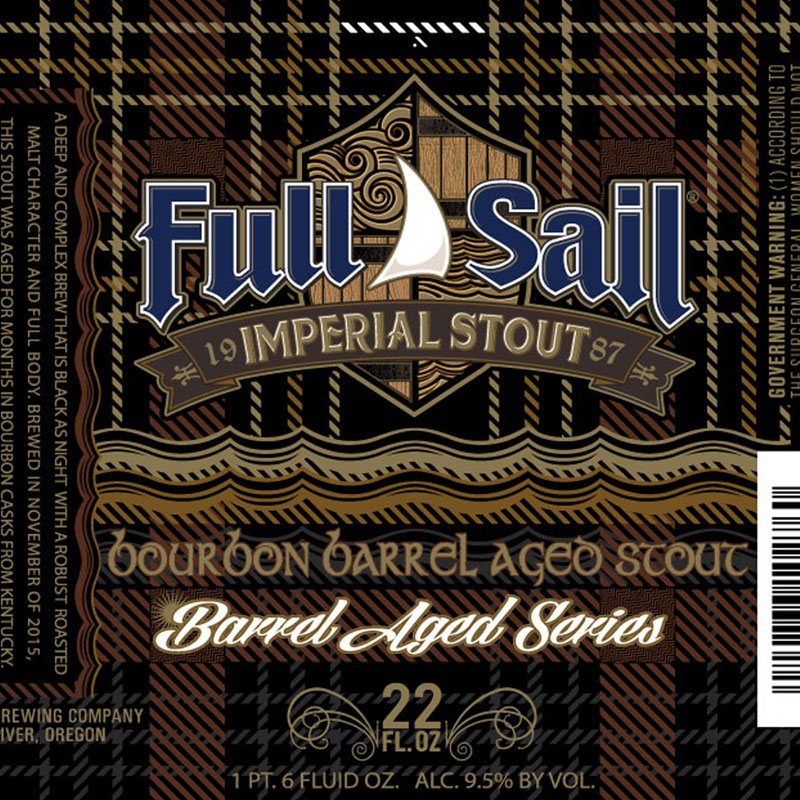 Full Sail Bourbon Imperial Stout | Full Sail Brewing Co. | Hood River, OR
Full Sail says this season's Bourbon Barrel Aged Imperial Stout is "a deep and complex brew that is black as night with a strong roasted malt character and full body." The beer was originally brewed in November 2015, then aged in Wild Turkey bourbon casks straight out of Kentucky. The brewery suggests pairing a glass of its Bourbon Barrel Aged Imperial Stout with steak, braised meat and short ribs, Cascadia Creamery's Glacier Blue or Stilton cheeses, and chocolate and desserts of all kinds — especially vanilla ice cream, pear crisp or cheesecake. Who can argue that?!
---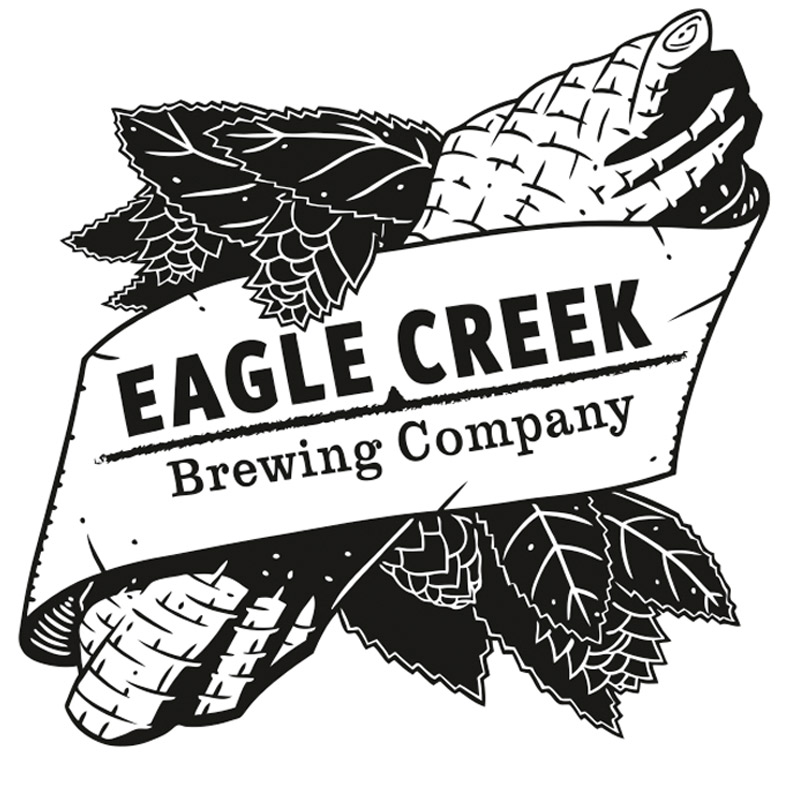 Georgia Porter Authority (11% ABV) | Eagle Creek Brewing Co. | Statesboro, GA
The brewery says this rich, full bodied double porter has aromas of spicy rye malt, chocolate and burnt sugar. Even more chocolate in the flavor as the alcohol burn warms you up.
---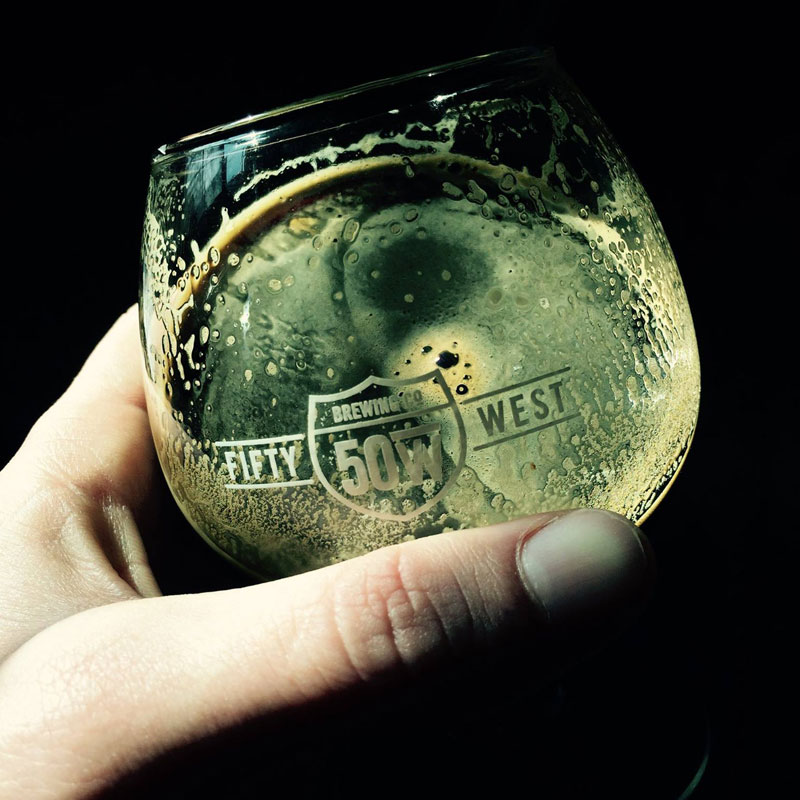 Ghost of Imogene (9% ABV) | Fifty West Brewing Company | Cincinnati, OH
Fifty West Brewing brings a chill to your spine with a bit of a ghost story brewed into its Ghost of Imogene.
"A hauntingly delicious Russian Imperial Stout named after Imogene Remus, who was murdered by her notorious bootlegger husband, George Remus, in Cincinnati's Eden Park," says Tommy Hemmer, director of marketing. "This rich, thick-bodied, malty blend of dark chocolate and burnt sugar flavors has tons of roast and a noticeable alcohol warmth that's good enough to raise the dead."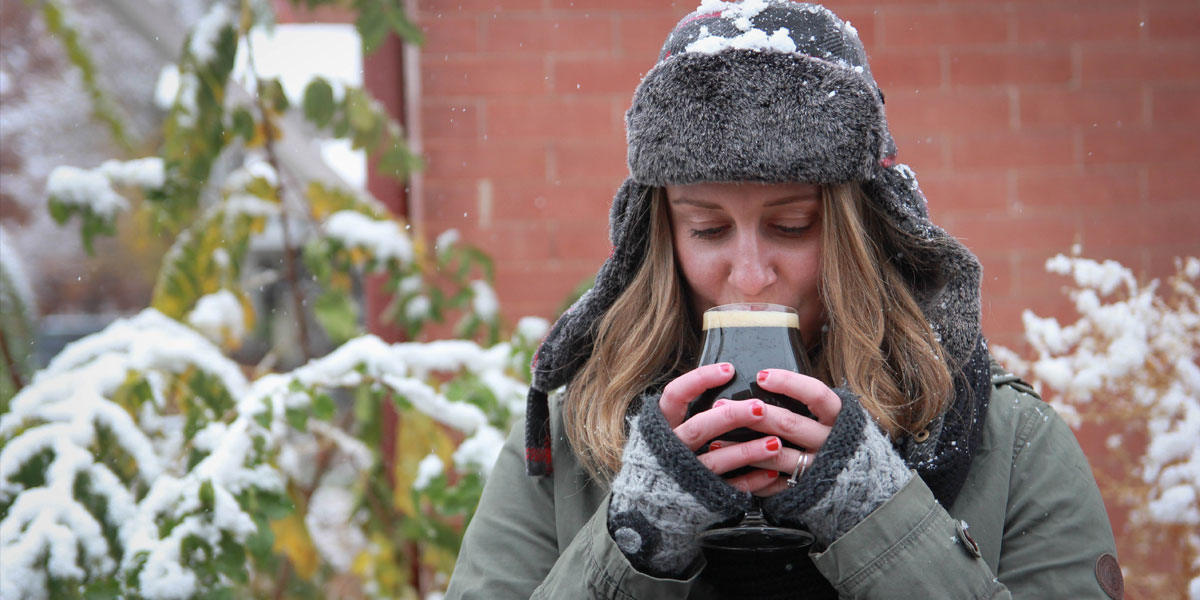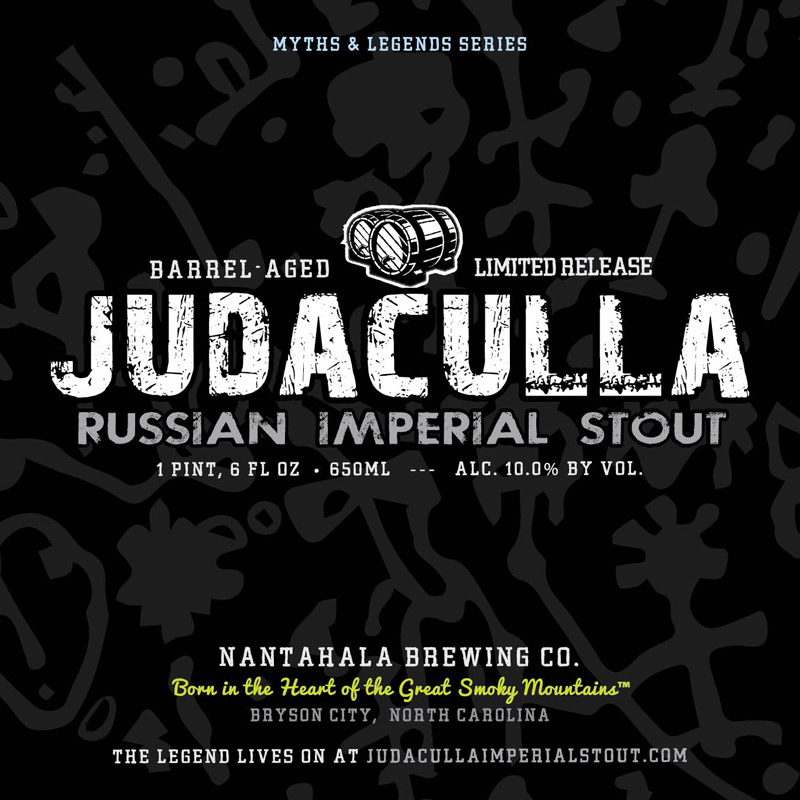 Judaculla (10% ABV) | Nantahala Brewing | Bryson City, NC
Western Carolina's Nantahala Brewing names their big winter stout after a tall tale from the region's mountains. The beer is brewed with a hefty amount of dark specialty malts, local wildflower honey and sorghum syrup, blending the flavor of the Great Smoky Mountains with those of a traditional Russian Imperial Stout.
"According to Cherokee mythology, Judaculla was a giant who inhabited the woods of Western North Carolina. He was a slant-eyed figure with great stature who had seven fingers and toes, a detail that is supported by a mysterious imprint on Judaculla Rock," explains marketing director Abigail Dickinson. "As legend has it, this lord of game once jumped from his home at the Devil's Courthouse, onto this rock, leaving an imprint of his foot. This revered and frightening figure became the subject of many Cherokee hunting rites and rituals."
---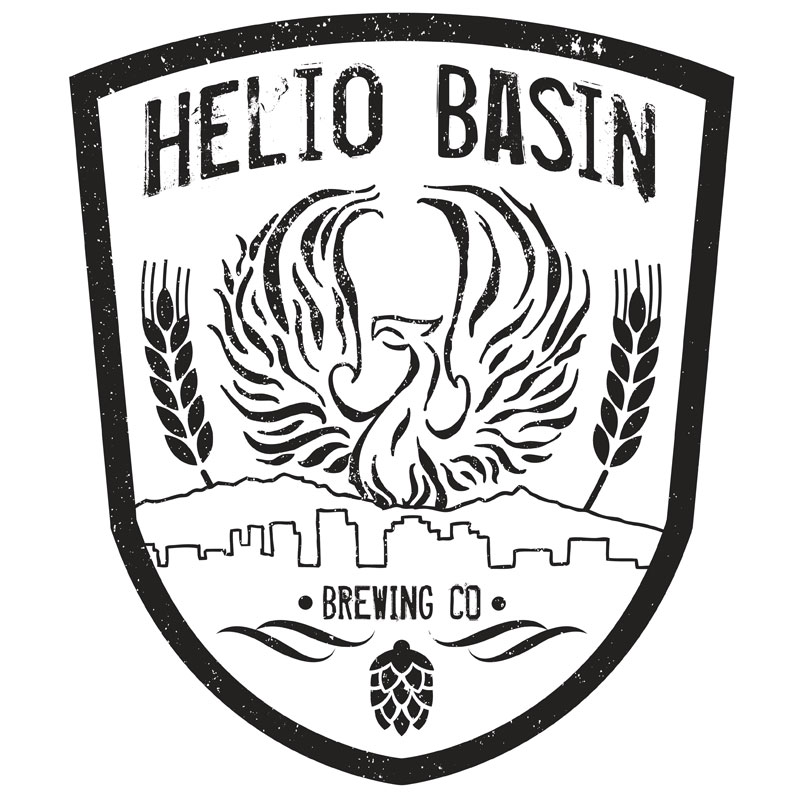 Kohi Coffee Stout (10% ABV) | Helio Basin Brewing Co., Phoenix, AZ
Helio Basin's big coffee imperial stout brings rich cocoa and coffee from aroma to flavor. Originally released on Veterans Day, owner and brewmaster Dustin Hazer says he and his business partner, who is a Marine veteran, wanted veterans to be a part of this beer from start to finish.
"Coffee came to mind, and as any Vet can contest, it is a necessity to our service members!" Hazer explains. "Being stationed for some time in Okinawa, he quickly learned how to say coffee in Japanese, 'Kohi.' So we went down the road to a local coffee shop and roaster and picked out the right bean and roast. We then hosted a group of Veterans here at the brewery who helped brew with it with us, getting their hands in on the process."
Ten percent of the proceeds from Kohi Coffee Stout will go to the Semper Fi Fund.
---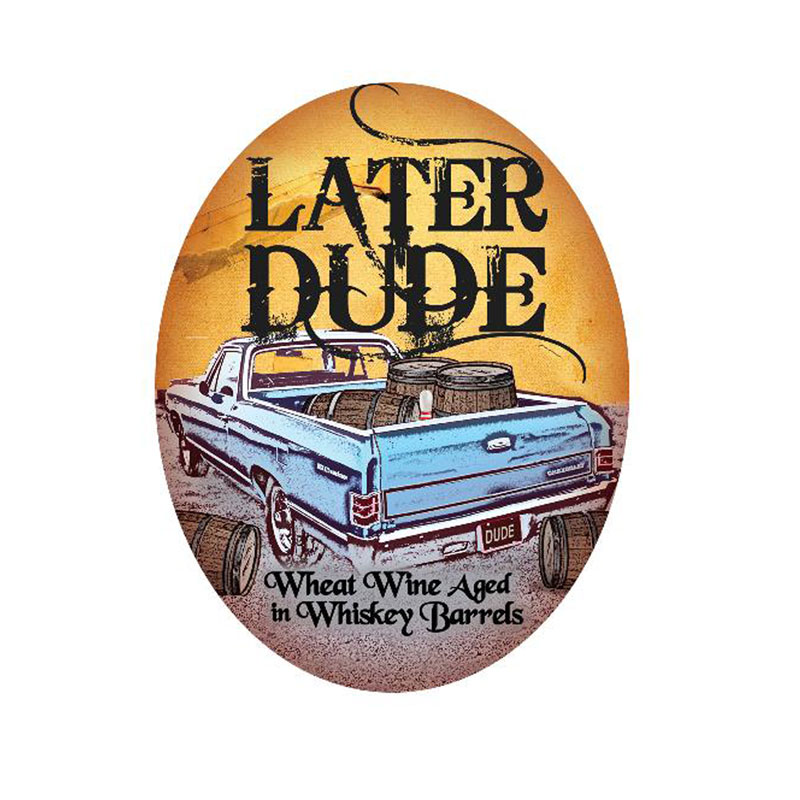 Later Dude (9.8% ABV) | Boulder Beer Co. | Boulder, CO
Later Dude is a barrel-aged wheat wine ale and the fourth release in Boulder Beer's barred-aged Dude Series. The large portion of wheat in the mash provides a soft, round mouthfeel complemented by notes of vanilla, raisin and toffee from aging it in first-use whiskey barrels from Breckenridge Distillery.
---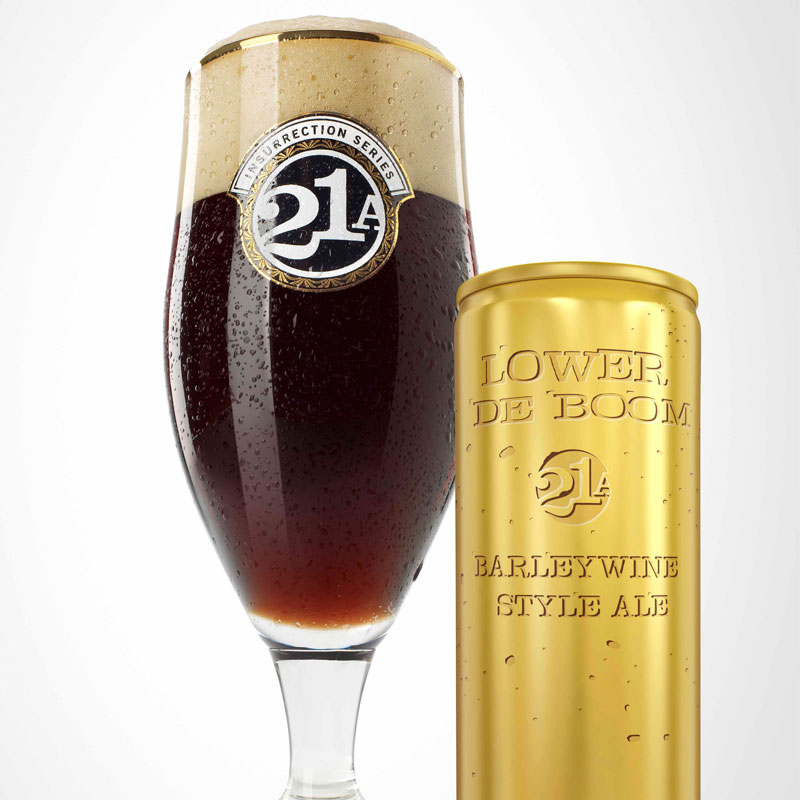 Lower de Boom (11.5% ABV) | 21st Amendment Brewery | San Leandro, CA
21 Amendment's Lower De Boom is a powerfully balanced American-style barleywine packed with citrusy Pacific Northwest hops. The beer pours chestnut brown in the glass with notes of toffee malt, fruitcake, toast, piney hops and more than a hint of alcohol. It was the first American craft beer in a can offered in the traditional barleywine "nip" size. Perfect for sipping at the end of a long winter day.
---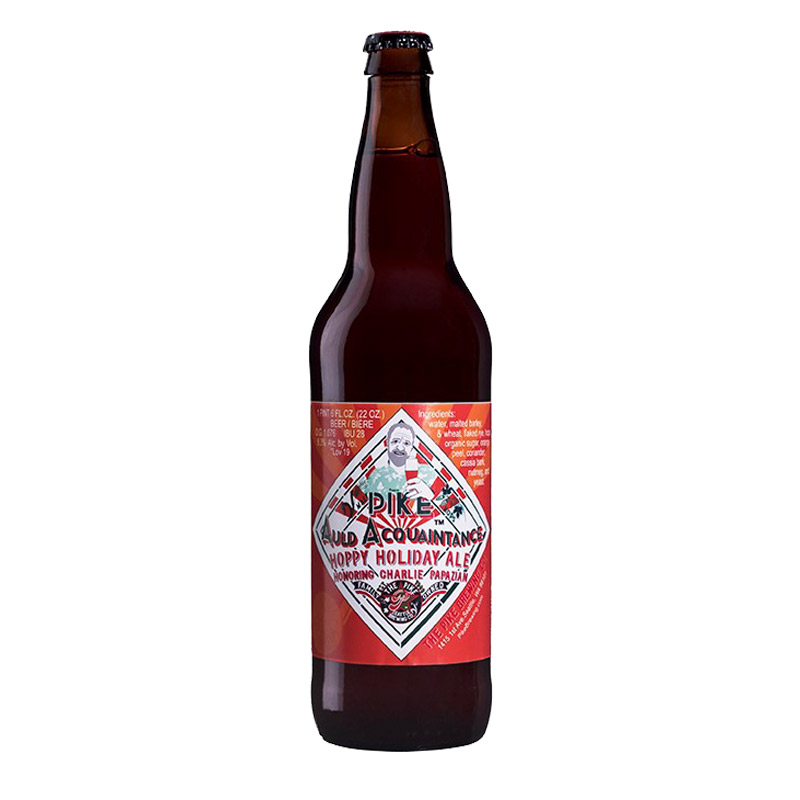 Pike Auld Acquaintance (8.3% ABV) | Pike Brewing Co. | Seattle, WA
Pike Brewing says its "gutsy" 2016 winter warmer is a dark, toasty brown ale infused with spices and aromatic notes of orange. This year's label is a tribute to great beer man Charlie Papazian, the founder of the Great American Beer, the Brewers Association (publishers of CraftBeer.com) and author of the Complete Joy of Homebrewing. Pick up a few and raise a glass to Charlie!
---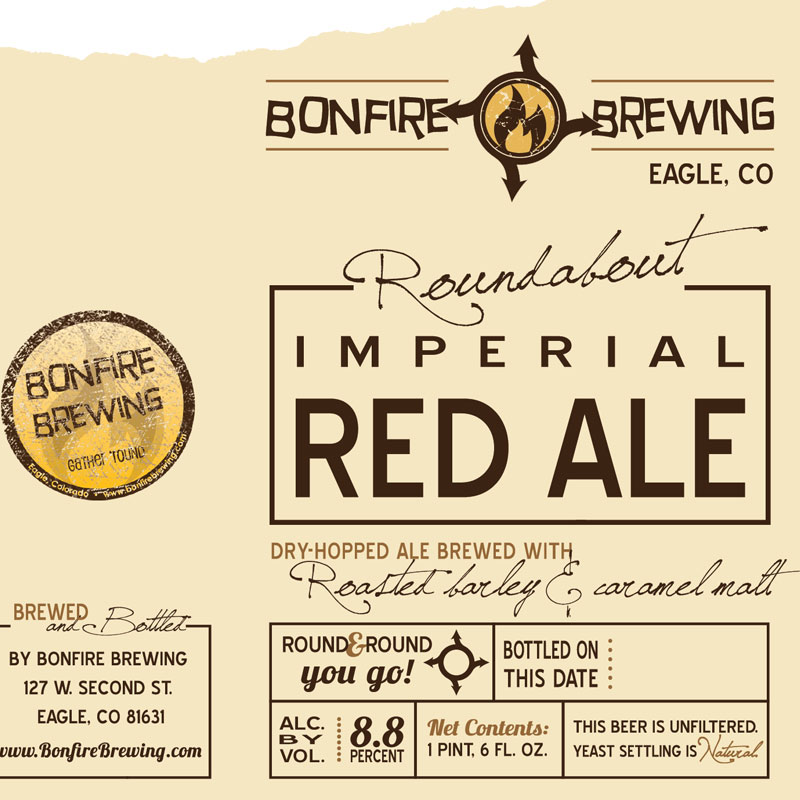 Roundabout (8.8% ABV) | Bonfire Brewing Co. | Eagle, CO
Bonfire says Roundabout is a dry-hopped imperial red ale, featuring a bold roasted flavor which is rounded out with a touch of caramel malt sweetness. The beer gets its name after a series of lengthy projects that added five new roundabouts to the city. Bonfire wanted a beer to celebrate the years of traffic headaches coming to an end.
"We created this beer that is strong enough to make you forget about the endless traffic, and educational enough to sit on your bookshelf!" explains Amanda Jessen, Bonfire's design and marketing maven. "The label itself includes a tongue-in-cheek lesson in navigating vehicles through roundabouts, a perfect gift for out-of-towners who might need a hint in this area."
---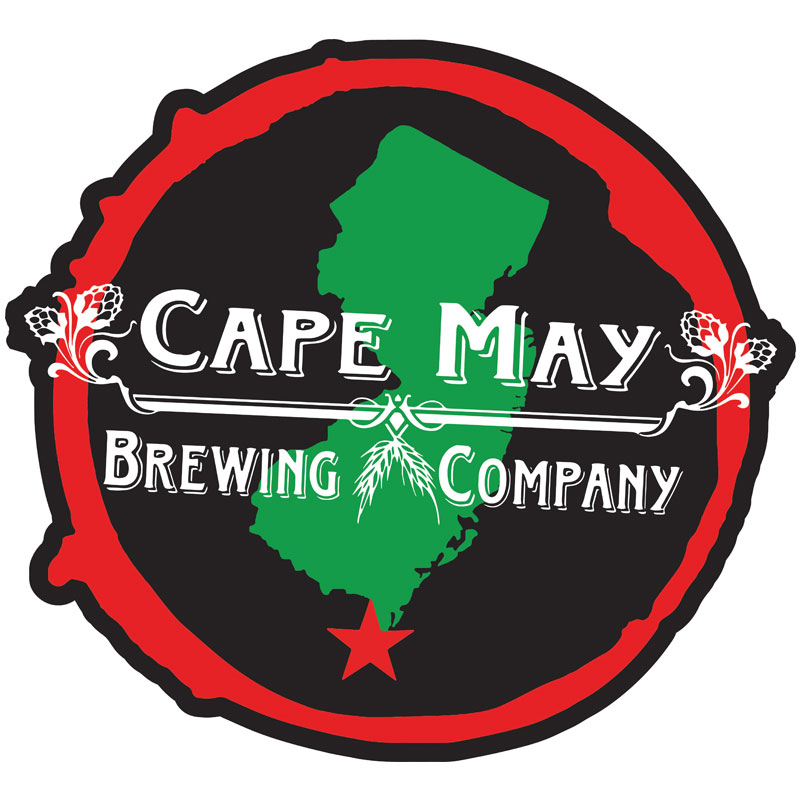 Snag & Drop (9.5% ABV) | Cape May Brewing Co. | Cape May, NJ
This isn't your average winter warmer. Cape May straight out says Snag & Drop is "a dank and bitter hop bomb on your tongue" with a big blend of Cascade, Centennial, Amarillo, Simcoe, and Apollo hops.
The story behind Snag & Drop started two years ago, when Cape May was switching from whole leaf hops to pelletized ones. They wanted to make a beer using as much of the whole leaf hops as they could.
"The original plan was to use the mash tun as a massive hop back — as in shoving a couple hundred pounds of hops in there which would naturally be strained out by the mash tun's false bottom. Everyone loved the idea because it was absurd, it used up a bunch of hops we were phasing out, it would be a crazy story to talk about," explains Alicia Grasso, marketing director. "For whatever reason, midway through the brew day, Chris decided he didn't want us using the mash tun as a hop-back — probably for the best, him being an engineer and all — but we had already started the beer so we had to do something. So, instead of using up a bunch of hops that we had planned on phasing out, we winded up using an outrageous amount of Cascade and Centennial hops that had been slated for double batch of our flagship Cape May IPA being brewed the next day. We brewed a 15 barrel batch of Snag & Drop, but we hopped as if it were a 30 barrel batch of Cape May IPA, so it still ended up being a ludicrous amount of hops. Our regulars went bonkers for Snag & Drop, drinking it up like it was the last beer they would ever drink, and so we knew we had to brew it again."
---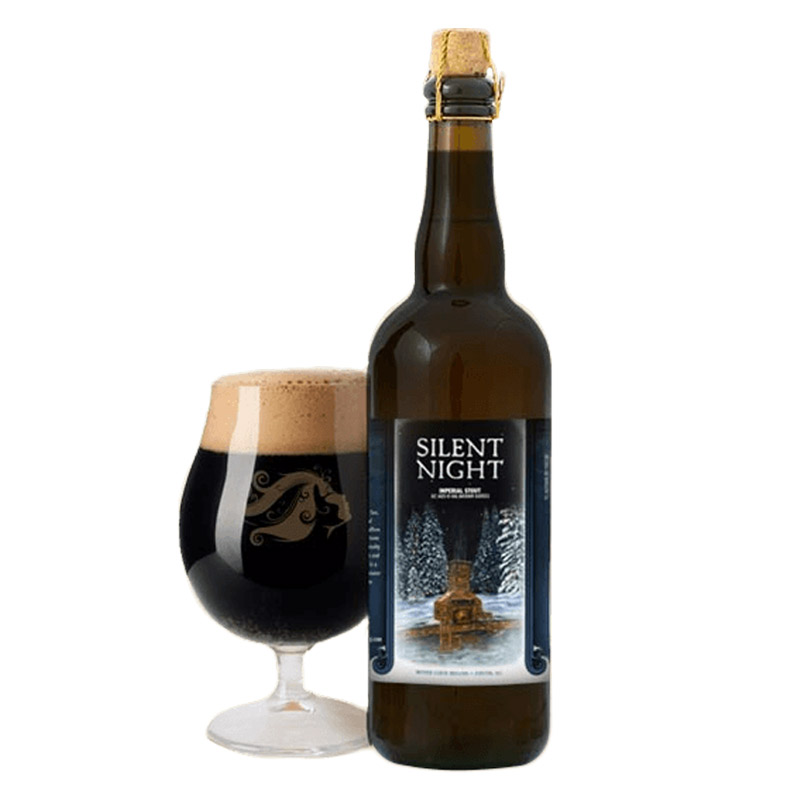 Silent Night (9% ABV) | Mother Earth Brewing | Kinston, NC
Mother Earth Brewing was founded by Stephen Hill and Trent Mooring, both from the city where the brewery now sits, with the mission of helping beer lovers "savor the goodness of Mother Earth."
Silent Night is the brewery's award-winning barrel aged imperial stout. It's brewed each year with an exclusive coffee blend from Durham's Counter Culture Coffee. The beer has rich coffee taste, infused with a hint of molasses, is aged in Mother Earth's own whiskey barrels for three months, released just as the seasons change in eastern Carolina.
---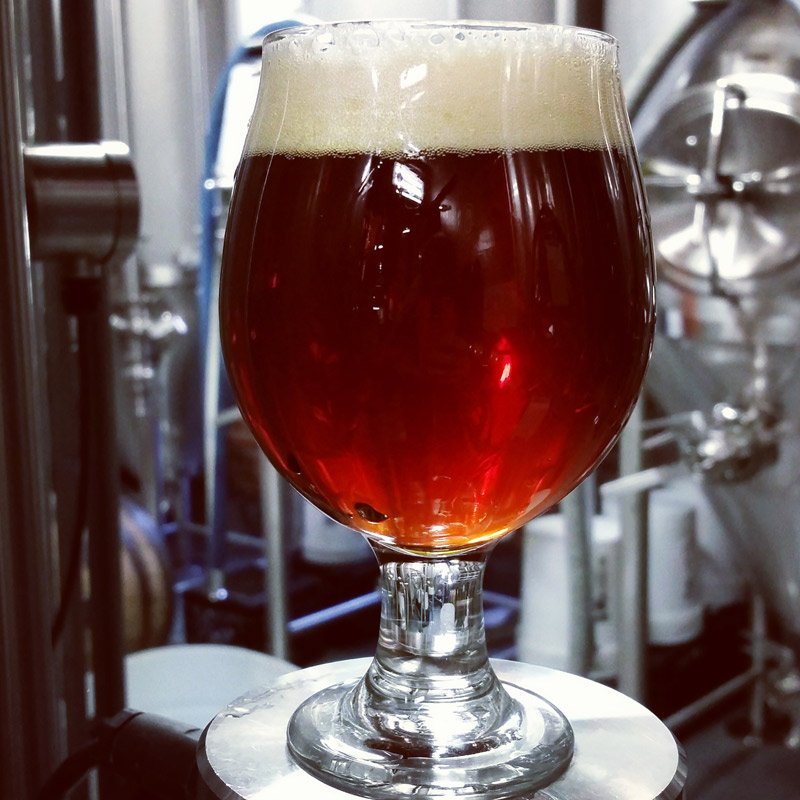 Smylie Brothers Belgian Strong (11% ABV) | Smylie Brothers Brewing Co. | Evanston, IL
Illinois' Smylie Brothers Brewing loves to make its winter Belgian strong ale different every year. This year's version incorporates wild rice, which adds a grassy, nuttiness to the malt complexity.
"Each year's edition is different from the last, the only common thread being that they're big and strong with a Belgian yeast strain," explains head brewer Brad Pulver. "Our favorite part of this series is half of each batch goes on tap fresh, as is. The other is aged in bourbon barrels for the next year with various additions of dried cherries, blueberries, or the like."
---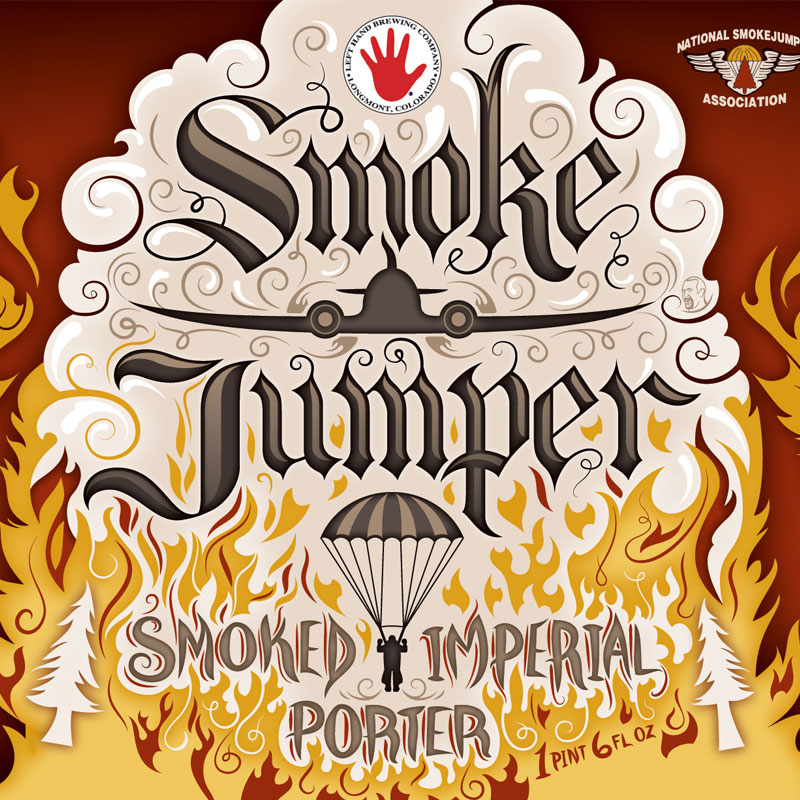 Smokejumper (8.8% ABV) | Left Hand Brewing Co. | Longmont, CO
The smoked imperial porter pours brown into your glass, leaving lingering smokiness around flavors of molasses, toasted malt and an earthy hoppiness. The beer honors smokejumpers, who are fearless wildland firefighters who parachute into raging outdoor fires to protect our outdoors. Smokejumper is the official beer of the National Smokejumper Association.
---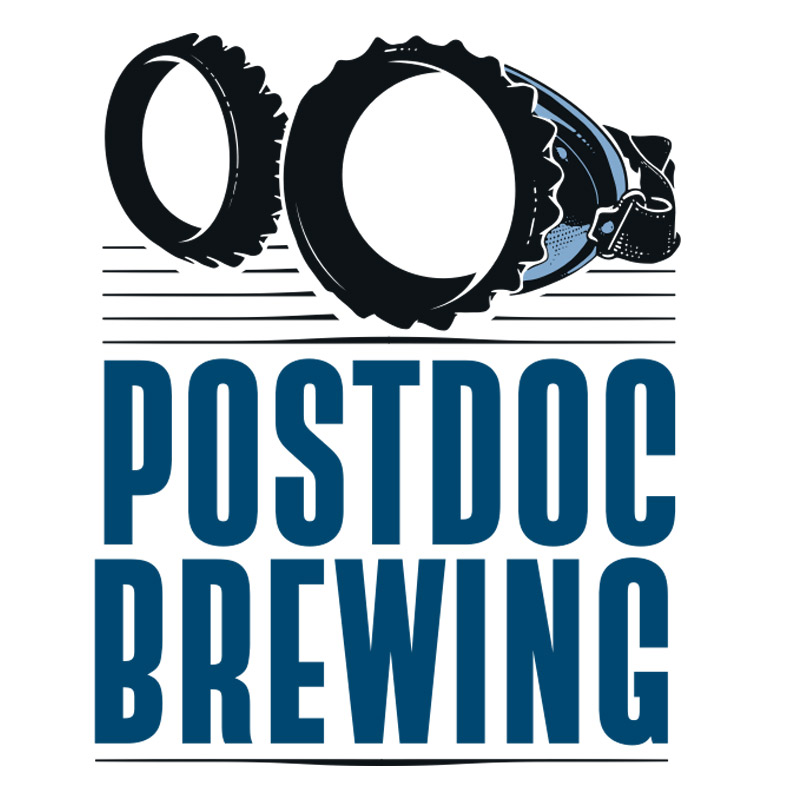 Wheat Wine 101 (9% ABV) | Postdoc Brewing | Redmond, WA
Postdoc says Wheat Wine 101 was made with a generous amount of wheat, which translates into sweet, bready and honey-like flavors in this potent strong ale.
"We brewed this beer to commemorate our 100th batch, which is technically our 101st as we use zero-based numbering," explains head brewer and co-owner Tom Schmidlin. Postdoc is originally the name Schmidlin gave to his garage when he started homebrewing while he finished his PhD in BioChem at the University of Washington. The name stuck when he opened the commercial brewery in 2014.
---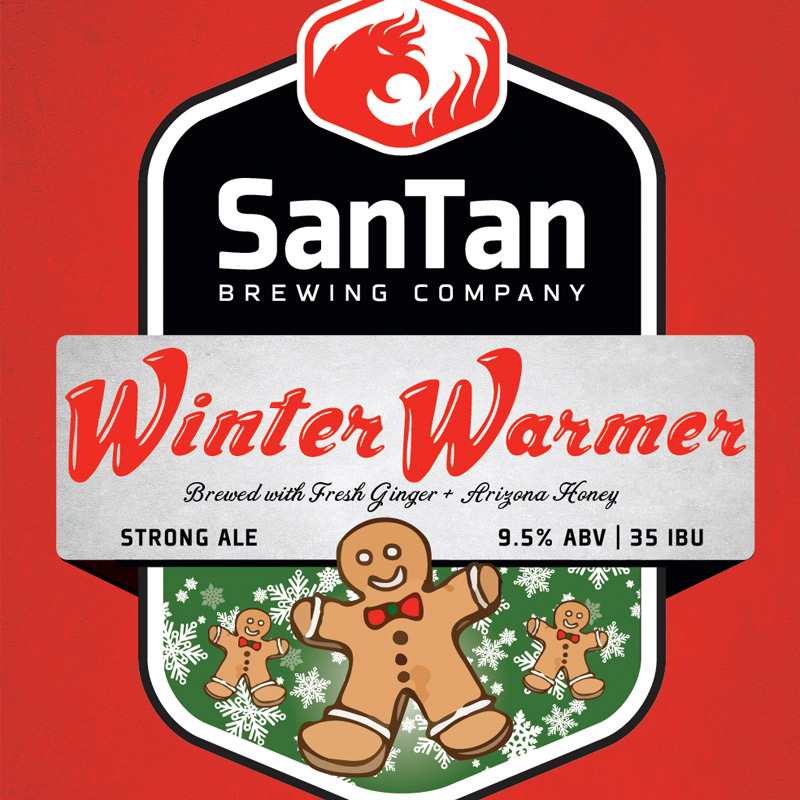 SanTan Winter Warmer (9.5% ABV) | SanTan Brewing Co. | Chandler, AZ
SanTan's Winter Warmer is a holiday spiced beer full of ginger and roasted malts.
"Tapping SanTan Winter Warmer the Monday before Thanksgiving has become a tradition that is anticipated by craft beer lovers across the Valley," says founder and brewmaster Anthony Canecchia.
If you make it to the brewery, you'll get treated to having it with SanTan's traditional ginger snap cookies. (So tasty, even Santa may consider making an early stop).
---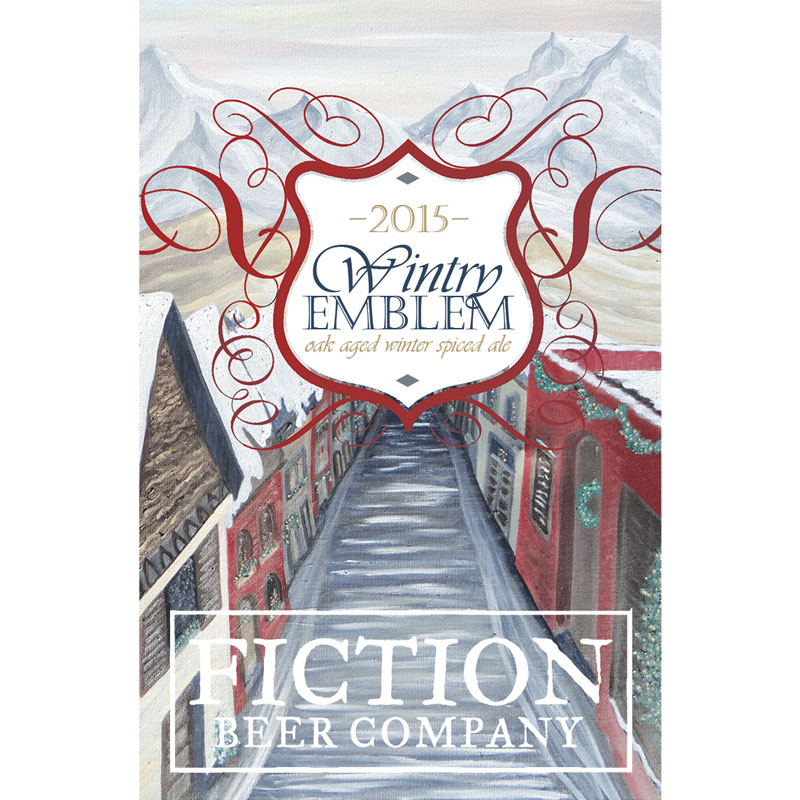 Wintry Emblem (8.8% ABV) | Fiction Beer Co. | Denver, CO
Denver's Fiction Beer Co. is a place for book dorks and beer geeks, and their oak aged winter spice ale is full of cinnamon, allspice, crystallized ginger, vanilla and clove. The name is a nod to Charles Dickens' classic "A Christmas Carol."
"The ghost of Christmas Past, in his pure white tunic with his branch of holly, stands as a singular lasting Wintry Emblem, and thus, is the inspiration for our winter spiced ale," explains head brewer Ryan Kilpatrick. "Grab a bottle, put a log on the fire, cuddle up with a good book and enjoy while you can."
Do you have any big beers you'll share with friends (or hide from them!) this season? Tell us in the comments.
CraftBeer.com is fully dedicated to small and independent U.S. breweries. We are published by the Brewers Association, the not-for-profit trade group dedicated to promoting and protecting America's small and independent craft brewers. Stories and opinions shared on CraftBeer.com do not imply endorsement by or positions taken by the Brewers Association or its members.