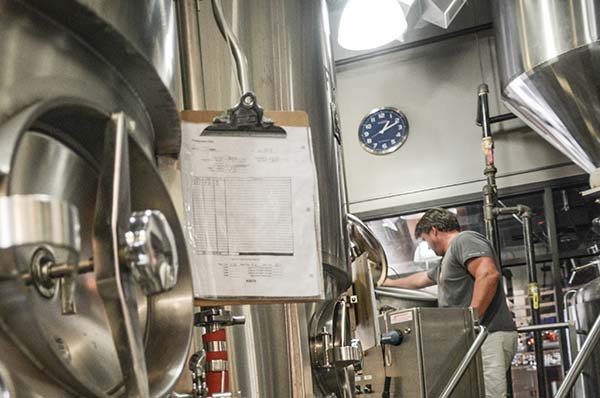 Brewniversity: College Classes Filling Beer Glasses
Beer lovers might think the working life of a professional craft brewer would be the ultimate laid-back dream job, but in fact it's a surprisingly technical and complex vocation. As the craft beer industry has gone from burgeoning to booming, it's become more sophisticated and competitive—and that means sharper brewing, better beer and more complicated business dealings—not to mention a bigger emphasis on beer education.
Behind the widening array of craft beers on the shelves is a growing need for savvy beer professionals to staff new and expanding craft breweries, as well as an increase in entrepreneurs looking to start their own breweries. Consequently, a bevy of new educational opportunities exist for those who want to learn to navigate this changing landscape.
While a handful of universities have offered degrees in "fermentation science" for some time, the last few years have seen an explosion of seminars and programs aiming to provide attendees with a highly concentrated dose of classroom theory and real-world practicum tailored for the beer industry. However, when it comes to the quality of these programs, not all opportunities are created equal.
Technically Speaking
According to a 2014 survey of members of the Master Brewers Association of the Americas, 85 percent of respondents listed lab skills as the most sought-after qualification in brewing applicants. Lab skills, combined with technical brewing expertise, are fundamental to the success of craft beer.
While ancient Sumerians believed fermentation to be a magical process controlled by deities, we know it today as the exacting science it is. As craft breweries grow in numbers, so too grows the pressure to make consistently great beer. Consumer-driven quality standards mean breweries without a well-educated brewing team will lose money, time and valuable branding through bad batches, poorly executed packaging and other technical errors. Without education, they are doomed to repeat this cycle.
The University of California now offers one of the most rigorous beer eduction programs of its kind—the Master Brewers Program. The intense, 18-week program delves into the science behind beer and is held at the UC Davis Extension classroom at Sudwerk Brewing Company. It ultimately prepares students to take professional qualification exams, enter the brewing workforce or advance beyond their current brewery job.
One of the program's instructors, Dr. Charles Bamforth, is also the president of the Institute of Brewing and Distilling and a member of the MBAA Higher Education Committee, which has recently handed down educational guidelines for newly-created programs of this nature.
By focusing on the math, chemistry, biology, physics and engineering of brewing, experiences like the Master Brewer Program offer serious students of beer the opportunity to better themselves—and their resume—to enter or advance into the craft beer industry. Students also have the peace of mind knowing they're learning under the tutelage of one of the country's most hallowed science and research universities.
Theoretical Meets Practical
Metropolitan State University in Denver, Colorado, which is known for its respected hospitality program, plans to unite the classroom and the brewhouse through professor Michael Wray's Incubator For Brewing Industry Operations. It brings together the university and the newly re-opened Tivoli Brewing Company with the construction of a medium-scale brewpub providing "integrated instructional and operating facilities in one location," according to a university press release.
Giving students the chance to learn in a working brewery will afford a unique best-of-both-worlds opportunity. They'll reap the benefits of classroom theory along with hands-on application in one of America's beer-iest cities. Through exposure to the many facets of the working brewpub, students will receive a holistic view of what it takes to run a brewing business. While the courses offered through the incubator will eventually lead to a degree through the university's hospitality department, the expressly educational purpose of the new brewpub/classroom facility ensures the program marries the theoretical and the practical in ways previously unseen.
Better Beer, Balanced Books
Oregon State University now provides a variety of short-term seminars for both brewers and entrepreneurs through its Northwest Beer and Cider Sessions. OSU's Craft Brewery Startup Workshop is for entrepreneurs, while several technical sessions about quality analysis and testing are meant for those looking to become better brewers or more knowledgeable stewards in the market.
Program coordinator Johanna Lounsbury and others at OSU saw a disconnect between the energy of startup breweries and their eventual economic viability. She says the Craft Brewery Startup Workshop was designed to temper the ungrounded fervor of entrepreneurship in this growing industry.
"The Workshop can be thought of as an inexpensive reality check," Lounsbury explains. "A brewery founder will easily spend hundreds of thousands of dollars on startup. Why not invest $1,275 on education that can inform decision making in the startup process?"
When competition is high and the market continues to be crowded, opportunities like this can be the difference between boom and bust. However, Lounsbury warns against so-called "pop-up programs without much of a track record." She says this means sticking with programs associated with universities that have a history of producing high-quality education, like Oregon State has been doing for more than 20 years through its fermentation science program.
In the same way that unrealistic business plans can lead to start-up failure, ill-conditioned technical skills can break a brand before the beer even gets to the shelves.
Tom Shellhammer, an Oregon State University professor of fermentation science and MBAA Higher Education Committee member, helped develop the curriculum for the technical sessions so that professional brewers could take advantage of educational opportunities from one of the most revered fermentation science programs in the nation.
Shellhammer also implores prospective attendees to use discretion when picking an educational program. "In my opinion," he wrote in an email, "not all [programs] are equal in terms of capabilities, rigor, staff education." Like the UC Davis program, Shellhammer's sessions feature instructors from both academic and industry backgrounds.
Beer Education Looking Forward
By choosing programs associated with respected institutions, students can ensure they are learning valuable information and honing their technical skills in a way that will actually benefit them. No longer is a four-year fermentation science degree the only path to a brewing education.
This move towards standardized shorter-term education signals the continuing sophistication of a vibrant market. With more opportunities for brewers to learn to brew better beer, and for entrepreneurs to ground their business plans in sound, unbiased advice, craft beer's quality and the vitality of the industry can continue to evolve and thrive.
Visit the Beer Schools section of CraftBeer.com for an ever-evolving list beer education opportunities and online courses.
CraftBeer.com is fully dedicated to small and independent U.S. breweries. We are published by the Brewers Association, the not-for-profit trade group dedicated to promoting and protecting America's small and independent craft brewers. Stories and opinions shared on CraftBeer.com do not imply endorsement by or positions taken by the Brewers Association or its members.