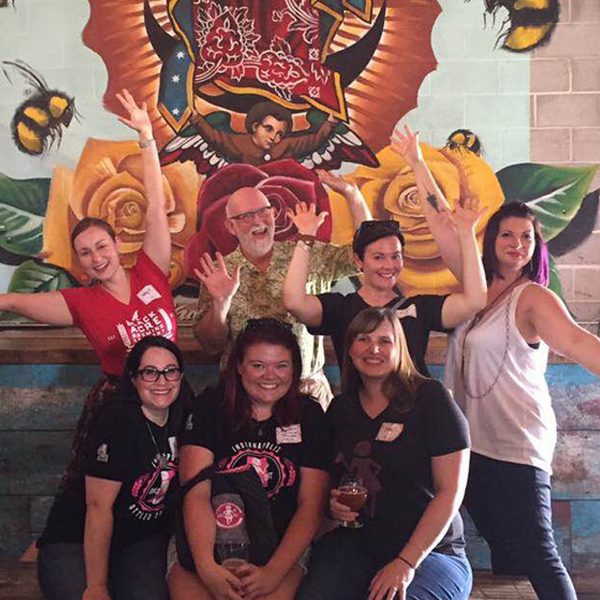 Chapter Leaders from Girls Pint Out Share an Insider's View
As destinations go, Indianapolis is not typically at the top of most beer lover's list. Yet for thousands of women around the country who may never have even visited or sampled the local craft beer, Indianapolis holds a special place in their hearts as the birthplace of Girls Pint Out.
After several years away, I found myself mesmerized that the budding craft beer scene I had enjoyed when I called Indy home between 2009 and 2012 had blossomed into a stable, respectable and creative industry. Simultaneously, the small group of women with whom I had occasionally met to learn about the basics of brewing had grown to encompass some 88 chapters in nearly every state. Girls Pint Out had gone from a local group to a national movement encouraging women to take our place in the breweries and tasting rooms of craft beer.
The Elephant in the Room
At the end of the day, this isn't a story meant to reinforce the outdated notion that we must feign surprise that women love craft beer. It shouldn't be shocking that a group of women in Indianapolis could realize that women like them all across the country probably longed for a community that supported their desire to sample and learn about craft beer. Six years ago, when GPO was just starting out in Indy, that was the common narrative for women and craft beer. We've moved on.
(MORE: 5 Questions Brewers Wish You'd Ask During a Tour)
This is instead a story about how craft beer brings people together, including the women who lead these chapters. Many spoke of coming together to form chapters when they realized there wasn't one in their area; others noted how leading GPO helped them move past a bad relationship, make new friends and become better acquainted with the cities they call home.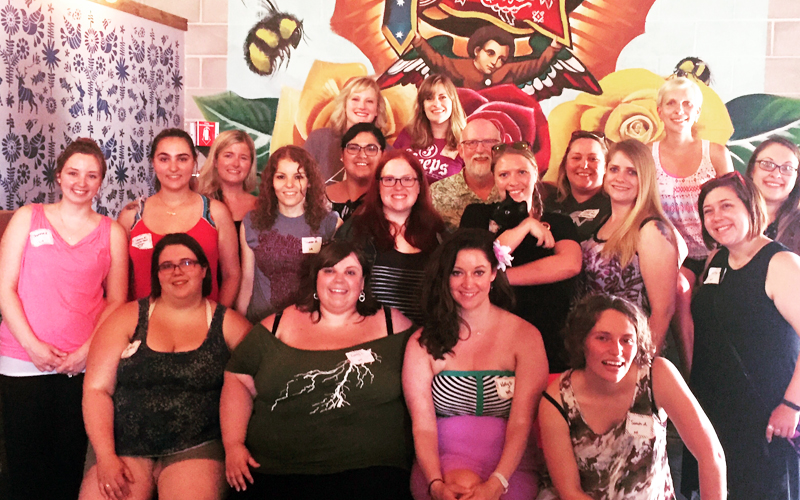 I recently spoke with the non-profit's president Amanda Wishin about the growth of Girls Pint Out. She introduced me to several chapter leaders across the country to learn more about how a grassroots word-of-mouth community grew so fast.
An Idea Begins to Brew
Like brewing any good beer, the right ingredients came together at an ideal moment. Wishin says, "The timing was perfect for Girls Pint Out to get started in Indy. It was just about the same time as the number of craft breweries exploded in Indy creating a lot of great opportunities for the group."
I remember this well: we went from wondering what "craft beer" was in Indianapolis to having a dozen high-quality small and independent breweries within walking distance of downtown. This prolific spread of Indy breweries was instrumental in helping GPO gain momentum, says Wishin, since, "The growth of the brewing community and Girls Pint Out have been mutually supportive."
As I came to learn from other chapter leaders, close ties to the community are an important part of how GPO transcends your typical drinking group to give back in the process.
After GPO began in Indianapolis, word got out fast — and it has been word of mouth which has driven the growth of new chapters around the country.
(MORE: What 'Selling Out' Is Actually About)
Patience is a Virtue
Holli McPherson is one of three regional chapter heads for the Western Michigan region. Together with Casey Schwarze and Joanna Corrigan, she helps manage the group of women who can claim Brewery Vivant and New Holland as local breweries. Even in a part of the country where craft beer is one of the top reasons to visit, they've learned that word of mouth and building a community takes time to do correctly.
"The biggest challenge was finding a platform to spread the word out about who we were and all our events," says McPherson. "Currently, our biggest platforms are Facebook and word of mouth. A lot of people come because their friends have attended a meeting or they see an ad for an event on Facebook." It's one of the rare times we can be grateful that social media permeates our lives, because it's bringing craft beer-loving women together.
Even in similar cities where craft beer events are the norm, like Portland, it's a slow-and-steady strategy that has helped GPO thrive. Portland chapter leader Jessica Apgar points out that the more crowded the craft beer scene has grown, the more patience it takes to build a solid chapter community: "It was challenging not to compete but to thrive alongside well-established groups. It was also difficult to rally interested ladies" to choose GPO initially.
The same goes for rising craft beer destinations, such as Palm Beach, Florida. Chapter leader Brigid Misselhorn was herself drawn to help form a chapter after seeing a woman wearing a GPO shirt at a craft beer event. Once word got out, the chapter was facing wait lists and 100+ women in attendance. There's something special about GPO that helps women feel comfortable and brings them together time and again.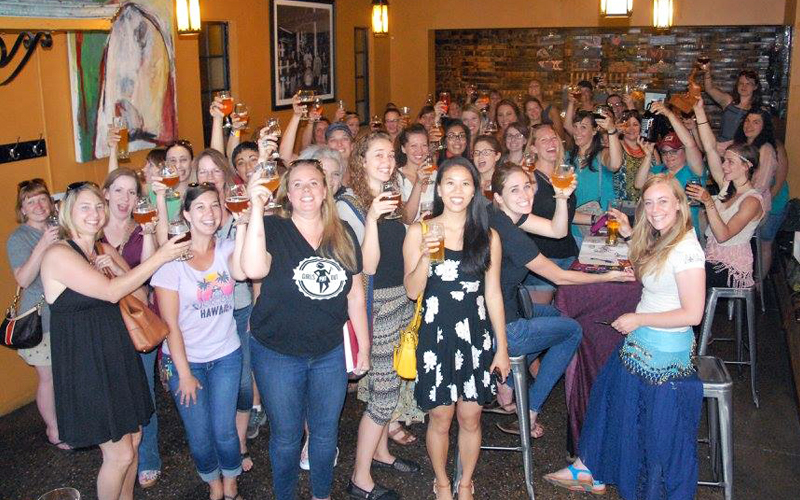 (MORE: BeerCation Destination: Charleston)
Community at the Core
All of the chapter leaders with whom I spoke expressed great pride in their communities, often speaking as emissaries rather than leaders of these vibrant communities with which they had been tasked. When looking at a map, these small communities demonstrate that in nearly every place women can find craft beer, they want to drink it with one another.
Maggie Skinner leads the Milwaukee chapter. Before starting it in 2015, she says she "thought it strange Wisconsin of all places didn't have a girls craft beer group." Now, the group regularly hosts events that bring together craft beer partners, and her biggest point of pride is "the times I look around at the group and think about the community I've helped cultivate in Milwaukee."
Same goes for Portland, where Apgar is proud to share that the GPO had over 70 percent participation when they chose to give back to a community partner, The Sexual Assault Resource Center. "Most chapters across the country have a community partner and I think that's really special and sets GPO apart. We're not just a drinking club — we're contributing members of the city we live in with a fierce love of beer."
From Palm Beach, where two women became best friends at one of the earliest events and now regularly attend together, to Grand Rapids, where women bond over the educational aspects of GPO events, Girls Pint Out has less to do with the "girls" or the "pints" than with the fact that women around the country are going out to bond over a mutual love, which just happens to be craft beer.
CraftBeer.com is fully dedicated to small and independent U.S. breweries. We are published by the Brewers Association, the not-for-profit trade group dedicated to promoting and protecting America's small and independent craft brewers. Stories and opinions shared on CraftBeer.com do not imply endorsement by or positions taken by the Brewers Association or its members.