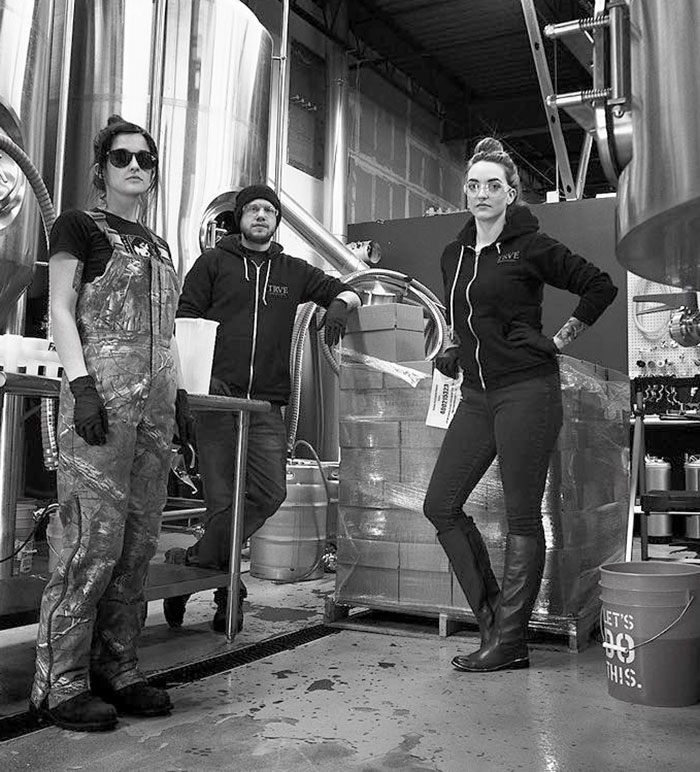 Craft Breweries Looking Beyond the Beer
The headquarters of the Craft Beer Revolution are feeling mighty crowded these days. Brewers Association chief economist Bart Watson said in September that nearly two breweries open each day in the United States. The amazing growth of the craft brewing industry hit yet another milestone in December when we reached 4,144 operating breweries in the country, topping the historic high of 4,131 breweries in 1873.
"This is a remarkable achievement, and it's just the beginning," said Watson. "Beer has always been a hallmark of this country, and it is even more apparent today as America's beer culture continues to expand."
This is great news for beer drinkers, but tough love for hopeful brewers. As craft beer competition continues to intensify, breweries are looking to differentiate themselves from their crafty colleagues to ensure their success. How does one stand out from the crowd? Many established breweries have found success in expanding their brands beyond beer, while new, up-and-coming brewers are often turning to extreme specialization.
Brewery Differentiation: The Brand Beyond Beer
It's logical to look for advice from those who have already succeeded in craft beer: larger craft breweries like Sam Adams, Brooklyn Brewery, Oskar Blues and Dogfish Head. A rundown of their business plans reveals a common denominator: All have expanded their brand into something that goes beyond selling beer to consumers.
Both Sam Adams and Brooklyn Brewery have created community partnerships in the form of Brewing the American Dream and Brooklyn Mash, respectively. Both make strong attempts to engage the brewing community, both locally and nationally, whether it's offering advice to startups or donating beer for fundraisers.
Brooklyn Brewery founder Steve Hindy said that Brooklyn Mash, has helped the brewery expand its presence outside of New York City. This festival of sorts, which takes place in a handful of cities across the globe each year, features food, comedy, film, parties and of course Brooklyn beer.
"As part of Brooklyn Mash, for the past two years I've done discussions with brewers from different cities and talked to them about the state of craft beer and the beer business," Hindy said. "And [my books] have connected us with a lot of people around country. That is very valuable to us, and definitely distinguishes us from everyone else."
Last year, Oskar Blues took it a step further and launched its marketing and event company, OskarBluesPresents. The goal is to create and feed an experiential, grassroots wing of the brewery—think bike events, concerts and festivals—that allows Oskar Blues to grow beyond beer into more of a lifestyle brand.
Oskar Blues has also long played a role in the mountain-biking community with its brand of bikes, REEB Cycles. Owner Dale Katechis said that many breweries spend too much money associating with other brands, and he warned about the dangers of not fully controlling the experience customers have with your own.
"I don't see anyone doing what we're trying to do [by building an event company]," Katechis said. "What I do see is that people are spending a shitload of money to sponsor something that already exists. And with that, I don't think it's authentically your experience. You're putting your beer or name on something that someone else is presenting. Our goal is to be able to control the experience…from top to bottom."
Another example comes from Dogfish Head in the form of Pallet Magazine, launched last October by founder and president Sam Calagione. Though designed for beer lovers, its focus goes beyond hops and barley to "all interests that are often shared over a glass of craft beer," such as travel and music. The first issue included stories about Mexico's Tarahumara running tribe, America's big-rig trucking culture and country singer Dolly Parton.
Extreme Specialization for Both Beer and Breweries
It must be mentioned that many of the above accomplishments—setting up foundations and marketing companies and writing books and magazines—require several years' experience and go beyond the means of the startup brewer. While one may hope to one day reach that level of success, in the short term it takes small, concrete to build toward that prestige. One of the most common approaches we are seeing is brewers attempting to play a big role in a small pond.
In other words, the niche is no longer simply to "produce local craft beer," as it once was at the start of the Craft Beer Revolution. Now, it's more appropriate to endorse a commitment to doing one thing very well.
"It's interesting to me how breweries starting up today have very different business models than we had twenty-some years ago," Hindy said. "You see people start up and say, 'We are going to specialize in sour beers, or barrel-aged beers, or Belgian styles.' I think that's smart to have a clear idea of who you are and what you're going to do."
Two Denver breweries have taken this approach to heart and found success as a result. TRVE Brewery (pronounced "true") has positioned itself as the city's heavy metal-themed brewery, while Black Shirt Brewing only brews red beers.
Echoing advice from Katechis on honest branding, TRVE owner Nick Nunns said that specialization is a great strategy so long as it isn't phony.
"The decision to be a metal brewery was simply a decision to be myself," said Nunns. "I've been a metalhead my whole life and the brand is simply an extension of my personality and the things I enjoy in life."
Chad Miller of Black Shirt Brewing shared similar thoughts on his decision to specialize in red beers.
"We asked ourselves, 'Are we going to be known as a Walmart, with something for everyone? Or as a brewery that spends every waking moment chasing perfection?'"
Encouraging Customers to Sleep Over
The quest for craft beer differentiation can also make for strange bedfellows. Remember the old mantra "You don't have to go home, but you can't stay here?" Well, forget about it!
In the last few years, craft breweries have begun encouraging their guests, in one way or another, to spend the night. This may not be an entirely new concept — pubs in Europe have been doing it for centuries — but recently we've seen a push from American brewers in the lodging department. The hope is to further immerse beer drinkers with their brand while simultaneously creating an alternative revenue stream.
This spring Hamish Marshall, co-owner of SLO Brew in the Central Coast of California, will open five luxury lofts above his brewery's restaurant in downtown San Luis Obispo. He said the idea to create the short-term rental space actually came after the fact, when his brewpub project became more expensive than he thought.
"When we started making plans to retrofit an old building into a restaurant and music venue, it became so cost-prohibitive that we had to step back and say, 'What are we going to do? How are we going to differentiate ourselves and stay profitable?'" Marshall said. "The lofts are giving us the ability to not only have another revenue stream, but to engulf those who stay there in all the components of our brand, from the beer to the food and music events."
Looking across the country, we see that SLO Brew is not alone in pairing beer with bedding. It follows in the footsteps of others, including both Dogfish Head, which launched the Dogfish Inn in 2014, and Oskar Blues, which plays host at its REEB Ranch mountain cabins in Brevard, N.C.
The success of these "beer-and-breakfast" ventures just goes to show that whether you're a stalwart brewing institution trying to reinvent itself or an upstart rebel brewer trying to carve out a niche of your own, it never hurts to consider some more eccentric options.
CraftBeer.com is fully dedicated to small and independent U.S. breweries. We are published by the Brewers Association, the not-for-profit trade group dedicated to promoting and protecting America's small and independent craft brewers. Stories and opinions shared on CraftBeer.com do not imply endorsement by or positions taken by the Brewers Association or its members.