There's a kind of revitalization brewing (pun intended) across the Rust Belt at the hands of the craft beer economy, and it's proving to be a real winner for other new businesses and residents alike.
The Rust Belt itself comes tied with powerful imagery: abandoned factories, steel mills, pollution-blackened skies and empty storefronts along jagged sidewalks all come to mind.
But narratives change—those who have stuck around or returned are writing a new chapter with a combination of barley and hops. Buffalo, Cleveland, Pittsburgh and St. Louis are just a few Rust Belt cities with breweries that are bringing new life to their respective neighborhoods after decades of uncertainty, crime and population loss.
Rust Belt Pioneers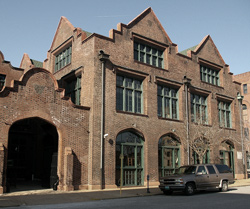 Dan Kopman of St. Louis describes a barren wasteland when he and his partner Tom Schlafly opened the Schlafly Tap Room in 1991. "It was an old warehouse district without any lights on," he recalls. "Nobody was here. All the buildings were vacant and abandoned."
Any perceived crime was a myth, because there was nothing left to steal. The only promise anyone saw in the neighborhood came from the producers of Kurt Russell's Escape From New York. "They were looking for post-apocalyptic," Kopman chuckles.
The same can be said of Pittsburgh's industrially zoned Homewood neighborhood where Scott Smith setup shop for East End Brewing Co.. Politely calling it a "dicey neighborhood," Smith says the area was known more for being on the evening news than anything else. Broken bottles of "bad beer" littered the streets—a personal affront to the then-aspiring brewer.
Brewery-Based Neighborhood Revitalization
Despite obvious challenges that would scare away nearly any other business, these brewers saw an opportunity to open a brewery at low cost. Smith and others like him didn't set out to be a neighborhood hero. He says the reason they chose their original location was purely economics. Brewing equipment itself is expensive, so they were looking for an "inexpensive place to keep our overhead low."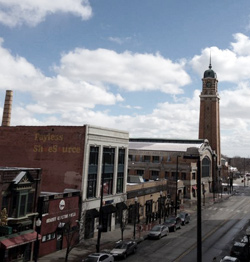 As word got out about some new, locally-produced beer in town, people suddenly started visiting these neighborhoods again. And the people continue to visit and drink in growing numbers. Now additional businesses are following suit, joining their respective breweries to open offices and residential lofts.
"The brewery has served as an anchor," says Kopman. "I think most people didn't believe that this area had a future to come back. Once we were here and successful in attracting people to this neighborhood, then others began to believe."
Kopman feels that people support the brand, because it's local. "We're not part of that homogenous, globalized branding that you get in so many other areas," he explains. "[Breweries are] sort of a reaction against that."
The reaction is only getting stronger with new brewers continuing to join the movement, like Sam McNulty—owner of The Market Garden Brewery and Distillery in Cleveland's Ohio City neighborhood.
McNulty's brewery is following in the steps of Cleveland-staple Great Lakes Brewing Co. Like the breweries in Buffalo, Pittsburgh and St. Louis, Great Lakes joined the Ohio City landscape when property values were low with non-existent demand. Now after 25 years, Great Lakes is serving 13 states nationwide from the same location in the now-thriving Ohio City neighborhood.
McNulty sees brewery-based neighborhood revitalization as a perfect fit with Rust Belt history. "Brewpubs and breweries are essentially light manufacturers," he explains. "There's a certain romance to it. The same way people like milling with their chef or farmer, people really appreciate milling their brewer, knowing the bar they're sitting at is a short distance away from where the beer was brewed." The pride McNulty hints at in drinking locally-made beer is prevalent throughout the Rust Belt.
Perceiving Reality
Nobody believes breweries are the answer to all of the Rust Belt's woes. Unemployment, lousy housing market, and bitter race relations dating back to pre-suburban sprawl are just a few of the intricate problems facing these post-industrial communities. But breweries, a trend themselves, seem to have sparked another growing trend of young professionals and empty nesters moving back to the urban core of these cities.
McNulty says hardly a month goes by without a new business or residential opportunity being announced in Cleveland's Ohio City. "In the 25 years since Great Lakes has opened, a lot has changed for the better," he said. "The perception has caught up with the reality that Ohio City is a thriving neighborhood."
CraftBeer.com is fully dedicated to small and independent U.S. breweries. We are published by the Brewers Association, the not-for-profit trade group dedicated to promoting and protecting America's small and independent craft brewers. Stories and opinions shared on CraftBeer.com do not imply endorsement by or positions taken by the Brewers Association or its members.