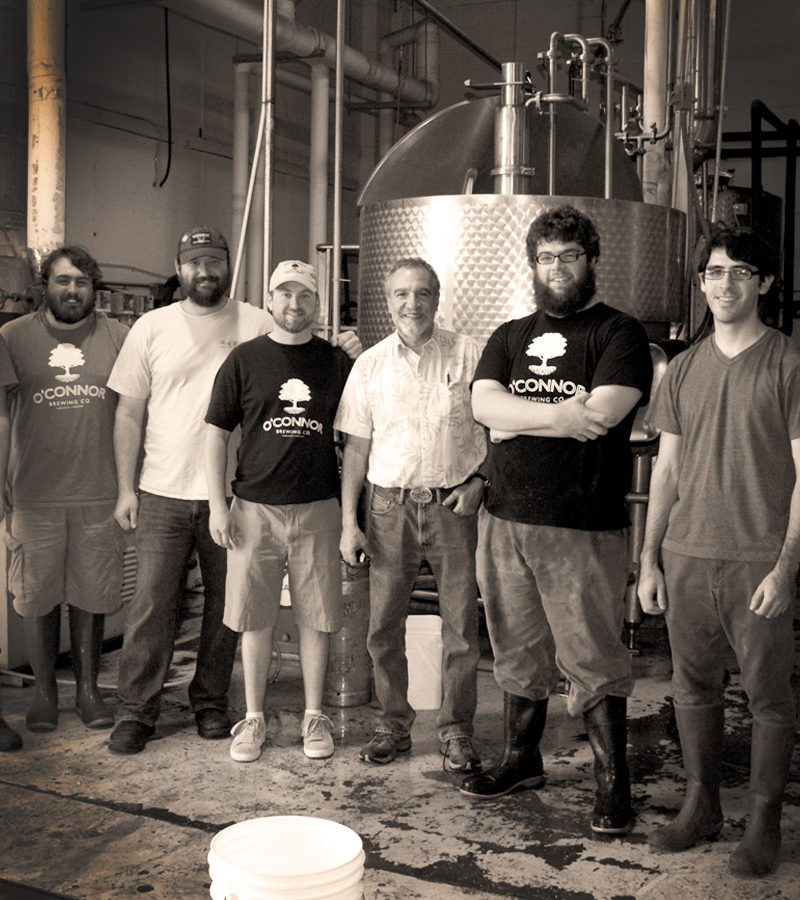 Craft Needs Its Definition
This article on the importance of the craft beer definition was originally published in the September/October issue of  The New Brewer magazine. 
As the popularity of craft brewing continues to grow, I can't help but have at least a small degree of concern that craft beer made by craft brewers may soon be hijacked. How do you hijack beer? It's kinda like what happened to "homemade pie" and "homemade ice cream" and "homemade cookies" and other "homemade" commodities we see in the supermarket labeled as "homemade" but are as far from the original premise of homemade as you can get. I suppose that the original hijacker of "craft" could be considered to be Kraft Foods. In that context, even the late Michael Jackson used to imply that this large global company hijacked authentic cheese when it came out with its famous and still popular Velveeta.
For several years now, beer hijacking has been an issue for small and independent commercial brewers. They've been working hard to differentiate themselves from very large brewing companies that offer special beers and would prefer that beer drinkers believe that their beers come from small and independent breweries. Speaking for myself, this is a turnoff. The beer is probably great quality, but the marketing is deceptive and erodes the perception of credibility. Am I the average beer drinker? Hell no. But there are a significant number of non-average beer drinkers who feel the same way.
The terminology of what constitutes a craft brewer and the beers that they make is an issue of establishing differentiation and truthfulness that beer drinkers can choose to understand. For many craft beer enthusiasts, it's important. For some, it is not–but there are enough of us out there indicating that it does matter.
What is craft beer? What is a craft brewer? What isn't craft? What's up with crafty? In the beer business, these sensitive questions keep making the rounds. The answers come from all points of view and the conversation sometimes gets emotional. [Here's CraftBeer.com and the Brewers Association's definition of a craft brewer.]
At first, I might say, "Getting emotional about craft beer is not the point," but maybe it is the point. Beer drinkers are taking their beer more personally than ever before.
Emotional Attachment
Taking beer personally is actually nothing new. Even when there was little choice and the American beer landscape was ubiquitously all about light American lager, beer drinkers took their beer personally. In my opinion, beer was never meant to be a commodity.
The emotional attachment beer enthusiasts are now developing for their beer goes deeper than ever before. For a growing number of beer drinkers, it is no longer sufficient to simply identify with a mass-marketed brand image. For many, it is about knowing the brewery and the brewer; it's about flavor, local brand image, and real or imagined emotional attachment. It's about the individual wanting to belong to a group that mirrors one's own lifestyle and ideals.
The world of small and independent breweries has always desired to maintain differentiation between what they do and what the large brewing companies do. The effort to differentiate has evolved from tagging ourselves small brewers, micro brewers, and now to defining ourselves as craft brewers.
The term "craft brewers" is an effort by small and independent brewers to differentiate themselves. It is not an effort to denigrate those who are not craft brewers.
What 'Craft' Means
The argument against the definition of craft brewer gets messy and off track if the term is taken literally. Of course if you look up the definition of "craft" in a dictionary, it will say something like: "something produced skillfully by hand," or "an occupation or trade requiring manual dexterity or artistic skill."
Internationally known Swedish economist Kjell Nordstrom once offered the perspective, "The U.S. is not a nation state. It is an idea. It is a piece of paper. It is the U.S. Constitution."
The point that the definition of craft brewer tries to establish is not about using the word "craft" literally. "Craft brewer" is an idea. Sure, there are brewmasters throughout the world who take pride in skillfully brewing their beer. But I don't think the craft brewer definition was meant to demean anyone's skills, expertise, or the integrity of any company.
The point of the craft brewer definition is to frame the spirit beer drinkers want to embrace and what small and independent brewers represent in the world of beer and brewing. It is natural for small and independent brewers and their beer fans to have a desire to frame their differentiation from the much larger companies. In the process of doing so, they have succeeded in de-commoditizing beer. That is a good thing for all brewers large and small.
Quibbling about terminology in an effort to destroy the efforts of small and independent brewers is a no-win proposition for every brewing company and every beer drinker.
The term "craft" is not about snobbery or being an elitist as some have suggested. It is not a claim about the quality of the beer. It is about giving the beer drinker a tool to identify who makes the beer they enjoy. Being able to identify what is small and independent is good. It is important to craft brewers as well, offering them an opportunity for honest, transparent identification of the craft beers they brew.
Beer drinkers would rather personalize their enjoyment and celebration of beer than simply knock down a commodity product.
CraftBeer.com is fully dedicated to small and independent U.S. breweries. We are published by the Brewers Association, the not-for-profit trade group dedicated to promoting and protecting America's small and independent craft brewers. Stories and opinions shared on CraftBeer.com do not imply endorsement by or positions taken by the Brewers Association or its members.