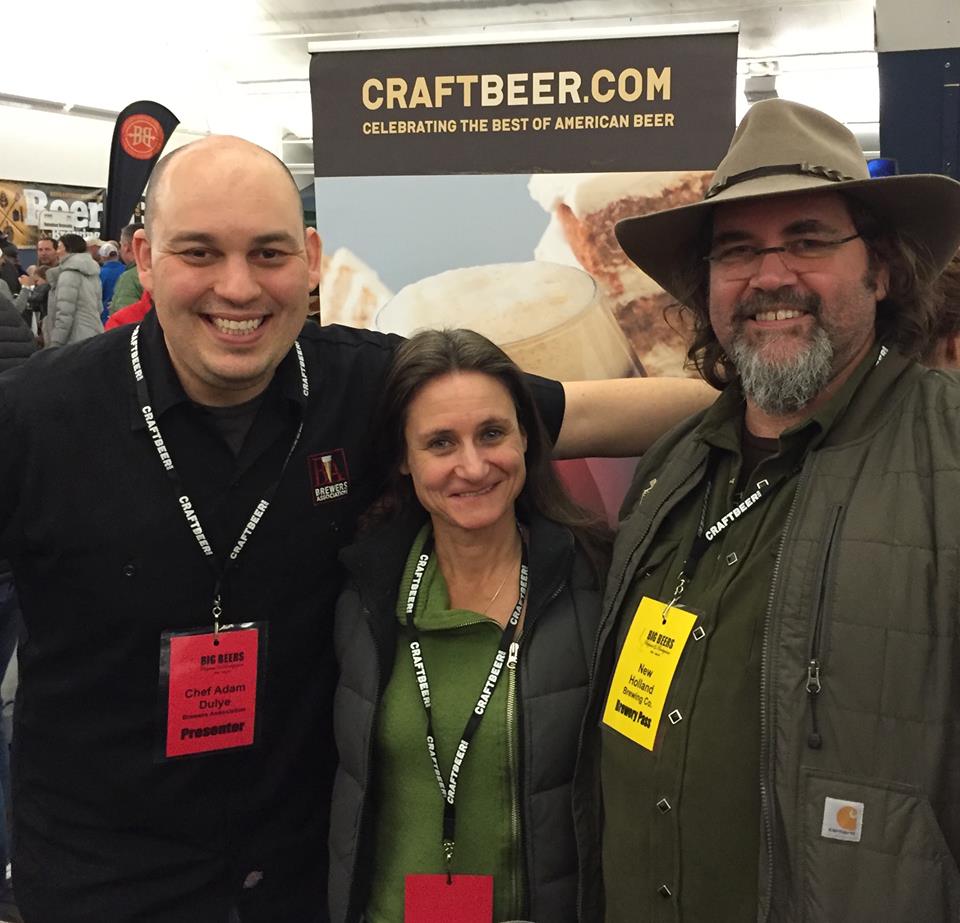 CraftBeer.com Featured on Fred Bueltmann's Stop and Taste Conversations Podcast
The brewing industry boasts an extensive list of fascinating individuals, but Fred Bueltmann of New Holland Brewing ranks toward the top of that list.
Fred is one of the owners of New Holland, and currently fills the role of vice president of brand and lifestyle. He formerly served as president of the Michigan Brewers Guild and received their prestigious Tom Burns Award in 2014. He's a certified Cicerone®, a Great American Beer Festival and World Beer Cup judge, and a nationally recognized expert on beer and food pairing. He published his first book, The Beervangelist's Guide to the Galaxy: A Philosophy of Food & Drink, in 2013.
"Beervangelist" was a self-imposed title that Fred created in 2004, as an homage to his mission to "bring beer to the people." While his primary focus remains craft beer, Fred's position has evolved in recent years. He now has a larger role in food, pairing and craft spirits. "Still, my mission remains pretty simple—I do my best to help people craft enjoyable experiences with all the beautiful choices out there in food and drink," says Fred.
One of Fred's most recent ventures is the Stop and Taste Conversations podcast, in which he interviews his colleagues who have helped shape craft beer, craft spirits and the food world.
"The world of food and drink is made up of remarkably interesting people," remarks Fred. "In fact, after more than twenty years of working and traveling in the business, it's the incredible people I've met from all walks of life that have left the biggest impression on me. I believe people are the most interesting and valuable part of the entire craft renaissance." Therefore, in celebration of his colleagues, "Stop and Taste Conversations" are intended to "shed some light on these colorful characters."
Stop and Taste guests so far include:
In the first half of episode five, Fred sat down with Julia Herz and Adam Dulye at Big Beers Festival in Vail, Colo.—deemed the "Sundance of beer festivals" by Fred.
Julia Herz is the Craft Beer Program Director for the Brewers Association, as well as the co-author of Beer Pairing: The Essential Guide from the Pairing Pros. Adam Dulye is the Executive Chef for the Brewers Association and CraftBeer.com (this is also the duo behind CraftBeer.com's Beer & Food Course).
The heart of Adam's and Julia's work is educating the public on the potential of craft beer and food pairing. Many consumers automatically think of wine when pairing but Adam and Julia are working to share the idea that beer picks up where wine leaves off—"the flavor harmony of beer compared to wine is exponential," states Adam.
Neither Julia nor Adam believes that beer is the only option for food pairing; they just recognize that there is not much information available regarding craft beer and food pairing, whereas wine and its pairing abilities have long been studied. However, there seems to be a natural relationship between food and craft beer.
For example, there is a lot more opportunity for ingredient adjustment in collaboration between beer and food. A brewer can tailor a beer to complement a specific food recipe, which isn't as easily done with wine and spirits. Also, Adam notes that there are a lot of similarities between chefs and brewers and the way they approach their craft:
"As a chef, you start having a lot of relationships with different people…what really hit me was the relationships with craft brewers. It's so connected to the culinary. Out of all three of the beverage categories, wine, spirits and beer, the brewer will sit down and tell you exactly what they did, what they were thinking, why they did it, what they used and what they might do differently. Any cook will do that for another cook as well, but you don't get that in wine and spirits. They're a little more secretive. I live out in California right now and literally people spy on each other when they go to harvest grapes…"
This sense of sharing and the open relationship constructed between brewers and chefs have thus made food and beer pairings that much more successful.
Because a level of intimidation is still present between the beer and food industries, Julia states that one of their goals is to instruct culinary institutions to educate their chef students, while at the same time, empowering the brewers.
"I do think that the training goes on for wine, and not just as the beverage but how it works with food, and I think we need to see a lot more of that with beer for there to be more of that comfort."
Episode five serves as an excellent example of Fred's aim for this podcast. Plied with Pilgrim's Dole Wheatwine and Zeppelin Bend Malt Whiskey, Julia and Adam are invited to share their pasts, their current ventures and their hopes for the future of this field.
Stop and Taste Conversations is not only inspiring for those working toward careers in the beverage and food industries but for those already immersed in this world. The podcast is forging connections among those involved with food and drink and furthering education and collaboration of these craft industries.
And who better to host these podcasts than Fred Bueltmann? Of Fred, Brett VanderKamp, president and co-founder of New Holland Brewing, says, "Fred IS craft. He has made craft beer and spirits his livelihood. He is committed to the craft food movement, hosting dinners, developing his own cooking prowess…[T]his is not a hobby for him. Craft is the way that Fred lives his life."
CraftBeer.com is fully dedicated to small and independent U.S. breweries. We are published by the Brewers Association, the not-for-profit trade group dedicated to promoting and protecting America's small and independent craft brewers. Stories and opinions shared on CraftBeer.com do not imply endorsement by or positions taken by the Brewers Association or its members.