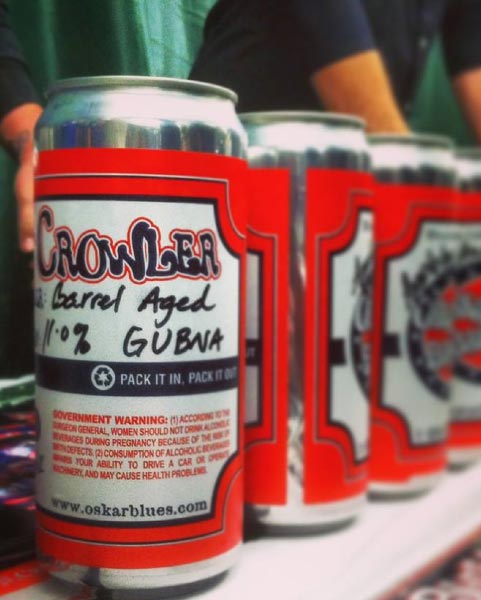 Crowlers Are a Kick in the Glass
Since time immemorial, the routine has been the same—visit a brewery and anyone of age can take home a glass growler full of beer. Glass, and occasionally plastic or hydroflask containers, were the only options for a take-home container. If that beer happened to be a beach beer or a session beer that begged to be enjoyed outdoors, there weren't many options for the consumer—and who could imagine a growler-sized can? Well, like many areas of the micro-canning revolution, Oskar Blues (OB) started off with a big set of cans on their mind.
A New Idea is Seamed
OB was one of the first craft brewery to experiment with 12-ounce aluminum cans, so it seems fitting that the Longmont, Colo., brewery is where the story of the 32-ounce crowler begins.
After working with their partners at the Ball Technology and Innovation Center, OB began tooling around with canning devices and devices for home canning. After a few tweaks, the team came up with a prototype of an on-demand seaming machine to can one beer at a time as needed. This machine, called a crowler—a combination of cans and growlers—would have a distinctly different future from its all-glass brethren.
According to Crowler CANministrator Jeremy Rudolph from OB, "We were working on Chub Nitro can filling and performance trials when I was introduced to a few old tabletop, household machines that you see folks use for putting tomatoes, etc. into steel cans. Roy and Ed from Ball were seeing if they could use it for aluminum beverage cans. We started modifying parts and over time found a setup that worked perfectly with Ball's 32-ounce cans. We saw a great opportunity to engage folks over the benefits of cans, as well as to possibly discontinue glass growlers ourselves, so little over a year ago we put the machine in our Longmont tasting room and tested it out full time. It was an immediate hit."
The container itself, the 32-ounce crowler, is trademark property of Ball Corporation, while the machine is made through the Wisconsin Aluminum Foundry. OB has exclusivity and sells the machine through the brewery. OB also helps get the machine to the masses by ordering crowlers from Ball—a minimum order is 60,000 cans—and splitting them into smaller batches before reselling them to crowlering partners.
From the premier of crowlers about two years ago, the idea picked up steam from Longmont out to the wider world. The specifications of the machine were changed to make it more affordable for breweries trying to sell beer to go, and what came out was a relatively cost-effective machine for breweries of all sizes.
How Does a Crowler Compare?
A crowler starts its life as an open can—one without a lid. It is then hand-labeled and the beer name is written on the label. In order to fill it, a tube is placed from the beer faucet to the bottom and the vessel is filled with CO2. After purging, the empty crowler is then filled with beer and quickly seamed. The end product is a 32-ounce can of beer.
As far as the consumer is concerned, the upside of a crowler over a glass growler is one of cost, portability and cleanliness. Crowlers can go on beaches and bike trails where glass is prohibited. As an added plus, since material costs are considerably lower, most breweries offer crowlers for $1 over the cost of a fill. Cycle Brewing of Saint Petersburg, Fl., offers $6 crowlers of almost any beer in their repertoire on Mondays.
A crowler will last as long as a growler under the same conditions. The reusability of a glass growler can also work against it: folks who do not take their growlers in to be cleaned often enough risk a residue or funk forming in that growler, contributing undesirable flavors to the beer. A one-use crowler is cleaned and sanitized each time, allowing for every beer it contains to shine.
The downside is the one-and-done nature of a crowler—the aluminum containers lack the reuse features present in a glass growler. (Note: while the crowler is a one-use container, it is recyclable and made from 68% recycled content, according to OB.) Ultimately, it is up to the consumer to choose between the crowler and its glass siblings.
New Horizons for Cans
As more breweries embrace the crowler, the cans continue to take beer-to-go to more places. OB has sold roughly 100 crowler machines in the U.S., five in Australia, and one in the United Kingdom.
Tampa's Cigar City Brewing doubled down on crowlers by being the first brewery to screen-print their own crowlers to reduce the amount of time employees spend hand-labeling each blank can. Now the brewery places their own order for pallets of 60,000 crowlers in a batch, attesting to the way the crowler has taken off in Florida. In the Sunshine State alone, craft breweries from Tallahassee to the east coast, Tampa to Boynton Beach have enlisted in the crowler revolution.
Outside of the Southernmost State, crowlers reach from sea to shining sea as breweries from Chicago to California, Arizona to Ohio have added the machines to their lineup with popularity growing daily. The crowler even has its own Facebook page (maintained by OB), with added information growing every few days as new breweries or even coffee roasters join the crowler-canning revolution.
Popping Open the Future
While OB has the information and the drive to help others bring cans to the masses, his schedule continues to fill up as the popularity of the crowler grows. The goal is to continue to bring cans into the lives of those interested and to support them with the canning knowledge. Jeremy has had to add a team to respond to all of the inquiries. He warns any breweries who plan on seeking out a crowler machine: his voice mail box is often full from the response to this project. Still, the mission lives on—Jeremy is working to ensure that all who seek out the crowler can get brewery-fresh beer to the masses.
CraftBeer.com is fully dedicated to small and independent U.S. breweries. We are published by the Brewers Association, the not-for-profit trade group dedicated to promoting and protecting America's small and independent craft brewers. Stories and opinions shared on CraftBeer.com do not imply endorsement by or positions taken by the Brewers Association or its members.