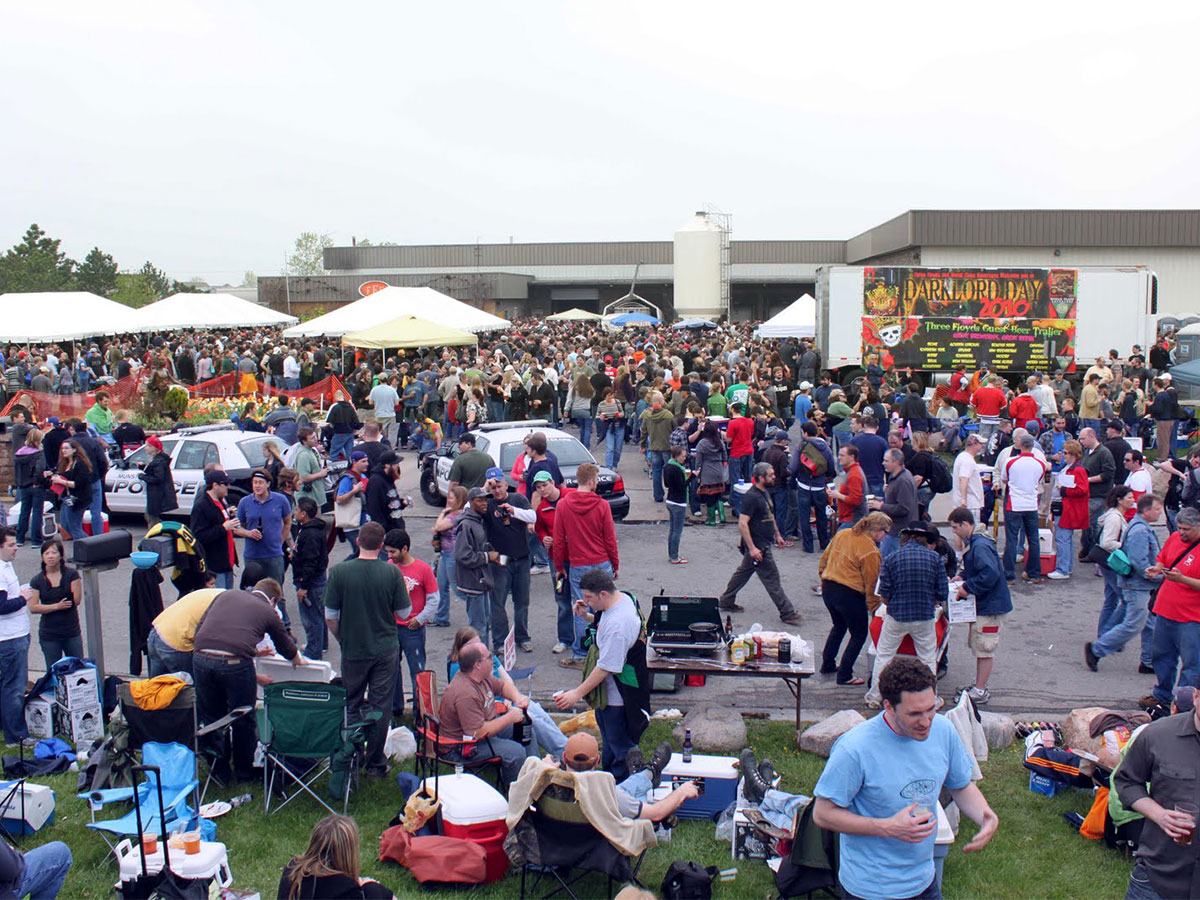 Dark Lord Day: Three Floyds Deserves Cult Status
So there we were, rubbing shoulders with the in-crowd of the craft beer world, packed like sardines next to thousands who love hoppy, hoppy nano brews. Thrash metal bands were screaming incoherently on stage as the masses hoped to make eye contact with Nick Floyd and receive a reciprocating head nod. "I think he remembers me because I come like every year," or "I'd like to have his baby," were undoubtedly some of the thoughts bouncing around in people's heads based on the gleam in their eyes.
It was in the mid-40s and raining in the post-apocalyptic ghost town of Munster, Ind., just east of Chicago, but that didn't stop the half-mile line of fans waiting to buy the once a year Russian imperial stout release from craft beer superheroes Three Floyds Brewing Co. They make a very limited amount of Dark Lord and they sell all of it in one day. Waxed dipped bombers are sold for $25, but some have been aged in bourbon barrels or laid down with vanilla beans and go for $50.
I had finally made it to the Super Bowl of beer trading; a chance to "taste the rarity," as most beer lovers only dream. As I shivered standing in my cold, wet socks, gawking at the innumerable brewery hoodies in attendance and DEFCON 5 serious beer trading, a warm feeling came over me—I had just farted. You can't leave a craft beer event without a proper crop-dusting, and that day I decided to make a preemptive strike. But shortly after, another warming feeling came; I had finally made it to one of the paramount craft beer experiences: Dark Lord Day.
If you don't know who or what I'm talking about, Google it. It's hysterical. Three Floyds (sometimes referenced as FFF) epitomizes the "we don't give a #$%!" attitude that craft beer enthusiasts love, with wacked-out Tim Burton-esque characters gracing the labels of their beers that carry equally absurd names like Arctic Panzer Wolf or Zombie Dust. But one thing cannot be denied—these guys make great beer.
The only complaint you might hear from people who actually know what they're talking about it is that some of their hoppier beers can be a bit catty (as in the cat urine off-flavor some high alpha acid American hops like Simcoe or Galaxy can produce). But, aggressively resinous, extreme American hopping is in right now and plenty of beer lovers look for that flavor in the first place. Save that…FFF nails it! Floyds makes beautifully balanced, sessionable beers like their American wheat, Gumballhead; English mild, Pride & Joy; the delicious and juicy imperial IPA, Dreadnaught; a brilliant milk stout, Moloko, and plenty more with their collaborations and experimental beers.
Unlike breweries who create abominations of styles—liquid beer casseroles like unfiltered pilsners with hefeweizen yeast and sour imperial stouts jacked with acetobacter—Three Floyds shows an understanding of the past, present and future of beer with their creations, and have the skill and science in the brewhouse to get there.
The Craft Beer Subculture
Many of you outsiders to the craft beer world are rolling your eyes and laughing, but I'm sure you have your own passion and we're not judging! Art lovers visit the Louvre. Foodies dine at Thomas Keller's Per Se in New York. Rock climbers scale El Capitan in Yosemite. Craft beer fans stand in the freezing cold for a chance to take home a once-in-a-lifetime bottle with a couple thousand of their beer-lovin' brethren—it's just what we do!
As with every subculture, there are varying levels of commitment with their own bragging rights and acts that prove your devotion to the cause. Dark Lord Day is definitely on the Mt. Rushmore of many craft beer drinkers. So next time you think we're all wasting our time chasing down bourbon barrel-aged barley wines and taking over our refrigerator's crisper with bottle collections we smuggled in our checked baggage, remember that you're just like us—except your Dark Lord Day is playing 18 holes with some wrinkly old dude, sweating bullets at Augusta National as he explains how teamonade was named after him.
No "Wine-ing" Allowed
It's true, there are haters, fakers and imitators in all universes of interest, including craft beer. Eavesdropping becomes easy as a couple of high gravity beers tend to rid people of their inside voices. Some seem to show up to events like this to deem every beer infected, or make outrageous claims that their homebrew tastes better. I believe education is an integral part of great beer's continued growth, but there's little room for snobbery or the "wineification" of beer. Beer is a great social drink and meant to be enjoyed—so have fun and drink a craft beer!
On the other hand, many could be heard spouting off false information to a flock of beer sheep looking to soak in something on the subject. I recently saw a hilarious vlog (video blog) of a 22-year-old kid creating his own beer vernacular and putting together blatantly awful food and beer pairings, like a hoppy and rich American barley wine with a Caesar salad…I'll make sure to drink orange juice after brushing my teeth too! Misinformation can be divisive in its own way and it's always best to do your own research or check with quality resources like Craftbeer.com to get some good direction before claiming to be a prophet on the subject.
While those people were lurking around Dark Lord Day, it was all in all as things should be. People were enjoying great beer with their good friends. The American craft beer movement is growing on the shoulders of breweries whose first and foremost priority is quality, not gimmicks or winging it in the brewhouse because it seems like a cool way to make a living.
Three Floyds makes a bunch of phenomenal beer and as best as I can tell, their branding is a representation of the characters who make it. They have created an authentic, quality conscious business that can't even come close to matching their demand because people buy all of their beer on sight. It sounds like the American dream to me! I'm just glad I got to stand there in the rain with my brother and some of his fellow Chicagoans and drink it all in. Pun intended. I'd just like to apologize to the short girl behind me when I got that first warm feeling.
Photos © Three Floyds Brewing Co. & Maeve Price
CraftBeer.com is fully dedicated to small and independent U.S. breweries. We are published by the Brewers Association, the not-for-profit trade group dedicated to promoting and protecting America's small and independent craft brewers. Stories and opinions shared on CraftBeer.com do not imply endorsement by or positions taken by the Brewers Association or its members.