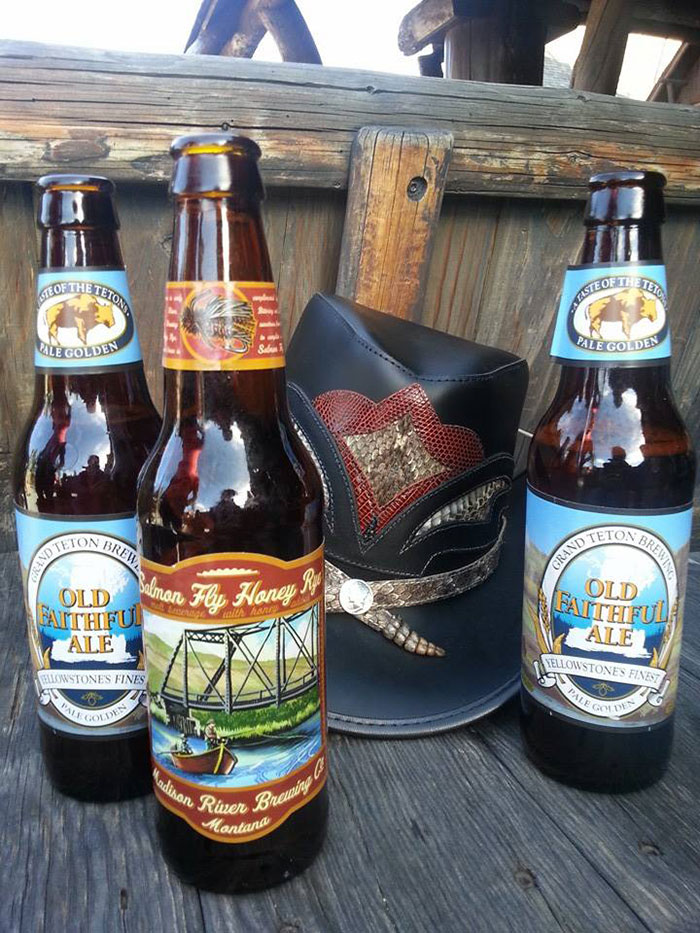 Finding Craft Beer in Yellowstone and the Grand Tetons
The double delight of Grand Teton and Yellowstone National Parks serves as one of the world's premier travel destinations, drawing millions every year from all over the globe.
The region is an outdoor-lover's paradise. Visitors come for Yellowstone's surreal geothermal features, rugged landscape and unparalleled wildlife, as well as the majestic mountain peaks, crystalline glacial lakes and superb hiking opportunities in the Teton Range.
But who comes for the beer?
Well, it's not usually the main reason for a visit to the parks. But whether you're based in the Tetons' gateway town of Jackson, Wyoming, or a rustic cabin in the woods south of of Bozeman, Montana, there is good craft beer to be found. In fact, with craft beer's meteoric rise in popularity, it's actually hard not to find it!
Jeff Bruce manages Yellowstone General Stores in the area and has watched craft beer's presence develop over the 25 years since he arrived. "I've seen it build up from a lot of [imports] like Heineken, but I've never seen anything like this," says Bruce. "Just in the Bozeman area alone, you cannot believe all the different kinds of beer. It's so hard anymore to pick what to bring into the park because there is such a selection. I try and bring in something new every year, but I only have so much room."
There's no better place to have the beer-enhanced outdoor vacation of your life. And there's no time like the present to start planning — lodging often sells out several months or even a year out, especially at some Yellowstone facilities. We offer this five-day planner as a guide to get you started.
Day 1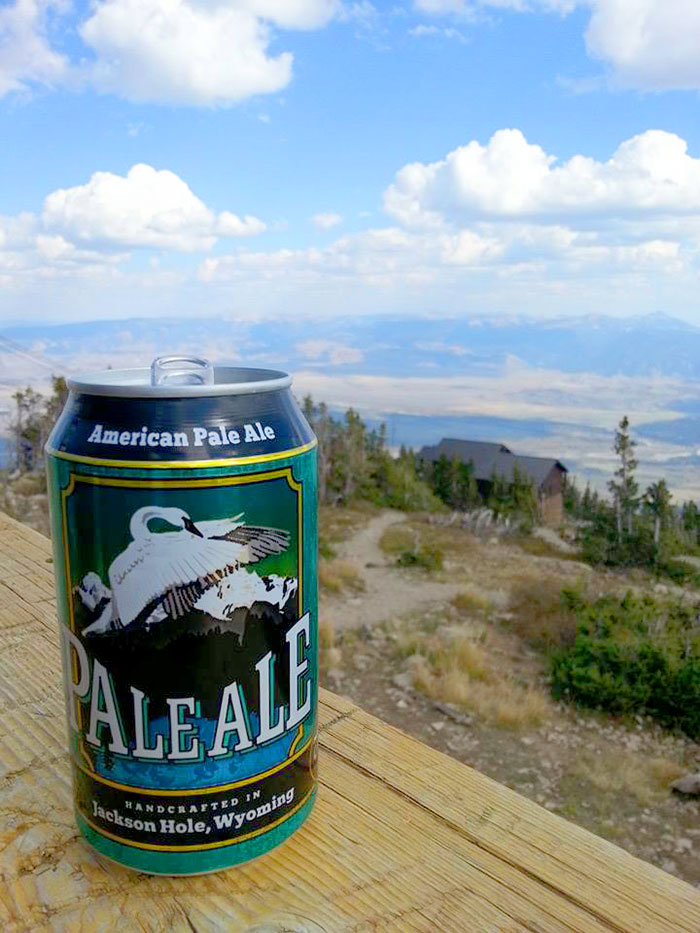 Assuming you take an early flight and arrive in Jackson during the day, take a drive into Grand Teton National Park to get the lay of the land, look for wildlife and see the jaw-dropping mountains.
Definitely check out the Chapel of the Transfiguration, just over a mile north of Moose Junction off the main park road. A large window behind the church altar offers unbelievable views of the Tetons.
Back in Jackson, have dinner at Snake River Brewing Co., Wyoming's oldest brewery and a two-time winner of Small Brewery of the Year at the Great American Beer Festival (GABF). Snake River is a full-service restaurant with a stellar lineup of brews. Try the Pako's IPA, Jenny Lake Lager or Zonker Stout.
Day 2
Rise and shine! Head out at dawn to make the most of your day, and watch for critters large and small as you follow Moose Wilson Road into the park.
At Moose Junction, about 13 miles north of Jackson, turn left on Teton Park Road and head to Jenny Lake, the start of one of the park's most popular and brilliant hikes.
Begin at the Jenny Lake Trailhead and traverse the south end of Jenny Lake via a loop hike, or to cut down on mileage, hop on the shuttle ferry that takes you across the lake to the Cascade Canyon Trailhead. Without the ferry it's about a 10-mile round-trip hike.
The hike's highlights are Hidden Falls; Inspiration Point, which provides a bird's-eye view of the lake below; and Cascade Canyon, with soaring, snow-capped peaks right above you.
Relax back at Jenny Lake, explore more of the park and then head back to Jackson for dinner at the town's other star brewery, the unlikely Thai Me Up Restaurant and Brewery — an Asian-inspired brewpub serving its own Melvin line of beers and other guest brews.
The tiny brewery is big on accolades, having won three medals — including two golds — at the 2012 GABF, two more medals at the 2014 World Beer Cup, and back-to-back titles (2012-13) in Hopunion's Alpha King Challenge. Keep your eyes out for ChChCherry Bomb, an award-winning 8 percent ABV treat.
Day 3
Getting another early start from Jackson, take the main park road (U.S. Highways 26/89/191) and John D. Rockefeller Memorial Parkway north to the southern entrance of Yellowstone.
While not among the star attractions of the park, the stretch of road from the south entrance to West Thumb Junction does include two very pretty waterfalls — Moose Falls and Lewis Falls — that are well worth a stop.
Continue on to West Thumb Geyser Basin, a great introduction to Yellowstone's world-famous geothermal features. A half-mile boardwalk loop trail takes visitors around a number of small geysers and hot springs, set against the backdrop of Yellowstone Lake, the largest high-elevation lake in North America with 110 miles of shoreline.
From there, follow the park's Grand Loop Road north to the Lake Village area, stopping at the general store here for a late lunch…and beer!
What to choose? How about a Cold Smoke Scotch Ale or Double Haul IPA from Kettlehouse Brewing Co. out of Missoula, Montana.
You reserved that Lake Lodge cabin way back when, right? Check into your room, then check out Lake Village before heading back out on the Grand Loop Road. Go north and visit LeHardy's Rapids, then up to the Mud Volcano area for the mesmerizing sight of steam rising out of the earth all around you. A one-mile loop trail here takes you to some cool features highlighted by Mud Volcano and Dragon's Mouth Spring, where steam puffs out of a large opening — the "mouth" of a cavern.
Look for buffalo and other wildlife on the return to Lake Village, and spend the evening relaxing with those beers and a late dinner at Lake Lodge or the beautiful Lake Hotel.
Day 4
In the morning, head north again on the Grand Loop Road. Yes, it's a bit of backtracking, but the stretch from Fishing Bridge, just north of Lake Village, up to the Hayden Valley is prime wildlife territory.
During my trip here, I spent sunrise in the back of a pick-up truck, watching through binoculars as two wolves scavenged the carcass of a large mammal that had reportedly been recently killed by a grizzly. And bison were everywhere, in the fields and walking in front of cars in Hayden Valley.
Beyond the valley, you'll arrive at the Grand Canyon of the Yellowstone, one of the most magnificent sights in the West. The narrow canyon's colorful walls glow in the morning light, and are punctuated by the spectacular 300-foot Lower Falls.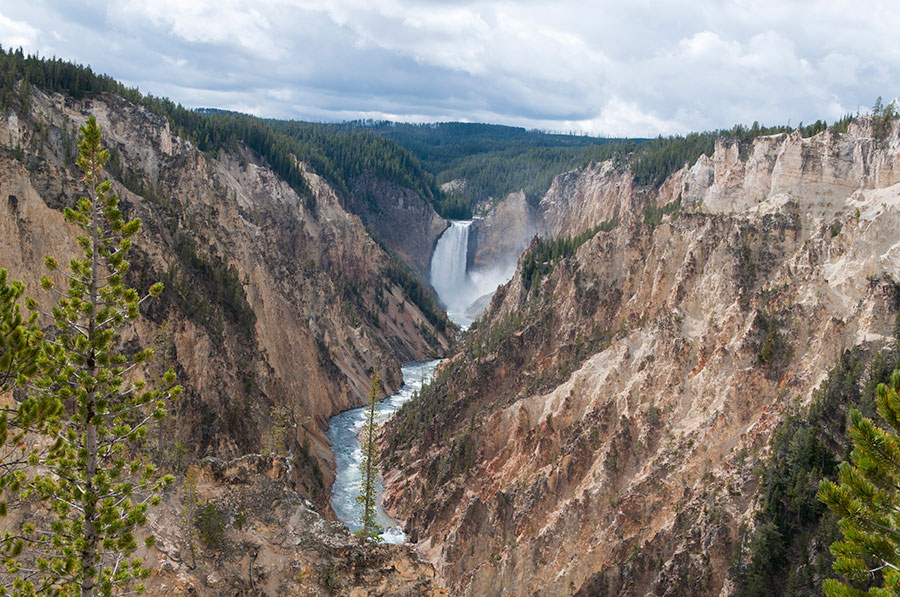 View the falls, and hear their faint roar, from nearly a mile down the canyon at Artist Point. Be sure to walk Uncle Tom's Trail — you'll go down 328 metal steps that drop to a dead-on view of the falls, with a rainbow to boot in late morning. The climb back up will have you ready for a cold beer.
Head on over the general store at Canyon Village and scoop up a 22-ounce bomber of Rogue Ales' Yellowstone Ale, a sixer of the famous Moose Drool brown ale from Big Sky Brewing, or perhaps some cans of Lewis & Clark Brewing's refreshing Yellowstone kolsch-style golden ale.
Leaving the Canyon area, head west on the Grand Loop Road toward Old Faithful Village, with a quick stop at Norris Geyser Basin if you have time. The first order of business upon arrival — besides cracking one of those beers — is a stop at the Old Faithful Visitor Center to get a list of predicted eruption times for the area's many geysers. Of course, you won't have to go far or wait long to view the world's most famous gusher, Old Faithful herself. There will be people everywhere, but it's still a marvelous sight to behold.
Even better, though, is a stroll along the boardwalk just above Old Faithful in the Upper Geyser Basin. Whether it's this evening or tomorrow morning — depending on the eruption time — don't miss Riverside and Grand Geyser. The latter is the world's tallest predictable geyser.
After a few hours of viewing boiling-hot water spout from the earth's crust, cap the evening by pouring another kind of bubbling liquid into a drinking glass. Lodging in the Old Faithful area is bountiful, from simple log cabins to rooms at the iconic and beautiful Old Faithful Inn.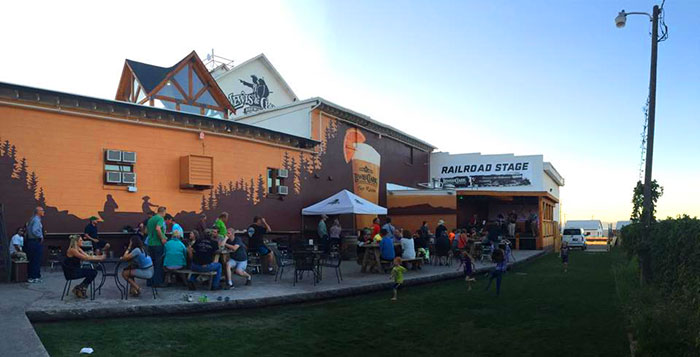 Day 5
There is plenty to do and see today on the west side of the park, including coffee and another viewing of Old Faithful — or maybe another geyser that's predicted to go off in the area. There is no shortage of geysers, hot springs, pools and other striking geothermal features in the Midway and Lower Geyser Basin, which includes a cool little detour off the Grand Loop Road for Firehole Lake Drive.
One must-see sight is Grand Prismatic Spring, one of Yellowstone's most-photographed sights. The colors are surreal. To get the best view, and picture, you'll have to take a short walk on the Fairy Falls Trail and scramble up an obvious hillside. It's well worth the effort.
Further north, you can cruise Firehole Canyon Drive. A few more miles after that, go left at Madison Junction where a late-day drive along the Madison River should yield some great wildlife sightings.
Back at Old Faithful Village, hit up the general store for some farewell craft beers on your final evening of the trip. Of course, the light Old Faithful Ale is a natural here, but if you're looking for something a little more complex and flavorful, try one of the other beers available from Grand Teton Brewing, such as Howling Wolf Weisse Bier, Sweetgrass Pale Ale or Bitch Creek ESB.
Raise your glass and savor fresh memories of the American West's natural splendor. Cheers to the great outdoors!
CraftBeer.com is fully dedicated to small and independent U.S. breweries. We are published by the Brewers Association, the not-for-profit trade group dedicated to promoting and protecting America's small and independent craft brewers. Stories and opinions shared on CraftBeer.com do not imply endorsement by or positions taken by the Brewers Association or its members.