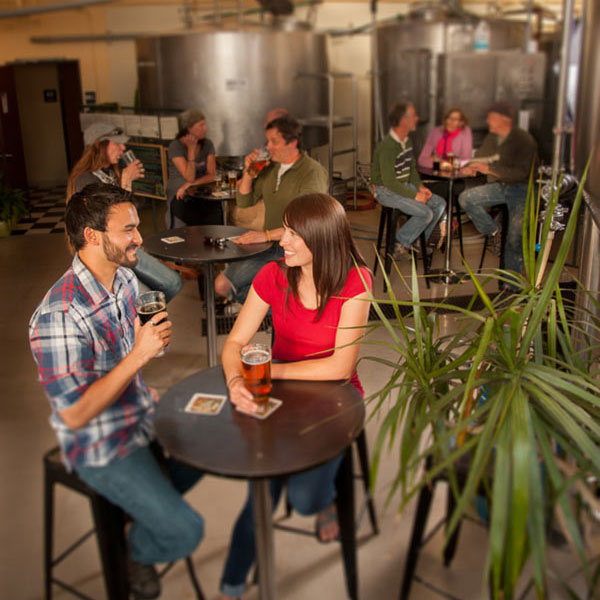 Flagstaff Ale Trail: Craft Beer & Tourism Collide
Arriving in Flagstaff, Ariz., it can be hard to keep one's thoughts focused on beer. That's no knock on the local craft beer scene, though. It's more of a testament to the vibrancy of the town and its natural surroundings.
Tree-lined mountains begging to be climbed by adventurers surround the high-elevation city. Northern Arizona University students can be seen cycling around town or simply enjoying conversation on Heritage Square, a brick plaza in the center of Flagstaff.
But despite the many attractions vying for my attention—shops, coffee, bikes, music, scenery—craft beer managed to stay on my mind. Specifically, the Flagstaff Ale Trail.
I met Joanne Hudson, of the Flagstaff Convention & Visitors Bureau, at Diablo Burger. While we ate, I got an intro to the local craft beer scene before heading out to discover for myself how this marketed trail has impacted Flagstaff's brewing culture.
Power in Numbers
Hudson told me that the Ale Trail, Launched in the summer of 2012 by Flagstaff resident Geoff Barnard, received early and enthusiastic buy-in from local breweries.
"It didn't cost them any money," she explained.
Well, that helps. But more importantly, it became an easy way for the breweries to join forces and promote beer tourism.
Barnard based his creation off of the Bend Ale Trail™ in Oregon, seeing an opportunity to unite Flagstaff's brewers in support of one another.
At first glance, it seemed to have worked. After all, why else was I in town except to visit a group of breweries marketed together under one umbrella?
However, my personal consumption habits are hardly indicative of a successful trend or marketing maneuver. So it was time to grab my Flagstaff Ale Trail stamp book and mug and venture forth to meet the brewers.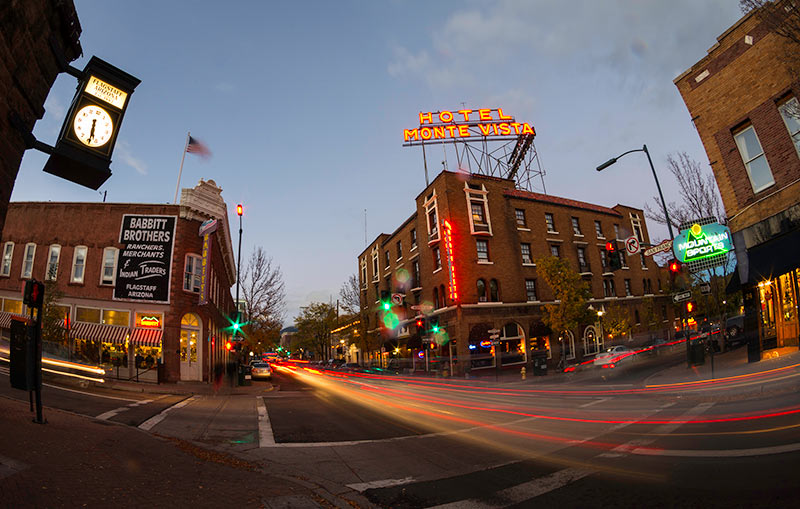 Mother Road Brewing Co.
Unlike a nature trail, the Ale Trail has no defined beginning or end point; you can start from almost anywhere in the city of Flagstaff. That is to say, there is no right or wrong way to do the trail. So I hiked south across the train tracks to Mother Road Brewing Co. on Phoenix and Mikes Pike.
Mother Road is housed in a simple brick building. The white paint has worn off over the years, but it's more aesthetically interesting than a cookie-cutter box. Inside you get the feeling that the building used to be something else, like most of today's breweries.
Michael Marquess, founder of Mother Road, took me to the back room to chat while trying a sampler.
"The Ale Trail was a natural extension of what brewers do anyways," he said, referring to their shared interest in promoting their home as a beer town. After all, it's already clear that beer tourism is significantly on the rise. And out of town drinkers are not going to bother with your city if the impression is that your region is a beer desert.
Beyond simple marketing, Marquess said the Ale Trail introduces craft beer to new audiences. He recalled the story of an NAU student who bought a Flagstaff Ale Trail passport for his "wine snob" parents. They headed out to Mother Road, chatted with the staff, and made an easy transition from wine to craft beer.
This, Marquess noted, is the biggest impact of the Flagstaff Ale Trail. Without the marketing the trail provides, he said, "Beer drinkers will find us. Tourists might not."
Lumberyard Brewing Co.
Just down the straight on Phoenix Avenue sits Lumberyard Brewing Co.,
now celebrating twenty years of brewing (four at the current location, which as you might have guessed is a former lumberyard).
When I asked Brewer Mike Delvin about the Flagstaff Ale Trail, he recalled how every summer "you'll see people with their cups and passports." He also agreed with Marquess regarding the impact it has on promoting Flagstaff as a craft beer town.
"It's definitely helped the local craft beer industry," Delvin said between sips of Lumberyard's pilsner. "It's an extra connection."
Delvin said the trail has also led to collaborations between breweries, which he hopes will feed back into events that promote the Flagstaff Ale Trail, and by extension the breweries themselves.
"The beer scene here is really starting to blossom," he said.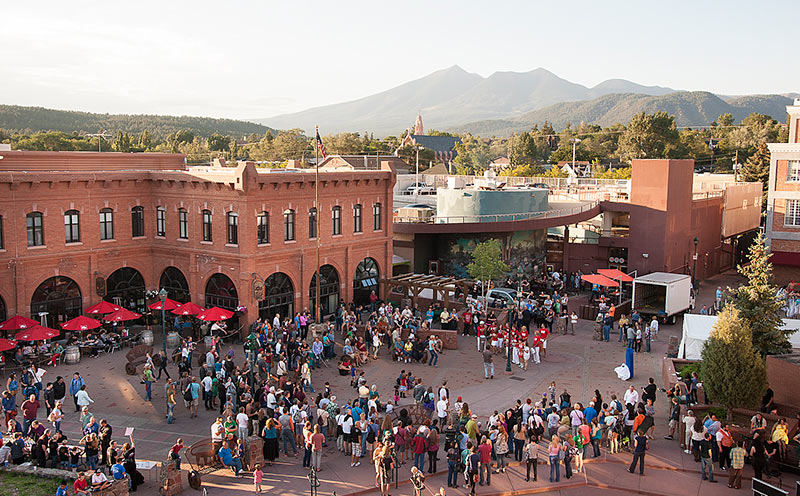 Arizona Beer Trail
The Arizona Beer Trail is another cog in the state's beer tourism machine. Though technically unaffiliated with the Flagstaff Ale Trail, the statewide trail includes all of those breweries as well.
The Arizona Beer Trail was launched in February 2013 during Arizona Beer Week. After the festivities, information about the trail was sent to visitor centers and various convention bureaus across the state. The Arizona Office of Tourism also distributes information on the Beer Trail when attending tourism conferences across the globe, including most recently in Germany.
Tiffany Jarratt-Shultz of Up Agency, the marketing firm tasked with promoting the Arizona Beer Trail, told me over the phone that the Trail's marketing efforts are in the midst of an expansion.
"We're working on creating a magazine and including an insert about the ale trail that will print out in October," she explained, noting the publication would act more or less as a tourism booklet with information about the breweries along the trail.
Just as the packaging of Flagstaff breweries into the marketing-friendly Flagstaff Ale Trail has helped that region, so too has the Arizona Beer Trail helped breweries across the state.
"The Trail definitely helps some of the smaller breweries," said Shultz. "People are finding places they never would have been to before."
And rather than turning into an ugly competition amongst the breweries, The Trail, according to Shultz, has inspired a new level of camaraderie within the Arizonan craft beer community.
"It's more of a brotherhood than a competition," Shultz said. "I think the trail helps everybody."
Flagstaff Ale Trail Breweries
Beaver Street Brewery
Charly's Pub & Grill
Flagstaff Brewing Co.
The Grand Canyon Brewing Co.
Historic Brewing Co.
Hops on Birch
Lumberyard Brewing Co.
Oak Creek Brewing (Sedona)
McGaughs Smoke & Bottle
Mother Road Brewing Co.
Wanderlust Brewing Co.
Photos © Flagstaff CVB
CraftBeer.com is fully dedicated to small and independent U.S. breweries. We are published by the Brewers Association, the not-for-profit trade group dedicated to promoting and protecting America's small and independent craft brewers. Stories and opinions shared on CraftBeer.com do not imply endorsement by or positions taken by the Brewers Association or its members.