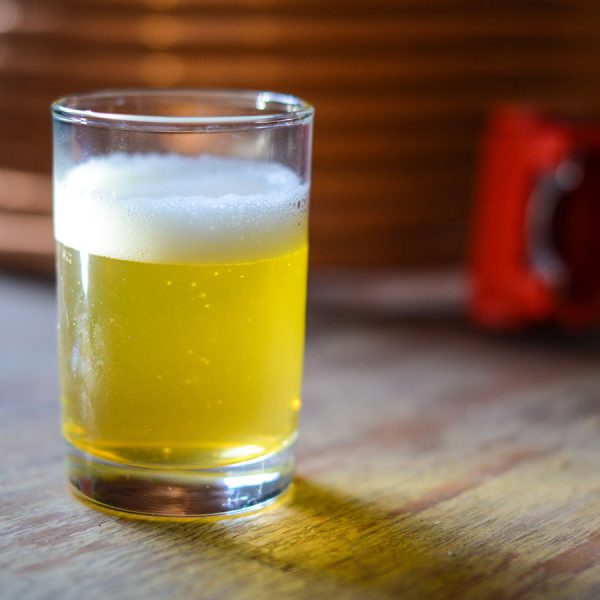 Florida Berliner Weisse: The Champagne of the South
When pioneer beer writer Michael Jackson went hunting for wheat beers in Germany, he discovered liquid treasure: an under appreciated and historic style of ale with a lactic bite so powerful that locals felt its sharp flavor should be cut with sweet syrup.
The wheat beers brewed around Berlin have been appreciated as far back as Napoleon's time, his troops dubbing them "the champagne of the North." Jackson remarked that when he asked to sample the beer in its unsweetened form, "I have sometimes been viewed as a madman. The syrups are considered necessary to moderate the intensity of the acid, although it has its own charm…."
Whether in historic Germany or contemporary American renditions, this style of beer, dubbed Berliner weisse, is beloved by fans and shunned by detractors even today.
Jackson went a step further and predicted the perfect pairing of Berliner weisses with the Sunshine State. In his beer guide, he posited a match made in heaven: "Berliner weisse beers are exceptionally thirst quenching, in much the same way as…lime juice in Florida."
Jackson's comment now seems prophetic. Though this style originated across an ocean, it has indeed made its way to the southernmost (and hottest) state in the U.S.
While Berliner weisses are perfect hot-weather beers, brewers in Florida have taken the concept of using sweet syrups and flavors to a new level. Southern brewers now incorporate those flavors into the beer prior to fermentation. This practice results in an uber-tart, low-pH wheat beer with striking color and large body, while maintaining the low alcohol presence of a Berliner weisse. These beers may be born of Berlin, but they are quite different from their old-country parent versions.
Berliner Weisse Before Florida
While Florida brewers took the idea of a deeply-fruited Berliner weisse and ran with it, there is little credence to the argument that the idea originated in Florida. Dogfish Head Craft Brewery (Milton, Del.) bears the honor and distinction of being the first American brewery to add a hefty dose of fruit to the style in their Festina Peche Berliner Weisse.
Festina Peche debuted in 2007, in the heat of the Delaware summer, before any of Florida's current Berliner brewers opened their doors. While Festina Peche is arguably not as aggressive as Florida's style of Berliner, Dogfish founder Sam Calagione could not have known his new approach to an old style would spread through an entire state, let alone a state hundreds of miles away from Delaware.
The Notion Spreads
In tracking the history of the nascent Floridian style of Berliner weisse, finding the very first iteration of the style is a herculean task. One of the first Florida beers to showcase the fruit-forward, tart wheat style was Peg's Cantina Rainbow Jelly Donut (RJD) Berliner Weisse around mid-2009. Once RJD went on tap, word of the style spread through online forums like Ratebeer and BeerAdvocate as the beer developed a buzz from fans and detractors alike.
Miami then-homebrewer and recent brewery owner Johnathan Wakefield was quoted in a Tampa Bay Times article about RJD, saying:
"It was a big curve ball thrown at beer drinkers. Drinkers were used to drinking huge beers, barrel-aged this and barrel-aged that. It took off because it was something completely different. It definitely struck a chord, and it's growing. There's not a lot of stuff out there that you can drink at four and a half percent alcohol that is refreshing and complex."
RJD's cult following and experimental nature prompted other Sunshine State brewers to taste the style and to try the idea. Berliner weisse spread around the state like a tropical-fruited storm.
Florida's craft brewers may not have come up with the idea of a Berliner weisse, but they quickly took the style in new directions of color, flavor and acidity. Each brewery has a different vision for the style and its key aspects.
Doug Dozark of Cycle Brewing, which spun off from Peg's Cantina, says it's the combination of high fruit content and bright acidity that make this style so unique.
"The most important aspect is probably the fruit character, that's what set this style apart and got people excited," says Dozark. "Florida has a climate that allows us to grow myriad tropical fruits and have access to fresh fruit almost all year, and I think gives us a great opportunity to experiment along those lines. Without the bright acidity, the fruit would come across flat, so while bright acidity is found in lots of beers and is not unique to this style, it is the engine that drives the train."
On the other hand, 7venth Sun Brewery's head brewer Justin Stange takes a more nuanced approach to Florida Berliner weisse. To Stange, the most important aspect is balance.
"As much as I appreciate the wild, intense fruited and sour versions I have tried across the state, I prefer a Berliner that I can drink more than one glass of per sitting," Stange says. "I've recently started referring to the sour styles produced at 7venth Sun as 'session sour' in flavor. By that I mean they are middle-of-the-road tart and refreshing, not overbearing. I look at it like hot sauce, which I am a huge fan and collector of: I find myself favoring the ones in the middle heat range more than the hottest ones in my collection."
A Drinkable Style, A Contentious Name
While all who drink the beer seem to enjoy it, the name of the style has been under debate since a change was first proposed. The question of whether to call the beer a "neo-Berliner weisse" (as Dogfish Head called Festina Peche), a "Berliner weisse," a "Floridian Berliner weisse," or simply a "Florida weisse" is so contentious as to drive both supporters and detractors to drink.
When asked about the style's divisive name, RateBeer executive director Joe Tucker was quoted in the Tampa Bay Times saying, "There's been an ongoing stink about it at RateBeer—it's not a traditional Berliner weisse because it's brewed with the fruit, the fruit's not added at the end. There are purists who would never put the sweet fruit in early. [The style] has gained a lot of attention."
Justin Clark, vice president of Tampa's Cigar City Brewing, puts it another way: "If brewers in the Pacific Northwest can call their beer a Cascadian Dark Ale, then why can't Florida brewers call theirs a Florida weisse?"
Cigar City produces several Florida weisse beers and has added 'Florida Weisse' to the description on their draft board. When asked if this was a conscious decision, founder Joey Redner gives a wry smile and says he was "just going with the crowd, following the stampede."
Florida Weisse Popularity Continues to Grow
Enthusiasium for these deep-hued tart ales continues to grow among Floridian craft beer drinkers. As Johnathan Wakefield began to build J. Wakefield Brewing in Miami, he created a crowdfunding campaign on CrowdBrewed.com. In his video, Wakefield promised to devote 25 percent of his production schedule to Florida weisse, based on availability of seasonal fruit grown in the Miami area.
While Cycle Brewing has cut back its production of Florida weisse, in April 2014, assistant brewers at Cycle brewed a limited production of Ecto Cooliner-Weiss, a green Florida Berliner weiss made to taste like Hi-C's Ecto-Cooler drink.
7venth Sun's Stange says he believes that the style could spread widely along with the growing popularity of a technique called kettle souring, which greatly reduces the potential for lactobacillus infection. In the meantime, 7venth Sun has continued to not only make Florida weisse, but has also earned the title of first Florida brewery to can a Berliner weisse.
From Berliners to Berliner Bash
Once several Florida brewers made the decision to produce and support the style, Dozark and Wakefield banded together to organize a festival dedicated to the style, and Berliner Bash on the Bay was born in 2012.
Now in its third year, the festival most recently boasted ten commercial breweries and two breweries-in-planning, and the name of the festival has changed to the Florida Weiss Bash. The 2015 festival will be hosted at J. Wakefield Brewing in Miami.
While makers of these tart treasures agree that the Berliner weisse did not originate in Florida, they will say that the style's new direction is uniquely Floridian.
Florida Berliner Weisse Examples
Champ Juice Tangerine | Green Bench Brewing Co. | St. Petersburg, FL A recent contributor to the Florida craze, this thick and orange beer lets no light through. It bites with a tart tangerine tang that finishes with a crisp acidity as fresh as Saint Petersburg itself. For fun, brewer Khris Johnson prepared a treatment of Champ Juice for Berliner Bash 2014 with habanero peppers to combine heat, sweet and pucker.
Dos Años Kumquat | Cigar City Brewing | Tampa, FL One of Cigar City's first attempts at the style, Dos Años combines the sour quality of a Berliner weisse with the deep color and the lovable, heavy fruit character of copious colorful kumquats.
Key Lime Sublime | 7venth Sun Brewery | Dunedin, FL This Florida Berliner weisse combines the light body of a Berliner weisse with a heavy dose of key lime for a citric surprise amongst the already acidic style. Key Lime Sublime promises to go easy on the first try, but then becomes a cult favorite.
PFDF (Passionfruit/Dragonfruit) | J. Wakefield Brewing | Miami, FL One of the staples of the style, PFDF pours an almost florescent pink while erupting with an overabundance of its namesake fruits. Acidic and a bruiser of a beer, it has a take-no-prisoners approach and consistently ranks among the top Berliner weisses in the world on RateBeer.com and BeerAdvocate.com.
Rainbow Jelly Donut | Peg's Cantina and Brew Pub | Gulfport, FL One of the originals of the Florida weisse style, this hazy beer was so tart that it had to be retired. Toward the end of its lifetime, RJD never lived long on tap lists and was the star of the First Annual Berliner Bash on the Bay in Gulfport.
CraftBeer.com is fully dedicated to small and independent U.S. breweries. We are published by the Brewers Association, the not-for-profit trade group dedicated to promoting and protecting America's small and independent craft brewers. Stories and opinions shared on CraftBeer.com do not imply endorsement by or positions taken by the Brewers Association or its members.