The India Pale Ale is the darling beer style of the United States' craft beer scene. Even if you personally prefer a sour beer or a craft lager, you can't argue with the popularity of the IPA.
Let's present some evidence: In this year's "Best Beers in America" poll by Zymurgy Magazine, IPA beers made up six of the top 10 "best beers."
Since 2011, the first Thursday of August has been recognized as IPA Day. Yes, there's a saison day, stout day, and even barrel-aged beer day, but we guarantee none of those days have grasped Twitter trend status like IPA Day.
IPA also reigns at the Great American Beer Festival (GABF). For more than a decade, American-Style IPA was the most-entered category at the GABF competition, only to be unseated in 2018 by a newly-minted IPA substyle: Juicy or Hazy India Pale Ale (which is still, at heart, an IPA, so it was really only partially unseated, right?!)
(READ: 2019 Great American Beer Festival Brewery List Released)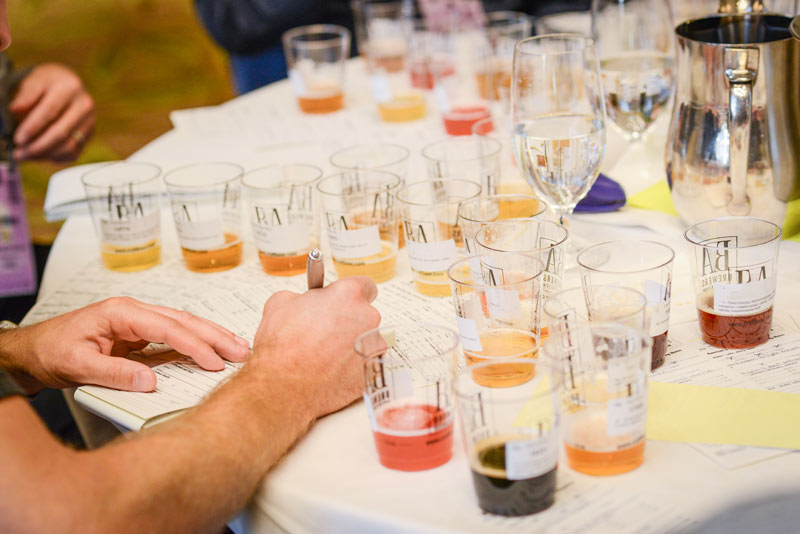 GABF Gold Medal IPAs
GABF judges first started judging the IPA category in 1989. Rubicon India Pale Ale from Rubicon Brewing in Sacramento, California, became the first GABF gold medal IPA. In 2017, Hailstorm Brewing beat out 408 other entrants to take gold (Fun fact: 408 entries that year set a record number of entries for IPA at the GABF competition). In 2018, Root Down Brewing's Bine claimed top honors and is also the brewery from the easternmost state to win gold for IPA.
(TICKETS: 2019 Great American Beer Festival)
World Beer Cup Gold Medal IPAs
Known as the "Olympics of Beer Competition," the Brewers Association (publishers of CraftBeer.com) developed the biennial World Beer Cup Competition in 1996 to celebrate the art and science of brewing. This global competition continues to create greater beer lover awareness about different beer styles and flavor profiles while promoting international brewing excellence.
The biennial World Beer Cup (WBC) also awards the top IPAs. Since the WBC is an international competition, grabbing top honors allows a gold medal-winning brewer to lay claim to brewing the best beer in the world.
Since its inception, the IPA beer style has gained popularity around the world. During the 2020 World Beer Cup in San Antonio, all eyes will be on this most-coveted award, and the competition has never been more fierce.
In its inaugural year, New Mexico's Il Vicino Brewing's Wet IPA captured the first-ever World Beer Cup gold in the category.
During the 2017 competition held in Nashville, Revision Brewing took gold. View all of the previous World Beer Cup awards, here.
Graphic: Gold Medal IPAs from 1989 to 2018
Our map below tracks two decades of gold medal IPAs at GABF and WBC competitions. Take a look.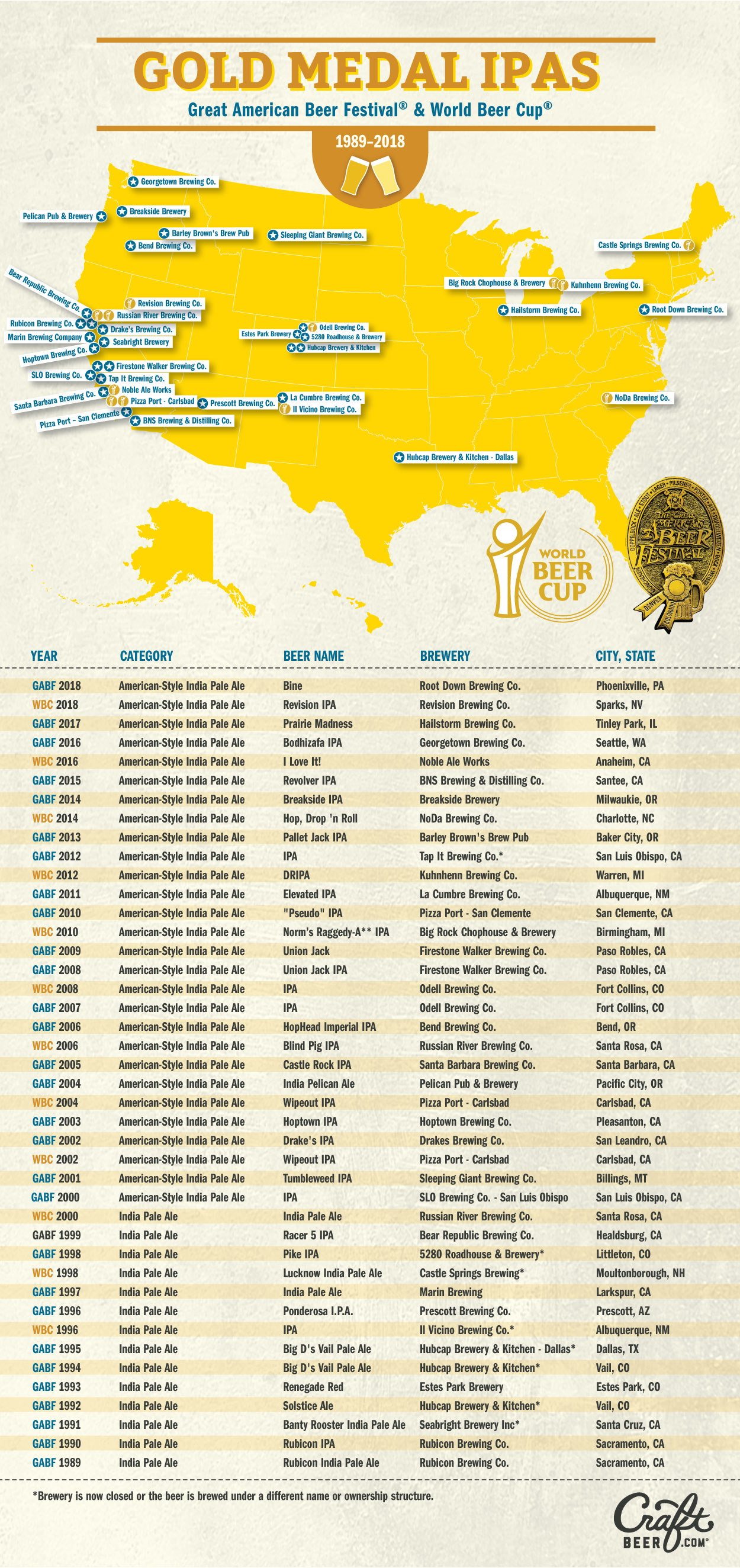 Long Live the IPA
The wide world of craft beer is an abbreviation heavy community, from ABVs and IBUs to ESBs, DDH, and if you can cover this round, I('ll) O.U. But no three letters have become so well-known as to take on a life of their own more than the abbreviation: IPA.
CraftBeer.com is fully dedicated to small and independent U.S. breweries. We are published by the Brewers Association, the not-for-profit trade group dedicated to promoting and protecting America's small and independent craft brewers. Stories and opinions shared on CraftBeer.com do not imply endorsement by or positions taken by the Brewers Association or its members.