It's no surprise breweries love rivers. Brewers have long been advocates for protecting watersheds from contamination and development, usually singing the common refrain that "clean water is beer's main ingredient."
But there's often another, more personal component to their efforts to protect rivers, streams and lakes: Beer brewers and drinkers enjoy spending time on the water when they're off the clock. Whether rafting, water skiing, tubing or fishing, clean water and a healthy ecosystem are critical to those recreational opportunities. And when it comes to recreation, few activities trump trout fishing among brewers' favorite pastimes.
That's why so many craft breweries have used beer as a vehicle both to educate the public about trout conservation and raise money for organizations that protect trout habitat. From coast to coast, small and independent breweries have found creative, substantial programs to bring the worlds of trout conservation and beer together for the betterment of local waterways. Here are a few ways small and independent breweries are protecting water and even raising trout near their own taprooms.
Upslope's 1% For Rivers
"I was an avid fly fisherman in another life; now I'm too busy," says Henry Wood, director of sales and marketing for Boulder, Colorado-based Upslope Brewing Company. That love of fishing cold rivers throughout the West, though, continues to be at the heart of Upslope's partnership with freshwater conservation non-profit Trout Unlimited (TU).
Through its 1% For Rivers program, Upslope donates one percent of topline sales from its Craft Lager to the Trout Unlimited chapter in states where the beer is sold, allowing the money to flow to local conservation projects. The program is now in its tenth year, and Wood says it generated roughly $25,000 for TU in 2018.
"Protecting cold water fisheries protects water for us, for people, for beer, for wildlife. We can't survive without clean water," Wood says. "I believe that TU has a bigger mission than just fish."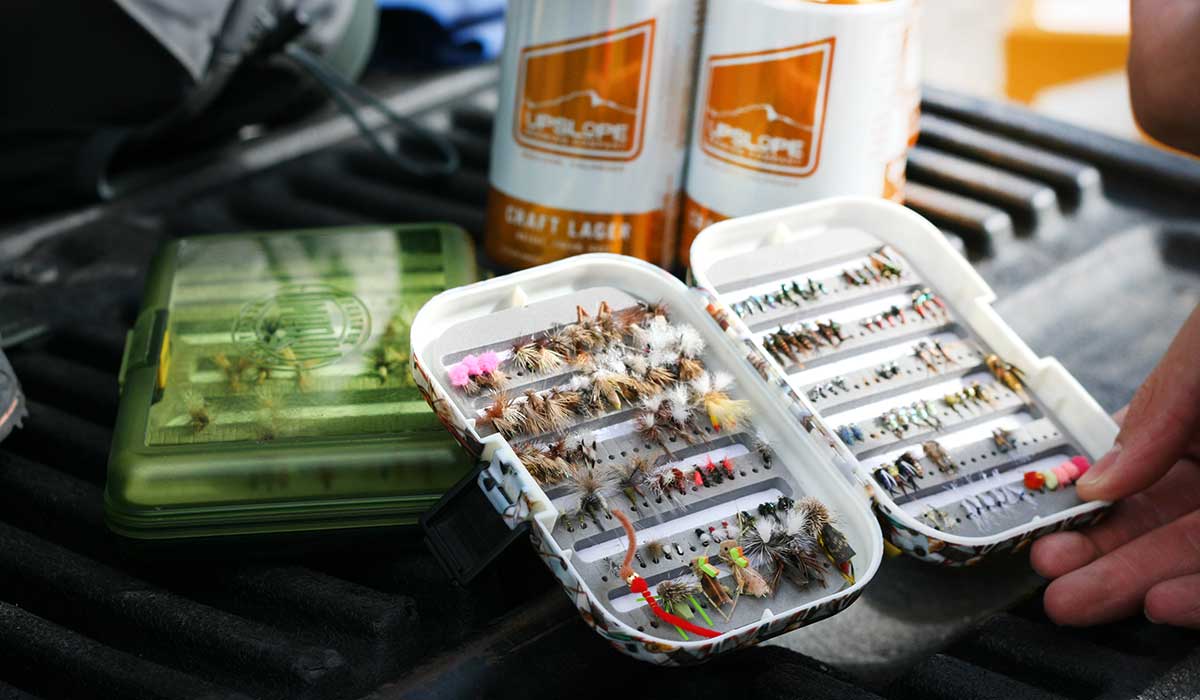 As for why Upslope chose Craft Lager as its designated TU beer, Wood says that's simple: It's the beer you want to drink when you're fishing.
"It's what you want in the drift boat all day. It's so sessionable. We have had some younger members of TU who are like 'What about a pale ale? What about an IPA?' But I can't crush five IPAs and still steer the boat."
Heirloom Rustic Ales' Trout In The Taproom
Not many brewery taprooms have fish tanks, and still fewer have a 55-gallon tank full of 100 fledgling rainbow trout. Naturally, that tank is a conversation starter for visitors to Tulsa, Oklahoma's Heirloom Rustic Ales, where head brewer and cofounder Jake Miller is more than happy to wax poetic about his hopes and dreams for the small fish living inside. Once they're roughly a year old, Heirloom plans to hand them over to its local Trout Unlimited chapter for release into the nearby Lower Illinois River. All that is contingent, though, on Miller keeping the trout alive.
"I studied fish in college, so I went in super confident, like 'We're gonna have this tank and it's gonna be badass,'" Miller says. "And then, oh my god, I went on a business trip for two days and I came back and probably a third of my fish were dead."
Ammonia levels in the tank had spiked dramatically while Miller was gone, a not-uncommon and perplexing issue among people raising aquarium trout. Through hours of daily work and monitoring, Miller was able to correct the water chemistry and stabilize the tank, though he still frets over the trout as though they were puppies.
To educate the public about what the aquarium represents, Heirloom has incorporated the Trout In The Taproom program, a spinoff of TU's Trout In The Classroom program, into brewery tours. Each tour wraps up in the taproom with a 10-minute discussion of the tank, focusing on how regulatory changes in Oklahoma—like controversial EPA permitting loopholes and agricultural waste from new chicken-processing plants—can damage local waterways.
"It's trying to get people who would otherwise never hear about these issues at least get some sort of conversation started," Miller says. "They're here for a beer, but I've luckily been able to talk about these things. People have no idea we even have trout in Oklahoma. It's been really cool to see a whole bunch of conversations in the taproom even spin off from the one that I'm having. So hopefully my fish freaking live."
If all goes according to plan, the same small trout Heirloom's visitors watched while sipping a saison will be swimming through the Lower Illinois later this year.
Five & 20's TimberFish Partnership
Craft breweries are often more than just breweries; they're community gathering spaces, music venues, and if Westfield, New York-based Five & 20 Spirits and Brewing has anything to say about it, maybe commercial fish farms.
The family-owned brewery, distillery and winery has partnered with a local agricultural technology company, TimberFish, to install a first-of-its-kind aquatic farm on the brewery's property. TimberFish's technology essentially uses waste from the distilling and brewing operations combined with wood chips from felled trees to grow a sustainable biomass that feeds trout, catfish, yellow perch, freshwater prawns and other types of fish. Eventually, the hope is to scale the program in such a way that the nutritionally beneficial, sustainably raised fish could be sold to grocery stores or restaurants, sequestering carbon and making use of manufacturing waste in the process.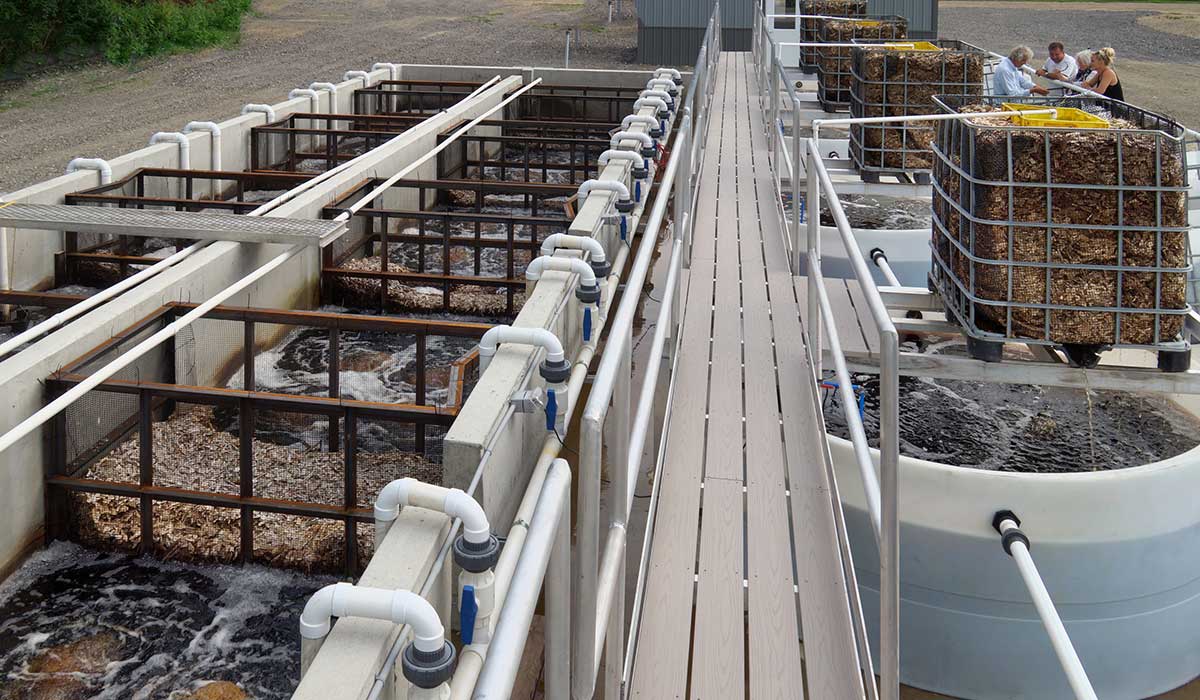 "Six, seven or eight years ago, I never expected [to see] myself talking about recirculating aquaculture. We're located on a farm, so we don't have municipal wastewater. Our options [for our waste] are either land application at certain times of the year, or having it hauled away—both of those have cost. Here, you're creating a value added product out of it," says Mario Mazza, general manager and vice president of Five & 20. "You can actually generate a revenue stream with this rather than incurring a cost."
TimberFish founder Dr. Jere Northrop says increased attention to climate change, sustainable seafood and local agriculture has generated interest in this technology, which he hopes will be implemented on a global scale. A renovation and expansion to fully enclose the hoop house and 8-foot-deep concrete tanks at the TimberFish facility at Five & 20 is set for this summer, and would make the facility capable of producing a million and a half pounds of fish each year.
"In the summer when we have pint nights or events, we do tours of the system. I think people expect a few buckets and 55-gallon drum out back," Mazza says. "It's wonderful to try to get people to do things that are good for the environment, but if you make it an economic driver, you hopefully get widespread adoption."
SweetWater's Stack A Fish, Stock A Stream
If stocking streams with healthy trout could be as easy as drinking beer, wouldn't that be a beautiful world? For Atlanta-based SweetWater Brewing Company, it is almost that simple. The brewery launched its Stack A Fish, Stock A Stream initiative three years ago as a visual way to connect SweetWater drinkers with fish conservation.
The premise is easy: Stack three specially designed SweetWater cans so they form a fish, snap a picture and post it to social media with the tag #fishforafish, and SweetWater works with local TU chapters to repatriate trout to their natural habitats. Initially, that program partnered with Trout Unlimited, but has grown to also include tagging tarpon with Bonefish and Tarpon Trust. All part of their annual Save Our Water campaign, SweetWater has donated over $1 million to partner organizations TU, Bonefish and Tarpon Trust, Coastal Conservation Alliance and Waterkeeper Alliance.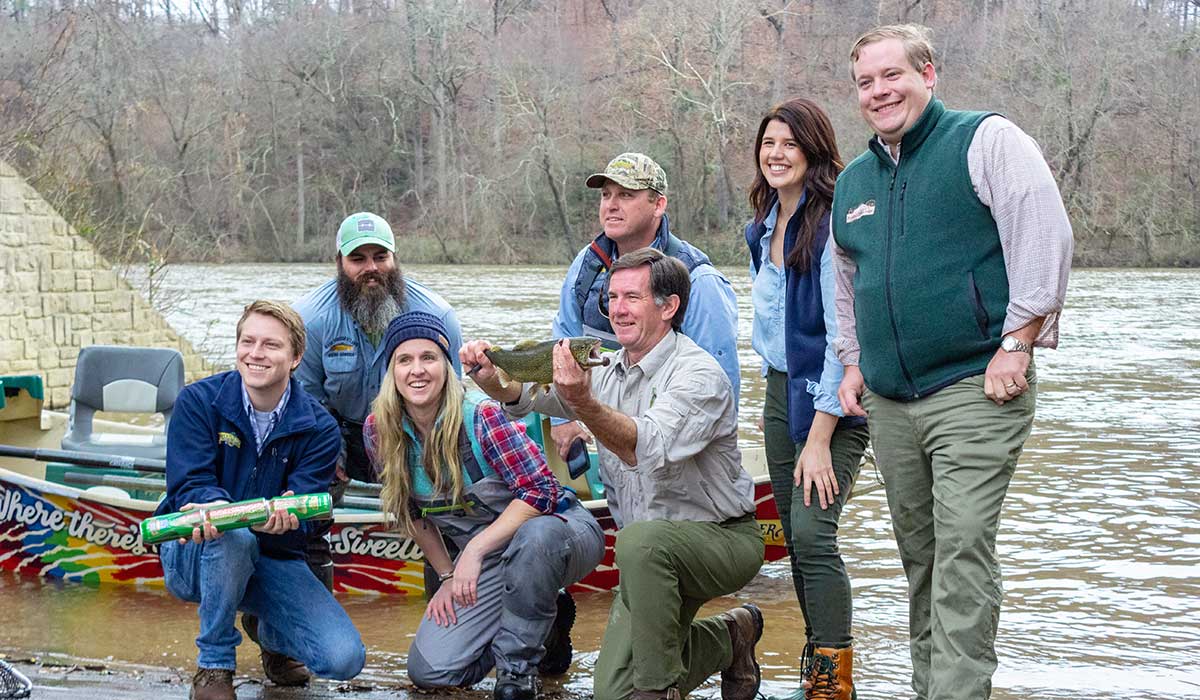 "Last year we turned our seasonal can, Mosaic IPA, into the brook trout stackable can. We, specifically with those cans, helped Trout Unlimited repatriate some native brook trout in streams," says Jake Pickett, SweetWater's partnership marketing manager. "So instead of dumping stock hatchery fish into the river, they take native trout from other parts of the river into parts of the river that might need some native fish. That's so they can impact the river in a more sustainable way."
A search for the hashtag #FishForAFish shows beer lovers have responded to the program in a big way, snapping photos of their stacked cans in rivers, on boats, and alongside actual live fish they've caught—and released.
These varied brewery trout programs all have something in common: They illustrate breweries' creativity when it comes to community involvement. While trout themselves may seem like a very specific cause, these breweries' efforts also touch on sustainable food systems, clean and safe wildlife habitats, outdoor recreational opportunities, and more. Best of all, beer lovers can support those important causes just by raising a glass.
CraftBeer.com is fully dedicated to small and independent U.S. breweries. We are published by the Brewers Association, the not-for-profit trade group dedicated to promoting and protecting America's small and independent craft brewers. Stories and opinions shared on CraftBeer.com do not imply endorsement by or positions taken by the Brewers Association or its members.