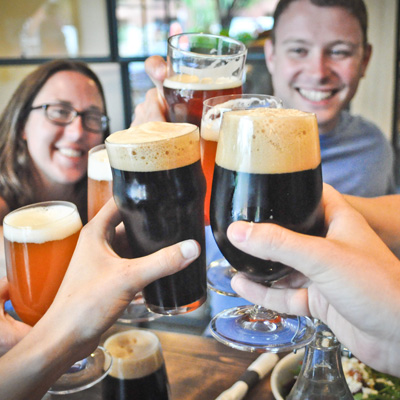 Join a Beer Club!
One of the best parts of any hobby is the joy of connecting with others who share your passion. And when you get enough enthusiasts together, it's almost inevitable: they're going to form a club.
Craft beer fans have a truly astounding number of choices when it comes to beer clubs, with options almost as diverse as the craft beers members gather to celebrate. Some clubs hold meetings and have exclusive memberships, while others are more informal and have secondary interests. All you have to do is pick which one works best for you.
Here are just a few of the hundreds of options for joining a beer club. Be sure to reach out to your local breweries and find out what options are in your area.
Beer Clubs for Brewery Fans
Is one of your local breweries your "home away from home?" Do you go to the bottle shop intending to try something new, but always end up grabbing that 22-ounce bottle of imperial porter from those guys down the street because you sort of feel like nothing will ever compare to it? If so, you should look into whether that brewery has their own beer club, because many do these days.
The major benefit of a brewery specific beer club is that you usually get access to beers that the general public doesn't. This could mean access to lots of those one-off experimental beers that your friendly neighborhood brewers play around with in their spare time. Lucky you.
Smuttynose Brewing Co. in Portsmouth, N.H., has the Smuttynose Big Beer Subscription. Members gain access to nine different styles of beer which are very limited in supply. Along with the limited releases, you receive proper glassware as well as invitations to attend Big Beer Release Parties. Your subscription will also automatically enroll you in The Imperial Pint Club at Portsmouth Brewery, a sister company of Smuttynose.
The Bruery of Placentia, Calif., also offers a club for their fanatical followers. There are three tiers of Society membership, and each gets progressively more exclusive with the final tier being invite-only. Each level of membership allows you access to exclusive beers, discounts on brewery merchandise and invitations to special eventsmembership, and each gets progressively more exclusive with the final tier being invite-only. Each level of membership allows you access to exclusive beers, discounts on brewery merchandise and invitations to special events
Beer Clubs for Homebrewers
You're really getting into homebrewing and you're having a blast brewing your IPAs. Your friends drink them up and you want to learn more. There's a club for that!
Midwest Supplies' Kit of the Month Club will help introduce you to new beer styles by sending you a recipe kit (including ingredients) each month for a year. You pick whether or not you want to do all ales or a mix of ales and lagers, and they'll send you varying recipes designed by professionals.
Additionally, the American Homebrewers Association notes that there are over 1,700 homebrew clubs worldwide. Use the AHA's handy Find a Homebrew Club tool to find a club in your area.
Beer Clubs for Athletes
If you want to balance that caloric intake from craft beer, then joining the NoDa Brewing Company Run Club is a good idea. Members meet up at the taproom weekly on Wednesdays for some good, healthy exercise. The club is open to all fitness levels, and there are three planned routes ranging from one to five miles that all start and end at the taproom. There's nothing more refreshing after getting your sweat on than a nice cold beer.
The NoDa Brewing Run Club also holds a number of benefit runs throughout the year, as well as an annual 5k. The NoDa 5k won "Best 5k" and "Best Post Race Party" in 2013 from Endurance Magazine.
These clubs are extremely popular, so be on the lookout in your area—or start one of your own!
Beer Clubs for Craft Savvy Gals
This isn't your stereotypical women's club—the women of Barley's Angels mean business. Women get together to learn more in depth about beer, brewing, food pairing and cooking with beer by hosting events at local breweries, restaurants and pubs. Food is always available at each meet up and so is the opportunity to learn something from the ladies at the forefront of your local community beer community! Sorry, no boys allowed.
Barley's Angels is an international organization founded in 2011 with over sixty chapters across the world, so check their website to see if there is one near by. And if not, get empowered and start one!
Beer Clubs for Everyone
What beer geek wouldn't love hearing the doorbell ring, only to have a variety 12-pack of craft beer delivered to their doorstep? The anticipation and excitement of next month's arrival is all but guaranteed to keep you up at night.
That's why The Microbrewed Beer of the Month Club is great for just about anyone looking to join a beer club. This club has been offering four different options to its members since 1994. Decide whether you want U.S. brewed craft beer, imported beer or a combination of both delivered to your door monthly, along with a newsletter detailing tasting notes, beer specifications, brewery profiles and suggested food pairings.
The most exclusive club option is called The Rare Beer Club, originally started by beer legend Michael Jackson. The Rare Beer Club selects two 750 ml bottles of some of the most creative and sought after styles of beer in the world each month and ships them to your door.
The Microbrewed Beer of the Month Club has been rated highly by its members for its ability to pick out new beers monthly. The panel that selects the beers consists of brewmasters and beer judges, some of whom have been in the industry for 20 or more years. Some breweries have even brewed beers specifically for members of this particular club, such as Prostator Smoked Doppelbock from Elevation Beer Company of Poncha Springs, Colo.
No matter what type of craft beer fanatic you are, chances are there are others out there like you, and they are forming a club. Get involved with a craft beer club to further educate yourself, continue to develop your appreciation of craft beer or just to meet folks as crazy about craft beer as you are.
CraftBeer.com is fully dedicated to small and independent U.S. breweries. We are published by the Brewers Association, the not-for-profit trade group dedicated to promoting and protecting America's small and independent craft brewers. Stories and opinions shared on CraftBeer.com do not imply endorsement by or positions taken by the Brewers Association or its members.