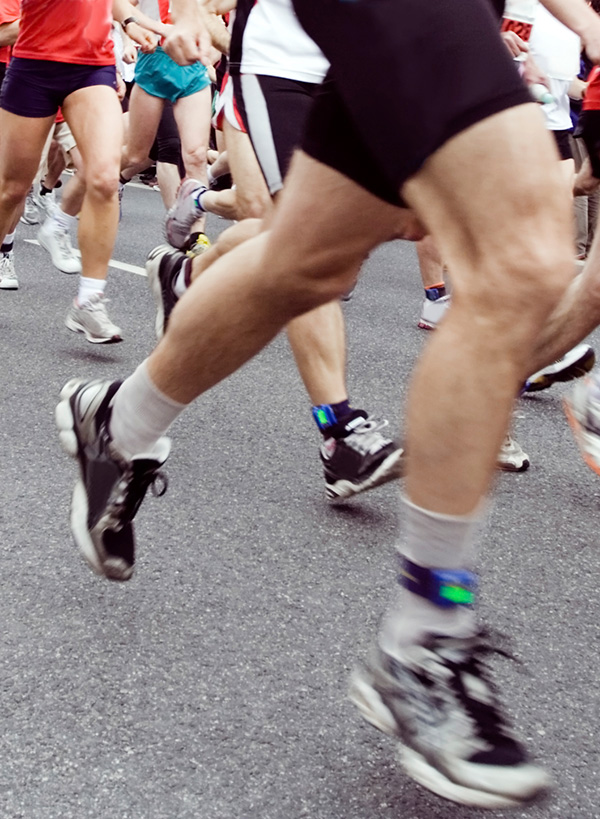 Local Craft Beers to Pair with Favorite Fall Road Races
There is undoubtedly an intersection where craft beer and runners intersect. Maybe it's something about how runners connect with communities since we spend our time running miles through them. Maybe it's something about runners and wunderlust that only full-flavored craft beer can quench. Or maybe it's simple calories, and runners need lots of them.
It's almost tradition by now that after my favorite road race, the Gasparilla 15K in Tampa in February, that I'm the second person in the door when Cigar City opens at 11 a.m. What else is a runner to do after leaving her heart out on the pavement in swampy Florida? (Yes, it's still swampy and gross in February.)
Fall's drier air and crisper mornings make the season much kinder on runners, and some of the top road races of the year are coming up. We asked local breweries, along with our friends at Great American Brewery Runs, which local beers runners and their friends should seek out during race weekend (because sometimes, on race day itself, you're too wiped out).
If we don't list your favorite fall race/craft beer combo, leave a note in our comments section at the bottom of the article to help spread the word.
Race 13.1 | Asheville, NC
Wayfarer IPA | Green Man Brewing
Asheville is among the coolest beer scenes in the country and it absolutely shines in the fall. Wayfarer IPA from one of the city's oldest breweries is perfect for sitting in the sunshine, basking in your run beer. Laid back and sessionable, all you need is a blanket and your sunglasses.
Across the Bay 10k | Stevensville, MD
Nanticoke Nectar | RAR Brewing Co.
RAR is the best brewery that you have never heard of. Based on the banks of the Chesapeake Bay in nearby Cambridge, Maryland, this is the best opportunity for a great post-race beer. Bring home a crowler or two and your friends will be jealous.
Atlantic City Marathon & Half Marathon | NJ
Oktoberfish | Flying Fish Brewing Co.
Celebrate the amazing cool weather of fall running with a great session beer. Oktoberfish is the best beer for hanging out with the falling leaves and cooler days.
Columbus Marathon | Columbus, OH
Bleeding Buckeye Red Ale | Elevator Brewing Co.
You just spent the last few hours of your life in downtown Columbus, where the streets bleed red with Buckeye pride all year 'round. Elevator Brewing Company's toasty, caramel red ale, Bleeding Buckeye is here just a few blocks off High Street to answer the call.
Chicago Marathon | Chicago, IL
Sidekick Pale Ale | Two Brothers Artisan Brewing
Just like deep dish and the Cubs, Two Brothers is iconic as Chicago beer. When asked about what beer he would recommend for after a marathon, brother/founder Jim Ebel recommends the Sidekick Extra Pale Ale because, "It's hoppy but not too heavy — a good refresher."
Dana Point Turkey Trot 10k | Dana Point, CA
Hop Juice Double IPA | Left Coast Brewing
The San Clemente, California, brewery is considered among the pioneers of the double IPA, so grab a Hop Juice after the big race. The beer features five different hop varieties and starts out sweet and finishes with a crisp bitterness hopheads will love.
Kansas City Marathon, Half Marathon and Relay | Kansas City, MO
Festbier | KC Bier Co.
If you swapped beer nights with friends for a better night's sleep while you were training, that means you've missed out on the beautiful Oktoberfest season. Catch up post-race at KC Bier Co., an indie brewery dedicated to German-style beers.
Marine Corp. Marathon | Washington, D.C.
District Common | Atlas Brew Works
This 5.1% ABV California Common is a crisp brew that will go down easy after logging long miles. The brewery says it pairs best with oysters or roast pork medallions.
Napa Wine Country Marathon & Half Marathon | Calistoga, CA
Flight at Russian River Brewing
It's hard to pick just one beer at the famous Santa Rosa brewpub, so we suggest taking a friend or two and ordering one of the brewery's very generous flights. You won't regret trying a little of everything.
New York City Marathon | New York City, NY
Softly Spoken Magic Spells | Singlecut
When you are running one of the premier marathons in the world, you had better toast it with one of the premier beers in the world. Singlecut is sought out from beer experts whenever they visit NYC. Let their Softly Spoken Magic Spells heal your tired legs. If you have some oomph left after the race, may we also suggest Long Island City, a very walkable brewery-centric neighborhood.
Orca Half Marathon | Seattle, WA
No. 4 Session IPA | Pike Brewing Co.
Pike No. 4 Session IPA is a bright ale brewed with Skagit Valley Alba malt and the Ales for ALS proprietary hop blend. Named in honor of Lou Gehrig's retired jersey number, Pike Brewing Company is one of seven Washington State breweries who've joined Ales for ALS, donating a portion of the proceeds to charity.
Portland Marathon | Portland, OR
Sweet Heat | Burnside Brewing Co.
Portland's Buckman and Hosford-Abernathy neighborhoods are brimming with small and independent breweries (you can find our guide here), and Burnside is one spot where the food and beer combo will satisfy any hungry runner. The Sweet Heat is a 4.9% ABV apricot and Scotch bonnet pepper wheat beer that took home gold at the 2012 Great American Beer Fest.
Philadelphia Half-Marathon & Marathon | Philadelphia, PA
Philadelphia Pale Ale | Yards Brewing
Yards is Philadelphia's beer and the Philadelphia Pale Ale is a year-round offering that will hit the right note pre-race, post-race or anytime.
Rock N' Roll Half-Marathon | Denver, CO
Apricot Blonde | Dry Dock Brewing Co.
If you are flying to Denver for this race, you may not have heard of Dry Dock, and that's because Colorado keeps it all to themselves. Apricot Blonde is the perfect beer to help you re-hydrate after a mile-high run.
Rock N' Roll Half-Marathon | Las Vegas, NV
Morning Joe | Banger Brewing
This course leads running down the infamous strip after dark. Over in "Old Vegas," you'll find Banger Brewing, Fremont Street's first craft brewery. The Morning Joe is a coffee kolsch, giving you a little extra kick if you're drained from the race.
Route 66 Marathon | Tulsa, OK
Endless Skyway Bitter (ESB) | Black Mesa Brewing
Endless Skyway Bitter is an ESB inspired by traditional English beers, but with a hint of grapefruit bitterness. Black Mesa Brewing says the beer is a nod to Oklahoma's favorite son, musician Woody Guthrie, who composed This Land is Your Land. There are few runners who don't, at one point, look around during a race and realize how thankful they are for endless skyways and golden valleys.
Runner's World Half & Festival | Bethlehem, PA
Helles Golden Lager | Sly Fox Brewing Co.
Sly Fox's Helles is one of the most easy-drinking beers you can find. Perfect for after a run, it is worth stopping by the brewery on your way home because the pizza in the tasting room will help you refuel. The BBQ Kielbasa pizza comes highly recommended.
Space Coast Marathon & Half Marathon | Cocoa, FL
007 Golden EyePA | Bugnutty Brewing Co.
According to halfmarathons.net, this space-themed race is Florida's oldest marathon road race event. Check out the brand new Bugnutty Brewing Co. in nearby Merritt Island where the 007 Golden EyePA has a distinct pineapple nose that'll delight and refresh after the run.
Twin Cities Marathon | Minneapolis-Saint Paul, MN
SurlyFest | Surly Fest
When you finish a marathon, it is time to celebrate. Surly puts its own spin on fest-style lagers with this easy drinking, easy toasting, fall favorite.
CraftBeer.com is fully dedicated to small and independent U.S. breweries. We are published by the Brewers Association, the not-for-profit trade group dedicated to promoting and protecting America's small and independent craft brewers. Stories and opinions shared on CraftBeer.com do not imply endorsement by or positions taken by the Brewers Association or its members.