Biennially, when Sam Adams releases a new Utopias, I reflect about the many pleasures Utopias has brought me since the first version was released in 2002, of the beauty of its complex port/sherry/cognac flavors, and the amazing brewing achievement it represents. Technically it's a beer, but it's so much more than that.
It's not an easy beer to either make or acquire but I've been most fortunate to try each of the vintages since its inception. As a beer journalist, I've also been fortunate to occasionally talk with brewers who have made its various vintages.
My initial impression usually is Utopias' marvelous aroma of port or sherry, although once it seemed closer to cognac. Other aromas wafting to my anxiously waiting nose include dark fruit, oak, vanilla, and sometimes coffee, toffee, raisins or maple syrup, varying from release to release. Since what most of us smell usually foretells what we will taste, this luscious aroma presages a luxurious, complex experience which I look forward to. It's definitely a nose I wish were available as a scent freshener for my car's rearview mirror. I easily would buy a case of them.
2019 Utopias Tasting Notes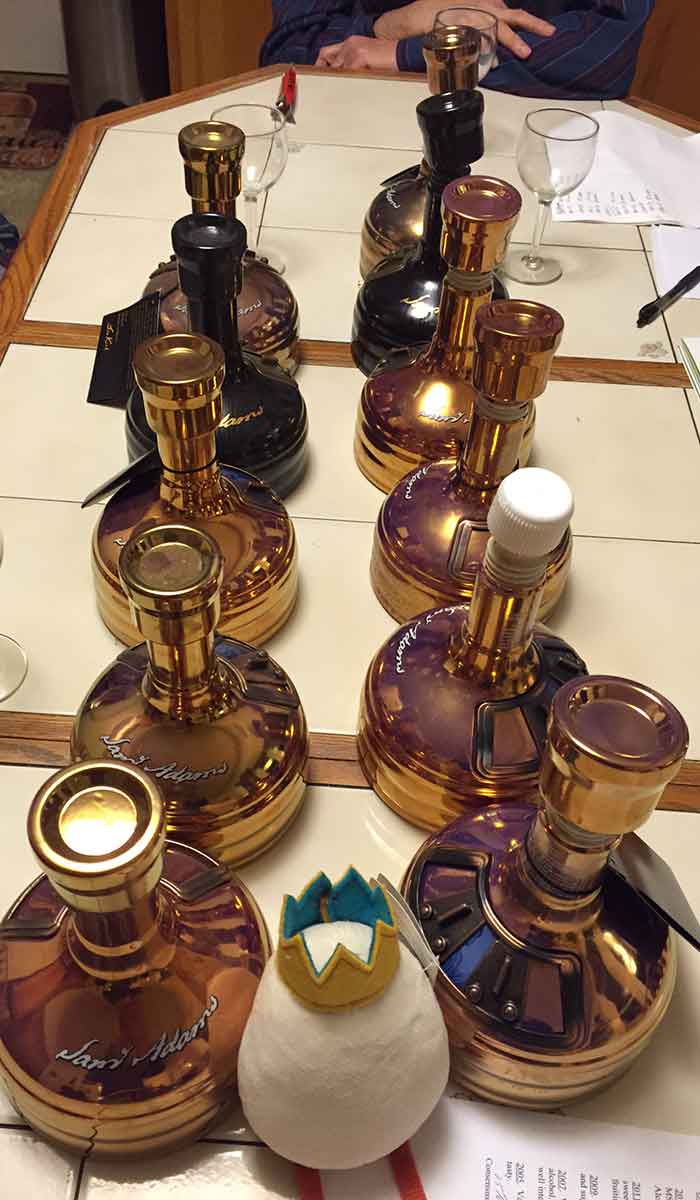 Opening up the new 28% ABV 2019 Utopias with friends, we were struck with the ambrosial nose of both port and cognac with slight alcohol, vanilla, raisins and a hint of caramel — a prophecy of the delicious flavors in the beer itself.
The 2019 Utopias beer, like its ancestors since the 2002 original, has its traditional maple syrup backbone from the 1994 Sam Adams Triple Bock which broke ABV level barriers of the era, leading to Millennium and finally the various Utopiases (Utopii?). When fresh, that 1994 Triple Bock tasted decidedly uninviting with way too much in-your-face alcohol, overwhelming sweetness and maple sugar. I was able to try one of the 1994 bottles in 2017 expecting the worst. It had mellowed beautifully and that ancestry now is evident in the new Utopias.
This brewing accomplishment is especially notable in these days of ever-higher ABV claims because it is achieved completely by the brewing process (beers with astronomically high ABVs are made through freeze distillation, a process that is not natural fermentation). Jim Koch, the founder/brewer at Boston Beer once mentioned to me that he thought the maximum achievable ABV was 30%. But I know that the base beer over time has attained over 30% ABV, I believe reaching 33%, but it is always blended down because, Koch says: "The goal is not record ABV levels but crafting complex flavors."
Over time the beers have continued to be aged in a wide variety of wooden casks, dating back over 25 years to that barrel-aged Triple Bock, barrels of the brewery's other extreme beers, more recent experimental casks, and barrels such as scotch, Armagnac, and rum. They then are blended to achieve the final version of Utopias. This year's base beers were aged in Buffalo Trace, Aquavit, Carcavelos wine and ruby port barrels and, for the first time, cognac and Madeira finishing barrels, adding vanilla, nutty and dark fruit aromas.
"The goal is not record ABV levels but crafting complex flavors." Jim Koch, Boston Beer Co.
I once asked Jim Koch how he creates the special "Ninja" yeast used for Utopias. He explained that they take the survivors from the initial fermentation of near 18% ABV and culture those surviving yeasts, repeating the process until they reach the desired level (or a level beyond which the beer cannot go). I also asked him if they feed the survivor yeasts more complex sugars at the end, and he said: "To the contrary! At the end, they are getting simple sugars." It's awesome imagining the years of work, care and experience that goes into each bottle of Utopias.
(READ: Before Mott the Lesser, There was the Legend of Kate the Great)
Utopias Ages Beautifully
Now I'm looking forward to this latest vintage joining the basement's remainder of bottles from former vintages for our traditional vertical tasting to celebrate each new release. In 2017 the oldest bottle, an 8-year-old 2009 Utopias, had aged well with a port-like finish and a light sweetness that changed to dryness in the aftertaste. In 2013 and 2015, Boston Beer released bottles of both the base beer and later the final blended version. In each case the final version was much more complex, less sweet and with a better blended alcohol. Kudos to the blenders.
Given the amount of work, time in barrels, warehouse space, sugar and yeast management and continuous brewer attention, I sometimes wonder if Boston Beer makes a profit on Utopias–or cares to. Then I recall an early discussion with Koch who said: "We are like the Starship Enterprise, 'Going where no brewery has gone before.'" I suspect that is the real motivation.
CraftBeer.com is fully dedicated to small and independent U.S. breweries. We are published by the Brewers Association, the not-for-profit trade group dedicated to promoting and protecting America's small and independent craft brewers. Stories and opinions shared on CraftBeer.com do not imply endorsement by or positions taken by the Brewers Association or its members.