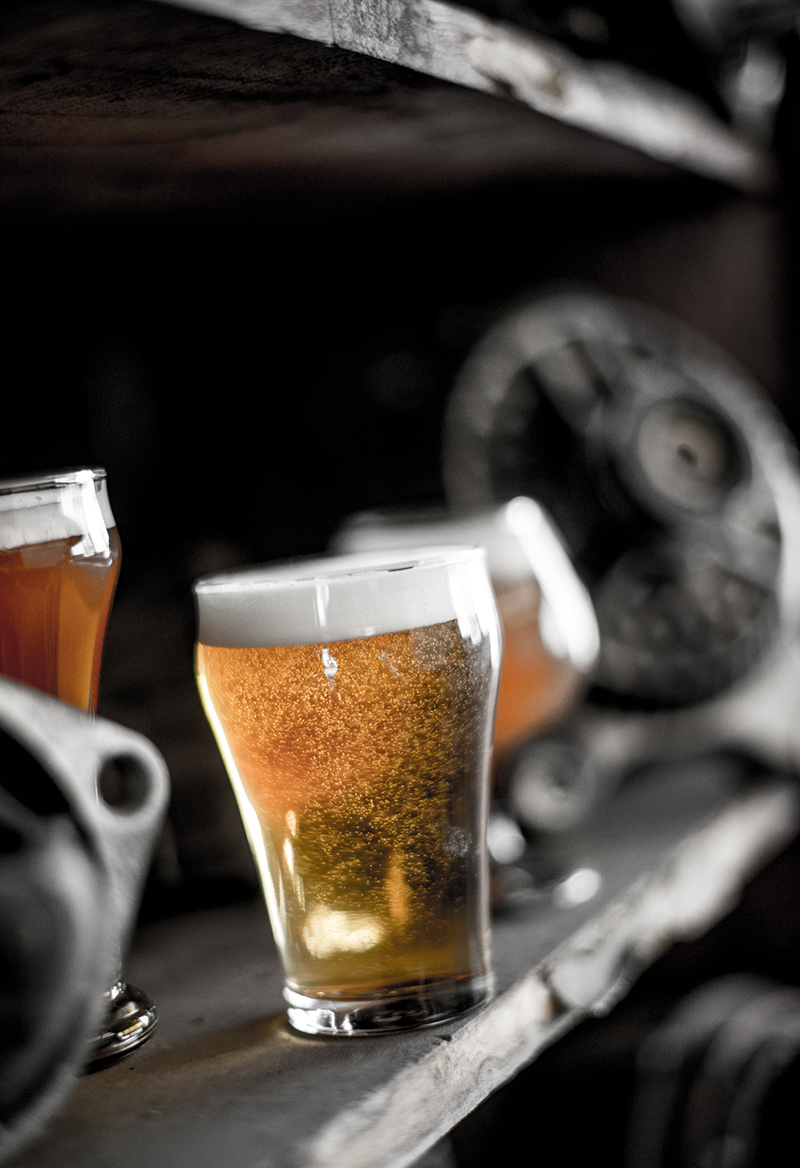 No Sympathy NeedeD: Breweries Continue to Play Role in Detroit's Story
Detroit has been flirting with disaster for decades. The bankruptcy claim that has (briefly) reignited interest in the city's story is the result of years of corrupt government and awful urban planning.
In hindsight, the obvious happened. Detroiters fled to the suburbs, cutting the city's population by more than half, from a peak of 1.8 million in 1950 to just over 700,000 in 2013. Only pockets of life remain in the abandoned city, between empty neighborhoods left behind by past generations. It's all part of a narrative Detroiters are sick of hearing.
They know the city has struggled, as sure as they know it will recover. T-shirts at a Midtown festival reading, "No Sympathy NeedeD," sum up the mood of the city's remaining residents.
How will Detroit bounce back? The answer is complex and largely unknowable, as are many mysteries in life. Suffice it to say, every little push in the right direction helps at this point, and one nugget of hope is the Detroit beer scene.

Craft Breweries as Gatekeepers
Breweries, I would argue, are the gatekeepers of the pragmatic middle. Generally speaking, they have been ahead of the curve when it comes to refilling America's decimated urban cores.
Detroit brewers are optimistic enough in the future of the city to purchase property, albeit cheap, in abandoned neighborhoods. But they are realistic enough to understand that one successful brewery or trendy neighborhood is not enough. As long the surrounding blight remains, these small successes won't amount to the comeback narratives that are ironically as frequent as the pronouncements that Motor City is beyond saving.
Simply put, Detroiters are beyond the simplicity of both narratives. Perhaps that's because there is absolutely nothing easy about opening and maintaining a successful brewery, least of all in Detroit.
But given Detroit's never-quit spirit, both the boosters and naysayers generally agree that breweries have been and are continuing to be anchors of life, drawing college students and millennials back to Detroit proper.
Detroit Beer Company
Detroit Beer Company (DBC) was the first to bring craft beer back to downtown in 2003, a few years before the core of the city was considered cool again. Owners Drew Ciora and Mike Pelsz purchased the Hartz Building, and took on the difficult task of renovating an early 20th century medical supply store into a brewpub.
Nate Ryske, head brewer at DBC, admits that there were definitely some lonely nights early on. But 10 years later, it's a comfortable fall evening and the brewpub is packed with a diverse crowd of Detroiters. And to think, the Tigers weren't even in town.
While chatting, Ryske pours me a beer sampler served on a baseball bat. It screams, "America!" and seems appropriate for a city that made the country the industrial giant we owe much of our wealth and good fortune to.
Ryske says he's seeing people move back into the neighborhood in part because of the revitalization started by DBC. Ultimately he believes breweries can continue to serve as catalysts in struggling neighborhoods.
"I imagine there will be more and more," he says. "Michigan loves craft beer."
Meanwhile, a new apartment complex nearby will continue to give Ryske and company good problems.
"We're barely keeping up with production," he says. "It's people moving downtown that make business steady. It's beyond baseball."
Motor City Brew Tours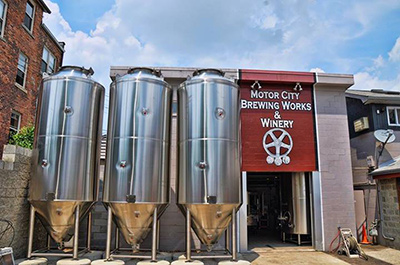 Early the next morning, I ride my bike from the Westin Book Cadillac—an incredible living testament to American architecture in downtown Detroit—north up Cass Avenue to the city's Midtown neighborhood, where brewery historian Steve Johnson waits in the Motor City Brewing Works (MCBW) parking lot.
MCBW has been a Midtown staple since opening in 1994. They've seen the area, home to Wayne State University, rebuild itself from relative ruin.
Today, most everyone who works at MCBW lives in the neighborhood, a badly needed ingredient for a city with an unemployment rate hovering around nine percent, and a steadily declining population.
Johnson hosts Motor City Brew Tours, his way of opening the city to Michiganders who call themselves "Detroiters," but only come in for sporting events. Plus the beer didn't hurt.
"I wanted to get involved in the beer culture," he says. And what better way to dive into Motor City brewing history than by bike?
Johnson's tour takes you through the hopeful, the struggling and the downright tragic areas of Detroit. It's an honest depiction of a city that cannot afford to mow its public parks, but that has pockets of opportunity that continue to provide the hope to keep going.
Along the way, Johnson educates riders on Detroit brewing history; a history that stretches back to the 1830s when Irish, Scottish, English and eventually German immigrants kick-started the city's brewing industry.
Unsurprisingly, the local brewing industry mirrored the city's fall. At its peak, Johnson says, the city had 40 active breweries in downtown alone before Prohibition strangled the industry.
Today, there are just four active breweries within the city limits, and much of the city's brewing history has been demolished or abandoned. These are breweries that were brewing 300,000 barrels a year at their height—gone, like much of the rest of Detroit.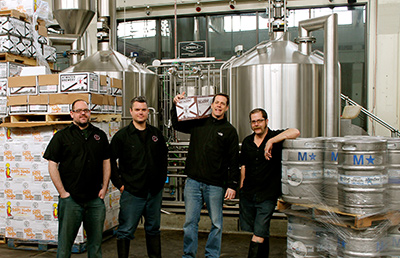 Eventually, we find our way to the scenic Detroit Riverwalk where properties are being refurbished for offices and apartments. Once again, we find that a brewery is at the heart of the emerging neighborhood. Atwater Brewery, founded in 1997, is housed in a nearly 100-year-old factory warehouse.
"Kids want the urban experience," Johnson says. Detroit's fledging breweries are happy to give it to them.
The Detroit Dwarf
Near the end of the ride, we're back at DBC. Johnson tells the story behind the brewery's beer The Detroit Dwarf, a Great American Beer Festival medal-winning lager.
The beer gets its name from the legend of Nain Rouge—French for "red dwarf." Detroit urban legend says this horrific creature attacked an early European settler of Detroit, and is believed to be an ominous warning for upcoming events in the city. Sightings have been reported since the 1700s.
Hoping for a change in fortune, the community rallied in 2010 to challenge the red dwarf by hosting a parade called the Marche du Nain Rouge, which ends each year with the burning of the imp's effigy.
And as the burning avatar of Detroit's failures and ills turns to ash, the people of Detroit cheers one another with a symbol of hope and urban renewal: a pint of Detroit's finest local beer.
CraftBeer.com is fully dedicated to small and independent U.S. breweries. We are published by the Brewers Association, the not-for-profit trade group dedicated to promoting and protecting America's small and independent craft brewers. Stories and opinions shared on CraftBeer.com do not imply endorsement by or positions taken by the Brewers Association or its members.