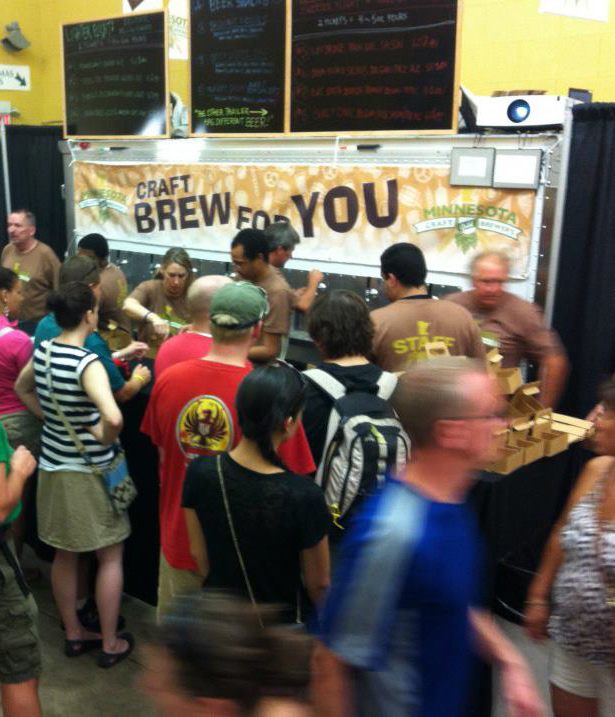 America's State Fairs Tapping Into Craft Beer
The potential to reach new craft beer fans via the state fair is huge. Nearly 27 million Americans visit a state fair each year, many of whom have never tried a local beer.
We are in the heart of state fair season, and that means tens of thousands of patrons will flock to their state's fairgrounds to take in the sights, sounds and tastes (usually deep fried, sometimes on a stick, and most always delicious) in one of America's grandest traditions. A state fair is really just a big ol' get-together that is based on conversation and community, and what goes better with that than beer? Particularly, locally produced craft beer, as we proved in Minnesota last year and plan to again tout this year.
This year, the Minnesota Craft Brewers Guild brings the "Land of 10,000 Beers" exhibit back to the Minnesota State Fair, with nearly 30 Minnesota craft breweries' beers being poured in flights of four 5 oz. pours to ensure variety and ultra exposure. The exhibit isn't just about enjoying the finished product though; rather it takes the visitor into all sides of brewing, from industry to agriculture to history to flavor profiles.
It's an important opportunity to introduce, engage and educate the general audience, and hopefully convert many prospective craft beer imbibers in the year to come. The "Land of 10,000 Beers" has reach, too: last year it was estimated that more than 100,000 visited the exhibit in less than two weeks' time. It was deemed one of, if not the, most popular exhibits at the Fair.
Enticing More Than Palates
We [Minnesota Craft Brewers Guild] realized that the key to craft beer adoption is education, which is typically a guiding principle for many craft brewers' guilds. That's why our State Fair exhibit is not about selling as much beer as possible, any good bar can do that. Rather, it's about connecting our 3,500 square foot space to the brewers who make the beer and the consumers who consume it.
In addition to the curated components, we do daily presentations, Q&As, discussions and we host "meet the brewer" opportunities. Topics include beer enjoyment, food, farming, culture, art, history and tourism. We cover the exhibit with informational posters on what makes a craft beer, and we publish maps and guides to show people where they can find the local beer being made in their community.
We give craft brewers from across the state the chance to get up on stage and tell their stories. It truly is a chance to connect with the person who made the beer, over…well…a beer. We really strive to make it a "drink while you think" environment.
Our exhibit has many samples of raw ingredients such as hops, malt and barley stalks for fairgoers to see, smell and feel as they learn about what goes into locally produced craft beers. We scour the state for beer memorabilia, which poignantly reminds fairgoers that, despite ups and downs, Minnesota has a rich history in brewing. There's an underlying appreciation of local goods and local fare, and that absolutely has and does include beer.
Market Opportunity: The Other 90 Percent
Educating fairgoers starts by getting a beer in the hands of the 90 percent of people who don't regularly drink craft beer. That includes many of the fairgoers who come from around the state and may not have access, or haven't had the proper introduction, to the local brews that make us so proud. We want to serve as ambassadors during this transformative 12 days for the non-craft beer loving audience.
As a Guild, consumer engagement is an important objective, and always should be. Judging from last year's anecdotal feedback, we know many of our visitors left as new fans, or even more dedicated fans. Steel Toe Brewing in St. Louis Park, just outside Minneapolis, began receiving calls from people who lived many miles away from their brewery, asking where they could find the beer they'd just tried at the fair. Castle Danger Brewing Co. in Two Harbors, almost three hours north of the fairgrounds on the shores of Lake Superior, saw brewery foot traffic from new craft beer fans who had learned about Castle Danger's beer for the first time at the "Land of 10,000 Beers" exhibit.
Craft Beer Buzz at Fairs Nationwide
Other states are catching on, and state fairs around the country have been introducing their own craft beer exhibits.
Iowa State Fair | Des Moines, IA | August 8 – 18
Thanks to its popularity, the Iowa State Fair will again have an all-Iowa craft beer exhibit in the Rock Island Avenue of the fair.
Maryland State Fair | Timonium, MD | August c23 – September 2
Taste of Tennessee Craft Brewers Festival | Nashville, TN | September 6
Attendees will have the opportunity to sample over 55 craft beers brewed by 18 Tennessee breweries. Proceeds from the event benefit the Tennessee State Brewers Guild.
There's no better time to introduce someone new to craft beer than on a warm sunny day out at the fair, a place of new experiences, enjoyment and education. It all starts with conversation and a beer.
CraftBeer.com is fully dedicated to small and independent U.S. breweries. We are published by the Brewers Association, the not-for-profit trade group dedicated to promoting and protecting America's small and independent craft brewers. Stories and opinions shared on CraftBeer.com do not imply endorsement by or positions taken by the Brewers Association or its members.