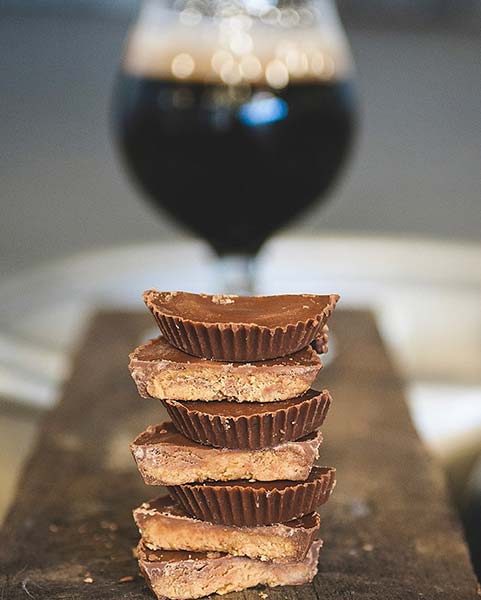 Peanut Butter Beer: Nostalgia in a Glass
America's small and independent brewers are famous for replicating some of our favorite food flavors in liquid form. It's an intersection of art and inspiration coming to fermented fruition when a brewer thinks of something as simple as that childhood staple: peanut butter.
The most difficult task for brewers looking to recreate such strong and nostalgic flavors like peanut butter is balance. How do you create the flavor and still ensure drinkability?
Here are just a few examples of brewers who accepted the challenge and created some amazing peanut butter inspired beers.
Peanut Butter Cup Coffee Porter | Willoughby Brewing Co.
When Willoughby Brewing Co.'s Brewmaster Rick Seibt took over brewing duties about five years ago, he wanted to make a beer that caught the attention of the Cleveland community. After doing market research on his own, he settled on a peanut butter beer but quickly realized that peanut butter could not be the only flavor in a beer.
"This is not a peanut butter beer," is the first thing Rick says in his interview. "People tend to stop at the first part of the name. It is Peanut Butter Cup Coffee Porter. The beer is a balance between the flavors of peanut butter and fresh roasted coffee."
Rick is passionate about making sure that each flavor has a part of the symphony but does not steal the show. The beer's success has led him to explore an imperial version of PBCCP.
"The peanut butter is strong, but the porter has to support these flavors," said Seibt. The finished product is about five percent alcohol and was so popular that they began making Nut Smasher, an imperial 11 percent alcohol version of PBCCP. "We can't keep that one in stock. It has a different grain bill, but the same treatment we use for PBCCP."
The peanut butter is strong, but the porter has to support these flavors.
PBCCP is the brewpub's most-crowlered beer, and Nut Smasher goes into bottles, but sells out quickly—recently 900 bottles sold out in about two hours.
Rick's recipe to spread the peanut butter flavor into this beer has won the brewery acclaim, but like a magician, he does not reveal his tricks. However, he does give two clues: First: "If you have a nut allergy, you should not drink this beer," he says. Second: "Peanuts are very oily. Everything we do is in secondary fermentation."
No matter how Rick gets the flavor to come through, he has won the support of the Cleveland beer community. So much support, Rick says, that he has a regular customer who will text him every time she tries the beer on tap and compare it to previous versions with feedback on the current batch.
Peanut Butter Stout | Rapp Brewing Co.
In Seminole, Florida, Rapp Brewing Co.'s Greg Rapp collaborated with local homebrewer Mike Gyarmathy to develop a peanut butter beer and decided to approach the project with a foreign export stout as a base.
To get the peanut butter flavor into the beer, Rapp uses dried peanut butter and cocoa powder. "We have recently adjusted the recipe to include only extracts and to tone down the Stout characteristics—less roasty/astringent, less bitterness; ingredients to accentuate the chocolate and peanut butter flavors," Rapp says.
Rapp enjoys working with this beer but cannot seem to make enough, as he tries to make enough for taproom consumption as well as growler fills. "The only issue we have with the beer is that it takes over three weeks to complete fermentation," Rapp says.
The beer is well received by the Tampa Bay beer community, Rapp says, especially after tweaking the ingredients. The beer is a mainstay of the small brewery's taproom, and he brews frequent batches so that patrons can get growler fills. The beer has become so popular that Rapp has submitted to the Tax & Trade Bureau for formula approval so that the beer can begin distribution.
Sweet Baby Jesus! | DuClaw Brewing Co.
For DuClaw Brewing Co., the peanut butter beer that would eventually become a key member of their core lineup came as the winning entry in their H.E.R.O. Homebrew Competition by homebrewers Tony Huckestein and Doug Deleo.
"As promised in the competition rules, we brewed the beer [at DuClaw], and all sales (not just profits) went to charity. The beer sold so well we eventually brought it on as a mainstay," remembers DuClaw Brewmaster Jim Wagner.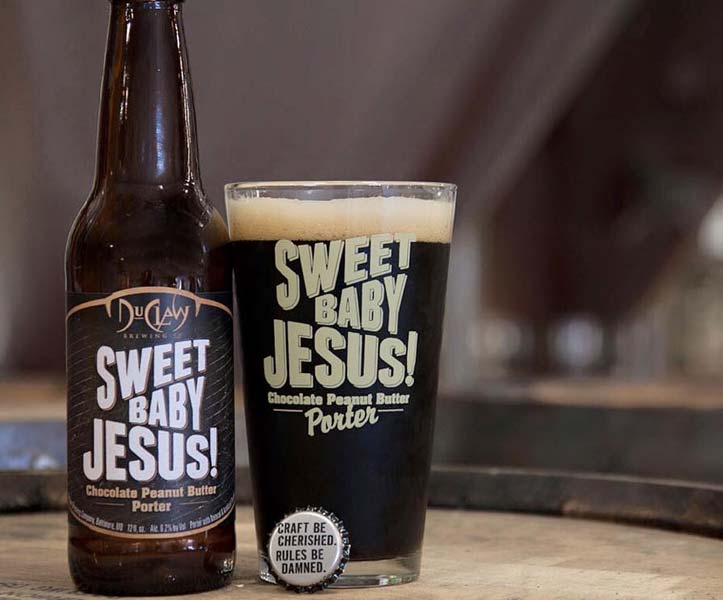 After selling through the first batch, Wagner decided to bring the beer on full time—with one tweak. "The initial homebrew utilized a powdered peanut butter which was later changed to a proprietary, all natural peanut butter extract."
Once the beer was released and then re-brewed, it was an instant success. "We feel that was due to…the quality of the beer (which won us a 2014 Great American Beer Festival medal in the Chocolate Beer category), the uniqueness of the product when it came out for the first time, and, of course, the name," said Wagner.
Another beer with a robust porter standing behind the peanut butter base, Sweet Baby Jesus! (what drinkers exclaim after the first sip) is now available anytime in DuClaw's ten-state distribution area. Wagner says that the beer has grown to become a bestseller for the brewery.
Uber Goober | Short's Brewing Co.
In Michigan's northern frontiers, Shorts Brewing Co. created a peanut butter beer from an oatmeal stout. From humble beginnings in the Short's Brewing Pub, Uber Goober gets an addition of real peanuts along the way. The label boasts "roughly a handful of peanuts in every glass" and, according to Short's Brewing's Beer Liberator Jon Wojtowicz, this was the first concept beer he pitched to the brewery.
"This idea came about while talking to Brad Kik during one of my pub shifts back in 2007," said Wojtowicz. "I loved oatmeal stouts and noticed we didn't do a ton of different stouts yet. Plus, I was pretty much living off of PB&J sandwiches at the time and thought that peanuts in a stout would be a killer beer."
Joe Short created the recipe, and Wojtowicz recalls that making it was a bit of an adventure: "We did lose count of the malt bags and ended up adding a few hundred pounds more base malt than intended. We didn't use enough rice hulls either when adding the oatmeal and the entire mash totally got stuck, which resulted in a 14-hour brew day."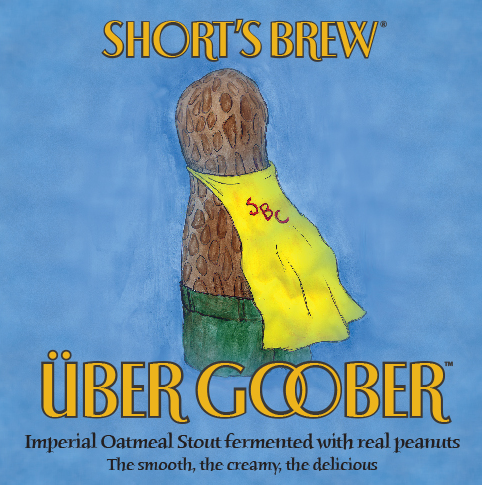 Despite its first misstep, Uber Goober was loved by the public, and, with the exception of a few bottling runs, the beer is now offered on draft only, and Jon says it sells out more quickly each year.
The peanut flavor in this one comes from the addition of dry-roasted, unsalted peanuts. These ingredients make the beer smell fantastic during brewing, but all of the fatty acids make the beer "a pretty unstable product." This fact caused Short's more headache than the brewing issue on the first batch. "This was one of the few bottle beers that we ever had to recall, back in 2009 or 2010—very tragic. Never bottled it after that. Stuck mash on the inaugural batch was likely a bad omen…"
True to the original peanut butter and jelly vision that Wojtowicz once had, Short's also offers Uber Goober blended with Soft Parade any time the two are tapped together, pouring peanut butter and jelly flavors into one glass, with all of the nostalgia of childhood in its fermented glory.
Other Peanut Butter Beers
As is often the case with rarer beer styles, the majority of these peanut butter beers are only found at the brewery and not brewed year-round. Check in with your local brewery and see if they have plans for a peanut butter beer!
*Huge thank you to AleSmith for the amazing photography accompanying this post!
CraftBeer.com is fully dedicated to small and independent U.S. breweries. We are published by the Brewers Association, the not-for-profit trade group dedicated to promoting and protecting America's small and independent craft brewers. Stories and opinions shared on CraftBeer.com do not imply endorsement by or positions taken by the Brewers Association or its members.