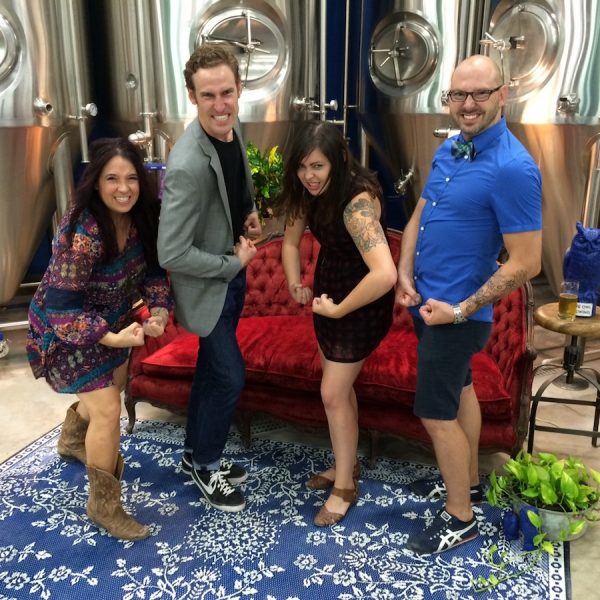 Rise of the Niche Brewery: Brewers Look to Distinguish Their Brands
Ten years ago, I was a newly legal beer drinker trying to scrape together a living slinging beer for a Colorado craft brewery that had recently started making headlines by forgoing the bottle to package their big beers in aluminum cans. It was a different time then. A time when the biggest challenge facing beer reps wasn't necessarily finding ways to sell their own products, but finding ways to sell the idea of craft beer and the concept of a $6 IPA to beer buyers and beer drinkers in their local markets. In those days, there were 1,400 small and independent craft breweries in the entire country. Today, more than 4,600 have open signs on their doors, and the biggest challenge members of the beer industry face now is finding a way to stand out in the rapidly growing crowd.
With so many options available to craft beer consumers today, breweries new and old are working harder than ever to solidify a name for themselves in the world of craft beer. From the beginning, craft breweries entering the market started exploring innovative ways and different beer styles to set themselves apart from the competition. As the number of craft breweries continues to increase and brewers look for ways to stand out, members of the beer industry are getting more creative to expose beer aficionados to the fruits of their labor. For some, the solution to standing out is simple: go niche. Similar to all of those years ago, the quest for innovation and individuality lives on, and niche breweries are still on the rise today.
(MORE: 10 Pieces of Taproom Etiquette)
Rise of the Niche Breweries
Back in 2003, in the middle of one of the original craft beer booms, The Alchemist brewery burst onto the scene in rural Vermont, peddling a little beer called Heady Topper. Highlighting their own affinity for unfiltered IPAs, the folks at The Alchemist focused on perfecting Heady Topper, and stuck with the beer style they personally appreciated the most, only releasing a small handful of additional unfiltered IPAs following the release of their flagship brew.
But it wasn't just going niche in their beer style offerings that drew attention to the Vermont brewery. Once The Alchemist started packaging, making their highly sought after beers more accessible, the brewery chose to only sell those cans of beer within a 25-mile radius of their brewery. Both moves incited a cult-like following for the brewery, which is widely hailed for going against the grain and staying true to their beliefs while the rest of the industry rushes to keep up with each other all around them. More than a decade after opening, The Alchemist has grown in an attempt to accommodate the demand for their delicious beers, but to this day, continue to honor the ideals and business model they entered the craft beer industry with in the first place.
In the big beer state of Oregon, Cascade Brewing entered the Portland beer scene in 1998. While the brewery initially tried to keep up with trends in the fast-growing industry, they eventually chose to blaze a trail that appealed to their own palates. In 2009, following instinct and passion, the brewery began devoting a lot of their energy to developing a barrel-aging program — and their efforts paid off. That same year, Cascade took home a gold and silver medal in the Barrel-Aged Sour Beer category at the Great American Beer Festival. Finding their niche in sour beers and barrel-aged beers, Cascade would go on to open the Cascade Brewing Barrel House in 2010, which has since become a mecca for fans of sour and barrel-aged beers.
(MORE: 5 Questions Brewers Want You to Ask During a Tour)
For Jeff Young, co-owner/founder of Blue Owl Brewing in Austin, Texas, opening a brewery dedicated to the art of sour-mashing was more of a personal challenge than joining the niche brewery market. But shortly after opening in 2015, the city of Austin experienced a huge surge of new small and independent breweries, which made Young appreciate his decision and timing even more.
If you wanted to stand out, you had to find something." Jeff Young, Blue Owl Brewing
"Here in Austin, the scene is changing so rapidly that three years ago it kind of seemed like just about everything could work here, but if you wanted to stand out, you had to find something." said Young.
Young and his team are using the sour-mashing technique to put a unique spin on popular beer styles like Pilsners, pale ales, stouts, and IPAs — blending a new school brewing technique with beloved old school beer styles.
"With a more competitive market and new breweries opening every day, we're going to take advantage of being a little different," said Young. "That gets people in the door, but you still have to make beers that appeal to them."
In Colorado, Chad Yakobson became the face of a sour movement in the Centennial state and beyond. In 2011, Yakobson began brewing beers using wild yeast and bacteria and experimenting with flavor profiles by aging those experimental beers in oak barrels — all under the name Crooked Stave Artisan Beer Project. In a time when most Colorado breweries were throwing their resources into out-hopping each other's IPAs, Yakobson stayed true to his steadfast passion for the niche of sour beers and experimenting with Brettanomyces, a move that would eventually catapult Crooked Stave into a household name for fans of sour beers.
About an hour up the road from Crooked Stave, another Colorado brewery is thriving in the niche market. In the brewery-filled town of Longmont, Ted Risk and his partner Ryan Wibby took a leap of faith, believing so much in their brewery, Wibby Brewing, that they chose to open a brewery just down the street from big dogs like Oskar Blues and Left Hand Brewing Co. But the big kicker? Risk and Wibby opened the doors of their brewery and taproom with a line-up of beers that only included German-style lagers with an American twist.
"To me, only brewing lagers was the opportunity right for the start," said Risk, whose selection of lagers includes an IPL, a dunkel, and a helles. "We opened in a community and environment that some people would say is oversaturated and dominated by IPAS and Stouts, but there wasn't anyone doing what we're doing now."
Closing the books on their first year of operation, Wibby Brewing didn't simply meet their goals for barrels produced in year one — they crushed them — thanks to a dedicated fan based they've amassed in their hometown and a growing following of beer drinkers curious to get a refreshing taste of the lager niche.
Regardless of how niche some breweries are working to stand out in the craft beer industry, Charlie Papazian, founder of the Brewers Association and a man who has witnessed and documented the astounding growth of craft beer, says that when it comes down to it, every brewery is searching for their niche in the always evolving world of craft beer.
"I think everyone is trying to create their own niche in a certain way, whether it's a brewery's beer drinking culture, or the beer itself," reflected Papazian. "Being distinct is always a good trend."
CraftBeer.com is fully dedicated to small and independent U.S. breweries. We are published by the Brewers Association, the not-for-profit trade group dedicated to promoting and protecting America's small and independent craft brewers. Stories and opinions shared on CraftBeer.com do not imply endorsement by or positions taken by the Brewers Association or its members.