In the world of barrel-aged beer, bourbon and whiskey are the reigning kings. These two spirit barrels have dominated the idea of barrel-aging because they are comparatively easy to get since bourbon can only be used once, according to the law.
Curiosity, challenge-seeking, and a love of spirits has driven brewers to seek out the new flavors of tequila barrels so they can ply their trade. Each brewer is looking for something different, and to seek a tequila barrel is to accept the challenges that come with aging beer in one.
Barrel of Monks Brewing
In Boca Raton, Florida, brewer Kevin Abbott of Barrel of Monks Brewing has been working with tequila barrels to age his Belgian Tripel, dubbed "Owen." Kevin's goal, as with most brewers' barrel projects, was to add complexity and create new flavors and aromas so that the combination of barrel and beer is greater than the sum of its individual parts.
Kevin says he sought "the peppery spice that many tequilas offer to complement the phenolic characteristics of the yeast strain in that particular beer. Other notes of caramel and vanilla are also present in the finished beer that does very well with that particular style."
One beer with tequila was not enough so after producing a limited run of Owen, Barrel of Monks Brewing took another shot at tequila and is now ready to bottle a tequila barrel-aged saison. In his second excursion, Kevin says he finds the "tequila flavor is much more restrained, but it did pick up some nice Brett character from the barrel."
Wicked Weed Brewing Co.
North of the Sunshine State, Asheville, North Carolina's Wicked Weed Brewing began working with tequila barrels primarily on their Dark Arts Tequila Barrel Aged Wild Imperial Stout and the Oaxacan, a barrel-aged smoked sour ale.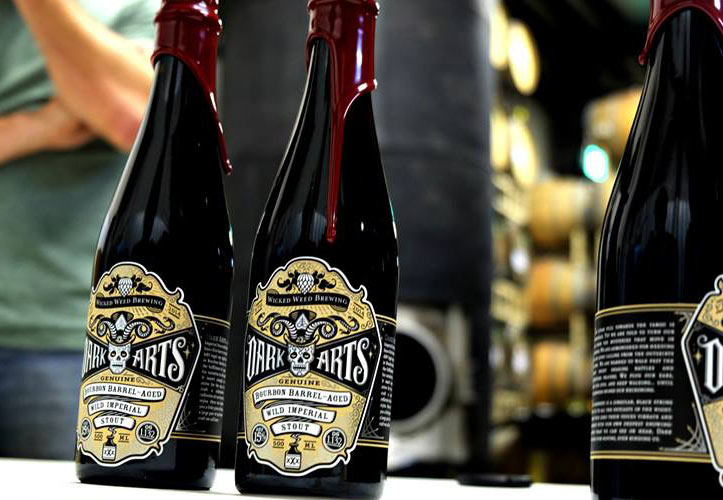 For Sour Production Manager Richard Kilcullen, the use of a tequila barrel has to mesh with "concept of the recipe. With spirit barrels, we start with a cocktail idea, deconstruct them and work backward from there."
When Wicked Weed wanted to make a take on a "Last of the Oaxacan"cocktail, Kilcullen said the concept beer began its life as an amber sour, "brewed with smoked malts. It's then laid to rest in Organic Blue Agave Tequila Barrels. The result is a nice blend of citrus acidity, smoke character, and slightly spicy finish. It's as close as a beer can come to a cocktail experience."
For Wicked Weed, the tequila barrel is a means to a flavorful end that matches a culinary purpose.
Avery Brewing Co.
In the Rocky Mountains, Avery Brewing Co. has also been working with tequila barrels in both sour and non-sour beers. Barrel Herder Andy Parker had a curiosity which turned into much more once he got ahold of a tequila barrel for aging.
Parker wanted to experiment with tequila barrels, so he says he and his staff "acquired our first four tequila barrels, we put a different beer in each one to see what would happen. Three of the beers worked. One was terrible. But in all four cases we picked up some radically different flavors than [when using] Bourbon barrels." Avery's barrel program has released four tequila barrel-aged beers in bottles to date.
AleSmith Brewing Co.
On San Diego's sunny shores, craft beer veterans AleSmith Brewing Co. are preparing to release their first tequila barrel-aged beer during the first week of May 2016. Director of Brewery Operations Ryan Crisp says that he sought out tequila for Alesmith's barrel projects because of the oak, vanilla and peppery notes combined with peppery, spicy and fruity notes. His biggest challenge is creating a unique blend of flavors between barrel and beer.
For his maiden tequila voyage, the brewing staff sought culinary inspiration from Mexican hot chocolate. The first beer from tequila barrels is a variant of their lauded Speedway Stout, dubbed Mexican Speedway Stout. The brewery says the beer is "aged in tequila barrels then blended with fresh Speedway infused with a special blend of Mexican coffee beans and fine Mexican chocolate balanced by warming earthy cinnamon."

The Challenges of Working with Tequila Barrels
Tequila barrels are not without their challenges, and slightly different than the challenges presented by other barrels. Sometimes, problems can lie within the barrels.
Tequila Varieties
Kevin Abbott points to tequila varieties as potential roadblocks to the process. He is not always sure if he's going to get Anejo or Reposado tequila, each of which has a very different flavor profile which can hinder consistency.
Limited Barrel Stock
Andy Parker mentions the challenge of acquiring a tequila barrel from limited stock, made more difficult by the practice distillers have of reusing their barrels.
Barrel Maintenance
Wicked Weed's Kilcullen reflects on the maintenance required for tequila barrels. "Tequila barrels are older; maintenance can be more intensive in terms of repairing leaks, fixing hoops, etc."
Finding the Right Beer
Andy Parker says that he might have an issue "making the right beer for the barrels. The flavors you get from tequila barrels can be a little polarizing. Tequila essence can come off as anything from lavender to pickles depending on the person's palate."
To age a beer in a tequila barrel, like any spirit barrel, is to accept the individual challenges that come with it.
While hurdles arise in barrel aging, the rewards are also flavorful. Thankfully, small and independent brewers are not deterred and continue to see opportunity instead of roadblocks.
As Alesmith's Crisp said, which can be true of the entire practice of tequila aging, "We're still exploring the possibilities, but I think there is a lot of potential."
CraftBeer.com is fully dedicated to small and independent U.S. breweries. We are published by the Brewers Association, the not-for-profit trade group dedicated to promoting and protecting America's small and independent craft brewers. Stories and opinions shared on CraftBeer.com do not imply endorsement by or positions taken by the Brewers Association or its members.