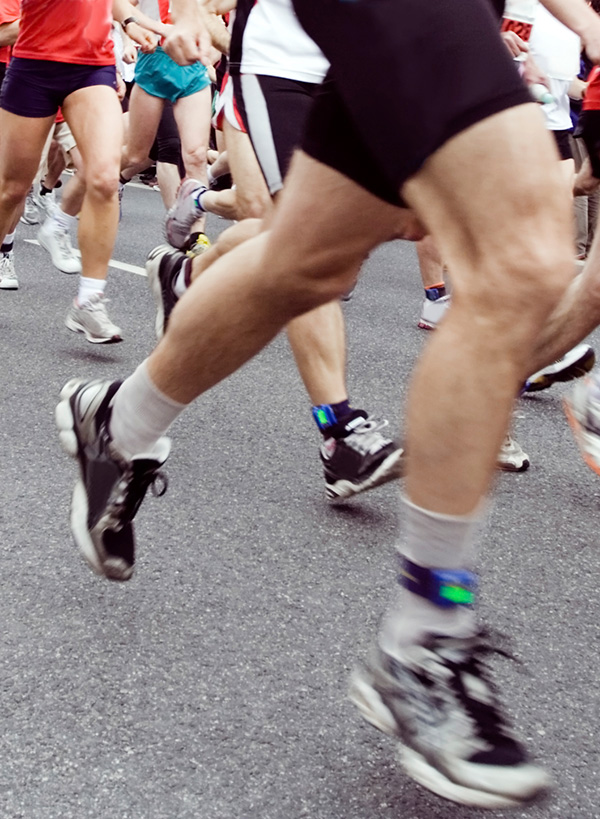 Summer Marathons for Craft Beer-Loving Runners
The warmth of summer brings runners of all shapes, sizes, and skills back onto the pavement. Whether you're an experienced marathoner or someone who enters each race as an excuse to travel, we all prefer to end our runs the right way. Hell, the only way—with a tasty craft beer.
There's even scientific evidence supporting the benefits of a post-race brew. So in honor of the proven tradition between runners and suds, we've put together a list of a few of the best 2014 marathons for craft beer-loving runners.
We kick off our list with two races on June 1. Sure, it's technically before the summer solstice—but who isn't thinking "summer" as soon as June rolls around?
Minneapolis Marathon: June 1
Minneapolis frequently ranks at or near the top of America's healthiest cities. Any visitor to the Mill City can see why, with world-class parks and trails connected throughout the city like veins to the heart. Luckily for runners, Minneapolis also happens to have an abundance of liquid carbs, by which we of course mean craft breweries.
So when you're in town for the Minneapolis Marathon on June 1, grab a Masala Mama IPA at Town Hall Brewery, a Smoke Lager from Surly Brewing, or (more likely 'and') a Belgian Dark Strong from Dangerous Man. When you're done, you'll have only hit the tip of the iceberg of Minneapolis brewing.
San Diego Rock 'n' Roll Marathon: June 1
The Rock 'n' Roll Marathon series makes its mark by hosting a band or DJ at every mile. And while the race isn't unique to San Diego, the beer certainly is. The San Diego Rock 'n' Roll Marathon is simply a good excuse to embrace Southern California's flourishing craft beer scene.  With mild temperatures, low elevation and more than 70 breweries in the area, plus brewpubs and better beer bars galore, San Diego is a beer-loving runner's dream!
Visit the San Diego Brewers Guild for a complete list of breweries and pubs, as well as information on public transportation. And be sure to check out one of my personal favorites,  AleSmith Brewing Company. AleSmith's Old Numbskull barleywine took home a gold medal, while the Decadence Quadrupel took home a silver, at the 2013 Great American Beer Festival.
Grandfather Mountain Marathon (Asheville, N.C.): July 12
Don't let the "dawn of the Internet" website throw you off: The Grandfather Mountain Marathon is a must-run event, weaving through the Blue Ridge Mountains and ending to the sound of bagpipes and applause from 15,000 spectators. Not to mention it's an excuse to stay in Asheville, where you'll have no shortage of quality craft breweries within walking distance for your tired legs.
The Asheville area is home to 18 breweries, including East Coast locations for Sierra Nevada in nearby Mills River, and Oskar Blues a little further down the road in Brevard (New Belgium's Asheville facility won't be open until 2015).
The San Francisco Marathon: July 27
Anyone who has ever been to San Francisco wants to go to San Francisco again. Besides the physical challenge, The San Francisco Marathon serves as a tour of the city for new and experienced travelers alike. Along their route, San Francisco marathoners will get a view of everything from the iconic Golden Gate Bridge to the historic Mission, Potrero and Mission Bay Districts.
Best of all, for the craft beer marathoner, you'll be passing by some of the city's approximately 20 breweries. But don't stop in the middle of your run! Stay a few days longer and explore the city's beer culture. Local beer enthusiasts have done all the planning for you and Beer By BART (Bay Area Rapid Transit) is one of the best ways to get around while enjoying the beer scene. You can always head to the likes of Drake's Brewing, Almanac Beer and 21st Amendment Brewery for world-class suds.
Haulin' Aspen Trail Marathon (Bend, OR): August 9
Serving as Central Oregon's only trail marathon, the Haulin' Aspen Trail Marathon is an event with a name that says it all. By the time you finish your trek across what Trail Runner Magazine calls "renowned trail running," you'll be ready to go on another, perhaps more physically enjoyable, jaunt on the Bend Ale Trail.
Grab a passport to collect stamps from the 14 breweries along the way, including Boneyard Beer and newcomers Worthy Brewing and Crux Fermentation Project. Be sure to download the Ale Trail app for free before you head out!
Maui Marathon: September 21
Coming in just before the end of summer is an island marathon dotted with seven breweries, including Maui Brewing Company. Experienced runners celebrate the Maui Marathon as an essential race to run if you can make the trip. Plus, it doesn't hurt that you'll be in beautiful Hawaii, where 17 miles of the race hug the Pacific coastline. Besides, what better place to enjoy a cool craft beer than on the sandy shores of Maui?
Akron Marathon: September 27
"It's a lot hillier than I expected" is a common review of the Akron Marathon. But that's what you get from a route that passes just south of nearby Cuyahoga Valley National Park. Simply put, this is not a race to jump into without serious hill preparation. Your knees will thank you.
Akron is home to both Hoppin' Frog Brewing and Thirsty Dog Brewing Company—both of which have won numerous Great American Beer Festival and World Beer Cup medals. Also, you're only about 45 minutes from Cleveland on beautiful Lake Erie, which has its own handful of breweries to check out.
CraftBeer.com is fully dedicated to small and independent U.S. breweries. We are published by the Brewers Association, the not-for-profit trade group dedicated to promoting and protecting America's small and independent craft brewers. Stories and opinions shared on CraftBeer.com do not imply endorsement by or positions taken by the Brewers Association or its members.