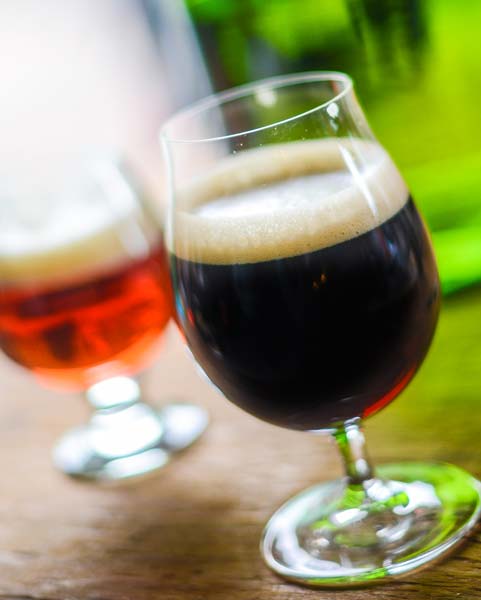 The Big, Bold Barley Wine
Adventurous brewers from coast to coast are embarking on a quest to produce one of the biggest, baddest beer styles on the planet, one that evokes nervous excitement in even the most seasoned of brewers and cellarmen: barley wine.
"Our brewers are always like, 'Oh, boy, it's barley wine week,'" says Anello Mollica, co-owner of Central Waters Brewing in Amherst, Wis., maker of the third highest-ranked beer on BeerAdvocate's Top 100 American Barley Wines. "It's a lot of extra work for them, but the end result is well worth it."
Barley wines are so revered that festivals are held in their honor from Alaska to Massachusetts, where the folks at Cambridge Brewing Co. recently hosted their eleventh annual barley wine event. It featured 14 different Cambridge barley wine vintages, including a 10-year-old version of the nationally renowned Blunderbuss.
"In New England when the weather sucks during winter, we embrace our barley wines," says brewmaster Will Meyers.
The mysterious appeal of barley wine begins with craft-beer newbies' confusion about the name, which denotes the style's wine-like alcoholic strength: typically 8.5 to 12-plus percent alcohol by volume (ABV). The intrigue continues with the patient reverence of craft veterans, many of whom lay down their barley wines for years or even decades to allow the flavor and aroma profiles to change dramatically during hibernation in cool, dark cellars.
Though often overlooked at the dinner table, barley wines actually pair wonderfully with many big-flavored foods such as heavier meat dishes, aged cheeses and rich desserts.
There are two distinct categories of barley wine: English-style and American-style. Both sub-styles are brewed with massive amounts of malt, contributing colors from amber to deep red/copper as well as rich aromas and flavors of bread, caramel, honey, molasses and toffee. The major difference is that the American versions feature an equally ridiculous amount of hops to balance out–and in some cases even upstage–the substantial sweet malt.
Alesmith Brewing's year-round Old Numbskull, the two-time defending racefABF gold medalist, is a perfect example. The beer started as an English-style barley wine 15 years ago, but the recipe has evolved into an American version. It's "super hoppy in the West Coast tradition," Alesmith owner Peter Zien says, with more than 10 American hop varieties added throughout the boil, hopback and dry-hopping phases.
"It's nicely balanced, dry," Zien says. "Yeah, it's hoppy, but it's more in the aroma and in the flavor than in the bitterness, so it's really easy to drink."
Sierra Nevada Brewing Co. produces perhaps the world's most iconic and best-known American-style barley wine, Bigfoot. Steve Dresler, Sierra Nevada's head brewer in Chico, Calif., says the brewery utilizes well over two pounds per barrel of Cascade, Centennial and bittering-specialist Chinook hops in the kettle to balance the whopping 80 pounds of malt per barrel used to make Bigfoot. Another full pound per barrel of those same hop varieties–dominated by Cascade–is added during two full weeks of dry-hopping.
"It's so pungent and it has that kind of earthy smell…it's a real classic beer," Dresler says of Bigfoot, which is now more than 30 years old. "Back sometime in the early '90s we did a one-time experiment with Columbus hops, but it's got such a following that at this point in time we would never think of tinkering with a beer like that. It's really one of our vintage brands."
Likewise, Meyers and Cambridge Brewing are locked into their own take on barley wine with Blunderbuss, another top-20 resident on the BeerAdvocate rankings that's available on draft at the brewery through March. To make batches distinct, each year Blunderbuss is aged for three to 12 months in a different variety of wooden barrels, from wheated bourbon to vintage port wine. Meyers says Blunderbuss is more of a hybrid in style, using a house ale yeast strain of English descent that lends a more rounded malt character to the beer.
Despite the wide range of interpretations, Meyers says barley wine is not a free-wheeling style to brew. "You can make a big 12- or 14-percent ABV beer and throw everything at it, and it's not necessarily a barley wine," he says.
When Meyers created Blunderbuss back in 1994, he was inspired by classic barley wines like Bigfoot, Anchor's Old Foghorn and Thomas Hardy's Ale. "I think out of necessity they need to be hugely malty and powerful on the palate," he says. Though Blunderbus uses "a ton of hops" (55 to 60 international bitterness units, or IBUs) to balance the malt, Meyers says, "out here Blunderbuss is not a particularly hoppy beer."
Challenges of Brewing Barley Wines
Brewing barley wines is not easy for anyone, even the most respected pros.
"To make a 10-barrel batch of a 5-percent ABV beer we use about 500 pounds of malt," Meyers says, "and to make 10 barrels of barleywine we're using almost 2,000 pounds worth of malt to get 13 percent ABV."
Meyers says stuck mashes and stressed-out yeast are "always huge concerns." To achieve the target 1.111 minimum original gravity, he employs extended boil times of two to three hours, and often uses adjuncts such as local honey and turbinado sugar in the kettle to bump up the gravity without thickening the beer's body.
AleSmith's Zien says there's not much margin for error, "because when you're going for that high alcohol, the yeast kind of poops out on you." That makes it easy for a barley wine to come off as too sweet and cloying from under-attenuation.
"You really have to be specific with that," Zien says, "and if you miss by just a few tenths of a point in your final gravity, you have a completely different product."
At Sierra Nevada, Bigfoot's production is relegated strictly to the company's 100-barrel brew house. Dresler also administers a long, two-and-a-half-hour boil that condenses the wort from 100 barrels down to a yield of about 70 to 75 barrels per batch. That means it takes three brews instead of two to fill a 200-barrel fermenter.
"So it's very time-consuming," Dresler says, "it's very labor-intensive."
Not to mention the fact that Sierra Nevada ferments Bigfoot in open vessels, with the super-active yeast head "literally crawling out of the fermenter."
"It's a hell of a clean-up," Dresler says with a chuckle, "but it's so well worth it. It's just a phenomenal beer."
Barley Wines Tend to Age Well
Along with Thomas Hardy's, perhaps no other beer in the world is as synonymous with consumer aging as Bigfoot. The high alcohol content in barley wines preserves them better over time than other styles, and their complex, beefy malt profile transforms into a plethora of flavors while the hops fade off as the beer ages. Low levels of age-induced oxidation can also produce sherry-like and other unique flavors.
"I think it ages fantastically," Dresler says of Bigfoot. "It's just phenomenal at tasting events to go through the transitions and describe them with people and get their feedback."
A few years ago Sierra Nevada switched from twist-off to pry-off caps, and Dresler says one of the benefits is that Bigfoot can now be aged longer, since there's less risk of oxygen getting into the beer. Many brewers agree that aged barley wines typically peak at up to five years.
"Bigfoot, in that three to five year range, is just sublime," Dresler says. "The best flavor development happens within the first five years, and after that it continues to age but I think you get diminished returns. But still, if you're doing a vertical tasting from year one to 10, it's very impactful."
Zien says AleSmith's Old Numbskull evolves as it ages, shifting from a West Coast American to more of a traditional English barley wine flavor profile.
"It's really meant to drink right when we bottle it, when it's more hop-forward and you really catch those West Coast hops," Zien says. "So we recommend drinking it young. But if you don't mind it going through that evolution as it gets aged, I'd say plus-five years. I tell people up to 10 years, because the sherry notes are creeping in at years four, five, six, and I think it really plays well with the beer."
Barrel-Aged Barley Wines
With the explosion in popularity of barrel-aged beers, brewers are discovering that barley wine is one of the most exciting styles to age in wood. AleSmith and Sierra Nevada each have barrel-aged versions of their respective barley wines, while Blunderbuss from Cambridge and Bourbon Barrel Barleywine Ale from Central Waters are always aged in wood.
Central Waters' barley wine debuted as Y2K Catastrophe Ale in 1999, and it was first put in barrels around 2004. Each year Catastrophe and BBB Ale are aged for 12 months–Catastrophe in stainless steel tanks and BBB Ale in bourbon barrels. Mollica says the program has been a great teaching tool for what barrel aging does to a beer.
Moving forward, Central Waters will produce only BBB Ale because of its huge popularity. Limited-release four-packs were distributed to all of Central Waters' markets in January, and one account in Milwaukee sold out a 15-case allotment in 48 hours despite a limit of one four-pack per customer.
"The nature of barleywines, you're talking about a lot of dark fruit flavors–raisin, plum, date and things like that–and to meld with the vanilla and oak from the bourbon barrels, it just goes really, really well together," Mollica says. "It's like liquid fruit cake."
CraftBeer.com is fully dedicated to small and independent U.S. breweries. We are published by the Brewers Association, the not-for-profit trade group dedicated to promoting and protecting America's small and independent craft brewers. Stories and opinions shared on CraftBeer.com do not imply endorsement by or positions taken by the Brewers Association or its members.