Miss meeting friends or listening to a band at the bar this spring? Sorry that your favorite beer festival hasn't taken place? You can still pick up a six-pack curbside and enjoy it at home these days. But the many casualties the COVID-19 crisis has wrought include the social, entertainment and educational aspects of sharing a bottle or draft of a new or favorite beer. But even if you're stuck at home, you don't necessarily have to lose touch with your favorite brewer or forego live entertainment with a brew. Many pubs and taprooms across the nation want to keep in touch with you via "web-BEER-nar."
So instead of drinking alone, tune in to any of the programs brewers are offering since you can't hang out at the pub, attend a concert in person or take a tour these days.
Longing for an opportunity to enjoy watching a sporting event with a beer in hand? It doesn't make  for a game, but Stone Brewing of Southern California is sponsoring online happy hours with the San Diego Loyal professional men's soccer team. A series of Friday afternoon Instagram sessions features a coach or player talking with a brewer and fans who tune in. Assistant Loyal Coach Carrie Taylor, the first female coach in the United Soccer League, appeared in one, taking questions from the audience such as one complaining that team jerseys are needed in women's sizes. Taylor responded  "I agree. I'll see what I can do." Asked about her favorite beer, she replied "cold."
Stone had just formed a partnership with the expansion club to sell beer at the stadium and cross-promote. The pandemic halted the season after two games, so the sessions became a way to keep fans engaged, explains Stone founder Greg Koch on Instagram. Koch also goes on Instagram with Beers with Greg.
Tune in to stonebrewing.com/events for the Stone Brewing and SD Loyal Happy Hour; or for the Sessionable Saturdays with Greg.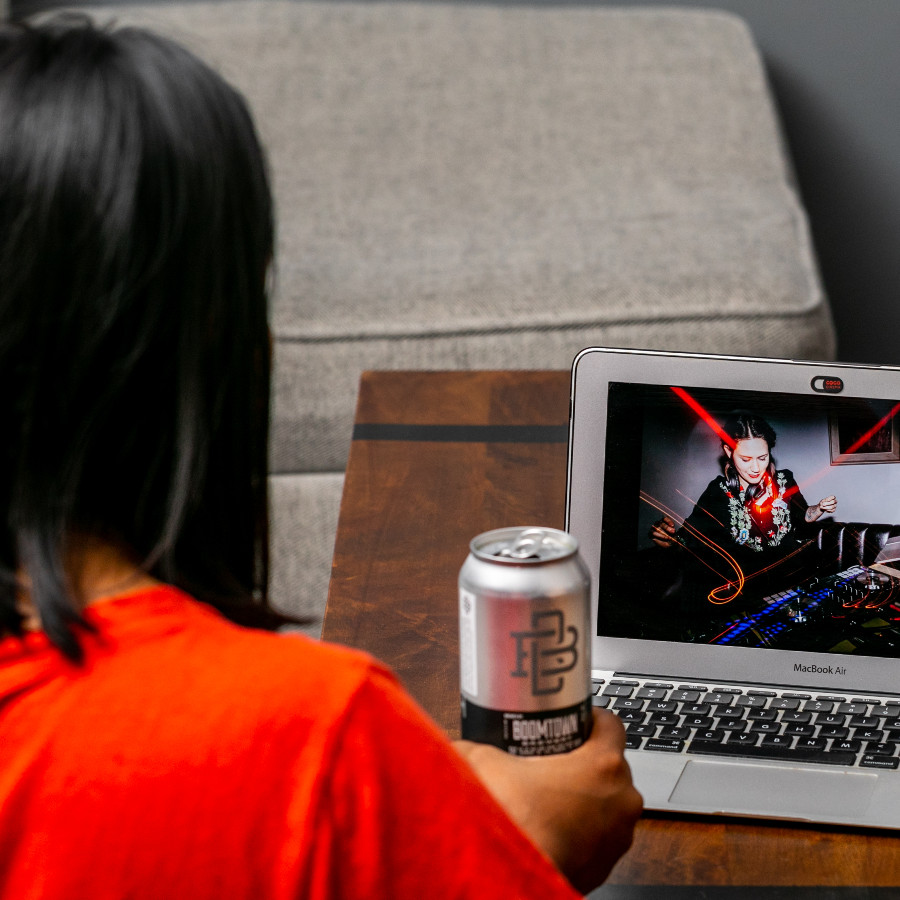 And while we're in Southern California virtually, we can also watch art and music events hosted by Boomtown Brewery of Los Angeles. Since it can't currently host events in its taproom, Boomtown has been hosting art demos and a DJ playing music from her apartment you can dance to. One Saturday evening an artist showed how to make wearable art. "Virtual is the only thing these days," says Managing Partner John Rankin.
And brewers are offering more than music and sports and even events you can participate in from your living room. Over on the East Coast, Hellbender Brewing Company of Washington, DC is featuring two weekly events you can take part in: Wednesday evening open mics and Thursday evening trivia, events moved online from the taproom. "We've had people come down and perform rap. It's mostly singing. Someone played trumpet. We've had ukulele players, even stand-up comedy," Evans says.
It helps that Hellbender CEO Ben Evans is a musician who takes the first 15-minute open mic spot. Evans comes from a family of musicians. He plays guitar. When not singing, he plays harmonica. "I was self-taught. In early college, I got a guitar, started teaching myself. He acknowledges he also learned some from his multi-instrumentalist brother. "I just sort of really enjoy playing guitar as a stress release."
And since performers can now play from their living rooms, participants come from all over the country, as opposed to strictly the Washington area (including Evans' brother in New York). Same with his online trivia, where participation is not limited by the number of people who can fit in his taproom. To take part or just listen in.
And wherever you are, if you want to burn off some beer-induced calories, you can join the Bikes & Beers Social Distance Ride. In normal times, Bikes & Beers teams up with brewers around the country. Cyclists pay an entry fee, do a ride on a given day of a chosen length, then enjoy two beers from the partner at the after-party along with a bag of swag. Part of the proceeds support local bike groups.
While hoping to return to standard rides this summer, a virtual ride is going on in April and May that you can still sign up for. Ride as much as you want on your own time at a safe distance from others outside, or on a peloton or exercise bike in your own home. Record your mileage, get a package and two beer tokens from any participating brewery, among other gifts. More than 200 breweries are involved.
By early May, about 2,500 riders have signed up, says Bikes & Beers President Sam Accardi. He wants to get back to regular rides by July. But if the lockdown continues, the virtual ride may be extended past May. Pedal over to check it out.
And who says the pandemic means you can't enjoy a tasting or brewery tour? The New York State Brewers Association is sponsoring Virtual Craft Beer Tasting Experiences. The first one, hosted the first Saturday in May, featured four 90-minute Zoom tasting sessions at $65 each, each one inviting you into a different brewery. To keep it intimate and a discussion possible, attendance was capped at 100 per session and it sold out, including 35 who got a discount for attending all four. The association arranged to ship via UPS the two 32-ounce beers to your residence the day before so you could sip it while the brewer helps you understand what goes into it. The brewer then takes you through a virtual tour of the brewery, followed by a Q&A. The second beer is to enjoy later. The program was designed for couples, in case that sounds like a lot of beer to drink at once, says Association Executive Director Paul Leone. "We made sure the beers people got weren't typical ones they could always get."
"If we do a series of these, it may make up for all the beer festivals we had to cancel this year," Leone says. "We don't know how long these things will have legs. We're going with it as long as we can. We may do pairings with New York cheese and beer" or with chocolate. "We have tickets on sale now for the next one." Check it out at, here.
And in Chicago, the creative Beer Temple taproom and bottleshop will also send you a package of beer to enjoy during its weekly Facebook live events. Everyone drinks the same beer at the same time during the discussion. "I get feedback. They can ask questions," owner Chris Quinn explains.
Quinn says "we usually have a theme (such as ) adjuncts: all sorts of adjuncts in beer for different reasons, including traditional ones such as corn" and newer ones. Another theme involves "great craft beers the industry was founded on: Sierra Nevada Pale Ale, Stone IPA, Allagash White."
Beer Temple will deliver the beer in advance to parts of the city; suburbanites who want to participate can pick the stuff up. "We might reach out a little more" and deliver out of state, Quinn says.
"I've learned people still really want to have a sense of community and drinking craft beer is a very community-oriented thing. We intentionally have it on Saturday nights because we want people to relax and not think of anything important. We found there's a large range of knowledge base. We  have had people who have never been to a beer tasting ever and a couple regulars who are yeast scientists and another who is a champion homebrewer. They probably know more about certain aspects of the beer than I do. It's kind of fun to have everyone together."
CraftBeer.com is fully dedicated to small and independent U.S. breweries. We are published by the Brewers Association, the not-for-profit trade group dedicated to promoting and protecting America's small and independent craft brewers. Stories and opinions shared on CraftBeer.com do not imply endorsement by or positions taken by the Brewers Association or its members.