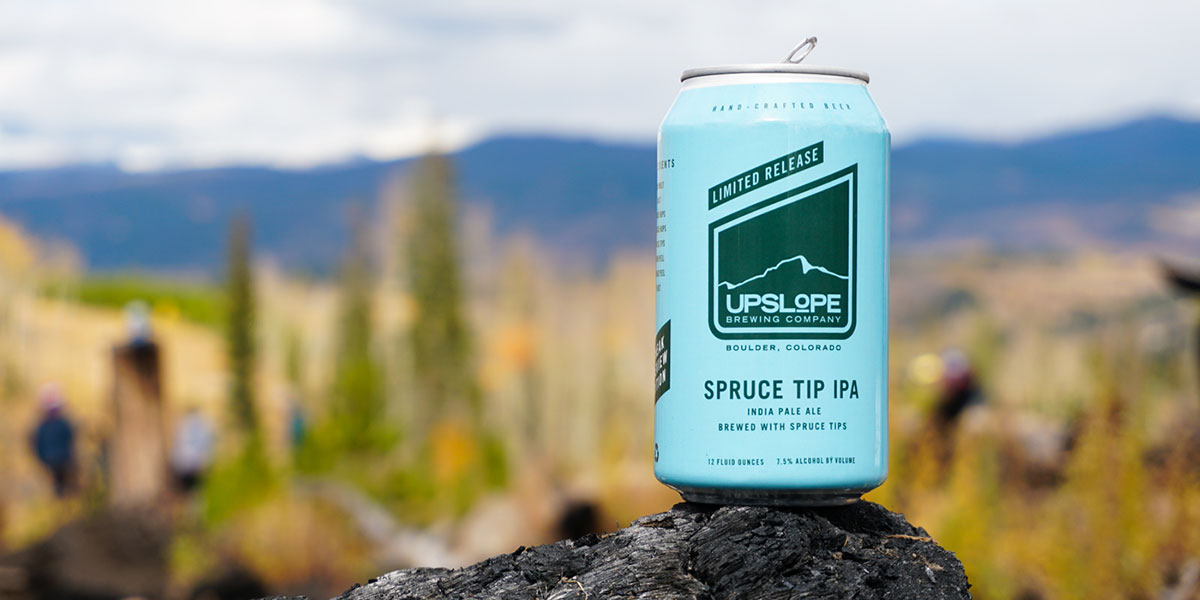 9 Winter IPAs to Try This Season
It's no secret that IPAs reign supreme year-round, but even the most ardent hop-head can get fatigued from the same old IPA profile day-in-and-day-out. Luckily with the changing of the seasons, craft brewers look to brew out of the box for the winter chill. Here are nine brewers sprucing things up with winter IPAs.
While the initial prevalence of hoppy beer is rooted in the crisp and refreshing character that they offer a beer drinker on a hot, summer day, there is no way to limit hoppy beer drinkers' desires. IPAs are gaining popularity, even in the cold months. To meet this demand, independent brewers have been pivoting toward a seasonal approach to the style, often featuring either botanicals or other adjuncts to make their hoppy IPAs blend in with other festive offerings.
In a season once ruled by decadent stouts and rich abbey ales, now we have spruce -infused and snow day inspired IPAs.
---
Celebration IPA | Sierra Nevada Brewing Co. | Chico, CA & Asheville, NC
We have to start with the original winter IPA. Not only is Sierra Nevada Celebration one of the oldest examples of an American-style IPA, it's the oldest example of a winter IPA still in production. Celebration not only channels the West Coast holiday spirit, but it is also one of the most accessible examples of a fresh hop IPA in the country. Fresh hop beers are a bit of a logistical nightmare, but the freshly picked hops offer flavors and complexity their pelletized peers can't match. Hops age quickly after harvest, so they're typically pelletized to preserve their flavor characteristics. Fresh hop beers use hops that are lightly kilned and delivered to be brewed with within seven days of the harvest. Although not quite to the level of wet hop beers, this technique preserves some of the expressive contributions of the hops and allows them to be shown in a different light. Using fresh, whole cone hops gives a more earthy and plant like character to the beer, along with the big pine and citrus notes, which most people interpret as tea-like or a hint of chlorophyll.
Finally, despite what you may have heard over and over again, Celebration does not, and has not ever, contained any holiday spices.
Ever the innovators, Sierra Nevada also packaged Holiday Haze IPA for their winter seasonal mix box. This new take on a winter IPA is a full-bodied, hazy, New England Style IPA featuring Citra(R) and Crystal hops is geared to be fruit forward fans to slow things down and take in the good of the holiday season.
---
Accumulation White IPA | New Belgium Brewing Co. | Fort Collins, CO & Asheville, NC
Brewed as a "direct revolt to the longstanding tradition of brewing dark beers for winter," New Belgium's Accumulation is a white IPA directly inspired by the snowfall in Fort Collins, Colorado, where the brewery calls home. White IPAs are a hybrid style combining the grain and yeast character of a Belgian Wit with the tropical and citrus character of modern hops. Stereotypically brewed for the summer season when both IPA and wit beer are their most popular, New Belgium chose to show off the versatility of the style given its more substantial body when compared to an American IPA. They've now been brewing and packaging this beer every winter for more than five years.
The wheat and yeast used gives this beer a medium body that fits more with the winter season. The fruit esters of the yeast combine with tropical, citrus and pine notes from the Mosaic and Amarillo dry hopping for a satisfying and hop forward winter beer.
The whole package is a slightly hazy, fruit-forward IPA with a hint of traditional IPA bitterness that fits in perfectly with any winter adventure.
(STYLE GUIDE: What is an American IPA)
---
Dark Wing IPA | Drake's Brewing Co. | San Leandro, CA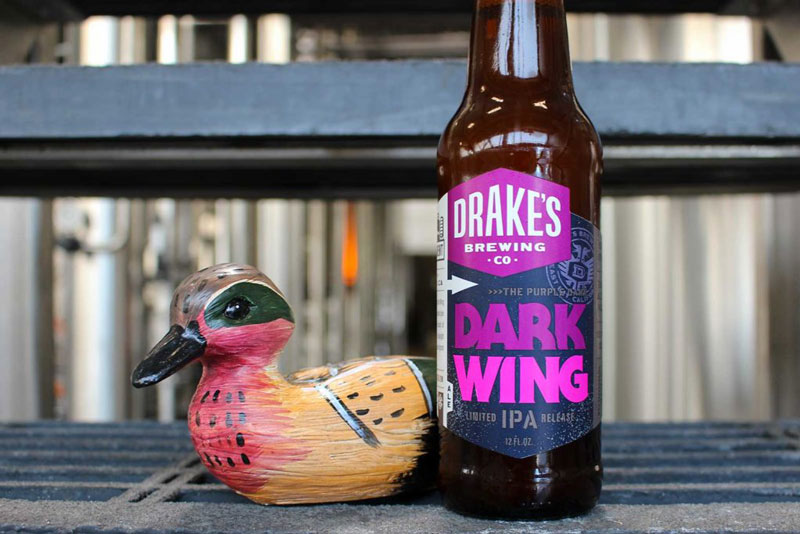 In contrast with New Belgium's offering, Drake's has gone with a black IPA, Dark Wings IPA. Riffing off the popularity of American stouts, Dark Wings offers a rich malt character to go along with the robust hop selection. The black and crystal malts give the beer a full body and a roasted flavor with accents of caramel and coffee. On top of that, brewers chose to showcase Denali along with traditional Cascade hops. This combination gives this dark ale a big, resinous, pine character and just a hint of grapefruit alongside the roasted malt focus in this 7.5% ABV winter seasonal IPA.
---
Spruce IPA | Alaskan Brewing Co. | Juneau, AK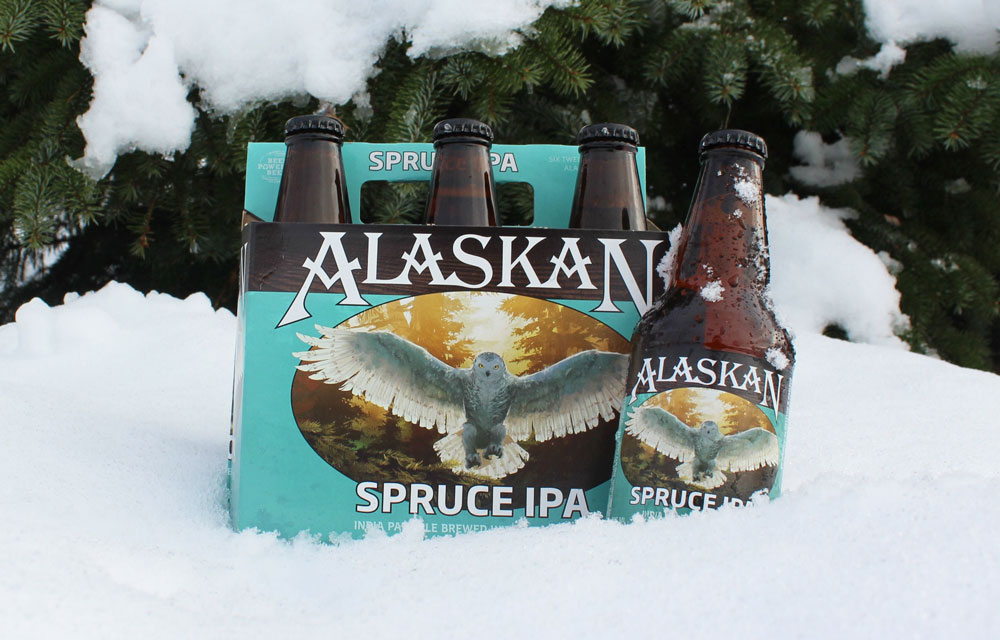 Plenty of IPAs embrace the piney and resinous character of American hops, but Alaskan Brewing Co. has enhanced the best known and loved example of an IPA with spruce tips working alongside the hops. Alaskan's Spruce IPA uses Sitka spruce tips, an evergreen tree which Alaskan says "define the rugged coastlines and untamed forests," that cover more than 56 million acres of land in the state. The spruce tips have strikingly similar flavoring characteristics to some of the traditional noble hops. The spruce tips contribute light and tart lemon zest flavors, slight bitterness, pine and a bit of bubblegum. The hops used alongside the spruce tips are Chinook, Citra, and Denali, adding to the intensity of the pine flavor along with a big citrus character and an accent of berry-like spruce.
Their Spruce IPA won gold this year at the World Beer Cup in the Herb and Spice Beer category, solidifying it as a great example of the emerging sub-style.
(FIND: Seasonal Beer Releases)
---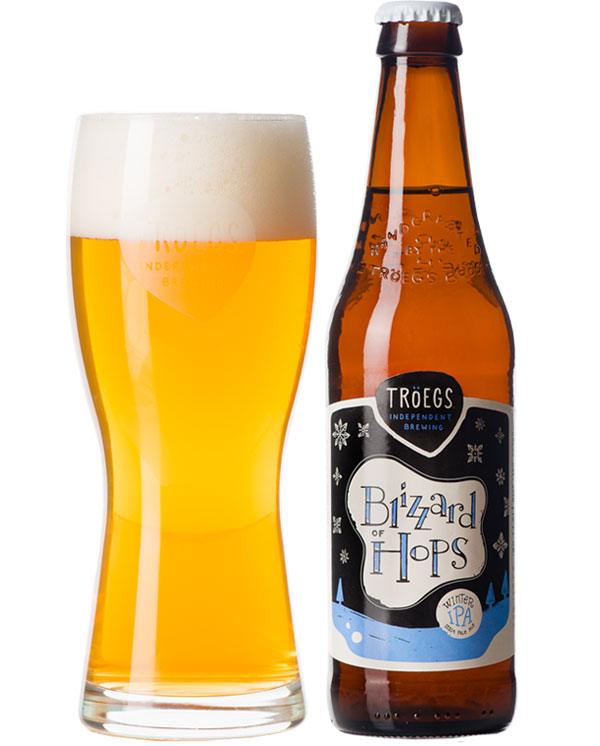 Blizzard of Hops Winter IPA | Troegs Independent Brewing | Hershey, PA
Troegs Blizzard of Hops Winter IPA is their salute to the end of hops season and the growers responsible for the harvest. This slightly hazy American IPA features wheat and pilsner malt for a more satisfying body. Brewers used Centennial, Chinook and El Dorado hops for flavoring and bittering, then followed that up with a dry hopping Chinook and Galaxy.
The end result is a medium-bodied yet crisp IPA with a classic hoppy citrus character, pine, fruity spruce, and a little tropical pineapple. This combination not only adds up to a popular winter IPA, it shows the huge range of flavors that hop growers put at brewers disposal every year that the brewers at Troegs are thankful for.
---
Spruce Tip IPA | Upslope Brewing Co. | Boulder, CO
After years of brewing and canning a spiced Belgian dubbel for the season, Upslope Brewing Co. made the switch this season to a less traditional beer that is more in line with the Colorado lifestyle. Brewed with hand-picked, Colorado spruce tips, their medium-bodied Spruce Tip IPA features a more intense malt character than you might expect from a traditional American IPA. Cascade and Simcoe hops accent the spruce tips piney notes and add a hint of orange citrus to this winter IPA.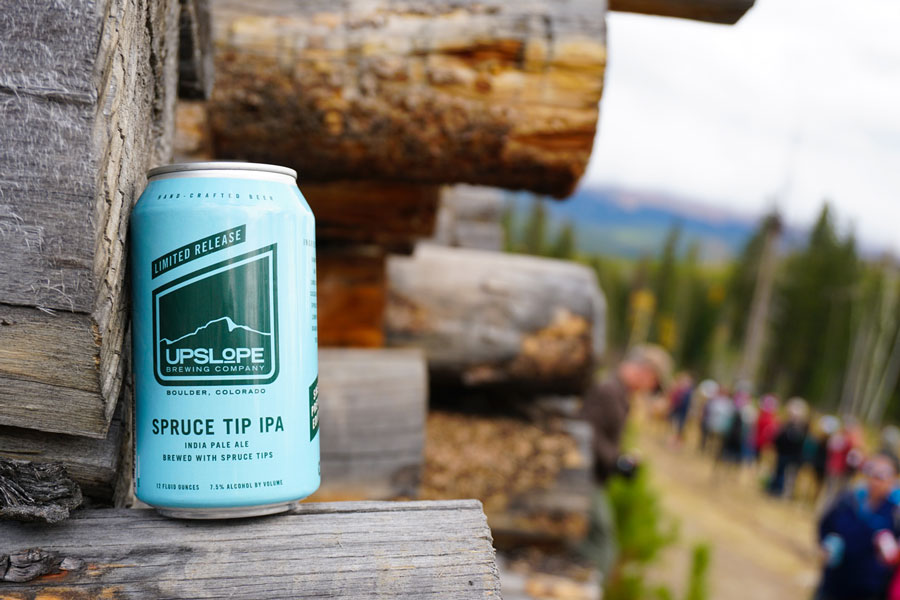 "Just like hearing Christmas music in January, holiday specific beers face challenges once the celebration has subsided," Upslope Brewing Co.'s Head Brewer Sam Scruby says. "We loved our Christmas Ale, but felt like the window for enjoyment was limited. We know that our fans will drink IPAs no matter what season it is, and we felt like there was a great opportunity to create a unique, winter-inspired IPA that could reliably follow you to the ski slopes, ice walls, hockey ponds, and hot tubs when the snow is falling."
---
Double Red IPA | AleSmith Brewing Co. | San Diego, CA
Formerly known as Winter YuleSmith, AleSmith's Double Red IPA is a fuller bodied double IPA brewed with the winter chill in mind. This 8.5% ABV IPA balances piney and citrusy American hops with a rich caramel malt sweetness. The malt forward recipe makes your beer drinking experience a more substantial affair, but the hop aroma and bitterness doesn't let you forget that this is a double IPA.
A crowd favorite for good reason, this beer is a past recipient of a World Beer Cup gold medal in the Imperial or Double Red Ale category.
---
Winter IPA | Peak Organic Brewing Co. | Portland, ME
In the age of New England Style IPA, Peak Organic Brewing Co.'s Winter IPA is a juicy, hazy IPA to brighten up the brisk winter season in the American Northeast. Focusing on bright, fruit forward hops, this beer directly contrasts with most other seasonal IPAs, but it's also exactly what some people want when the days are short and the nights are cold.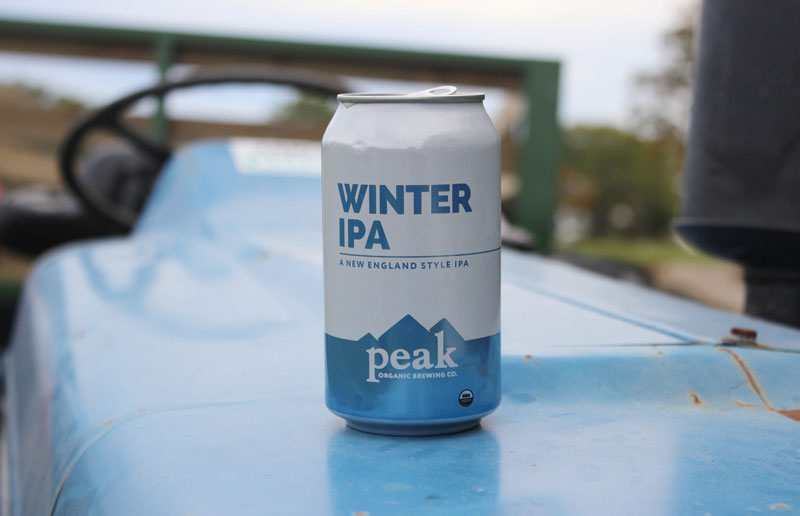 Calypso, Azzacca, and Citra hops give the right mix of tropical and citrus fruit to whisk you away from the winter chill. Simcoe hops add a slight piney character to complement that winter air and aroma.
High Camp Winter IPA | Bale Breaker Brewing Co. | Yakima, WA
Named as a tribute to the lodge at White Pass Ski Resort, Bale Breaker Brewing Co.'s High Camp Winter IPA sticks with the style of beer they're known for, but adds chocolate malt into the mix. Cocoa and roast malt character combine with pine, dark fruit, and grapefruit citrus notes from HBC 522 and Mosaic hops used for dry hopping for a complex and substantial IPA. Bale Breaker Brewing Co.'s vision of a winter warmer IPA weighs in at 7.3% ABV and 80 IBUs.
With the ever growing popularity of hops and development of brewing techniques around them, the IPA landscape is perpetually in motion. The use of spruce alongside the hops is a shoo-in for a new winter favorite, and fuller bodied, more satisfying hazy IPAs fit the bill for cozy cabins.
(COOK WITH CRAFT BEER: Find Hundreds of Recipes)
As beer drinkers' tastes shift, we'll see how their favorite style transforms to match. There are already sub-categories of IPAs to compete with almost any style of beer, from Belgian to black, hoppy beer has no bounds.
CraftBeer.com is fully dedicated to small and independent U.S. breweries. We are published by the Brewers Association, the not-for-profit trade group dedicated to promoting and protecting America's small and independent craft brewers. Stories and opinions shared on CraftBeer.com do not imply endorsement by or positions taken by the Brewers Association or its members.