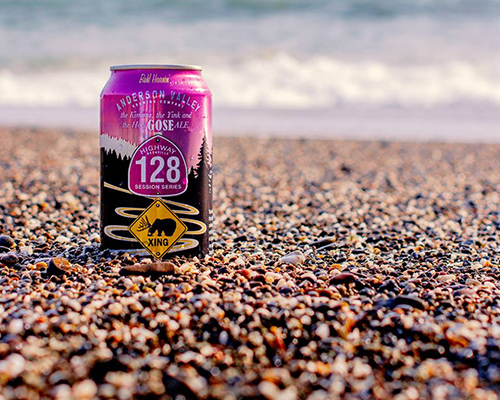 Anderson Valley's New Highway 128 Session Series
Anderson Valley Brewing Company has released a new line of beers entitled the Highway 128 Session Series. Director of Brewing Operations, Andy Hooper, describes the new series of beers as unique and sessionable in their recent blog post, "Highway 128 Session Series: Interview with Andy Hooper."
"The goal was to provide some new, thought-provoking styles that were fun and challenging to brew, but very easy to drink," said Hooper.
All beers made within the Highway 128 Session Series label will range from 4.0 – 4.5 percent ABV, and are intended to compliment the corresponding season of their release. With only two releases so far, it has already proven to be a highly anticipated series.
The first release was Keebarlin' Pale Ale, a 4.2 percent ABV beer loaded with tons of hop flavor and aroma, specifically from the Columbus hop variety. While the Keebarlin' Pale lends itself to long-lasting barbeques in the summer time, Anderson Valley wanted to make their next release a little more out there, hence their release of The Kimmie, The Yink and The Holy Gose.
This 4.2 percent ABV gose exhibits flavors of guava and peach in addition to a slight mineral nose and an effervescent finish that has been compared to that of a calm sea breeze. The gose, a style of beer often forgotten by modern-day brewers, is German in origin, and typically characterized by its fruity, funky nose with a light, tart flavor and a salty finish.
Traditionally, a gose will get its funk from Lactobacillus bacteria and its saline finish from actual salt water used in the brewing process. Anderson Valley's approach to the gose used both traditional and non-traditional methods to create the beer they wanted. Hooper explains some of the hurdles they had to overcome in order to make this forgotten style:
"Gose is a challenge to make. Traditionally, this beer was made by allowing yeast and bacteria to ferment wort at the same time. It was packaged unfiltered and still contained loads of yeast and bacteria. Putting Lactobacillus bacteria into our cellar equipment and packaging lines would be a potentially huge problem and might contaminate other non-sour beers. To solve this problem, the lactobacillus is added in the brew house—specifically in the kettle. The bacteria are allowed to sour the wort and create the acidity needed for the tart flavor and funky aromas. After the bacteria do their job, the wort is boiled and sterilized. Now that all the bacteria are dead and gone, it's safe for us to ferment, filter and package the beer in the cellar without the risk of contaminating other beers."
The Kimmie, The Yink and The Holy Gose will be making appearances on draft and in 12-ounce cans across Anderson Valley's distribution territory (~39 states). Visit AVBC.com for more information on the new line up of beers, including suggested food pairings.
---

Grant Puza is the current Craft Beer Program Intern at the Brewers Association. A Certified Beer Server and homebrewer, Grant spends most of his time educating himself further in the world of craft beer. If not visiting a local brewery, you might also catch him somewhere in the woods backpacking, rock climbing or snowboarding.
CraftBeer.com is fully dedicated to small and independent U.S. breweries. We are published by the Brewers Association, the not-for-profit trade group dedicated to promoting and protecting America's small and independent craft brewers. Stories and opinions shared on CraftBeer.com do not imply endorsement by or positions taken by the Brewers Association or its members.