It's been a frustrating week for One World Brewing, a small and independent craft brewery in Asheville, North Carolina. The brewery, which originally opened four years ago in downtown Asheville, was busy prepping to open its new location in the West Asheville district when vandals hit the brewery as well as surrounding local businesses.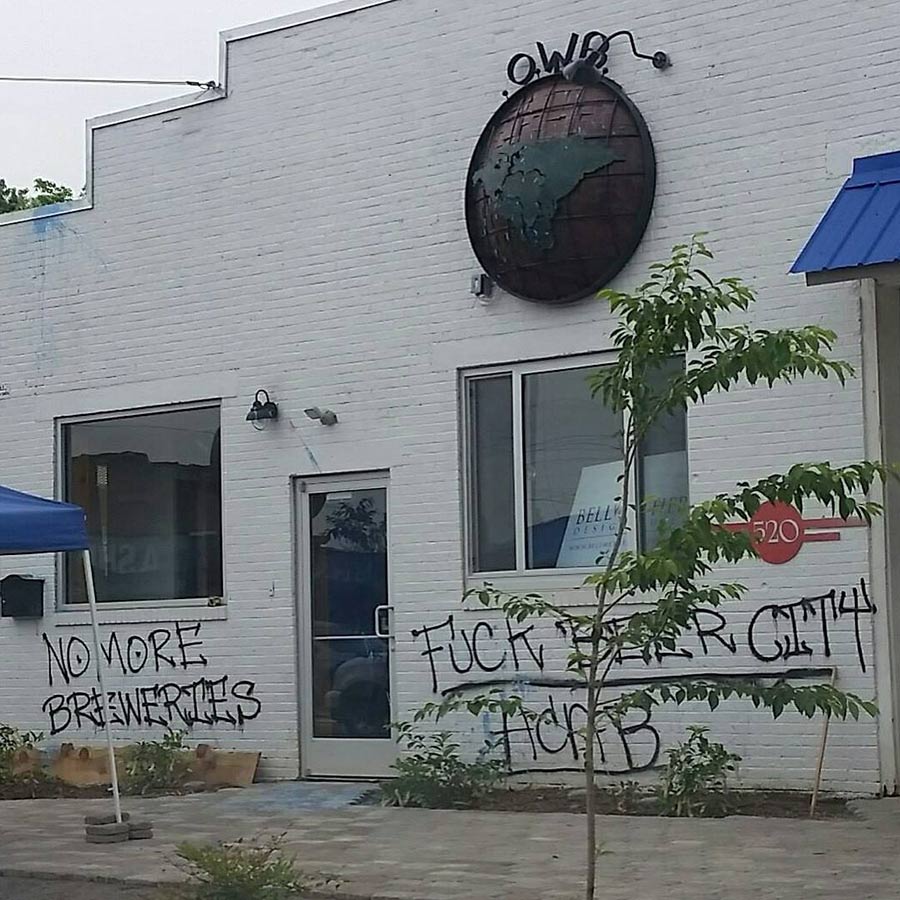 The vandals scrawled messages in black spray paint on the front of the brewery's white brick building at 520 Haywood Road: "No more breweries" and "**** Beer City."
The vandals' anti-brewery messages are stinging words for the Asheville beer community, a city where independent breweries are considered a major driver for tourism.
(VISIT: Find a U.S. Brewery)
"We will not be deterred from doing what's best for our employees and our community," One World Brewing wrote on its Facebook and Instagram pages Thursday. "We are a homegrown, local, independently owned brewery that does so much more than just brew beer. We use beer as a platform to support so many other aspects of life that we are passionate about."
The Asheville brewery, like many local breweries, is invested in supporting its employees as well as the community. The brewery used the incident to flip the script and talk about their strong bond with Asheville.
…It upsets us, angers us, but also reminds us that we can't let our emotions get the best of us. We've offered beyond a living wage to our staff so they can continue to live and work in our growing community in Asheville. We give to a monthly cause/charity of our staffs choosing. We've hired countless artists & musicians in our 4 short years and we will be able to do so much more of that with a second location.
All of the paint, pavement, sign work, sweat, and hard work of local, honest working folks was defaced last night. So if you're against supporting the arts, music, fun, fulfilling work done by people that live and breathe Asheville, and are against having a place that builds community, family, & universal acceptance, then we are absolutely, positively guilty as charged for supporting all of these beautiful things!
Beer lovers and other breweries are voicing their support for the brewery online. Several people and business owners have offered to come over to help, paint brushes in hand.
[newsletter_signup_box]
"We've been there too. Not everyone is ready for progress unfortunately," Whistle Hop Brewing Company out of Fairview, North Carolina, responded in a post. "Let us know if you need any extra painters. We've got our brushes ready to go too."
Police are investigating, according to local media, and the brewery says security cameras are now up and running at the new location.
CraftBeer.com is fully dedicated to small and independent U.S. breweries. We are published by the Brewers Association, the not-for-profit trade group dedicated to promoting and protecting America's small and independent craft brewers. Stories and opinions shared on CraftBeer.com do not imply endorsement by or positions taken by the Brewers Association or its members.