When Denizens Brewing Company brewed Bock to the Future at their Silver Spring, Maryland, Barrel House & Beer Garden, it was the first time the beer was brewed in over 80 years. The 1930s recipe that informed Bock to the Future sat in the archives of the Smithsonian's National Museum of American History since 1967, when it was donated by master brewer Walter H. Voigt. In September 2019 it was brewed again and the 5.2% ABV American bock is now liquid beer history.
As a beer and brewing historian, researching old beers is my passion. I am constantly searching primary documents for recipes and it's rare to find beer recipes from the 1930s. But when I discovered this recipe in 2016 while I was conducting research in the Smithsonian's archives for an article I was writing on brewing in Baltimore, I found it so fascinating that I knew I had to help with a project that would see the old recipe through to commercial production. In August 2019 I reached out to Jeff Ramirez and Julie Verratti, founders of Denizens Brewing Company, to ask them if they'd be interested in a beer history project. They agreed.
American Bock from the 1930s
So why corn, rice and sugar in American bock? Because the recipe called for it!
When many German brewers emigrated to the United States, the barley and hops they'd traditionally used in Germany were largely unavailable here. As a result, American bock and German bock became distinctly different beer styles. American bock traditionally had corn, rice and sugar in place of what is usually an all-barley beer in Germany.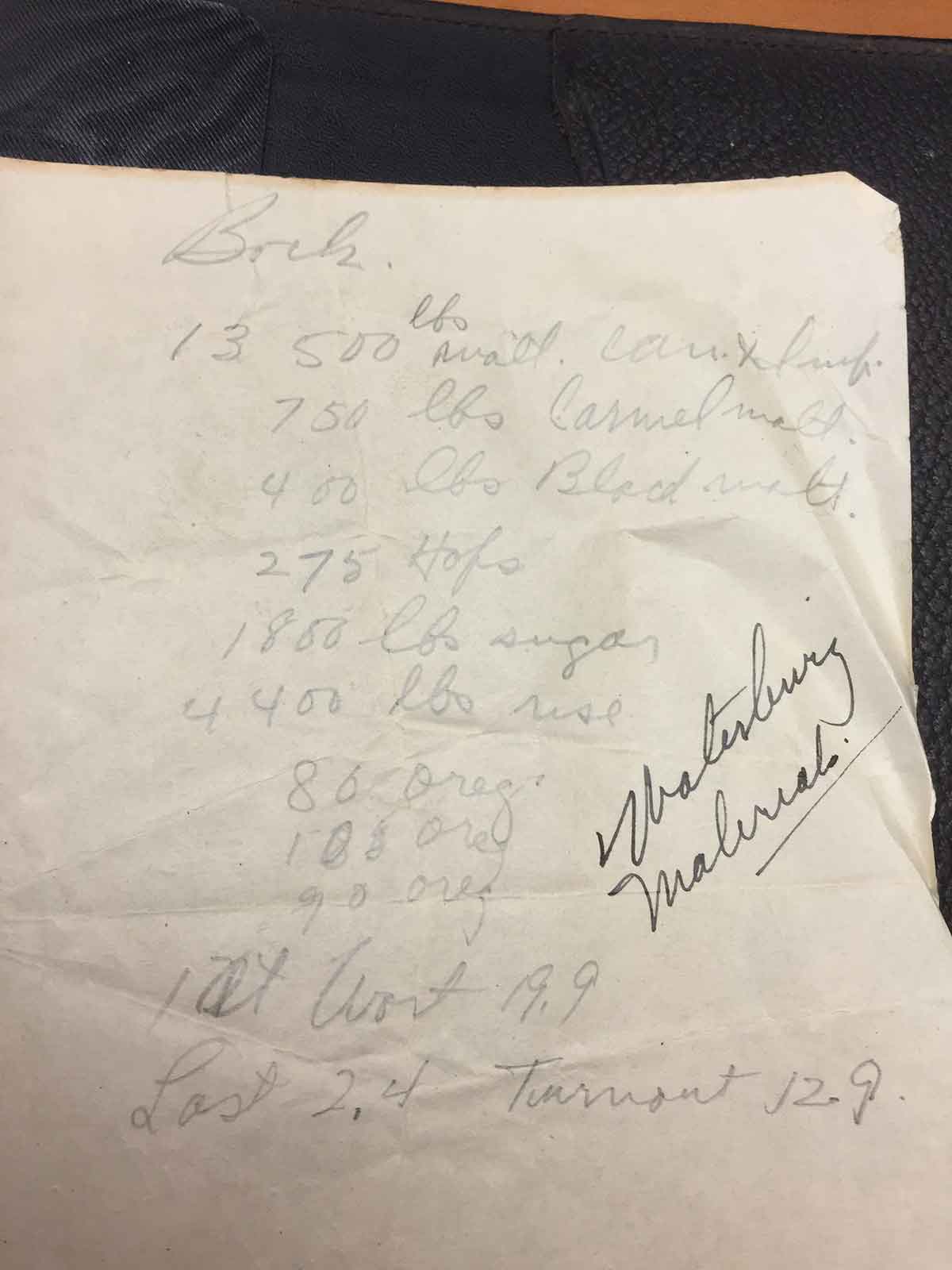 Bock beer is typically a stronger German-style beer, and American craft brewers takes on German-style bocks follow suit (Bell's Consecrator Doppelbock is 8% ABV and Tröegs Troegenator Double Bock is 8.2% ABV).
Thanks to two scraps of paper from the archives of the Smithsonian's National Museum of American History, we know that corn, rice and sugar were in early 20th century bock beer recipes. The Voigt recipes donated aren't identical; one bock has rice, corn and sugar while another reading "Bock" and "Waterbury Materials" scrolled across the page, has rice and sugar but no grits.
These recipes, penned in cursive writing, come from a folder in Voigt's donated collection which he donated to the Smithsonian's National Museum of American History in 1967. Voigt was a member of the Master Brewers Association of America. He joined the MBAA and, at the time, listed the American Brewery of Baltimore, Maryland, as his employer. His job title was assistant brewmaster. Voigt also studied at America's oldest brewing school, Siebel Institute of Technology in Chicago. Coincidentally, Denizen's Brewing Company's Chief Beer Officer/Co-Founder Jeff Ramirez also graduated from Siebel and is an MBAA member.
(Related: Smithsonian Set to Showcase Brewing History)
Denizens Brews Modern Take on Archive Recipe
Denizens has brewed German-style bock before, but making the archival beer recipe was the first time they brewed a bock with rice.
Denizens' Jeff Ramirez decided to match the strength of Voigt's beer instead of staying 100 percent true to the recipe. Whereas Voight's bock recipe used sugar, the ingredient would have made Ramirez's Bock to the Future stronger than the 5.2% ABV targeted in the recipe. Ramirez thought it would be better to use the historical accuracy of the beer's strength rather than follow the ingredient percentages identically.
The 1930s bock was brewed with about 70 percent barley, 21 percent rice and 9 percent sugar, whereas Denizen's Bock to the Future contained about 80 percent barley and 20 percent rice.
The malts in Bock to the Future are simple–pale, Crystal and black. The malts from the original were pale, caramel and black malts. Ramirez was impressed with how three malts provided a greater malt complexity than a beer with six.
"Based on the [original] recipe it requested all Oregon hops throughout. So we sourced Oregon hops that we have today," says Ramirez in regards to the American hops in Bock to the Future. The recipe in cursive listed "Oreg." under "hops" so Ramirez used Nugget as a bittering hop and the Willamette variety for aroma and flavor.
(More: A 'Stirring Tale' Behind the Father of Homebrewing's Famous Spoon)
Tasting Bock to the Future, the Archive Beer
Bock to the Future pours a deep copper color with bright ruby highlights. Aromas of bready malts and spicy hops, like a pumpernickel loaf with raspberry lavender jelly spread atop. While distinctively craft with American malts and hops, it emulates the classic bock beers of Germany: sweet upfront with a dry and bitter finish.
Bock to the Future is available on draft at Denizens Beer Garden and Barrel House in Silver Spring and at the brewery's Riverdale Park Production House and Taproom in Maryland. This American bock was made possible by research, Denizens, and a donation to the Smithsonian's National Museum of American History archives. Try a drink of beer history that was last brewed when Franklin D. Roosevelt was president.
CraftBeer.com is fully dedicated to small and independent U.S. breweries. We are published by the Brewers Association, the not-for-profit trade group dedicated to promoting and protecting America's small and independent craft brewers. Stories and opinions shared on CraftBeer.com do not imply endorsement by or positions taken by the Brewers Association or its members.