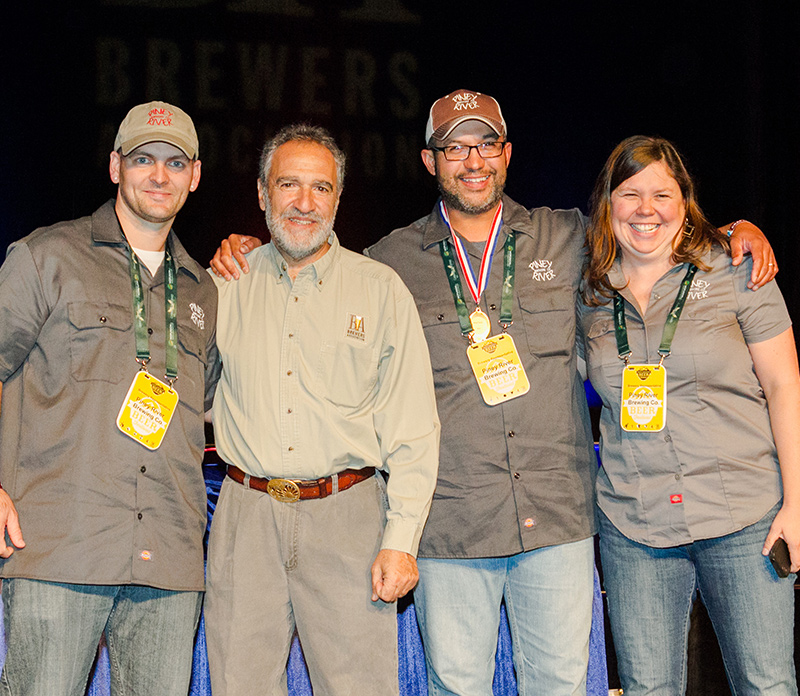 Piney River's Successful First Trip to the Great American Beer Festival
You could call it beginner's luck, but that would seriously discredit the amount of heart and soul Piney River Brewing Company (PRBC) puts into their brewery and craft beers. Joleen and Brian Durham and their brewers began the journey to the Great American Beer Festival (GABF) before sunrise on Wednesday, Oct. 9. Once they arrived, the group hit a few pre-GABF events in Denver to kick off their weekend, and of course found a spot to watch their beloved St. Louis Cardinals advance to the NLCS. Little did they know, but that was certainly a sign of more good juju heading for the Midwestern brewery. The madness of the festival began Thursday night when taps started pouring. Their Sweet Potato Ale quickly became the fan favorite at the PRBC booth.
As the whirlwind of GABF was coming to an end, Saturday morning arrived and the excitement for the possibility of a medal crept in. As first time entrants, PRBC put up 10 beers (the 2013 GABF competition max), giving them numerous opportunities at gold, silver and bronze. The ceremony began and hope dwindled as every category was announced. Having dreamt about winning for their Amber the night before, Joleen's premonition didn't exactly pan out as the category came and went with no mention of PRBC. They were 0-9 with one more shot in Category 74: Brown Porters. The bronze and silver were announced and PRBC hadn't been called, but gold was still on the table. As soon as the announcer said "Old," time stopped and everything started to sink in for the brewers.
So what happens in the moments after you win a medal at GABF? "Well, first you scream—then shake," said Joleen. "Then you get dozens of follows on social media. Everyone at GABF seeks out your beer. Greg Koch and Patrick Rue congratulate you. Your winning beer begins to go on draft in new and established accounts all over your distribution area."
The brewery has come along way from its inception in 2010. Located in Bucyrus, Mo., a cool 90 miles from any metropolitan area, the homebrewing couple has worked to bring local beer enthusiasts hometown brew they can be proud of. After refurbishing an old barn that sat on their 80-acre farm, the two began production and eventually added two new brewers to their team.
As the dust settled in Denver with the close of GABF, it's only picking up in Bucyrus as orders for more tap handles roll in and distributors try to find more shelf space for Old Tom Porter. PRBC looks at the gold medal not only as a coveted honor, but credibility to help with future growth in their distribution area.
Read Joleen's full recount of their GABF experience on the PRBS blog: "The All True Story of Piney River's First Trip to the GABF".
---

Claire Chastain is a lifelong North Carolinian who relocated to Boulder, Colorado to become the Craft Beer Program Intern. When she's not checking out local taprooms, you can find her on the Ultimate frisbee field or hiking with her dog.
CraftBeer.com is fully dedicated to small and independent U.S. breweries. We are published by the Brewers Association, the not-for-profit trade group dedicated to promoting and protecting America's small and independent craft brewers. Stories and opinions shared on CraftBeer.com do not imply endorsement by or positions taken by the Brewers Association or its members.