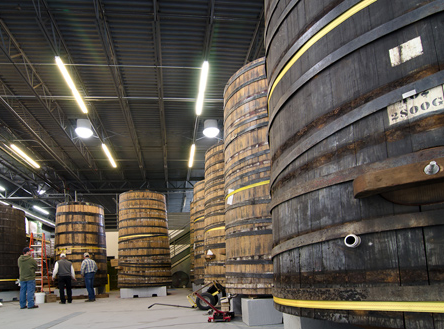 Foudres for Thought
Experimenting with different beer styles and brewing techniques is what makes the life of a brewer exciting. Much like a chef, brewers have unlimited ways they can use ingredients to create beers with unlimited characteristics.
You may have noticed a recent trend in the industry has been to sour beers using different bacteria and microorganisms like Brettanomyces and Lactobacillus, as well as long-term aging in various kinds of wine and spirit barrels. The resulting beers can be very complex and have a wide range of flavors that are becoming increasingly popular in today's craft beer market.
Because beers are fermented using wild strains of bacteria or are coming from a limited number of barrels, they tend to be seasonal and are available for only short periods of time. The souring process can take months if not longer, and time is money. Aging beer for long periods of time also takes up valuable real estate in a brewery.
So what are brewers doing to keep up with the demand for these beers that take so long to make such a small quantity? The answer is bigger barrels—a lot bigger!
Foudres: The Bigger Barrel
Breweries across the country like Monkish Brewing Co. in Torrance, Calif., and Neshaminy Creek Brewing Co. in Croydon, Pa., who live for experimental batches and truly love sour beers, are purchasing used foudres (foudre in French, foeder in Dutch) from wineries and distilleries.
Foudres are essentially giant barrels. These huge pieces of equipment are giving small and independent craft brewers the capability to produce sour offerings in much larger quantities. More and more breweries are starting barrel programs at their establishments, which means more brewery jobs and more sour beers on the shelf.
Many brewers are sharing their plans for their barrel programs, giving sour beer lovers something to look forward to in the months to come. You can see some of ways breweries are using foudres and barrels by checking out these articles.
New Belgium
New Belgium produces many sour beers, with La Folie being the most widely known. The brewers at New Belgium truly love sour beers, and in "This is How We Build Foeders," you'll see first-hand how they assemble and maintain their giant foudres.
Monkish Brewing Co.
Monkish brewery added five oak foudres to their brewery almost a year ago. These vessels are dedicated to wild and sour beers. Check out "Foudres," to learn about the foudres they purchased from Markham Vineyards in Napa, which were originally used for aging its Sauvignon Blanc.
Neshaminy Creek Brewing Co.
Neshaminy Creek Brewing Co. is excited about the expansion of their sour beer program with the addition of three 45-hectoliter foudres. Learn the details about their expansion and sour program in, "All the Stouts, Cans, And Foudres Fit to Print."
Destihl Brewery
With numerous wild sour, barrel aged and wood aged beers it's no surprise that Destihl Brewery is also using foudres straight from France. Learn more about their oak vessels in "About Our Brewery."
Photo © New Belgium Brewing Co.
---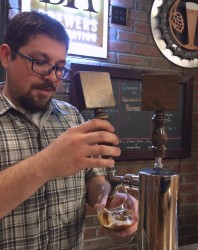 Ben Zeller is a homebrewer, beer and food enthusiast, certified beer server and is the current Craft Beer Program Intern for the Brewers Association. He is also a new father, skier and currently a student at MSUD, anticipating graduation this December. He hopes to learn as much as he can during his time with the BA and continue his career in the craft beer world.
CraftBeer.com is fully dedicated to small and independent U.S. breweries. We are published by the Brewers Association, the not-for-profit trade group dedicated to promoting and protecting America's small and independent craft brewers. Stories and opinions shared on CraftBeer.com do not imply endorsement by or positions taken by the Brewers Association or its members.