When you write about beer for a living, you better be prepared to answer a lot of questions about beer: on airplanes when you're reading beer books; at family gatherings; via text, when friends send you a mammoth beer menu from whatever restaurant they're at and ask, "What beer should I try?" (#help)
Recently, a really good question came to me from one of my oldest friends at Brew Bus Terminal & Brewery in Tampa. My friend isn't new to craft beer — the industry is thriving in Tampa, and she happily hits up new breweries with her hubby and friends. (She even introduced me to Angry Chair.) But she still worries there are taproom rules only beer geeks know.
As she sampled her way through a couple tiny Dixie cup tasters, she turned to me and asked, "Is there a number of how many samples is acceptable before I should have a decision?"
(MORE: 5 Questions Brewers Wish You Would Ask During a Tour)
I'd never really thought too much about it. I've fallen into a comfort zone, for better or worse, and generally I try to keep it low ABV (God bless the return of berliner weisse and gose). But I also vividly remember the first time I took my parents to Atlanta's Brick Store Pub. Dad asked the server, "What's the closest thing you have to a Yuengling?" (My personal victory is that time he really, really liked Farmer Ted's Cream Ale from Asheville's Catawba Brewing). My step-mom, putting on her best adventurous face, ordered six tastes of craft beer, then went with wine instead. I remember sitting at Brick Store that day wondering, "How many tastes are too many?" making my Tampa friend's question totally valid.
So is there a rule about how many tasters you should order? Is there other taproom etiquette breweries want us to know?
I encourage people to try a few beers, two to four, before getting a full glass. I would not be offended if they tried all of our beers.
Adam Harrington has worked on different sides of Mother Road Brewing in Flagstaff, Arizona, both on the production side and in the taproom. He recently switched to front-of-the-house and says, "I encourage people to try a few beers, two to four, before getting a full glass. I would not be offended if they tried all of our beers."
Jon Mansfield of War Horse Brewing in Seneca Lake, New York, agrees. "My advice is always, 'Give it a try!' That is what we are here to do — pour and talk about our beers. More than just what the beer is, we try to explain why we make that specific beer."
After talking to Adam and Jon, I'd say my Tampa friend is absolutely safe to keep asking for those Dixie cup tasters until she finds the beer that excites her (even if it's her fallback, You're My Boy, Blue. It is a GABF silver medal winner, after all.)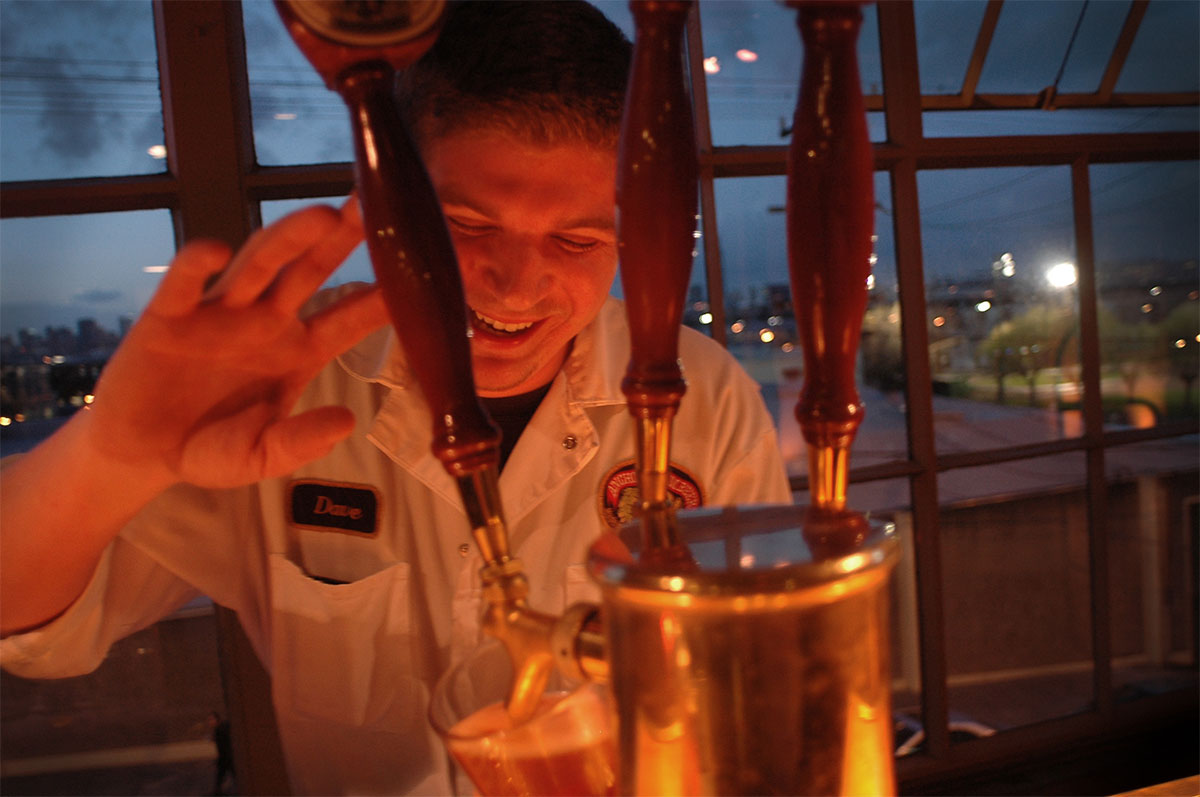 (MORE: Selfies with Zac Hanson Is Everyone's Favorite GABF Souvenir)
In terms of etiquette, what else do breweries want us to know? Chris Labbe at Periodic Brewing in Leadville, Colorado, offers nine great things to consider when you're in a taproom or brewpub:
Be patient and provide feedback if the beers are not perfect in a place that is new.
Understand that sometimes we are doing things differently for a reason.
Beer is not supposed to be served cold (not even an American Lager) or in an iced glass (CraftBeer.com's Julia Herz explains why).
Think about the difference between "I don't like" and "It's not good."
Brewers love to talk about our beer. Ask questions and be prepared to listen.
"Have" is a 4-letter word … as in "you have to have pool tables to be a good bar."
There is no such thing as "watered down" beer. Find another adjective to help us understand the flaw you are experiencing.
Always drink IPAs last.
Understand that we sell high ABV beer in smaller portions because: a) They are more expensive to make b) We want everyone to get home safely
Have you found anything that makes it easier to navigate a taproom? We'd love to hear about it in the comments.
CraftBeer.com is fully dedicated to small and independent U.S. breweries. We are published by the Brewers Association, the not-for-profit trade group dedicated to promoting and protecting America's small and independent craft brewers. Stories and opinions shared on CraftBeer.com do not imply endorsement by or positions taken by the Brewers Association or its members.