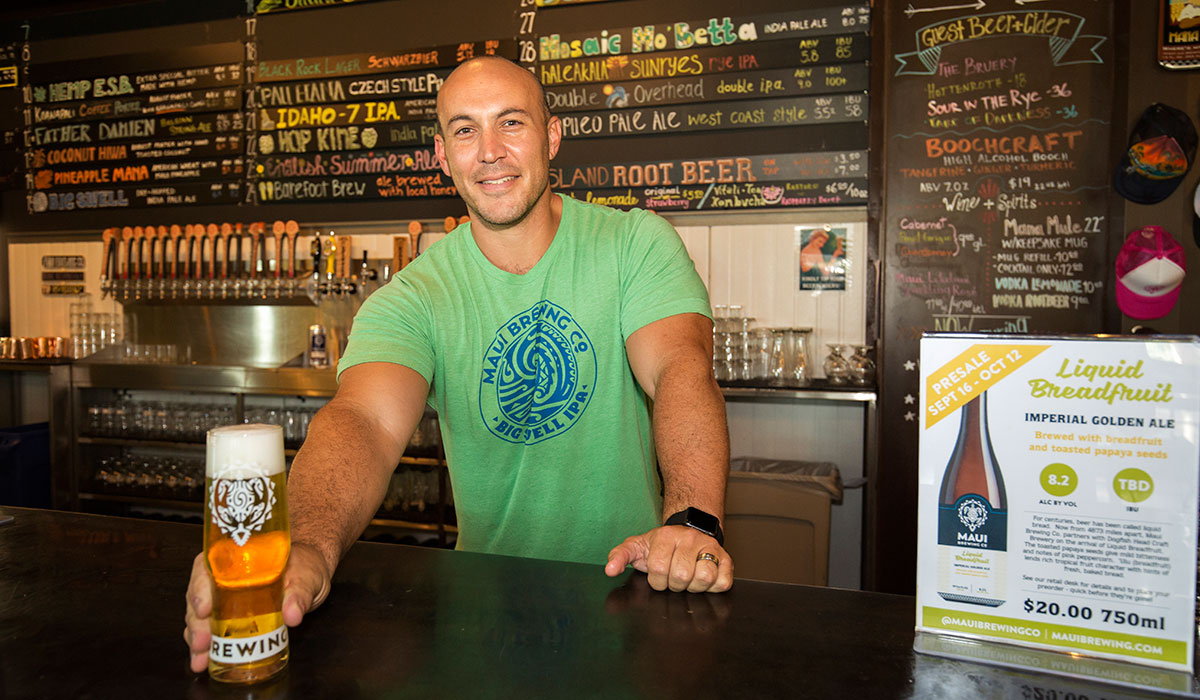 Maui Brewing Owners Named 2017 National Small Business Persons of the Year
Garrett Marrero and Melanie Oxley, the husband-wife owners and founders of Hawaii's Maui Brewing Company, received a major national recognition Monday as the U.S. Small Business Administration (SBA) named them the 2017 National Small Business Persons of the Year.
The husband and wife team founded Maui Brewing in 2005 as a small brewpub and restaurant in Kahana. Since then, Maui has expanded its beer production to 100,000 barrels brewed at their facility in Kihei. They also have a brewpub in Waikiki and another opening soon in Kailua. By the end of 2018, Maui Brewing is expected to employ 700 people, according to a news release from the SBA.
"Their innovative spirit, with assistance from the SBA and its lending and partners, created a thriving business and hundreds of jobs for their community," said Linda McMahon, Administrator of the U.S. SBA.
Garrett currently sits on the Brewers Association Board of Directors (the BA publishes CraftBeer.com). The BA is the not-for-profit membership organization of brewers, which defines a craft brewer as small, traditional and independently-owned.
Being an independently-owned small brewery is what originally inspired the couple to open Maui in 2005.
(MORE: 8 Coconut Beers You'll Crave Right Now)
"We started Maui Brewing as a response after learning what we thought what was a local brand was actually not — and that it was controlled by a much larger organization," Garrett told CraftBeer.com in an interview earlier this year. "On the independent side it's about community, it's about a sense of place, it's about your team, it's about the drinker."
As part of Maui Brewing Company's commitment to its business, its people and its community, they source local ingredients, sponsor charitable events, and are known for spearheading more friendly legislation which benefits craft breweries as well as other small businesses in the spirits industry. The SBA also applauded the brewery's widening draw as a tourist destination.
"We share this award with our entire MBC team and community as the employees are what makes our company so strong, and the community is what supports us," Oxley said in a release after they were named 2017 Small Business Persons of the Year for the State of Hawaii. As honorees, they were moved into the pool for national recognition. The SBA handed out its awards Monday, May 1, at a ceremony at the United States Institute of Peach in Washington, DC. The event kicks off National Small Business Week.
Maui Brewing distributes beer to more than 20 states and 10 countries. Its current core lineup includes Bikini Blonde, Big Swell IPA, Pineapple Mana and Coconut Hiwa.
BREAKING: Congrats to Garrett & Melanie Marrero of @mauibrewingco in #Hawaii, SBA Nat'l #SmallBiz Persons of the Year! #SmallBusinessWeek pic.twitter.com/keJHhZUiHb

— SBA (@SBAgov) May 1, 2017