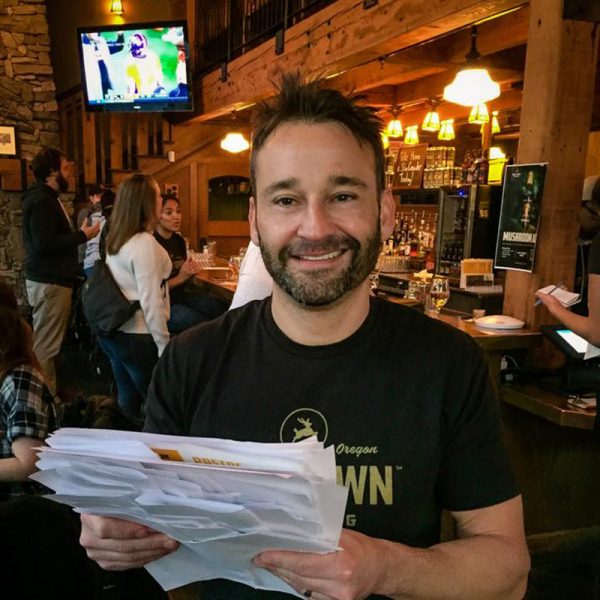 Old Town Brewing and City of Portland End Lengthy Trademark Dispute
After months of tension, Old Town Brewing and the mayor of Portland have reached a deal that should end an ongoing trademark dispute.
Portland, Oregon, Mayor Ted Wheeler and Old Town Brewing announced Monday they have reached an agreement on the use of the leaping deer image as it relates to the Old Town Brewing logo and the iconic Portland Oregon sign, the Oregon Brewers Guild reports in a press release.
This is a major victory for the small and independent brewery. If you haven't been following the story, let's catch you up. Old Town Brewing Founder Adam Milne was granted a trademark in 2012 to use the image of a leaping stag as the main logo for his brewery. The image comes from a sign of leaping stag the city owns — which no one is disputing. The issue is that Milne has a legal trademark for using the image in relation to beer. As Portland-based writer Jeff Alworth explains so well in his blog, Beervana:
Trademarks exist so that companies can build up brand recognition in the marketplace and protect that brand. It's a powerful tool for companies looking to establish their brand in consumers' minds. As such, trademarks have some limits; companies don't have absolute control over a name or logo–only in areas where it might plausibly confuse customers. If you make an alcoholic beverage, you could protect your mark against other companies in that realm. We've seen examples of breweries and wineries suing each other over contested marks, for example. But if a paper-clip manufacturer came along and wanted to use a similar mark, they would be allowed to do so since customers are not going to confuse the two companies.
Alworth's article "The City of Portland vs. Old Town Brewing" well chronicles the dispute. You should give it a read. As Milne tells Alworth, two and half years ago, he found out the city had applied for a trademark to use the leaping stag for a bunch of products, which wouldn't have been a problem … except the city wanted to use the trademark on beer-related products — which directly clashed with Milne's already-standing trademark.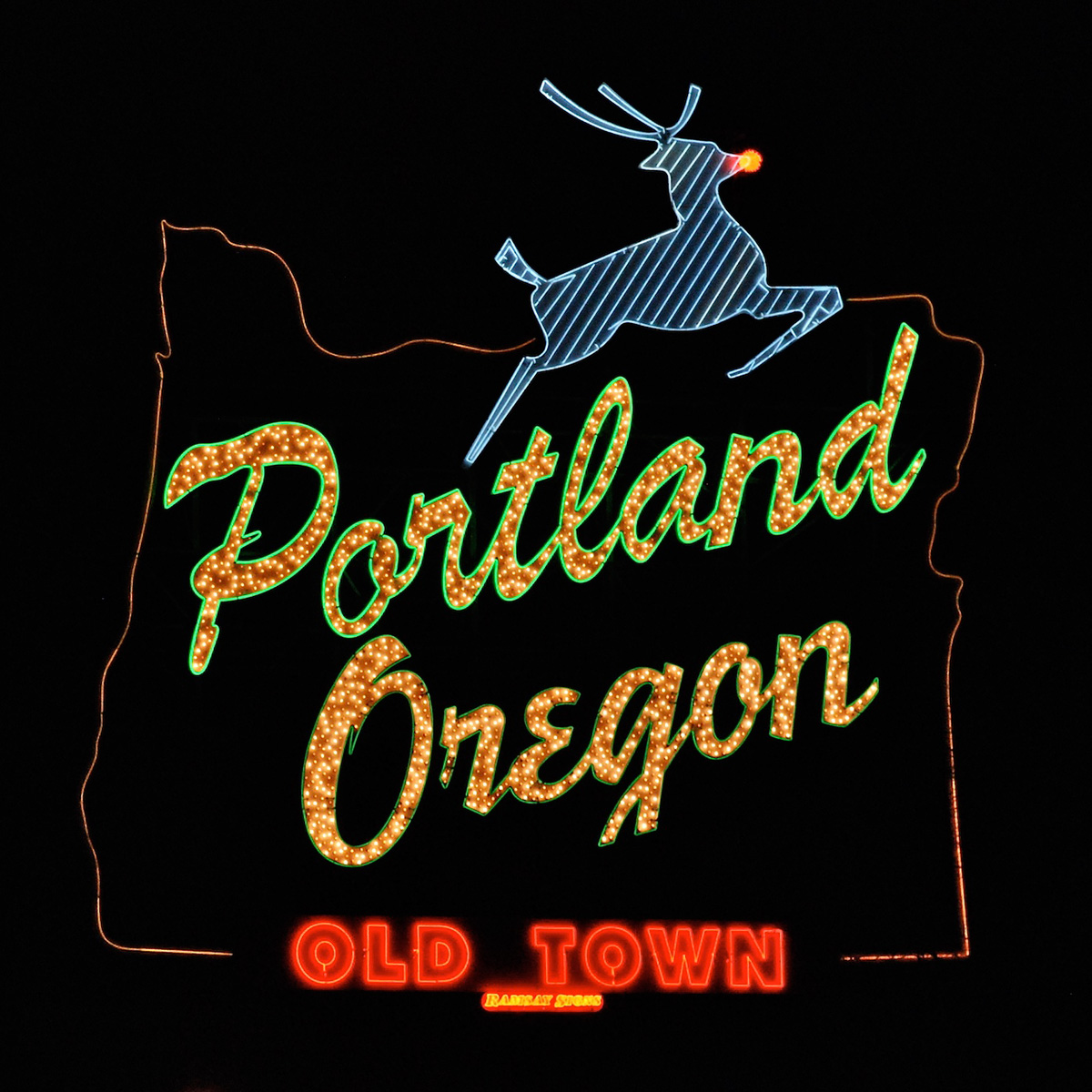 "If a giant corporation like that was to make beer that looked like our beer, it could confuse the consumer and jeopardize our brand," Milne told Portland's KOIN 6 News. In the same report, the city confirmed to reporter Jennifer Dowling it had been in talks with big corporate brewers. Alworth reports the talks were with Anheuser-Busch.
As another local outlet, "The Oregonian," put it, "Old Town Brewing has clearly established legal rights to put the leaping stag on beer products. But the city wants to sell those rights to other breweries."
Old Town Brewing contested the city's application, and the U.S. Patent and Trademark Office (USPTO) rejected the city's application. But the city would try again a few times over the next few years. Each time, Old Town would contest it — spending a ton of money in legal fees — and the USPTO would reject the city's application. Milne found himself caught in an expensive, time-consuming, frustrating loop.
(VISIT: Find a U.S. Brewery)
Supporting Old Town Brewing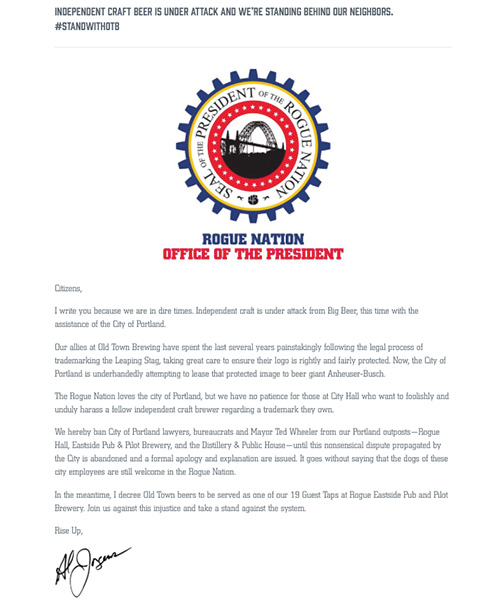 When Milne's story came out in mid-November, there was an outpouring of support not only from local drinkers but also other small and independent breweries.
"Our allies at Old Town Brewing have spent the last several years painstakingly following the legal process of copyrighting the Leaping Stag, taking great care to ensure their logo is rightly and fairly protected," penned Al Jorgensen in November, president of Rogue Ales & Spirits, a pioneering Oregon brewery. "Now, the City of Portland is underhandedly attempting to lease that protected image to beer giant Anheuser-Busch. The Rogue Nation loves the city of Portland, but we have no patience for those who want to foolishly and unduly harass a fellow independent craft brewery regarding a trademark they own."
(READ: What is the Independent Craft Brewer Seal?)
Old Town Brewing and Portland Agreement
Flash forward to Monday's announcement, where the Oregon Brewers Guild says the new deal between Old Town and the mayor protects both the iconic Portland sign and Old Town Brewing trademark. Mayor Wheeler says the agreement is "a mutually beneficial solution that ensures the City of Portland can effectively protect the Portland sign as a landmark, while also protecting the trademark rights of Old Town Brewing."
The guild says the agreement will last 5 years, at which time, both parties will revisit it. Here are some of the outcomes:
The City will amend its pending trademark applications to exclude beer, wine, and liquor; Old Town Brewing will not object to the City's amended applications or the City's licensing of the Portland Oregon Sign for any purpose outside of the field of alcoholic beverages.
The City and Old Town Brewing will file the agreement with USPTO so that both parties can advance their pending and future trademark applications.
The City may grant licenses for the Portland Oregon sign for limited local alcoholic beverage-related uses, such as festivals/events and to local alcoholic beverage trade organizations for advertising purposes only, and not for inclusion on any product labels or packaging.
The City and Old Town Brewing will cooperate in enforcement of their respective trademarks.
You can read the full five-page agreement here.
"Words cannot relay the gratitude we feel." Adam Milne, Old Town Brewing
Milne credits Mayor Wheeler's recent involvement for changing the "tone and tenor" of the negotiations. He also reached out via Facebook Monday night, thanking the community and businesses for their ongoing support.
"For years we have worked quietly, trying to find compromise – but it was in the company of others, we were able to find resolution," Milne writes. "Words cannot relay the gratitude we feel; how appreciative we are for all of you. Our glasses can't be raised high enough. This is much more than a win for Old Town, but a testament to the power of solidarity. "
CraftBeer.com is fully dedicated to small and independent U.S. breweries. We are published by the Brewers Association, the not-for-profit trade group dedicated to promoting and protecting America's small and independent craft brewers. Stories and opinions shared on CraftBeer.com do not imply endorsement by or positions taken by the Brewers Association or its members.