Charlie Papazian described his other legendary co-panelists as "Explorers." They were at the Smithsonian's "Last Call" celebrating the Smithsonian's fifth annual Food History Weekend and the re-opening of "Food: Transforming the American Table" with a new craft beer section "Brewing a Revolution."
"There are people who are explorers and others who are pioneers using the information from the explorers. Explorers go into the jungle and figure everything out. These guys are explorers," said Papazian, the past president of the Brewers Association and founder of the Association of Brewers.
The Last Call co-panelists representing the foundational DNA of craft brewing were Michael Lewis, the first professor of brewing science in the U.S. and now professor emeritus at University of California, Davis; Ken Grossman, founder of Sierra Nevada Brewing Company; and Fritz Maytag, former owner of Anchor Brewing Company. The moderator, Theresa McCulla, curator of the American Brewing History Initiative, is acquiring artifacts for the exhibit and collection; the Brewers Association, publisher of CraftBeer.com, is the lead sponsor of the American Brewing History Initiative.
Each of the panelists has contributed important artifacts from the earliest days of craft brewing in America. The exhibit includes Papazian's wooden homebrewing spoon and plastic pail. There are also notes he used to give homebrewing classes and the original copy of his classic book "Joy of Brewing." Maytag's well-worn brewing textbook, white brewer's overalls and childhood microscope which he used to improve Anchor's brewing quality are part of the Smithsonian's archive. Grossman's archive contributions include the first run labels for Sierra Nevada beers such as the iconic Sierra Nevada Pale Ale.
The new exhibit has artifacts from Jack McAuliffe's storied New Albion Brewing, the first from-the-ground-up microbrewery, including a rare empty bottle with New Albion's tall ship label and a plaque with the same logo. McAuliffe was in the auditorium audience as were brewing explorers and pioneers Kim Jordan of New Belgium Brewing and Doug and Wynne Odell of Odell Brewing.
America's Brewing Founders Talk Shared Memories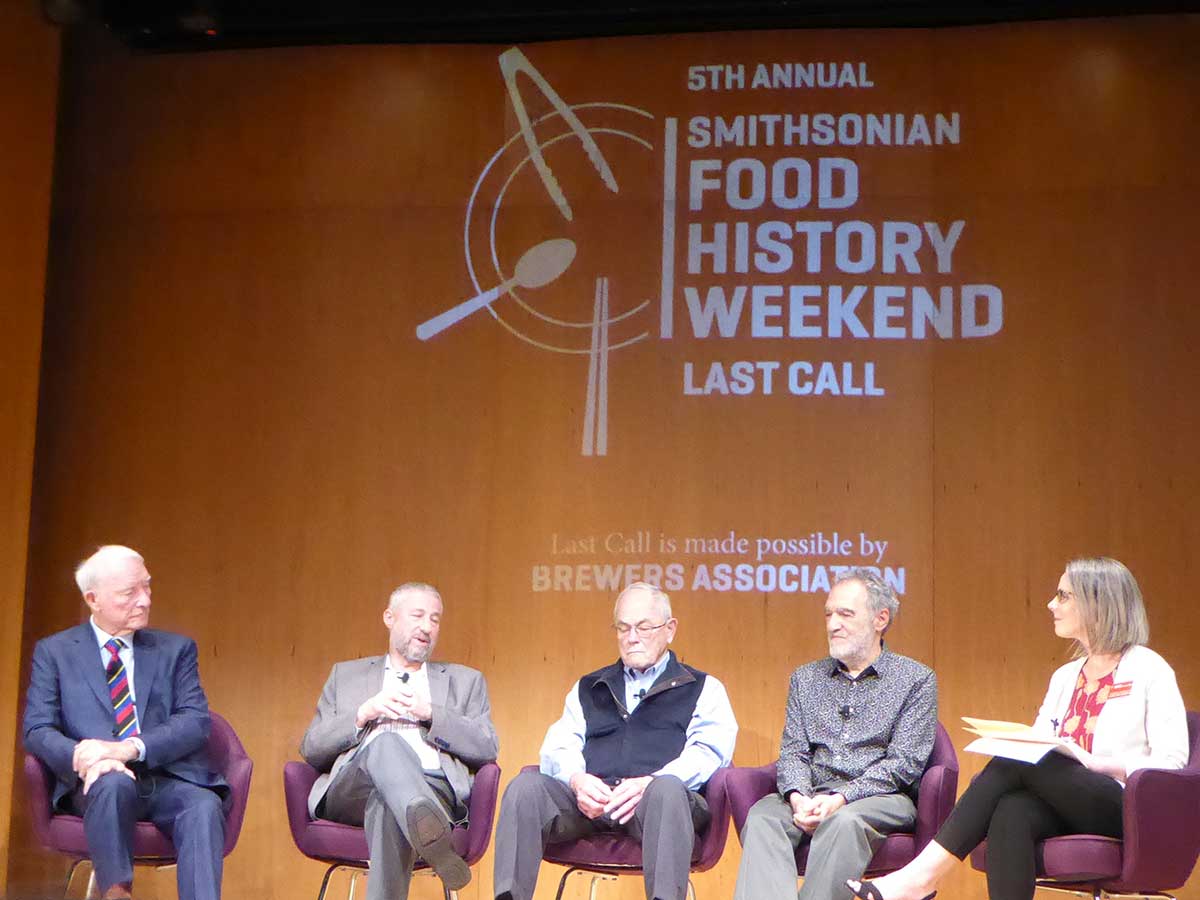 During the panel discussion, the interlocking lives of the panelists with brewing history and with each other became more obvious. Grossman related there was no internet to read about brewing so, "I spent a lot of time with Michael."
He also said he got valuable advice and information from Maytag. Maytag claimed that his most important advice to Ken Grossman was "clean, clean, clean," and added, "When I visited I was glad to see you took the advice to heart."
Grossman told how he got energy from visiting McAuliffe's New Albion, seeing the one-barrel brewing system McAuliffe alone put together and thought to himself: "I can do this."
Michael Lewis, in addition to helping Grossman and McAuliffe with technical information and advice, would take his homebrewing students to Sonoma, California, to visit the New Albion Brewing. Lewis has donated his syllabi, teaching notes, and co-authored brewing textbook to the archives. One of the things he emphasized to his students was "Don't produce," cautioning them to the illegality of homebrewing at the time.
Papazian shared his own story about teaching homebrewing in a time when homebrewing was illegal. He says during a homebrewing class break, he went up to a student dressed in a suit and thin tie–completely different from the other students attire. Papazian figured the man was probably with the federal government. Papazian told him, "I know it's illegal to homebrew beer but you have a lot of more important things to do than arrest a small homebrewer." The suit guy left the class.
A Shared Love for Beer
Papazian told how homebrewing taught him a valuable lesson. He first brewed in a childcare center's dirt basement with help from local participants. What he learned was that beer builds a community; he's carried that lesson with him.
Maytag mentioned that the beer he first fell in love with was Guinness. "It changed my perspective on beer." He told people he wanted to be like Guinness because, "Nobody drinks a lot of Guinness but everyone drinks some." He took that to heart and introduced styles new to the U.S. public including porter, the original style brewed by Guinness.
Another incident Maytag related was the time he went over to a student and asked where he was brewing. The student said, "I'm not a brewer, I'm a venture capitalist." At that point Maytag thought "Oh my G*d, they're getting involved in the brewing business!" and saw the potential the future held for beer.
In response to moderator Theresa McCulla's questions about problems early in craft brewing, Maytag replied, "Everthing," generating audience laughter with his response.
"I didn't know how to brew beer or put together a brewery. First we made better beer and then we made good beer," he explained.
Grossman told about driving his pickup truck to a farm and putting 10,000 pounds of malt into his one-ton truck. It was fishtailing all over the road and he dared not stop on the way home. He quickly learned to take half the load on future trips. Grossman sent his first beers on a bagel truck which brought bagels to Chico and delivered his beer to clients on the way back.
All of the panelists talked about the inspiration from the era's new guard studying to be brewers and brewery owners, their "fabulous enthusiasm," and the camaraderie amongst the brewers, much of which is still in evidence today.
The evening ended with tastings of beer from Anchor Brewing, Dogfish Head Craft Brewery, Sierra Nevada Brewing, New Belgium Brewing, and Raleigh Brewing. The latter using Jack McAuliffe's original pale ale recipe provided by McAuliffe and his daughter Renee. Raleigh Head Brewer Scott Craddick said it was "easy to replicate," even on the latest equipment and with more evolved ingredients because, he explained, "Jack put in the recipe everything we needed to know."
The craft brewing archival items from Papazian, Grossman, Maytag, Lewis, and McAuliffe are now on display in the updated "FOOD" exhibit at the Smithsonian's National Museum of American History.
CraftBeer.com is fully dedicated to small and independent U.S. breweries. We are published by the Brewers Association, the not-for-profit trade group dedicated to promoting and protecting America's small and independent craft brewers. Stories and opinions shared on CraftBeer.com do not imply endorsement by or positions taken by the Brewers Association or its members.