The Brewers Association (BA) released its annual ranking of the Top 50 U.S. Craft Brewing Companies Wednesday, saying the breweries on the list are "providing optimism" in a "dynamic time for the brewing community."
More than 5,200 breweries are operating in the U.S. right now, which is more than any other time in the nation's history.
"With such a broad range of brewers in today's beer landscape, the more advanced producers have helped build the industry to what it is today," says the BA's chief economist, Bart Watson.
(MORE: Who Owns Maui Brewing? Newspaper Misprint Causes Concern)
The BA (publishers of CraftBeer.com) is the national organization that represents more than 70 percent of those 5,200 U.S. breweries. The BA board of directors is the body that sets the definition of a craft brewer.
Small – Annual production of 6 million barrels of beer or less (approximately 3 percent of U.S. annual sales). Beer production is attributed to the rules of alternating proprietorships.
Independent – Less than 25 percent of the craft brewery is owned or controlled (or equivalent economic interest) by a beverage alcohol industry member that is not itself a craft brewer.
Traditional – A brewer that has a majority of its total beverage alcohol volume in beers whose flavor derives from traditional or innovative brewing ingredients and their fermentation. Flavored malt beverages (FMBs) are not considered beers.
The Top 50 list ranks craft brewers based on beer sales volume in 2016.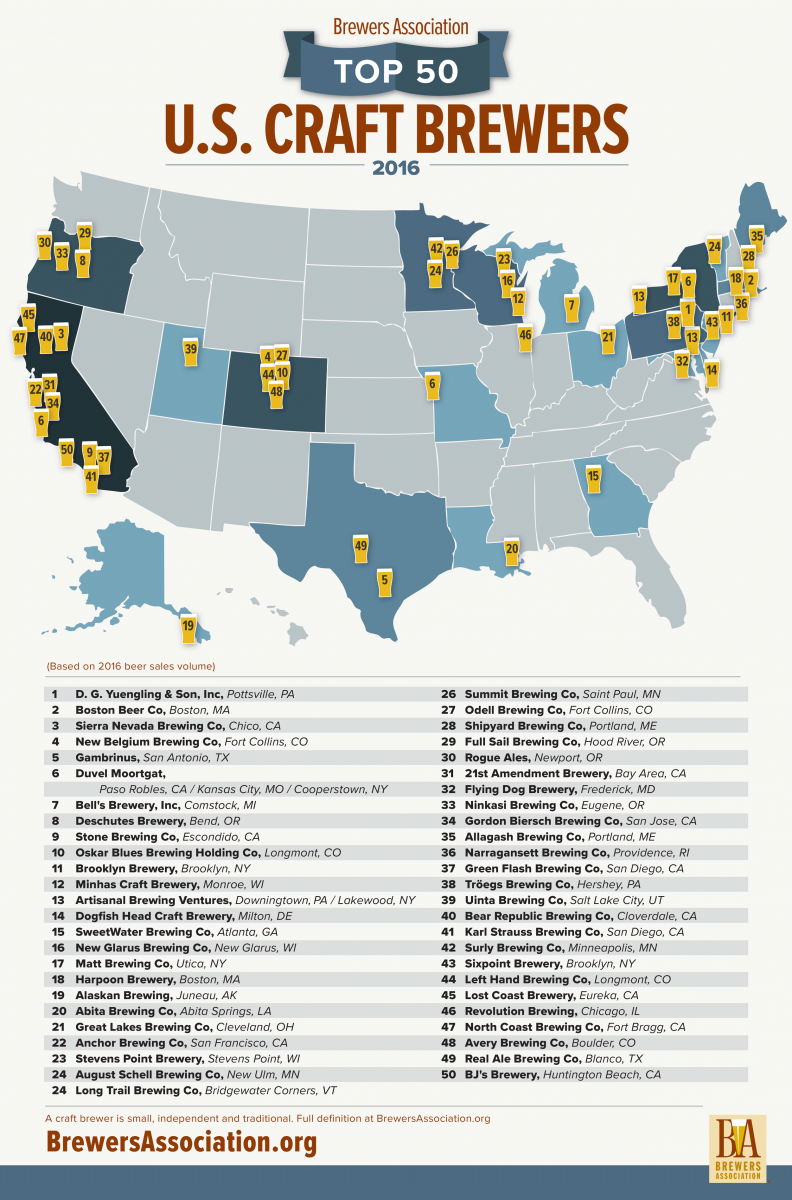 (MORE: Understanding the Three-Tier System: Its Impacts on U.S. Craft Beer and You)
What's changed since the Top 50 list released in 2016? Here are a few things that jumped out at us:
Troegs Independent Brewing in Hershey, Pennsylvania, jumps from 45 in 2015 to 38 in 2016.
Twenty-two states are represented on the list.
Roughly 20 percent of the breweries in the Top 50 call California home.
Ballast Point Brewing & Spirits and Lagunitas Brewing Company are absent from this year's list after previously being included in the top 15 last year as they no longer fit the Brewers Association definition of a craft brewer due to the ownership of more than 25 percent by a beverage alcohol industry member that is not itself a craft brewer. Ballast Point is now owned by Constellation Brands, while Heineken owns 50 percent stake in Lagunitas.
You can read more about the list at BrewersAssociation.org. Watson will also be providing more insight into the state of the industry during the Craft Brewers Conference from April 10-13 in Washington, DC.
CraftBeer.com is fully dedicated to small and independent U.S. breweries. We are published by the Brewers Association, the not-for-profit trade group dedicated to promoting and protecting America's small and independent craft brewers. Stories and opinions shared on CraftBeer.com do not imply endorsement by or positions taken by the Brewers Association or its members.