The connection between the craft beer world and ski culture is undeniable. Whether it's a refreshing, crisp lager or a bold, barrel-aged stout to relax with by the fire, a good beer is often a perfect way to celebrate a day on the slopes.
This is especially true for areas of the country where skiing is a part of daily life.
"With ski culture being so central to our community here in Jackson, it has become synonymous with the spirit of aprés ski as well," says Roundhouse Brewing co-founder Gavin Fine. "We joke that beer is why skiers gather at the end of the day…you ski hard all day so you can enjoy a beer or two to finish, and share beer stories of an epic day."
Ski-Inspired Beers to Try
Here are a handful of the many brews inspired by the beloved snow sport.
Timberline Tucker Double IPA | Mt. Hood Brewing
For this Double IPA, Mt. Hood Brewing collaborated with Timberline Lodge in Oregon to show some appreciation for the ski area's iconic snow vehicle, the Tucker Sno-Cat. The label showcases the 1959 classic orange, refurbished model that was locally built.
Patrol Dog Pale Ale | Avery Brewing
Avery is a partner of the National Ski Patrol, and a portion of proceeds from Patrol Dog Pale Ale helps support avalanche rescue dog programs throughout the country. The Boulder, Colo. brewery has supported many other snow and outdoor organizations, including the American Alpine Club, the American Mountaineering Museum, Adaptive Adventures, and Volunteers for Outdoor Colorado.
Face Down Brown Ale | Telluride Brewing
Brewed at an elevation of 8,750 feet, Face Down Brown Ale is an English and American brown ale hybrid. On the can you'll find an image of a skier, face down and skis up, along with some notable awards, including gold medals from the World Beer Cup and Great American Beer Festival.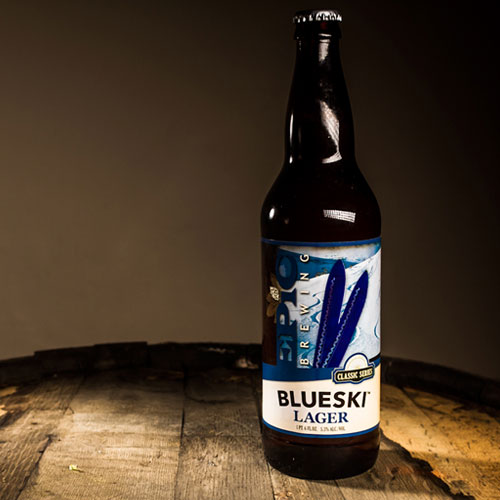 Blue Ski Lager | Epic Brewing
Epic Brewing is based in the heart of Utah ski country in Salt Lake City. The Blue Ski Lager is described as a Colorado Rockies lager, perfect for an adventure.
No Friends on a Powder Day Fresh Hop IPA | Sawtooth Brewing
This beer from Sawtooth Brewing in Ketchum, Idaho encourages the same approach to drinking fresh hopped IPAs as to skiing on a fresh pillow of snow: enjoy early and don't wait around for your friends.
Ski Bum India Pale Ale | City Lights Brewing Co.
Ski Bum is a seasonal release from Milwaukee's City Lights Brewing Co. adorned with a flamingo on skis. Besides skiing and snowboarding, activity pairing suggestions for this IPA include après ski, sledding, and watching the snow by a warm fireplace.
Yard Sale Winter Lager | Uinta Brewing
Uinta Brewing says its lager is brewed for those who love all things winter, and the love for ski and snow is strong at this Salt Lake City brewery. They previously teamed up with Utah ski resorts to create a seasonal variety pack that raised funds for Protect Our Winters.
Ski Love & Beer Love Collide
ShawneeCraft Brewery Company is located on-site at the Shawnee Inn Resort in Pennsylvania, with close skiing access to Shawnee Mountain (and a complimentary shuttle). Guests who buy a lift ticket even score a free beer from the Gem & Keystone Tavern and the Shawnee Craft Tap Room. There are 16 beers on tap, such as Mosier's Mosaic New England IPA and the Clubhouse Kolsch.
Mountain Tap Brewery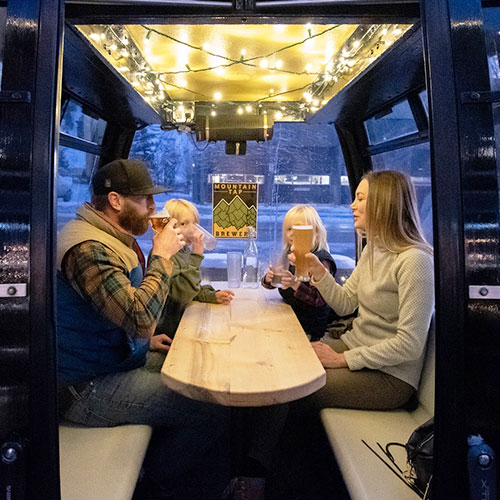 in Steamboat Springs, Colo., offers refurbished gondola cabins for private dining The heated cabins are a great post-ski destination to enjoy wood-fired pizzas and Chasing Sunset Golden Ale, Mountain Macaroon Brown Ale, or Hoppy Hiker IPA. The brewery also supports nonprofit organizations such as Routt County Search and Rescue and other outdoor preservation and education groups.
Nestled right in Beech Mountain Resort and ski area in North Carolina is Beech Mountain Brewing. The resort is the highest ski resort in eastern North America. Year-round brews are predominately ski- and mountain-inspired including Downhill IPA, First Chair Coffee Brown, Mountain Town Amber, and 5506 Pale Ale, named after the peak elevation.
Roadhouse Brewing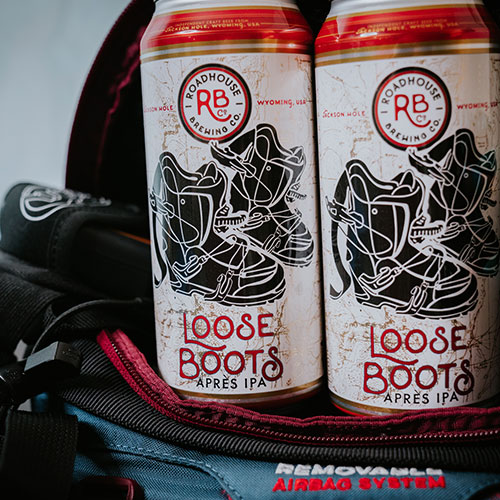 in Jackson Hole, Wyo. strongly supports Search and Rescue for the unsung work it does to save lives year after year, says co-founder Colby Cox. "Our partnership was primarily designed to bring attention to their organization, and secondarily to support them financially." The brewery has also previously brewed beer to honor Kings and Queens of Corbet's (a freeride ski and snowboard competition), and it releases Loose Boots Aprés IPA annually.
Elevation Beer Company in Poncha Springs, Colo. holds an annual "pray for snow" party to celebrate the start of the ski season. Besides plenty of beer and winter-themed games, this event benefits the Chaffee County Search and Rescue. During the festivities, they also accept outerwear donations for SOS winter outreach. The brewery's Little Mo' Porter is named for a favorite ski run at the nearby Monarch Mountain ski area.
Sip and Shop
Besides offering a wide variety of gear, Cripple Creek Backcountry has ski technicians ready to help with a custom boot fitting and other services. While customers wait, they can sample fresh beers right on tap at two of the locations. The goal for the rotating brews is to keep it local. For example, the Avon, Colo., location has Telluride Brewing's Face Down Brown and Elevation Beer Company's First Cast IPA ready to go.
Meier Ski Shop produces eco-friendly and high-performance skis at its Denver location. Ski enthusiasts or newcomers can do a barstool tour, where they can peek at the manufacturing process while enjoying a complimentary local beer as they shop for skis. Recent offerings included beer from Platte Park Brewing, Left Hand Brewing, and Tivoli Brewing.
Ski & Beer Fests
BrewSki, set for March 11, is a beer and ski festival at the Frisco Nordic Center in Colorado. Nordic skiers wear their most festive costumes and glide along a trail lined with tents pouring samples of local beer.
"In mountain culture, the appreciation for a well-crafted beer runs just about as deep as embracing winter by getting out there on skis," says Linsey Joyce, Frisco Assistant Recreation & Culture Director/Programs Manager, who organizes the annual BrewSki Fest. "So marrying great beer and a costumed cross-country ski tour into one event is the perfect union in a mountain town like Frisco, which is why we expect another sold out Frisco BrewSki in 2023."
This year marked the 12th annual BrewSki Festival in Connecticut hosted by the Salisbury Winter Sports Association. The event featured live music and beer from Elysian Brewing Co., Two Roads Brewing Company, Counter Weight Brewing Co., Captain Lawrence Brewing Co., and many more.
Brew & Ski Weekend takes place at Smugglers' Notch Resort. The festivities showcase Vermont's beer scene, which boasts the highest number of breweries per capita. There are Vermont brews as well as regional favorites on not one but two weekends this ski season.
Winter Brewfest, held at Snowshoe Mountain Resort in West Virginia, asks the question, "What's better than a beer aprés ski?" Festival-goers flocked to the event in December and discovered that rockin' live music and fluffy, hot pretzels added to the experience.
CraftBeer.com is fully dedicated to small and independent U.S. breweries. We are published by the Brewers Association, the not-for-profit trade group dedicated to promoting and protecting America's small and independent craft brewers. Stories and opinions shared on CraftBeer.com do not imply endorsement by or positions taken by the Brewers Association or its members.