Coffee has long been a favorite adjunct for brewers, and for good reason. Done right, that familiar, bold, roasty goodness can add complexity to a beer without overpowering it. But the possibilities for combining these two staple beverages go beyond just crafting a great coffee stout.
Many breweries are adding on a whole new aspect of the business: a coffee roastery or shop sharing the same space as house-made beers. These dual-minded business owners know that beer lovers with an adventurous palate and an appreciation for a high-quality beverage often feel just as passionate about their coffee.
"Offering beer and coffee in one location allows customers to be relaxed with what they want to enjoy socially," believes Marco Leal, director of coffee operations at Red Horn Coffee House and Brewing Co. "They cover both the work and after-work mindsets, making gathering much more effortless."
As with many coffee-centric breweries, you'll often find a combination of the two beverages at Red Horn, such as its House United Coffee Milk Stout, a robust milk stout brewed with in-house roasted coffee.
Here's a look at several craft breweries where coffee is just as thoughtfully prepared as beer.
Tree House Brewing | Charlton, MA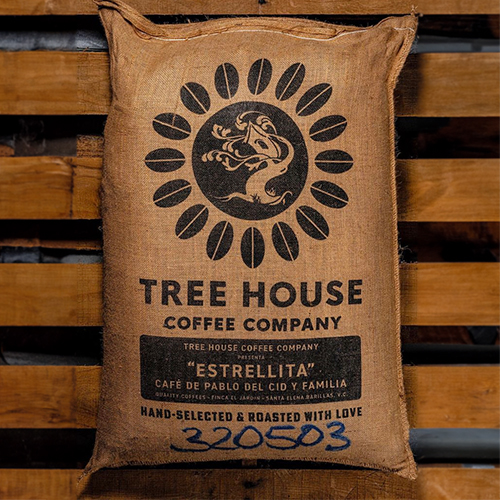 At Tree House Brewing, the inspiration for roasting coffee was spurred by a desire to control the ingredients in their coffee beers. "Originally Tree House outsourced coffee from local roasters for their beer collaborations. But making beverages in-house has always been the trajectory of the company, so the idea of a coffee program was always brewing," says David Marcotte, head coffee roaster. Tree House's long game is to be thoughtful in every product and presentation. "A coffee company was inevitable," Marcotte says, who sources all coffees for blends and single origins and roasts each batch of coffee. At Tree House's locations in Massachusetts and Connecticut, you'll find coffee woven throughout the beer list in such offerings as coffee milk stout, barrel-aged coffee stouts, American brown ale, imperial coffee stout, and barleywine.
STEEP Brewing & Coffee Co. | Keystone, CO
The vision for STEEP Brewing and Coffee Co. was to create a community gathering place in the mountain town of Keystone, Colo. with locally brewed beer and locally roasted coffee. "We believe that coffee roasting and brewing beer pair very well together," says Justin Slezak, STEEP owner. Slezak has traveled to Central America to see how coffee is grown and roasted, and now is roasting beans sourced from around the world. The STEEP website provides a detailed description of what's currently roasting, including insight on where the bean is grown along with tasting notes. Featured in Roast Magazine, the Colorado brewery also serves a full coffee menu, including café au lait and lattes flavored with housemade syrup. Coffee is also added to some of their popular beers such as Coconut & Coffee Porter, Coffee Kolsch, and Coffee Stout.
Modern Times Beer | San Diego, CA
The inspiration for Modern Times Beer to become a roastery was a desire to roast in-house coffee for its year-round oatmeal coffee stout, Black House. The business quickly grew from simply supplying coffee as a beer adjunct to roasting more than 100,000 pounds per year, selling direct to customers in tasting rooms, providing whole beans to wholesalers, and even brewing and packaging cold brew in ready-to-drink 12-ounce cans. The passion for coffee and beer has also led to collaborating with other roasteries and breweries, hosting an annual coffee and beer festival, and experimenting with the coffee itself, such as aging it in bourbon barrels.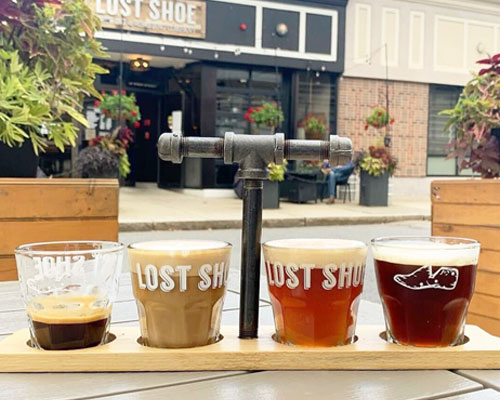 Lost Shoe Brewing and Roasting Company | Marlborough, MA
"When we opened Lost Shoe, it was with the intent of being both a brewery and a coffee roastery equally, so it was important to us that we focus equal attention on the brewing and roasting sides of the business," says Melynda Gallagher, co-owner and roaster. The taproom includes a full coffee bar with cold brew, espresso, and tea beverages. The team gets creative with its coffee and beer options, including offering coffee flights and hop-infused simple syrup.
Death of the Fox Brewing Company | Clarksboro, NJ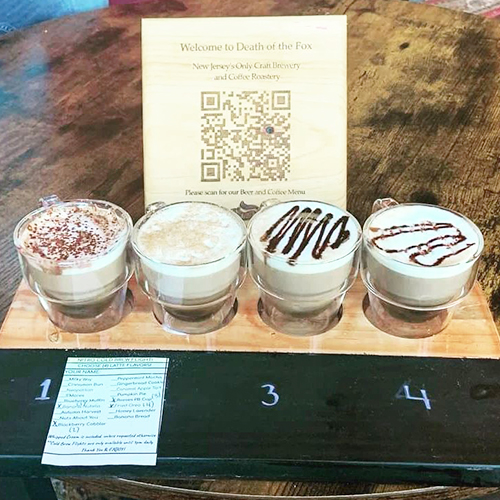 Death of the Fox Brewing opened as hybrid coffee shop and brewery in 2017, adding its own coffee roaster onsite in 2020. "Our customers love that coffee is available in addition to the beer, especially since some are not beer drinkers," says Chuck Garrity, founder & president. And many craft beer drinkers also appreciate fresh gourmet coffee, he adds. The menu consists of popular coffee flights, classic coffee drinks, and flavorful lattes such as Banana Nutella, Chocolate Chip Cookie Dough, Crème Brulée, and Reese's.
Shred Monk Brewery and Coffee House | Bozeman, MT
At Shred Monk Brewery and Coffee House, the team is roasting their own single-origin coffee beans. "It makes sense that if you're a discerning craft beer drinker, you're also a discerning coffee drinker which is why we only roast single-origin beans," explains co-founder Mike Knutson. The single-origin beans represent specific terroir, Knutson explains, allowing coffee drinkers to compare beans from different growing regions or even specific farms from one region.
Red Horn Coffee House and Brewing Co. | Cedar Park, TX
"We approach our retail coffee program to cover all types of coffee drinkers," Red Horn co-founder Marco Leal says. A variety of blends are offered as well as single-origin coffees including two mainstays: an Ethiopian Yirgacheffe and a Mexican Chiapas. You'll also find one or two rotating coffees that are a bit more exotic for the adventurous coffee drinker. That love for coffee translates into the beer as well. Two iterations of the Brewer's Stash series were recently released: a maple syrup barrel-aged imperial coffee stout and a brown sugar rum barrel-aged imperial coffee stout. Those were brewed using 30 gallons of cold brew and 50 pounds of whole-bean coffee before hanging out in barrels for eight months.
Honeybee Coffee and Brewery | Knoxville, TN
Honeybee Coffee has four locations throughout Knoxville, all serving ethically sourced and locally roasted coffee. In addition to a variety of coffee beverages available onsite, the business offers a subscription service of whole bean bags of coffee sent out weekly, bi-weekly, or monthly. An eclectic tap list includes a hazy IPA, an American amber, and for the coffee lover, All Night Honey, a honey coffee blonde.
honeybeecoffeeco.com
Four Keys Brewing | Blissfield, MI
Four Keys Brewing is a two-barrel nanobrewery and taproom with beer served from the bar that is shared with the coffee shop. A variety of rotating beers includes a vanilla porter, boysenberry kettle sour, rye amber with chamomile, and smoked porter. The coffee portion is a full-service espresso bar featuring direct-trade coffee. Classic coffee drinks can be made with a variety of non-dairy milks such as macadamia and pistachio, along with creative options including a lavender latte made with local honey.
starlinglounge.com
Night Shift Brewing | Boston, MA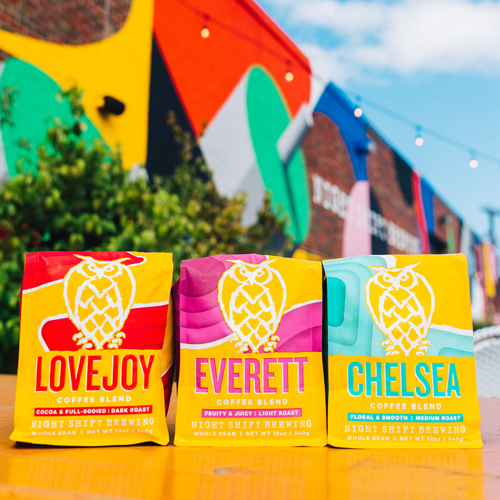 Massachusetts-based Night Shift Brewing is known for its variety of brews including year-round hoppy beers, a lite series, and a pie-inspired series (peach, blueberry, and pumpkin). In addition to beer, Night Shift is roasting seasonally sourced coffee beans weekly. Three flagships include Lovejoy (dark roast), Chelsea (medium roast), and Everett (light roast). Single-origin coffees and other blends are available, too.
nightshiftbrewing.com
Rochester Brewing and Roasting Co. | Kansas City, MO
At Rochester Brewery, the team is roasting specialty coffee from all over the world at both Missouri locations. "What makes us unique is that we have house-roasted coffee and the flexibility to test coffee from different origins with different roast profiles that we think pair well with beer," says Philip Enloe, head roaster and part owner. The Coffea Arabica Ale is a dunkel base with Love Potion #2, featuring a blend of Costa Rican and Ethiopian coffee. The extraction process provides ample coffee character in the body as well as in the aromatic qualities of the beer. "We love having access to in-house ingredients so we can control the final product as much as possible," Enloe says.
Mountain Cowboy Brewing | Frederick, CO
Mountain Cowboy Brewing offers a large coffee menu from beans sourced from all over the globe, featuring café Americano, cappuccino, sweet milk cold brew, and more. Beans are blended and roasted in-house in small batches. You'll find their coffee throughout the beverage menu as well. The Bull Rider blend is used in the Cowboy Coffee Milk Stout and house-roasted coffee is used in cocktails such as Irish Coffee and Bailey's and Coffee.
Two Brothers | Warrenville, IL
While Two Brothers Brewing was founded in 1996, Two Brothers Coffee Roasters launched in 2012. The goal was to offer small-batch specialty coffee that was just as high quality as the beer. There's a wide variety of options: Brewhouse Blend, Brewhouse Dark, Sweet Home Chicago, and even Half Brother, which is half caf. The roastery also offers single-origin coffees from Brazil, Papua New Guinea, Colombia, and Ethiopia.
Cova Brewing Co. | Norfolk, VA
In addition to 18 self-serve beer taps, Cova Brewing serves fair trade coffee partnering with local coffee roaster Tidewater Coffee. A large variety of espresso drinks can be paired with homemade syrups, such as vanilla and caramel. Beer isn't the only beverage on tap here. There's cold brew, sweet cream cold brew, nitro cold brew, and a sweet cream nitro cold brew to choose from as well.
FlyteCo. Brewing | Denver, CO
Located within the former Stapleton International Airport in Denver, FlyteCo. Brewing is the first brewery open every morning in the state of Colorado. The brewery serves a full coffee menu with espresso, cold brew coffee, cappuccino, latte, and cortado, equal parts espresso and steamed milk.
CraftBeer.com is fully dedicated to small and independent U.S. breweries. We are published by the Brewers Association, the not-for-profit trade group dedicated to promoting and protecting America's small and independent craft brewers. Stories and opinions shared on CraftBeer.com do not imply endorsement by or positions taken by the Brewers Association or its members.