The practice of drinking green beer on St. Patrick's Day is steeped in a conundrum of traditions. You may or may not find that this St. Patrick's Day tradition is an American appropriation, but it sure does make for a festive occasion!
Dr. Thomas Curtin, a coroner's physician and eye surgeon, reportedly coined the pigmented idea at a St. Paddy's Day party at a Bronx social club in 1914.
If you believe in fairies, well, this could take more than a few shamrocks for illustration. Irish lore suggests wearing green as protective armor in case of a rare leprechaun sighting. And, if you get caught on St. Patrick's Day without sporting a leprechaun-approved hue, you're liable to get pinched.
So, if you're donning the green this holiday season, here are two Irish-American breweries to consider.
Beth Bechtel of Bear Island Brewing in Boise, Idaho has Irish roots beyond the potatoes her state is so famous for. Her mother is from County Antrim, home of Bushmills Irish Whiskey and a host of breweries. "In Ireland there's such a respect for beer," insists Bechtel. "It's not about getting trashed, it's about communion with friends." Bechtel has considered throwing a handful of shamrocks and clover into this year's batch of I-rish You Enough, an Irish red IPA made with authentic Irish oats and named after the traditional Irish blessing. "Gosh, if I were to find a four-leaf clover in our beer, maybe we all would have better luck during the pandemic," she mused. On St. Patrick's Day, the Bear Island taproom will host the Boise Fire Department, kilts and all, for a special day of pipes, drums, and other Irish culture. You can also join Bechtel at the Treefort Music Fest March 23-27, featuring a special Alefort that will showcase the intersection of craft beer and local cuisine in Boise.
McLovin, a beer created by brewmaster Scott Manning at Vintage Brewing Company in Madison, Wis., was originally intended as a seasonal bridge between Valentine's Day and St. Patrick's Day, but was embraced by the locals so much that it was added to the flagship lineup. The Irish red ale boasts a deep copper color and smooth, toasty caramel malt character, with just a touch of roasted barley in the finish. But if you're in Madison on St. Patrick's Day and can't resist hoisting a green beer, Sister Golden is the go-to Kölsch on tap. "My bartenders put one drop of blue food coloring per pint for that yellow-and-blue-makes-green effect," says Manning. "I didn't put a stamp of approval on that, but there's always a knucklehead who wants green beer. I used to be that knucklehead, so I don't want to turn customers away." Manning offers this pro tip: "All that green beer in pubs will be half price the day after." With three food-focused taprooms, Manning assures that Vintage's St. Patrick's Day menu will read like an Irish pub's with corned beef and cabbage—along with other Irish delicacies—front and center. "I will have to wear green that day and show up for my people," he adds.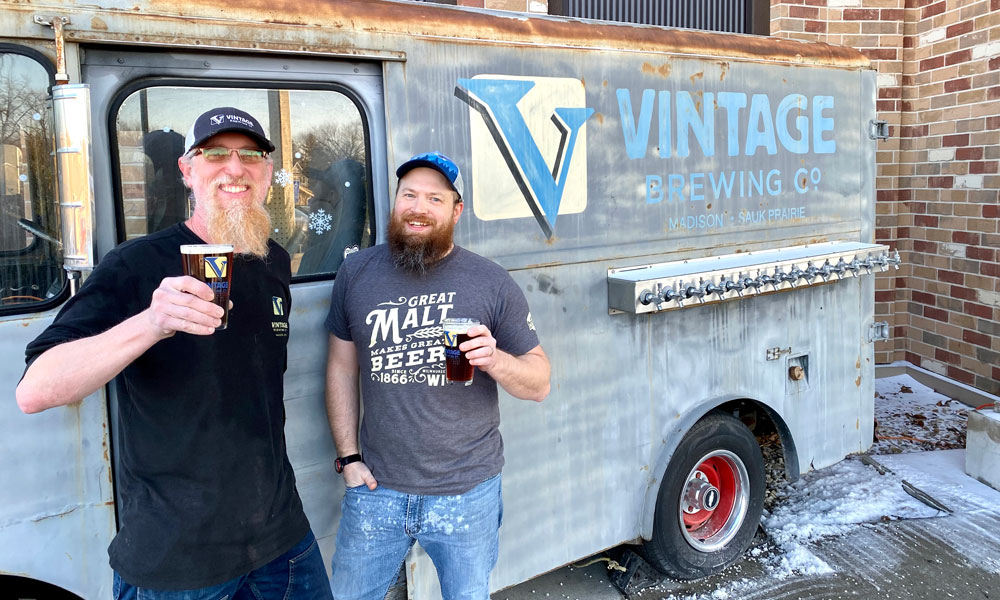 No matter how you plan to celebrate a man who transformed an entire country, remember St. Patrick's words with good cheer: "Here's to a long life and a merry one. A quick death and an easy one."
CraftBeer.com is fully dedicated to small and independent U.S. breweries. We are published by the Brewers Association, the not-for-profit trade group dedicated to promoting and protecting America's small and independent craft brewers. Stories and opinions shared on CraftBeer.com do not imply endorsement by or positions taken by the Brewers Association or its members.