What's the appeal of a brewery? Of course, the easy answer is the beer. But that's just one component of the sum of a brewery's parts. When you go to enjoy that beer or seltzer, have you taken the time to look at your surroundings? What, if anything, makes this place unique?
These five U.S. breweries all make good beer. But for folks who have been there, they know that they're in for an experience that doesn't just stop there. There are stories behind each one, and they go beyond the beverages they serve.
American Icon Brewery | Vero Beach, FL
The old Vero Beach Diesel Power Plant was an iconic building through the turn of the mid-20th century, once the only source of electricity for the popular Atlantic Coast city.
The building was vacated in 1995 and added to the U.S. National Register of Historic Places four years later, a catalyst to its preservation. It was an empty shell—save for its massive 750-kilowatt engine—after being gutted in 2001.
It stayed that way until 2016, when it was purchased by real estate developer Michael Rechter. It was then that the idea for American Icon Brewery was hatched, opening a year later.
When you step through the doors of American Icon, the heart and soul of the old power plant is immediately evident. The engine is a major centerpiece of the facility, refurbished, given fresh coats of paint, and now used to house the taps that pour American Icon's beer.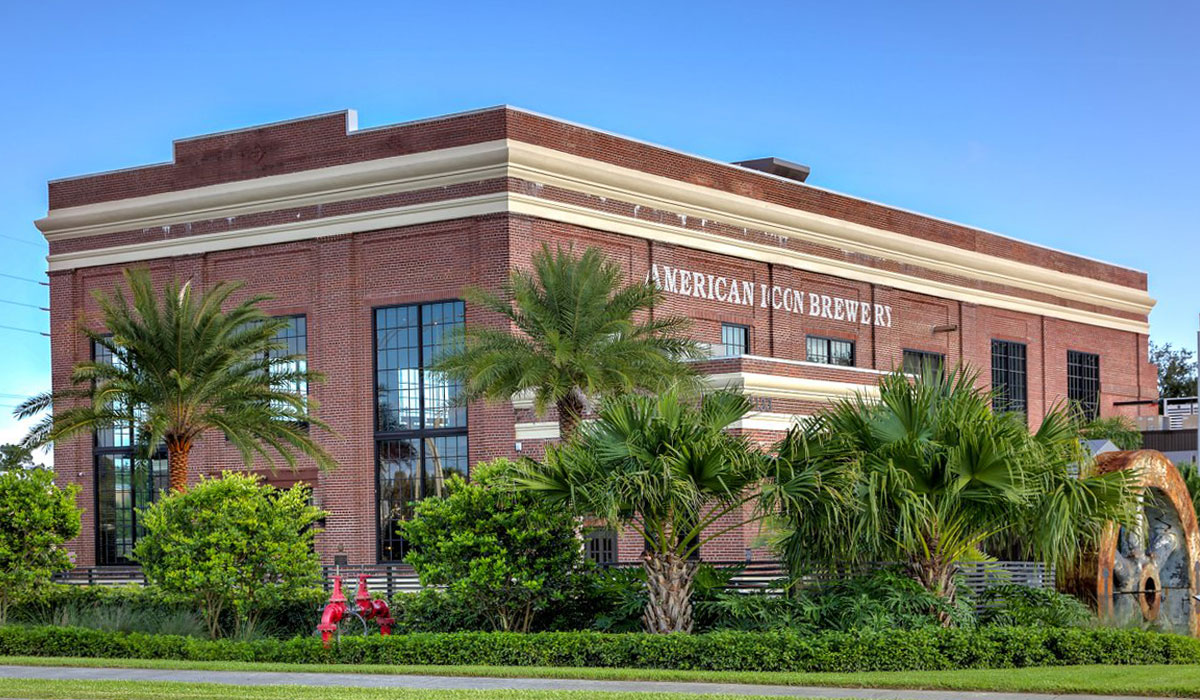 And those taps serve up some of southeastern Florida's most well-regarded beers, among them Florida Heat, a sour ale with chili peppers and blood orange, and AmerIcon Blonde Ale, which co-owner Carl Berry says is the most popular beer in the taproom.
"We wanted to modernize the building but also keep the industrial feel as much as possible," said Berry. To add to the ambiance, American Icon's outdoor patio is located next to active railroad tracks that have been there since the building's early days, and visitors can enjoy a beer while watching a train go by.
While American Icon's beer and mouthwatering food menu surely attract visitors, Berry says the architecture is also a large draw and visitors will stop in just to experience it.
"I always enjoy talking to people who come here for the first time just because they saw the building and want to see the inside of it," he says.
Bang Brewing | St. Paul, MN
Grain silos are part of the fabric of rural America, ubiquitous in just about every farm you pass on an average country road. But chances might be good that you've never said to yourself, "Hey, I bet it'd be cool to have a beer in one of those things."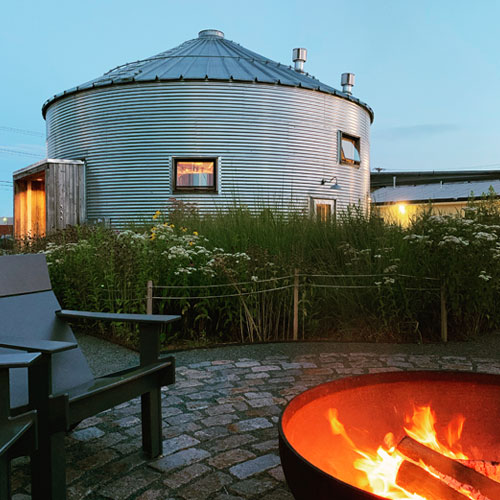 But guess what: It is cool. And it can be done at Bang Brewing in St. Paul, Minn., Bang's brewery and taproom, dubbed The Bin, is a custom-built prefab grain bin.
Bang was established by husband-and-wife duo Jay and Sandy Boss Febbo, who wanted to build something unique, sustainable, and environmentally friendly. Bang fits the bill and then some.
The Bin was customized to reduce water usage, its electricity is wind-generated, and the facility is completely zero-waste. As for the beer? It's 100 percent organic.
While Sandy says that many visitors are attracted to the distinctiveness of The Bin, they're also drawn to the ever-changing list of rare beers using ingredients such as local honey and tomato juice from a popular area food truck.
During warm weather, Bang also offers a serene beer garden, set amongst a natural prairie backdrop. It's the perfect complement to an experience that's already second to none, both in setting and in conservational focus.
"With Bang, it's our goal to make the biggest impact with the smallest footprint," Sandy says.
Farmers & Bankers (F&B) Brewing | Woodstown, NJ
Smack dab in the middle of this small town in rural Salem County, N.J., stands a soaring old building, built in the Romanesque Revival style and featuring a striking open-arched tower.
Built in the late 1800s, this structure housed the First National Bank of Woodstown for most of its existence, shuffling through a few other bank iterations and law offices before going dormant in 2013, sitting unused and collecting dust for years after.
That is until husband and wife Mike and Rebecca Melniczuk stepped in. With dreams of opening a brewery and bringing the town's heart back to life, they purchased the building in 2021 and got right to work reviving it. F&B Brewing opened a year later.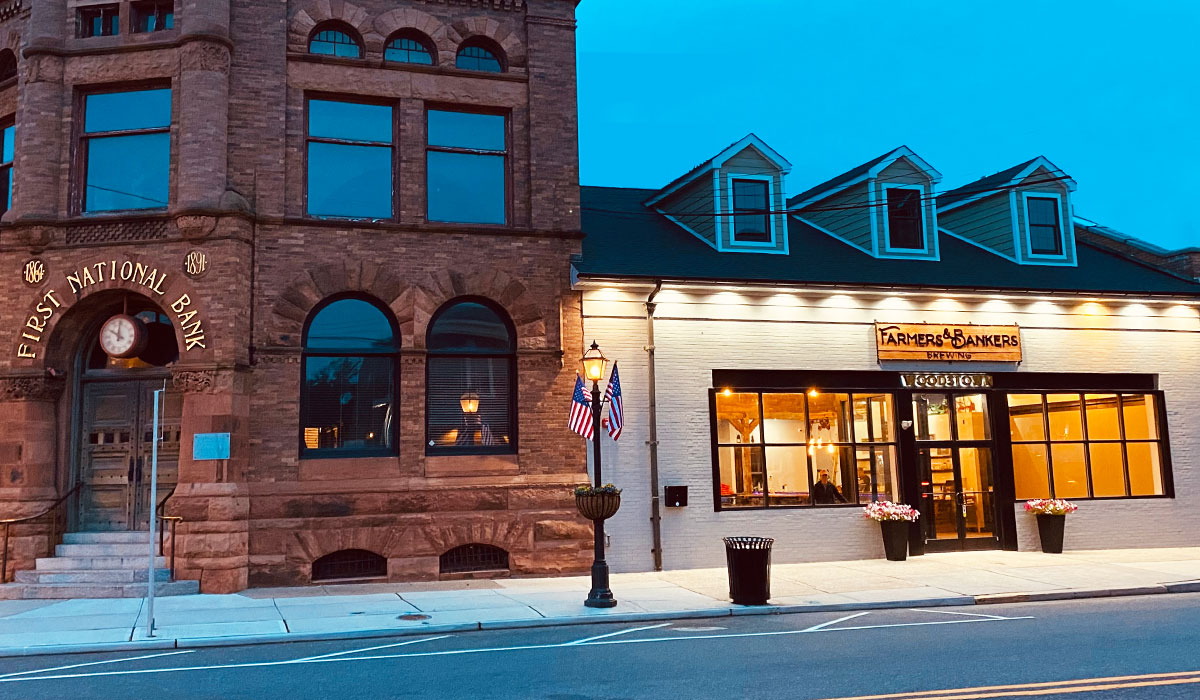 The historical character of the old bank is unmistakable. The Melniczuks made sure to integrate elements such as the old vaults, which were incorporated into the design and are used as additional space. They even envision using the oldest part of the building as a private event space.
But aside from preserving history, the Melniczuks also set out to integrate the fabric of Woodstown into everything they do, including the names of their beers.
Two of the most popular beers are Cow Tippin' milk stout, a nod to the area's rich farmland, and Wolverine Wheat, which pays homage to the local high school's mascot. They also raise funds for the community with projects such as F&B's Reliance Pale Ale, with proceeds going to the town fire department.
"Our plan is to keep growing, and we love to see the town grow with it," said Mike. "The downtown area is seeing a revitalization and I'm proud to be a part of it."
McMenamins Concordia Brewery at Kennedy School | Portland, OR
Imagine drinking a beer in school. And not only is it allowed, but it's encouraged. That's the deal at Concordia Brewery at Kennedy School in Portland, Ore., part of the McMenamins chain of unique restaurants, pubs, and hotels.
Indeed, this facility is a hotel, with classrooms converted into guestrooms (complete with chalkboards), a soaking pool in an old teachers' lounge, and a movie theater that was also a former classroom. But the brewery, bars, and restaurant are not to be outdone, and they're a major attraction in a city that is world renowned for its beer scene.
The Kennedy School was built in 1915, and by the mid-1970s was closed due to declining enrollment. McMenamins bought the school in 1997 and began the renovation.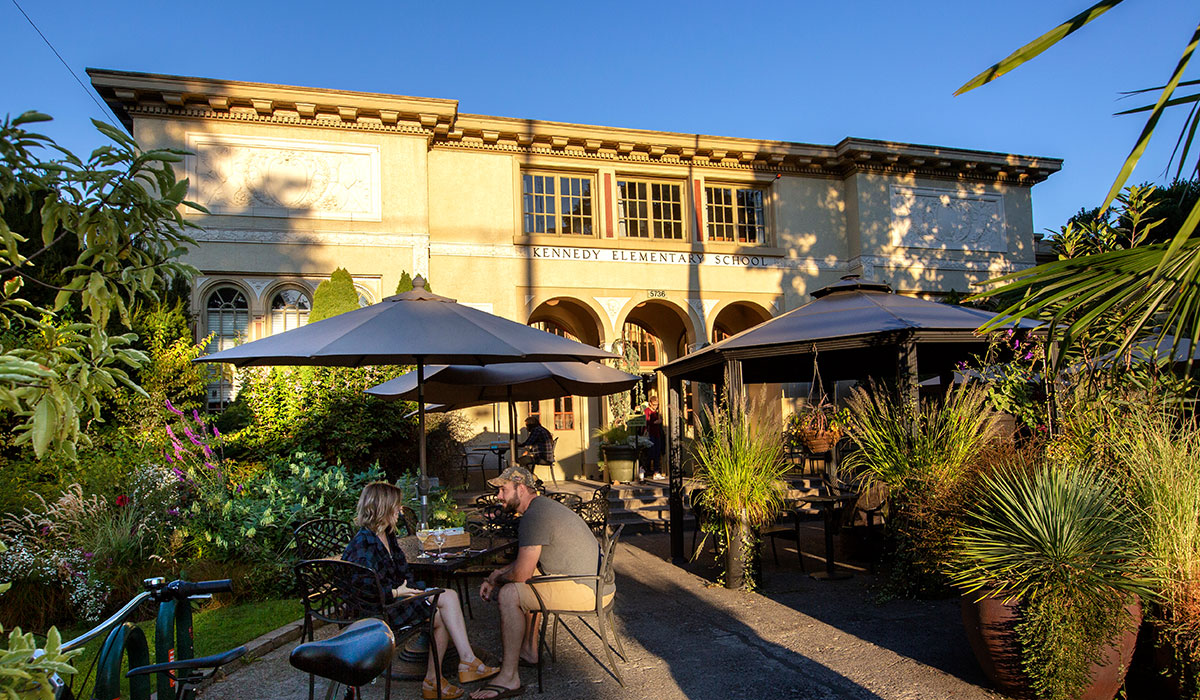 The school theme is apparent everywhere. According to McMenamins marketing director Renee Rank, visitors are known to walk throughout the property, drinks in hand, to check out all the different rooms.
There's the main pub area, converted from the school's cafeteria. There's the Boiler Room transformed from…well, that's self-explanatory. And there are the Detention and Honors Bars, both with their own distinct characteristics and vibes.
And the beers are just as adventurous as the facility. Think Marshmallow Bonbon Imperial Stout or Orange Banana Pineapple Sour, complemented by a popular stable of IPAs.
But arguably, patrons come to Kennedy School for the surroundings and photo ops just as much as the beer and food.
"We've even integrated memorabilia from students here," Rank says. "We really wanted to keep the character of the old school alive."
Scratch Brewing Company | Ava, IL
Enjoying a beer while immersed in the tranquility of the woods and surrounding nature can be among life's most relaxing feelings. Located on five acres of wooded property and situated in the middle of the forest, Scratch Brewing Company in Ava, Ill., aims to provide just that.
Scratch is the epitome of off the beaten track, a trek from the highways and byways of Illinois and down a long gravel road. Foraging is the name of the game here, as co-owners Marika Josephson, Aaron Kleidon, and their staff mine the brewery's surrounding lands for ingredients, ensuring that their beer list is entirely seasonal.
Picture this: You're taking a walk through the woods and the garden enjoying all the flora and fauna that the Scratch property has to offer. You notice the chanterelle mushrooms that are prevalent here. According to Josephson, those very mushrooms are used to make one of the more popular drinks on their menu: Chanterelle, a bière de garde-style beer.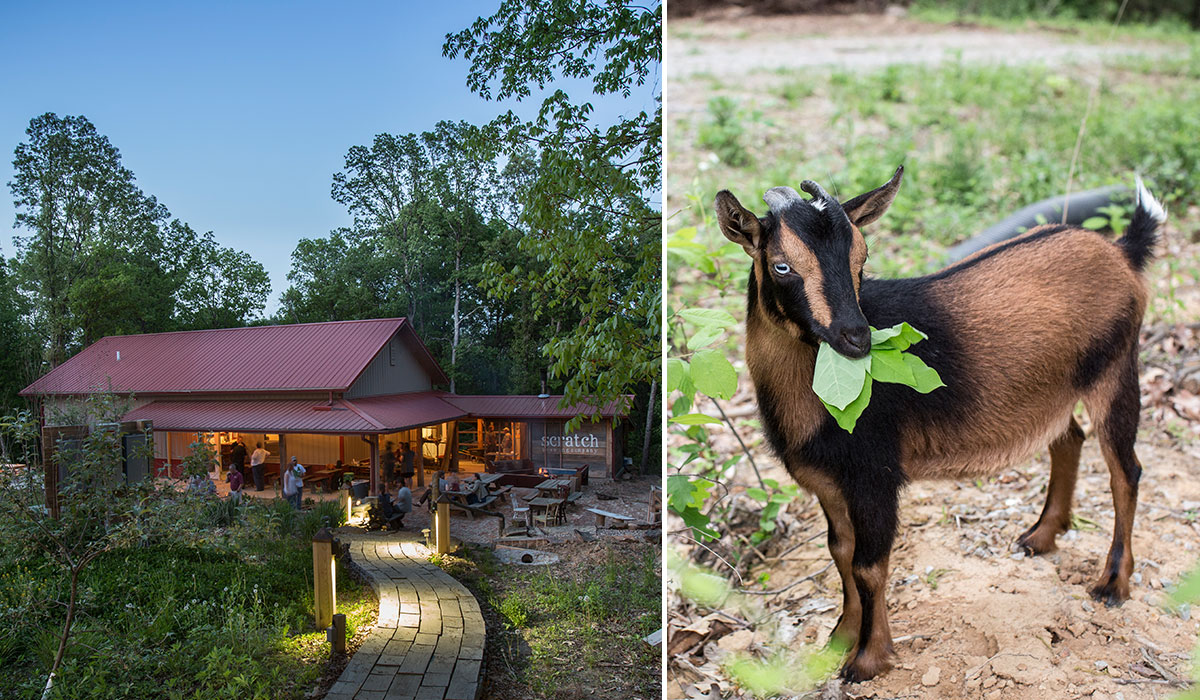 They're also known to tinker with ingredients such as lavender, dandelions (used in their popular Dandelion-Ginger Tonic), and hickory nuts, the latter of which, at any given time at Scratch, can be heard falling in the woods.
Don't forget their pizza, sourced using local flour, fermented with Scratch's sourdough culture (also used to ferment their beers), and then wood fired.
The beer, pizza, and serene setting all combine to make an unforgettable experience in the heartland of America. There are thousands of other breweries nationwide that also ascribe to "it's not just what you drink, it's also where you drink it." So, the next time you stop by a brewery for a beer, take a sip…and be sure to take a look around.
CraftBeer.com is fully dedicated to small and independent U.S. breweries. We are published by the Brewers Association, the not-for-profit trade group dedicated to promoting and protecting America's small and independent craft brewers. Stories and opinions shared on CraftBeer.com do not imply endorsement by or positions taken by the Brewers Association or its members.