In the constantly expanding universe of beer styles and flavors, a unique type of brew has slowly been gaining popularity: cocktail beers. These brews, inspired by classic cocktails, allow brewers to get more creative while providing craft beer lovers with even more variety and diversity. The end results are brews that replicate a wide range of cocktails, from the light and fruity Paloma to the booze-heavy Old Fashioned.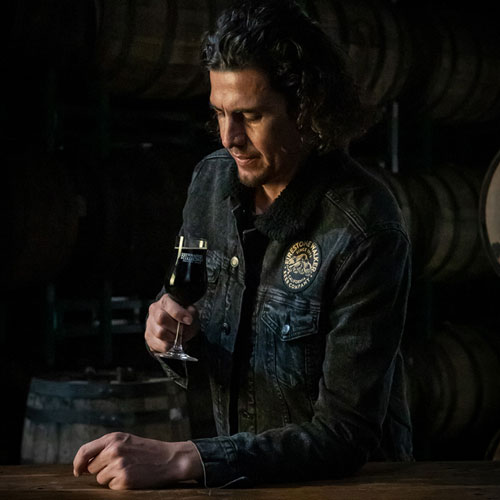 One of the pioneers of the movement is California's Firestone Walker, which has been making cocktail-inspired creations since 2017. Their series of barrel-aged brews is spearheaded by barrel meister Eric Ponce, himself a lover of complex craft cocktails.
Ponce joined Firestone Walker when the brewery wanted to introduce more range and adventure into its already-successful barrel-aging program. His first beer was Dark & Stormy, in the tradition of the rum-based drink. Ponce has gone on to leverage Firestone Walker's size and connections to obtain an incredible variety of barrels, from traditional bourbon to absinthe, cognac, and mezcal.
Ponce and his wife both enjoy a complex and nuanced cocktail, and he draws inspiration from flavor profiles they discover. With a notebook full of ideas, Ponce starts strategizing how to get the flavors he wants from beer, natural ingredients, and most importantly, barrels.
At the start of the process Ponce considers, "What cocktail do I love? What cocktail can I make without having to use extracts or oils? What's the base beer I want to use?"
When deciding on base beers, Ponce considers the fact that certain beer styles naturally pair with certain liquor flavors. For example, blondes work better with gin and rum, while flavorful dark beers offset the strong and boozy flavors of whiskey or bourbon.
From there, he moves on to the nitty-gritty of sampling and blending. "I start pulling samples from different barrels, different base beers until I get the mouthfeel and color that the cocktail has," he says.
One of Ponce's secret weapons is bitters. Bitters, which comes in numerous flavors including orange and cherry, is used to add depth to complex cocktails. It also happens to be aged in barrels. By blending small quantities of beer aged in bitters barrels, Ponce authentically re-creates the nuances of classic cocktails.
For Ponce, discovering the potential of bitters barrels was a breakthrough. "It was so intense. It was like you open up a bottle of bitters and only use one drop and it really opens up that cocktail. Once I started tasting through these, I got goosebumps and a smile on my face."
Ponce uses unadulterated ingredients to create desired flavors, colors, and textures. Instead of syrups and flavorings, he experiments with additions like hibiscus tea, which he incorporated into Tequila Barrel Sunrise to replicate the color, acidity, and flavor of that cocktail.
Some of the beers Ponce is most proud of are Royal Street and Mezca-Limón. Royal Street re-creates a Sazerac and was a huge score for Ponce because of the rarity of absinthe barrels. "I love absinthe. I love Sazerac," says Ponce. "Sazerac cocktails have been on my mind, but I'd never been able to get any absinthe barrels." To create the traditional flavors, he blended beer aged in American rye whiskey barrels with beer from absinthe and bitters barrels. He topped it off with fresh, locally sourced lemon zest.
Mezca-Limón replicates a mezcalita, a smoky orange cocktail that was also on Ponce's wish list for years. It was a dream come true when he finally got ahold of a truckload of mezcal barrels.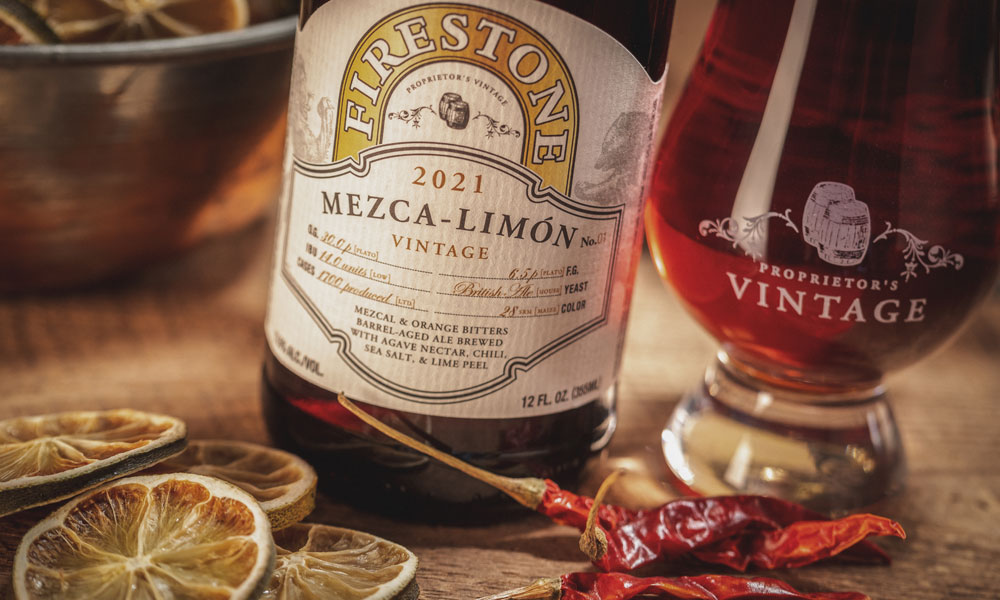 Ponce brewed the base beer with no roasted malt to keep it light and added flaked corn for body. "I wanted it to be a big blonde imperial just to showcase the barrels." He carefully considered what kind of barrel blend would re-create the cocktail he fell in love with, ultimately settling on a blend of 95 percent from mezcal and 5 percent from orange bitters.
At the core, Ponce's key goal is to make his brews indistinguishable from cocktails in every way. "Every cocktail beer that I make, I want people to visually look at it, close their eyes, and on the first sip be like 'is this a cocktail or beer?'"
Trial and Error
For Fal Allen, brewmaster at Anderson Valley Brewing Co. in Boonville, Calif., the inspiration for unique flavors came from his time owning a brewery in Singapore, where he fused the flavors of Asian cooking with European brewing.
His first cocktail beer was a gin and tonic gose. Allen painstakingly researched the key ingredients in both gin and tonic, and then layered those onto his gose base. "The light tartness really worked well," he says.
Allen put equal effort into his next creation, the Old Fashioned. Anderson Valley sourced Wild Turkey barrels and Allen planned to add cherry, orange, and bitters to a base beer after barrel aging. However, initially things did not go according to plan.
To start with, Allen had concerns about the base beer. "We brewed a beer that we thought would work and in the fermenter it was terrible, but you never know until you know," he says. He persevered and as he built up the cocktail profile by adding orange and cherry, things started to improve.
When it came time to add aromatic bitters, the brewery hit another hurdle. "We realized we'd have to open all these little bottles," says Allen. As cocktail lovers know, bitters is used sparingly and sold in four-ounce bottles. To solve that problem, the brewery contacted Angostura directly and found that the company was willing to sell them bitters in five-gallon buckets.
Like at Firestone Walker, bitters turned out to be the magic ingredient. "Once that got into the beer it really brought all of the flavors together," says Allen. He explains the magical transformation from unloved base beer to a great Old Fashioned by saying, "Aging in bourbon barrels can pull out some of the flavors you don't love and bring out the flavors that you really want. Barrel aging and Angostura bitters really hold all of those flavors together."
A Light Touch
A brewery with a significantly different approach is Dry Dock Brewing of Aurora, Colo. Its Docktail line targets light, fruity cocktail styles. Dry Dock's brewers start with a neutral fermented corn sugar base to avoid overwhelming the fruit flavors and then incorporate natural juices and other flavorings.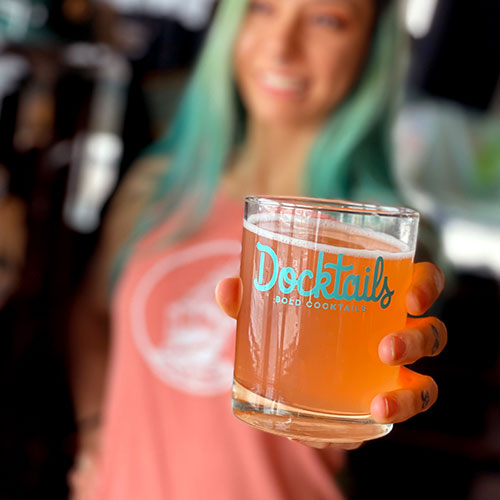 Using a neutral base differs from how many breweries approach cocktail beers, bringing another dimension to the traditional concept of beer. Of course, like all good cocktails, these pack more punch than typical beer, with 9.5 percent ABV.
Co-founder Kevin DeLange sees Docktails as an adaptation to industry trends. With an increasing variety of flavored beers like hazy IPAs and adjunct-loaded brews, Dry Dock felt it was time to branch out. "There are so many breweries these days, so much competition, and lots of opportunities," explains DeLange. "We'll always think of ourselves first as a brewery but we're open to looking at ourselves as an alcoholic beverage manufacturer."
Dry Dock chose to focus on fruit-flavored cocktails because of their drinkability and because Dry Dock has had past success with fruit beers. Multi-medal-winning Apricot Blonde is well known in the Colorado market.
Additionally, Docktails were conceived primarily for the ready-to-drink (RTD) canned-beverage market. DeLange saw an opportunity in Colorado, where licensing allows certain establishments to only sell beer and not distilled products. Docktails help those businesses provide a cocktail-like experience while staying legal.
Both DeLange and Allen view the overall RTD market as an expanding pie. "I think whether it's distilled spirits-based RTDs or the beer-based ones, it's definitely a segment that's growing," says DeLange.
Allen agrees. "I think brewers that are continuing to do that see it as kind of a hedge against those kinds of products (RTD cocktails and seltzers)."
Ponce, however, is more circumspect, saying, "It's always tough to predict the future."
The Next Big Thing?
While all three breweries look at cocktail beers as an important component of their product lines, everyone tempers expectations as to whether this movement will take the industry by storm. Says Allen, "I don't know if I'd go all the way to trend. It doesn't seem to have caught on the way some people thought it might have."
DeLange has similar thoughts. "I think you're going to see people getting into it more and more," adding, "I certainly don't think it's going to be anything like the seltzer thing was."
One hope is that these beverages will attract people who aren't typically beer consumers into the craft beer scene. Putting it in the broader context of alcoholic beverages in general, Allen says, "I think it does draw in consumers because cocktails have become a big part of the retail market."
Regardless of their ultimate market share, cocktail-inspired beers continue the tradition of innovation that has been at the heart of craft brewing from the start. Whether savored by experienced beer drinkers or folks looking for something refreshing and different, these brews provide even more options in an already-diverse beer world.
CraftBeer.com is fully dedicated to small and independent U.S. breweries. We are published by the Brewers Association, the not-for-profit trade group dedicated to promoting and protecting America's small and independent craft brewers. Stories and opinions shared on CraftBeer.com do not imply endorsement by or positions taken by the Brewers Association or its members.