Taking a walking tour is one of the best ways to get to know a city without the trappings of more touristy activities. You're introduced to the region and its context by one of its very own, if even simply for social reasons. I've taken many tours on my explorations as a travel journalist, in towns filled to the brim with craft beer and places just starting to see the light. In most any city with a vibrant craft beer culture, you can bet I'll sniff out a fun ale trail or tour. And what's most inspiring has little to do with the design of breweries, and everything to do with the actual tour's design.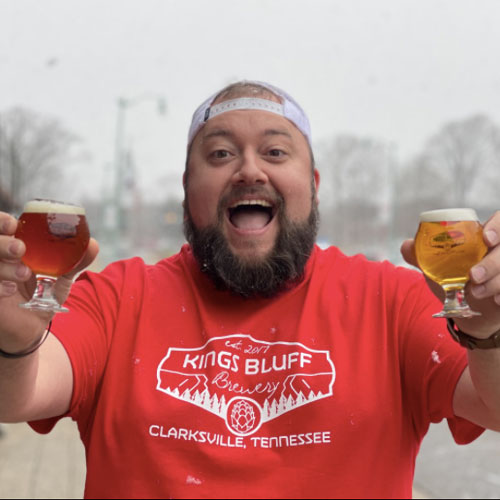 When the pandemic hit its stride last year, and travel came to a screeching halt, it became painfully obvious that my storytelling needed a bit of diversification in order to sustain such a career dependent upon tourism. Sharing my hometown of Clarksville, Tennessee, with others felt like the most viable addition. In a town of 150,000, Clarksville boasts seven independent breweries and is expecting a couple more to hit the scene by 2022. So, I did what any writer worth their salt does in the beginning. I started with what I knew. "You have a captive, dedicated audience, which has already bought into the idea and wants to try something new," says Dustyn Brewer, co-owner of Clarksville's Kings Bluff Brewery. "That's part of the ethos of a brewery in the first place. It also introduces people to the fabric of our community."
An invaluable community member, he champions the idea of bringing such tours to Clarksville saying, "We know who and what we are, and that goes right in line with offering more craft beer amenities to the community. So, for beer tourism it makes sense to be involved. The more the merrier." Brewer worked diligently with local lawmakers to pass Tennessee bill HB1085/SB1022 allowing individuals to walk in the downtown entertainment district with a semi-sealed open container on specified occasions.
The bike culture in Clarksville also seems to be catching wind with its rolling hills and picturesque landscapes. Just as hops and barley go together, so does cycling and beer. Such affinity proved most evident with the first year of Tour de France in 1903 which was a literal picnic on wheels where the beer and wine consumed were for merely nutritional purposes, wink wink.
Here in the states, brew brands such as New Belgium Brewing have taken this perfect pairing and ran (or pedaled in this instance) with it. Yet, while having an accident on a bicycle might not be the ticket you want, and it may even become the butt of your friend's jokes, it's something to consider. That's why designing tours with safety top priority is so important.
In the state where big is always best, "Texans are used to using vehicles to cover a lot of ground. A big part of establishing the city tours is the awareness of how safe and fun cycling is," says Bronwen Gregory, the previous visitor experience director for Visit Fort Worth. "While former Mayor Betty Price and now Mayor Mattie Parker are extremely bike-friendly, both have been happy to support anything in a healthful way." Each year the city promotes a special Tour de Fort Worth to coincide with Tour de France, and also presents a rolling Town Hall.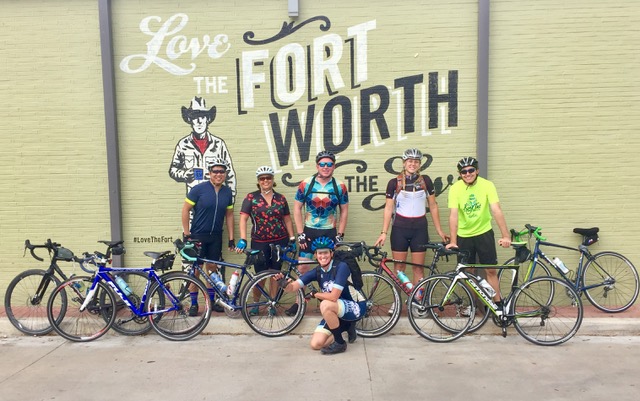 Visit Fort Worth chose not to design a cycling craft beer tour, per se. Instead, Gregory says she's designed all sorts of self-led tours that are ale trail themed so that tourists can go at their own pace with rented bikes through the Ft Worth Bike Sharing, upon which Gregory serves on their board. Gregory has been in the tourism business for more than twenty years and says that "There's a growing appreciation with educational experiences either on their own time, or guided experiences that are human powered." Especially in a time when the pandemic seems to refuse to give up the fight, she adds, "It really gives people a chance to explore a neighborhood without being separated by glass. Get them on a bicycle and it takes decades off their lives. They're like kids again."
Still, if you want a guided bike and brew tour, 6-Pack Trail coordinates craft brewery bike tours in Fort Worth on the 2nd Saturday of every other month. Led by a knowledgeable beer guide, participants travel 10 miles and visit seven of Cowtown's inventive craft breweries, including five that are part of the Craft Brewers Guild: Rahr & Sons, Martin House, Wild Acre, HopFusion and Funky Picnic. At each stop, beer enthusiasts receive one 8-ounce beer, concluding with dinner at female-owned and operated, Funky Picnic. A fun portable stein, bottled water and general bike maintenance are complimentary.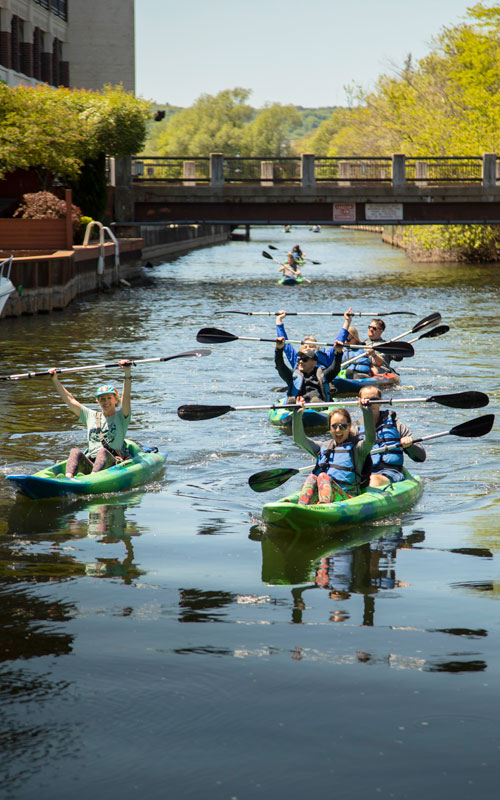 Like Gregory, Troy Daily of Kayak, Bike, and Brew in Traverse City, Michigan, errs on the side of caution when it comes to beers on his experiential tours. Daily emphasizes that his tours are more about the outdoor recreation, and is pretty firm on the one beer per brewery stop. "We want to give them a tease about it," says Daily. "We want them to go back and do business with the breweries."  A pedal, paddle pub crawl allowing 24 people per 4-hour tour through Traverse City's urban TART bike trails, Boardman Lake and River, and West Bay.
"The people are happy. They are always excited. Whenever they come in they are in a good mood, even if it's misting or raining. It's infectious. The guides are really good and in control. They are the reason the people are in a good mood. They are fun and informative," says Russ Springsteen of Right Brain Brewery, one of the three to four stops in the craft forward town on Lake Michigan.
Using roadways and waterways for commerce to the public, Daily believes in "keeping it cleaner than we use it," encouraging conversations while on the tour about environmental impact, and routinely welcoming river and roadway clean-up days. The tours are ADA compliant, and routinely sell out on the weekends. Two-weeks in advance weekend reservations are recommended, with regular weekday availability. "You are going to get wet. You're going to meet other people. So, to be able to be social is important. And, if you enjoy your ride, tip your guide," says Daily.
While peddling and paddling trend with craft tourists seeking to explore their destination, so has the Certified Cicerone designation for some tour operators.
Amy Beers (yes that's her real name) of Indianapolis-based Drinking with Beers says, "It all boils down to what's walkable," and she weaves history, good product, and service into all of her neighborhood walking brewery tours. When she first started out in 2018, Beers began with her love for beer and travel, and felt that these affinities were a perfect pairing. But, when she hosted a booth at the fair showcasing her newly curated tours, she remembers a lady asking what qualified her to teach about beer.
Less than a year later, Beers received her Certified Cicerone, making her one of nearly 4,300 worldwide. "I like to educate, but also have fun," says Beers. "It's a great way for them to feel connected to Indianapolis."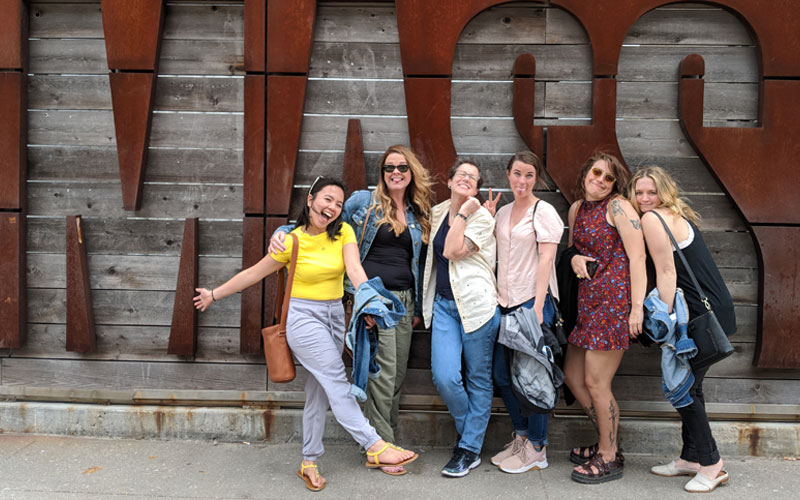 Her Taste of Europe tour of Mass Avenue Arts District walks attendees to three separate breweries including St. Joseph Brewery and Public House. Located in an old Catholic church, she focuses on Belgian style ales at this stop because of its connection to trappist ale. Here she offers a two-part YouTube video to give you a taste of her style. There's also a tour of three Fountain Square breweries, along with the self-guided tour which you can download for a $10 fee. Because of the promotional discounts offered at some of the included breweries, she says this inclusive self-guided tour pays for itself on a single visit.
Gary Glancy also acquired his Certified Cicerone designation, and offered his first craft beer tour in Greenville, S.C., called The Brewery Experience in 2016. And, like Beers, Glancy uses multimedia to make his tours unforgettable.
After he left the newspaper business as a full-time journalist in 2012, Sierra Nevada, New Belgium, and Oskar Blues all had announced their plans for new South Carolina locations. So, Glancy took a solo trip across America stopping at the breweries' flagship locations along with a smattering of other breweries and National Parks, while also attending the Great American Beer Festival in Denver for the first time.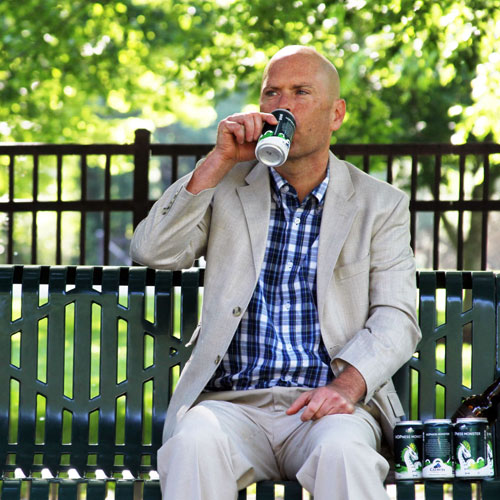 But, what makes Glancy's tours so unique is a parody of Forrest Gump entitled Gary Gose Gump that he shot with little more than a GoPro camera, a beer bottle, and remote access to his producer, A.D. Weighs, while on that solo trip way back when. "It was a beast. A whole year of my life," Glancy says. Now offering brewery tours in Greenville, South Carolina and neighboring Asheville and Hendersonville North Carolina, tourists hop aboard a passenger van where the opening scene of Glancy's take on the 1994 award-winning epic story involves a Quest Brewing Company beer bottle rolling across America, as opposed to the original white feather. The beer theme continues throughout the 40-minute parody that entertains his guests between brewery stops.
Garnering extensive back-of-the-house knowledge working as a beerkeep for Catawba  in Asheville, Glancy says that his tours wouldn't be possible without such experience coupled with the relationships he's made with the breweries." From the largest brewery at Thomas Creek to somewhere like Straight 8," he explains, "People want to meet the owners. Once they feel like they bond with the owners, they're more likely to buy product." As his tours wrap up the credits roll from Glancy's movie showing at the front of the van. "It's fun to watch complete strangers bond over 3.5 hours and are the best of buds by the end," he says.
I'm still in the design process of my Clarksville tours. But, if I've learned anything from the tour operators I've met along the way, it's that everything hinges upon human relations, which could be said for most any successful venture, really. Back at King's Bluff, Brewer told me once when I landed on offering tours as my side hustle, "Exclusivity never did anything but put you on an island without a boat." The design of my new venture is taking longer than I expected. But, one thing's for sure: Inclusivity will mean everything if I plan to stay afloat.
CraftBeer.com is fully dedicated to small and independent U.S. breweries. We are published by the Brewers Association, the not-for-profit trade group dedicated to promoting and protecting America's small and independent craft brewers. Stories and opinions shared on CraftBeer.com do not imply endorsement by or positions taken by the Brewers Association or its members.