History and beauty. The Brandywine Valley is steeped in both.
Located roughly 45 minutes outside of Philadelphia, it's where northern Delaware meets southeastern Pennsylvania. Here, Revolutionary War battles were waged, country estates belonging to industrial magnates were built, and world-renowned gardens were grown.
Over the last 20 to 30 years, it's been a place where foodies and wine lovers alike have flocked to impeccable restaurants and rolling vineyards. But recently, there's another feather in the Brandywine Valley's tourism cap: beer travel.
And with the crisp fall weather, there's no better time to go on a brewery road trip to the Brandywine Valley.
Wilmington, Del. Area
We'll start in the largest city of the First State, the unofficial Corporate Capital of America. Smack dab in the middle of town is Stitch House Brewery, opened in 2018. Frequented by a healthy mix of government workers, corporate employees, and locals alike, Stitch House is as known for its food menu as it is for its beer.
Head brewer Andrew Rutherford says it's hard for him to pick his favorite dishes, but highly recommends the whole wings with harissa garlic sauce, cheesesteak eggrolls with smoked ketchup, or breaded chicken cutlet with pesto aioli and mozzarella.
As far as the go-to beer, Stitch House has a nice variety, but Rutherford points out Big Stitch Nick, a pale ale with a pleasant balance of hops and malt that is named after former Philadelphia Eagles quarterback Nick Foles, a local hero around these parts.
Heading north out of the downtown area, the road trip takes us next to Wilmington Brew Works on the north end of the city. Located in a 100-year-old former laboratory, Wilmington Brew Works, or WBW as shown on its logo, does not shy away from experimental brews.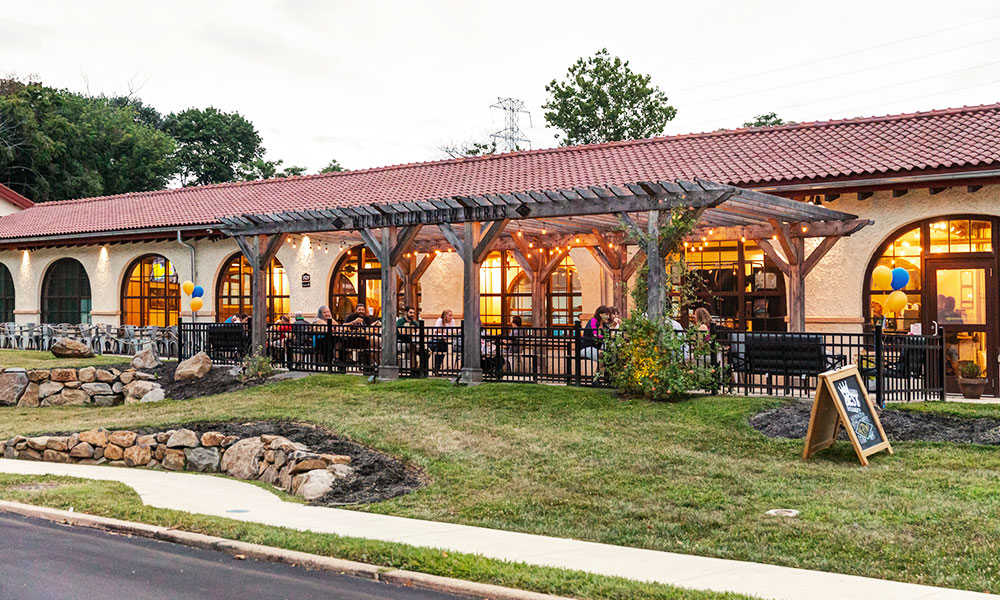 While their reputation for New England IPAs precedes them in this area, they're also known for their tasty line of Duvette sours, tinkering with flavors like Blackberry Vanilla, Strawberry Cookies & Cream, Cherry Vanilla Limeade, and many more. They also have a popular piña colada sour called Vacation Surprise that transports you to summers on the boat.
When the weather gets cooler, WBW knows that the local contingent starts to look to the thicker beers. Umlaut is WBW's delicious Märzen offering, while the public also heads to the brewery for Gravitational Confection, a substantial Danish pastry quad that warms the insides.
After WBW, it's time to head west out of town via the Brandywine Scenic Byway and traverse through some of the most pristine vistas this side of the Mississippi. Once you navigate the country roads and hairpin curves of DuPont Country, you'll find yourself at Dew Point Brewing Company in Yorklyn.
After restoring a dilapidated old building formerly housing the Garrett Snuff Mill, Dew Point is a good, old-fashioned family business. John Hoffman runs the place alongside his wife, Georgiana, while son Cody brews the beer and daughter Alexa coordinates special events.
While the beer is surely a draw to Dew Point, the outdoor space is arguably the most eye-catching aspect of the location. Surrounded by nature on over an acre, the space attracts suds lovers from near and far in warm weather, where it becomes a veritable get-together of Delawareans and Pennsylvanians.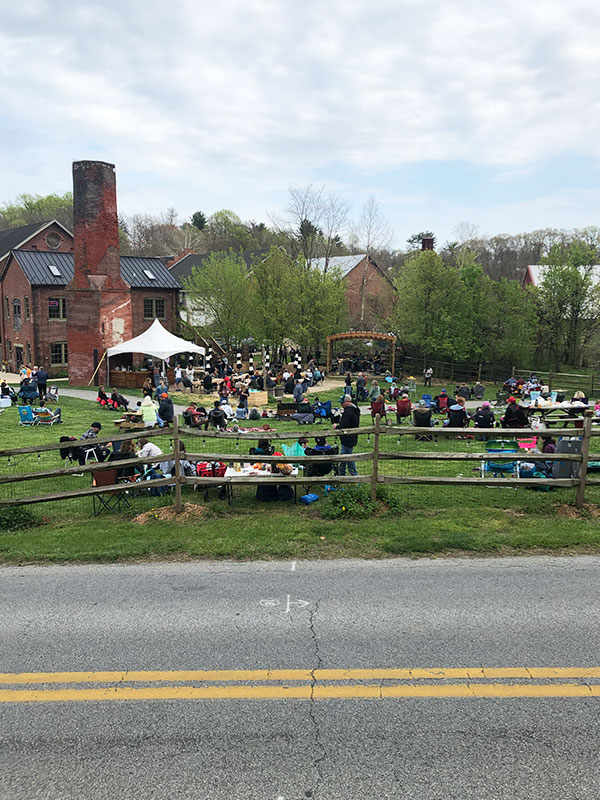 "Picking my favorite Dew Point beers is like picking my favorite child," says Hoffman. "But the Black Powder, an imperial double black IPA, and Nit Wit, a traditional Belgian witbier, are definitely my go-tos."
Kennett Square, Pa.
From Dew Point, your Brandywine Valley travels take you through the bucolic country roads across the Pennsylvania state line, into the town of Kennett Square, known as the unofficial Mushroom Capital of the World.
Here, you'll find Braeloch Brewing directly on the banks of Red Clay Creek. Founded by Kent and Amy Steeves, Braeloch utilizes an old trolley barn for their outpost, complete with a patio overlooking the creek. Braeloch didn't waste any time fitting into the fabric of Kennett Square, a tight-knit community with a burgeoning dining and entertainment scene.
Braeloch's beer menu runs the gamut from IPAs to lager, sours, and some fun stouts, like their S'moregasm, garnished with a toasted marshmallow. Locals and tourists alike have come to love Braeloch's flagships, but the Blue Hen Gold IPA in particular is a go-to for many.
Braeloch's food has also made a name for itself, partnering with the TBG hospitality group, which runs the popular Tonic Steak & Seafood in Wilmington. Even if you come to Braeloch and don't have a drop of beer, the food is worth the trip in itself.
West Chester, Pa.
Heading northeast out of Kennett Square— passing the world-famous Longwood Gardens—and up Route 52 brings you into West Chester.
The first stop is an ode to the history of the region and the famous Battle of Brandywine, the largest and longest of the American Revolution. Opened in 2019, Artillery Brewing Company completely immerses you in a Revolutionary War theme.
Co-owner and founder Mike Loveless grew up going to Colonial Williamsburg and dove headfirst into the rich history of the Philadelphia region. After starting out as a homebrewer, he joined forces with Paul Zippel, and Artillery was born.
The history motif extends to the beer, too. One of the many examples is Artillery's Battlefield Series of beers, each named after a Revolutionary War battle with recipes capturing the essence of the battle's location, and a portion of proceeds from the beer going to that particular battlefield's preservation.
"There's so much history in this area, and my vision for Artillery is to shine a light on it and make good beer while we're at it," said Loveless.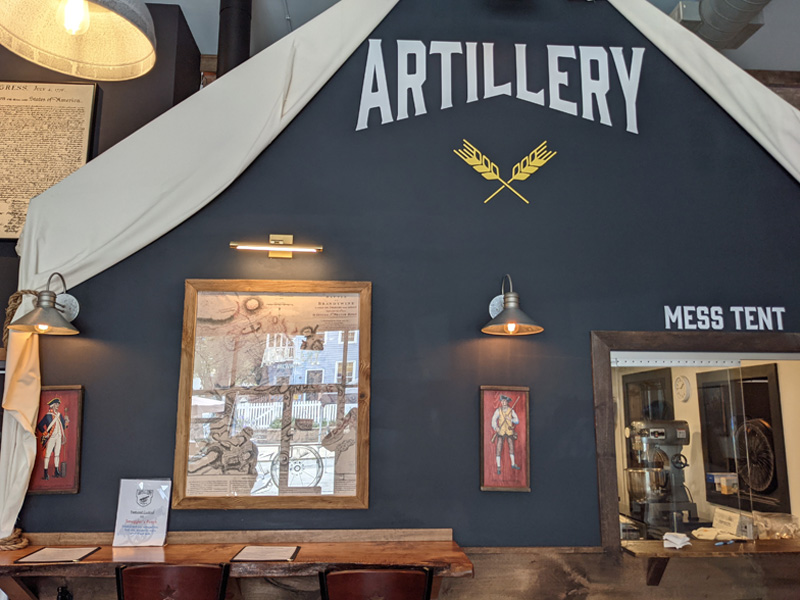 When asked to pick his favorite beers, Loveless points to The Volley, a Czech Pilsner, and The Traitor, an English pale ale, as those he'd recommend if you could only drink one or two.
On the other side of the building from Artillery sits Wrong Crowd Beer Company. As you might expect, both businesses benefit from being so close to one another. If you go to one, might as well hit the other, right?
Dan Shaw, head brewer for Wrong Crowd, chose West Chester because of its vibrant bar scene and immediately felt the brotherhood amongst other brewers in town. With its distinct neon green design, Wrong Crowd's building opened its doors in the midst of the pandemic in November 2020.
Nonetheless, its persisted and survived thanks to dependable brews like their hazy IPAs and a creative food menu. Shaw said Wrong Crowd is arguably best known for its Pilsner, The Borough, which is a nod to the town it's set up shop in. He also mentioned Drink Deeper, a West Coast IPA, and West Chester Lager as other huge sellers in Wrong Crowd's repertoire.
Wrong Crowd also has a noteworthy contingent of sour beers brewed with an eclectic line of flavors, like key lime pie and orange zest. Come fall, Wrong Crowd will once again release its popular Strawberry Milkshake IPA, brewed with vanilla beans and a massive amount of strawberries.
Heading toward the outskirts of town for the final stop of your Brandywine Valley brewery tour, you'll make your way to Levante Brewing Company.
Levante quickly made a name for itself in the tri-state area and beyond after its opening in 2015, and production manager Matt Gilberg says that the brewery has a contingent of dependable, "bang for your buck" beers that are enjoyed by many.
When you ask a local beer lover what their favorite go-to Levante beer is, Cloudy & Cumbersome is a popular choice. The New England IPA is distributed to a large number of area bars and stores, and can be enjoyed on a hot summer day at Citizens Bank Park, home of the Philadelphia Phillies.
Levante also has a reliable stable of Pilsners, lagers, West Coast IPAs, and more, but visitors here are treated to another unique concoction: the Granita. Using one of their beers or seltzers as a base, they add fun flavors to the mix, throw them together, and freeze them. A few examples are Blueberry Cheesecake, Cinnamon Bun, Electric Lemonade, and Screwdriver.
Come autumn, Levante's Märzen, called Drachenstadt, hits the taps at the brewery, providing the perfect blend of breadiness and flavor that you come to expect from this signature fall beer. Their stouts and porters also have reputations that precede them, like Infinite Obsidian, which, as Gilberg puts it, is their version of Guinness.
"Every pint is an experience," he said. "Our goal is, and always will be, to allow our customers to get good beer at a good price, and just enjoy themselves."
So, the next time you find yourself driving up or down Interstate 95 and looking to go off the beaten track of the Philadelphia area for a beer, head toward the Brandywine Valley. This list of breweries merely scratches the surface of what you can expect here going forward, and you'll encounter some solid scenery and history on the way.
CraftBeer.com is fully dedicated to small and independent U.S. breweries. We are published by the Brewers Association, the not-for-profit trade group dedicated to promoting and protecting America's small and independent craft brewers. Stories and opinions shared on CraftBeer.com do not imply endorsement by or positions taken by the Brewers Association or its members.