Road trippin' is back! The beaches along the Gulf Coast are the destination of choice for millions of weary travelers. Interstate 65 is one of the main routes to get there, beginning just south of Chicago and winding down to Mobile, Alabama. Along the way are some amazing craft beer cities, towns and craft breweries to quench your thirst as you stop for the night.
First Stop: Indianapolis, IN: Metazoa Brewing Co.
"'Metazoa' is the scientific word referring to the whole animal kingdom," explains Sarah Silcox, Metazoa Brewing Co. Marketing and Events Manager. "Since day one we've donated 5% of our profits to animal and wildlife organizations to give back to the planet that gives us beer. Drink beer. Help animals."
Metazoa is nestled in the heart of downtown Indianapolis with 18+beers on tap and a dog park on-site. While our four-legged friends are always welcome, one thing that does set Metazoa apart is their brewery is ages 21+ only.
"Our best-seller is typically our house IPA called Hoppopotamus that features a bright, citrus aroma from Citra and Mosaic hops balanced by a light sweetness from Vienna malt," says Silcox.
Metazoa is experimenting with some seasonal fruit beers this summer.
"Flaming Juice (Cherry Blonde Ale) and Blueberry Bandit (Blueberry Wheat Beer) along with the debut of our new Pander Bear hard seltzer series and our rotating DDH Hoppopotamus series featuring double dry-hopped versions of our house IPA, Hoppopotamus," says Silcox.
Metazoa's brewing philosophy is all about balanace. From traditional ales to quirky experiement styles, they focus on balanced flavor.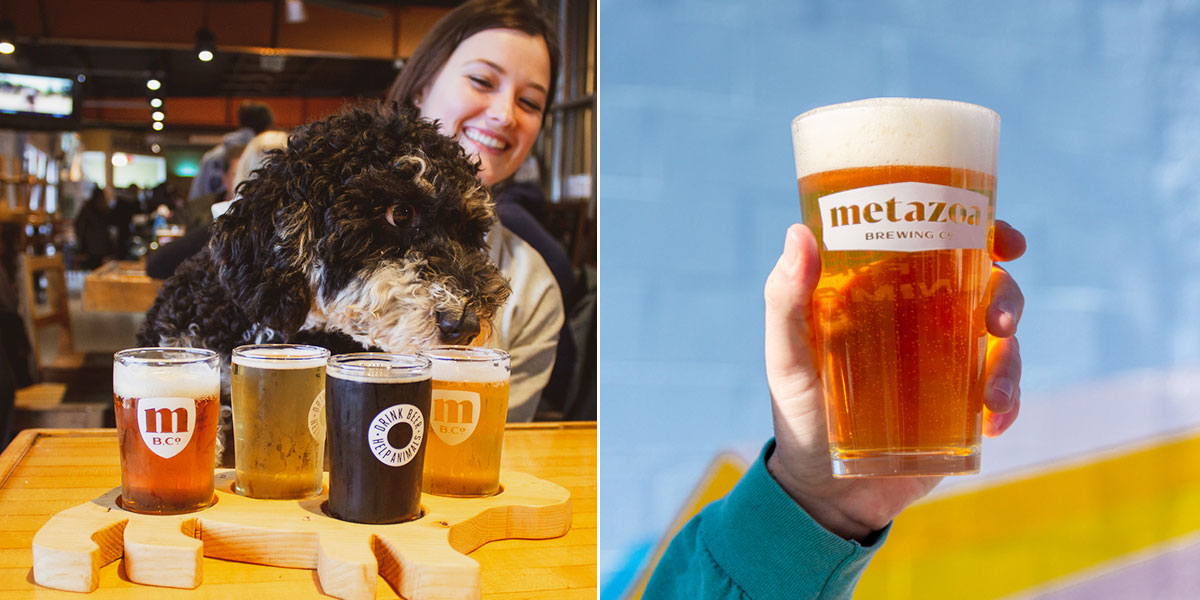 Second Stop: Louisville, KY: Monnik Beer Co.
Brian Holton was working as an emergency room nurse three days a week when he decided he wanted to make it big with a brewery. He opened up Monnik in 2011.
"That little spot opened in 2011 and was successful so I looked to open another bigger spot in Louisville. My Dutch contractor friend, Ian, came on board as a partner and we opened our brewpub, Monnik Beer Co., in Louisville in November 2015," Holton told craftbeer.com.
Holton says Monnik's beer is a mix of classic styles and new American creations and their food is locally sourced.
"The summer beers you must try this year are both session ales. Ginger Saison has been around since the beginning and is a bright and refreshing take on a classic style. We also will have a low-cal session ale coming out in July called Nite Life Lite.  Coming in at 4.6% ABV and only 100 calories, it's a unique take on a low-calorie beer in that it's lightly dry hopped and is 100% malted barley."
Saisons have always been popular at Monnik, which usually has several available at any given time.
"Our biggest seller has always been our flagship IPA, but lately we've been selling a ton of Italian Disco, our Italian pilsner."
Monnik also has a new location in New Albany, Indiana.
Third Stop: Elizabethtown, KY: Flywheel Brewing
"We're not unlike most small breweries," said Aaron Hawkins, co-owner of Flywheel Brewing in Elizabethtown, Kentucky. "We started as three homebrewers with a passion (for) beer who wanted to bring that passion to our hometown that desperately needed something craft that promoted a responsible beer culture."
The spinning wheel, or flywheel, inspired the name of the brewery.
"From printing presses to the mechanics of manufacturing, the flywheel fostered our intellect and enabled our industry," explains Hawkins. "We honor that simple machine and simpler time by bringing brewing back to the heartland of Kentucky. We believe in the power of a good beer to break down social barriers, and that a community needs a relaxing space where neighbors can gather to form bonds and lasting friendships."
Flywheel's taproom has a fully functional letter press from the early 1900s. They use it to print promotional materials and other items.
Flywheel is known for its IPA's but also its cream ale.
"We pitched a Belgian yeast strain in a cream ale to give it a little different taste and people love it," says Hawkins. "We call it Decapitated Monkey it's by far been our best seller."
Their summer seasonal is a sour ale called Updog. Made with dragonfruit, organic rose petal and guave sour, Hawkins said it's a perfectly balanced blend of tart.
Fourth Stop: Nashville, TN: Jackalope Brewing Co.
Jackalope is one of the first female founded breweries in America. Founded by Bailey Spaulding and Robyn Virball, it's been brewing since 2011. Steve Wright joined shortly after that as President and now business partner.
Jackalope's trademark beer is Bearwalker, a maple brown ale.
"It was inspired by Bailey's roots in Vermont," explains Lisa Peterson, Jackalope's Marketing Director. "Pure maple syrup is infused during the conditioning phase and is noticeable from start to finish. Chocolate malts add roasted notes to the flavor and aroma. It is also more highly hopped than most browns to create a balanced, yet complex brew."
Thunder Ann American Pale Ale became the first Jackalope beer to be canned in 2013. In fact, it was the first beer to be canned of any Nashville craft brewery.
"Thunder Ann is named after Davy Crockett's mythical wife – Sally Ann Thunder Ann Whirlwind Crockett, and is brewed with biscuit and honey malts that complement the citrusy American hops," explains Peterson.
If your road trip takes you through Nashville this summer or fall, you can enjoy Lovebird. It's a strawberry raspberry wheat beer that's available through October.
Jackalope outgrew its original brewery in 2018 and opened a new location in Nashville's Wedgewood-Houston neighborhood. Affectionately called "The Ranch," it's open Wednesday to Sunday and has a private events space as well as a dog-friendly patio.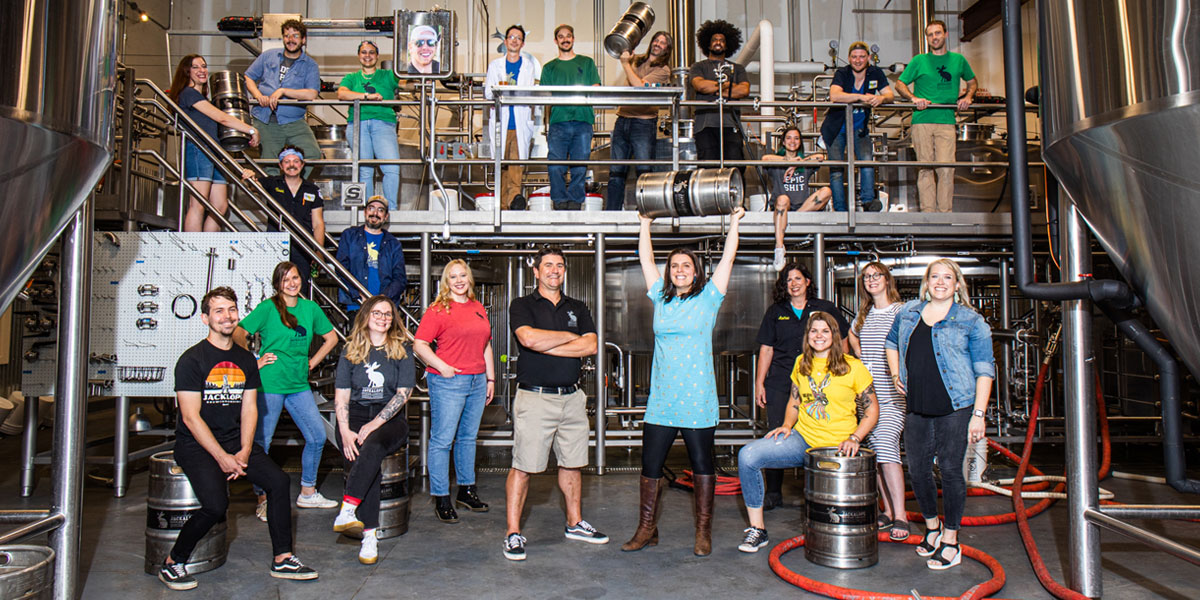 Fifth Stop: Decatur, AL: Cross-Eyed Owl Brewing Co.
Founded by the Atwood family in 2018, Cross-Eyed Owl Brewing Company's name is a nod to British beer culture and their formula for naming pubs like The White Lion, The Drunken Duck or The Green Harpy.
"There are multiple members of the Atwood household who are in love with owls, so that part of the name was an easy choice," explains Shane Sieweke, who works sales at the brewery. "'Cross Eyed' seemed a good fit to give us the fun, whimsical, light-hearted name we were looking for."
Cross-Eyed Owl began as a home brew project. Erin Atwood hosted a BBQ and a Brew Day for her husband, Trey's, birthday.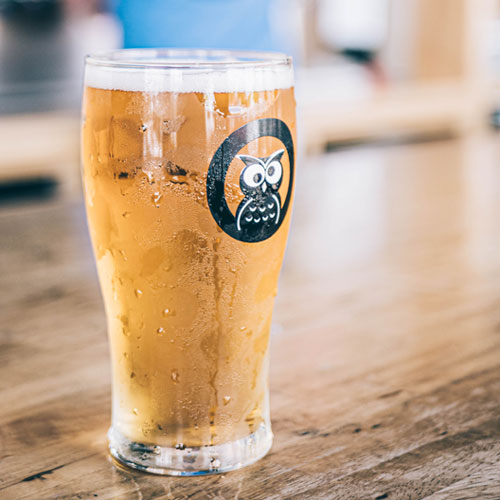 "After several brew sessions, Trey became hooked on his newfound hobby," said Sieweke. "A few years later, Trey was diagnosed with colon cancer. During his chemo treatment, as Trey reflected on the shortness of life he told Erin he wanted to start a brewery to really do something with life for their family."
Trey survived his bout with colon cancer and is doing well.
Cross-Eyed Owl's Cream Ale is their top-selling beer. They also have a popular Berliner Weiss and summer beer, Sassymouth. But beer's not the only thing they sell.
"Unlike any other local brewery, we make craft soda," explains Sieweke. "In the tap room, we always offer four of our rotational beers. This is one of the family friendly things we offer. We also make shandies as a combination of our soda and beer."
Sixth Stop: Mobile, AL: Braided River
Braided River has several year-round beers including Hoppy by Nature, Hang Out and Beer Here Now.
Barely a year old, Braided River aims to produce drinkable, refreshing beer that works with the Gulf Coast lifestyle.
"The term 'braided river' describes the way multiple rivers come together in the Delta," explains David Nelson, founder of Braided River. "They slow down, spread out, and criss-cross with one another, before making their way to the Bay. We know life is at its best when we slow down and connect with one another. By brewing great beer, we provide a point of connection, bringing people together to savor life's moments and celebrate the natural world in Mobile's backyard."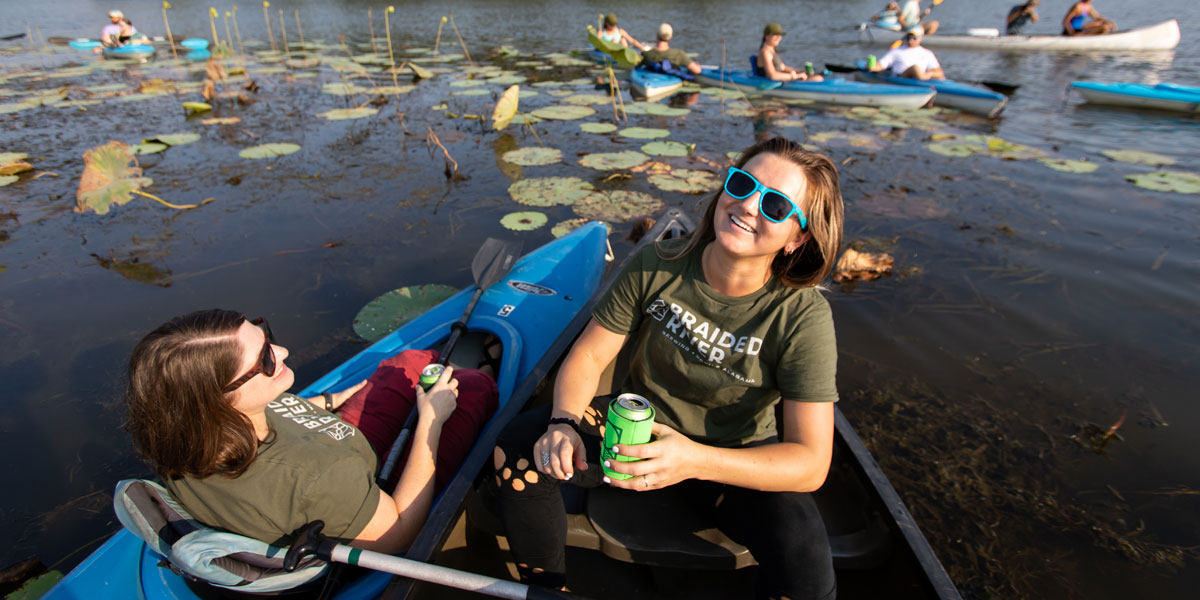 Braided River's facility is in downtown Mobile in an historic brick building with huge windows. The downtown is easily walkable and the brewery keeps several beer on draft year-round.
"We do a run of limited release beers every 3-4 weeks that show a range of styles we're interested in," says Nelson. "We've recently released both a hazy IPA with mango and a New Zealand hopped pilsner. Coming this fall we'll have a white stout and the return of our sour brown ale with raspberries."
Once you hit the end of Interstate 65, you can go east towards Panama City or west towards the beach of Mississippi and the excitement of New Orleans. Regardless of which direction you choose, you can continue your travels with some great cities, stops and craft breweries in either direction.
CraftBeer.com is fully dedicated to small and independent U.S. breweries. We are published by the Brewers Association, the not-for-profit trade group dedicated to promoting and protecting America's small and independent craft brewers. Stories and opinions shared on CraftBeer.com do not imply endorsement by or positions taken by the Brewers Association or its members.