The United States is home to more than 18,000 islands, and for travel lovers, many are worth adding to a list of must-see destinations. Luckily for craft beer enthusiasts, there are breweries located on several of these islands.
Brewing on an island isn't always a sunny vacation, though. For some, it can mean shipping challenges, an increased cost of materials, and relying on tourism season for business. On the other hand, these breweries are creating a unique community gathering place for locals and travelers alike, often adding an unforgettable experience to a trip itinerary.
Low Tide Brewing in South Carolina, for example, offers a biannual Brews Cruise that includes a sunset boat ride with live music and food trucks. Many brewers use their island's local ingredients in their beers and provide breathtaking views to go along with their well-made beverages.
Here's a look at 19 craft breweries located on U.S. islands. Side note: we raise a glass to Kohala Brewery, which was originally included in this list but was sadly lost in the Lahaina fire in August. Much like the famous banyan tree, we hope it will find a way to rise from the ashes and thrive again.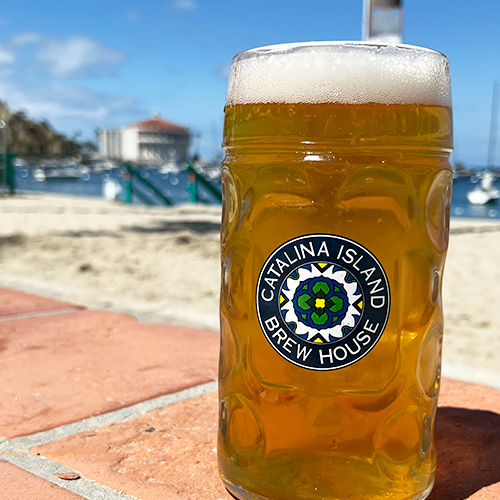 Catalina Island Brew House | Catalina Island
California's Santa Catalina Island, located 22 miles off the coast of Los Angeles, is only eight miles across and 22 miles long. Unique to island living, Catalina Island Brew House often crafts its brews with desalinated seawater and cools barrels with seawater. Beers often include herbs and produce grown right on the island, such as prickly pear, spruce tips, and black sage. In the morning, coffee and house-made pasties can be enjoyed on the ocean-view patio. catalinabrewhouse.com
Mocama Beer Company | Amelia Island
Located in Northeastern Florida on the Atlantic Coast, Amelia Island has 13 miles of scenic beaches. On Fernandina Beach, you'll find Mocama Beer Company. The historical translation of Mocama is the ocean, or more specifically, big water where the sun is born. A wide range of styles include Burial at Sea Baltic Porter, Moder Marzen, Rare Cargo Hazy Double IPA, and Ruby Rosa Fruited Berliner Weisse. mocama.com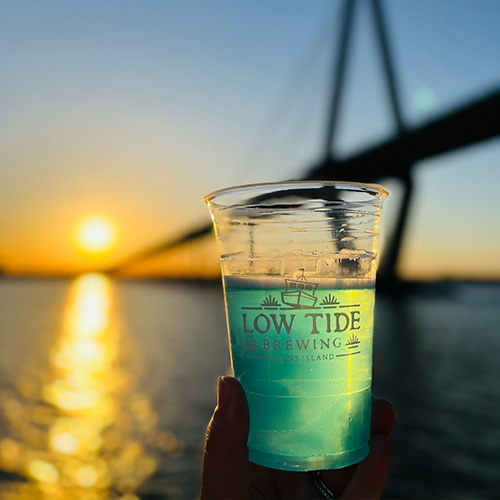 Low Tide Brewing | Johns Island
Johns Island is the largest island in South Carolina, with one-third of it falling within Charleston's city limits. The founders of Low Tide Brewing came up with the name while kayaking around the island in 2012. Beer is created in the spirit of the tides, waves, wind, and solitude of the coastline, such as Tide Chaser IPA, Lagoon Lounger IPA, and Aloha Beaches Pineapple Wheat Beer. lowtidebrewing.com
Mare Island Brewing Co. | Mare Island
Mare Island was the first U.S. naval shipyard on the West Coast. Now it's home to Touro University California and many businesses including Mare Island Brewing. The Coal Shed location is on Mare Island in Vallejo, Calif., accessible by ferry and car and complete with a waterfront beer garden. The Ferry Taproom is located at the Vallejo Ferry landing on the mainland, and First Street Taphouse is in nearby Benicia, Calif. mareislandbrewingco.com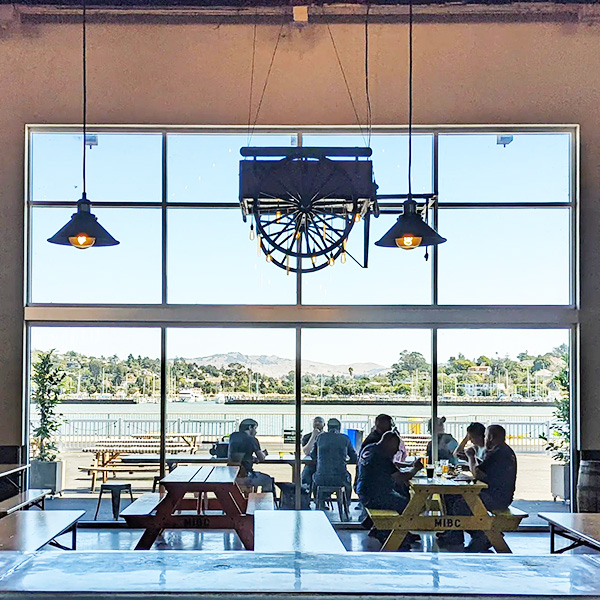 Island Hoppin' Brewery | Orcas Island
Orcas Island is the largest of Washington state's San Juan Islands, known for kayaking, whale watching, and hiking. Take the ferry off the Northwest coast to get to Island Hoppin' Brewery with seven beers on tap, including Dockside Schwarzbier, Elwha Rock IPA, and Emerald Isle Dry Irish Stout. islandhoppinbrewery.com
Bad Martha Farmer's Brewery | Martha's Vineyard
Just seven miles off the coast of Massachusetts is the iconic island of Martha's Vineyard with six small towns and more than 120 miles of shoreline. At Bad Martha's Farmer's Brewery, the beer offers a glimpse of a paradise where you can kick off your boat shoes and leave your off-island worries behind. Beers include Martha's Vineyard Extra Special Bitter, Mischievous Mermaid New England IPA, and Vineyard Summer Ale. badmarthabeer.com
Kauai Island Brewing Co. | Kauai
Kauai, also known as the Garden Isle, is famous for its natural beauty, lush landscape, and waterfalls (Jurassic Park was filmed there). Kauai Island Brewing Co. is the world's westernmost brewery, offering up Captain Cook's IPA, Wai'Ale'Ale Golden Ale, Leilani Light, and more. The team brews with local ingredients such as passion fruit and taro. The beers pair perfectly with the ocean- and Hawaiian-inspired food menu made with locally sourced ingredients: ahi poke, beer-battered fish tacos, fish & chips with papaya-chili tartar sauce, and Hawaiian-roasted Kalua pork sandwich with house-made fries served with sweet guava-chili ketchup. kauaiislandbrewing.com
Barrier Island Brewing | St. Simons Island
St. Simons Island is off the coast of Georgia and is the largest barrier island in the Golden Isles. The goal of Barrier Island Brewing is to bring its love for Coastal Georgia to the craft beer community. A wide variety of beers are brewed, including Port Side Porter, Pelican Spit Pilsner, Beachview Blonde, and Golden Ray IPA. bibssi.com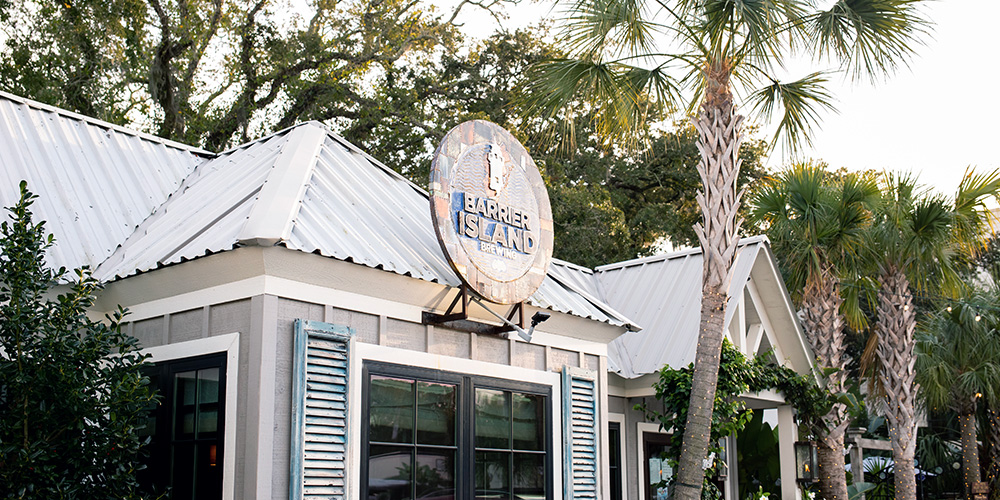 Outer Banks Brewing Station | Outer Banks
With more than 100 miles of beaches in the Atlantic Ocean, North Carolina's Outer Banks is America's first seashore and one of the country's first colonies. Outer Banks Brewing Station is a wind-powered brewery with a wide variety of styles, from Lemon Grass Wheat Ale to a Belgian Strong Ale. Here you'll find Carolina specialties such as barbecue with house-made slaw, shrimp & grits, and hushpuppies, along with wings, burgers, bratwurst, and jackfruit birria tacos.obbrewing.com
Kodiak Island Brewing | Kodiak Island
Kodiak Island is the second-largest island in the U.S., located off the coast of Alaska and home to the Kodiak National Wildlife Refuge and thousands of Kodiak brown beers.
Located in downtown Kodiak, Kodiak Island Brewing makes Trip Advisor's top five things to do there. Beers on tap are a mix of flagships and rotating options, such as Snowshoe Pale, North Pacific Scottish-Style Ale, and Termination Point Spruce Tip IPA. kodiakbrewery.com
Islamorada Beer Company | Islamorada
Located in the Florida Keys, Islamorada is a go-to spot for fishing and boating. Islamorada Beer Company's brews reflect that love of sport fishing with Go Fish American Lager, No Wake Zone Coconut Key Lime Blonde Ale, Czech Your Bait Czech Pilsner, Angler House Red Ale, and more. Since it's also a distillery, there are also cocktails on tap and a frozen Key lime pie cocktail. Islamoradabeerco.com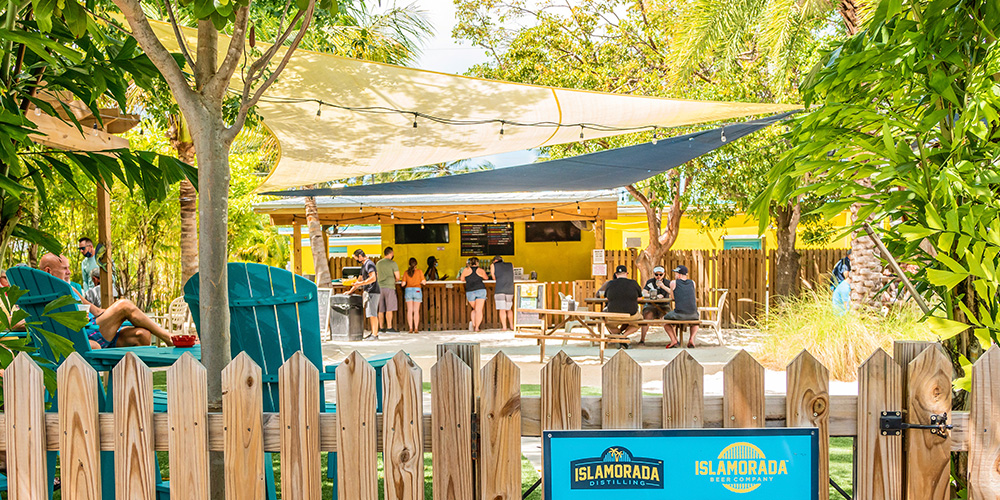 San Juan Island Brewing Company | San Juan Island
San Juan Island is the second-largest island off the coast of Northwest Washington, just below Orcas Island. The goal of San Juan Island Brewing Company was to create a place where islanders could gather and connect as a community. Pizzas and burgers are served alongside Harbor Hefeweizen, Outer Island IPA, and Sundew Summer Ale. sanjuanbrew.com/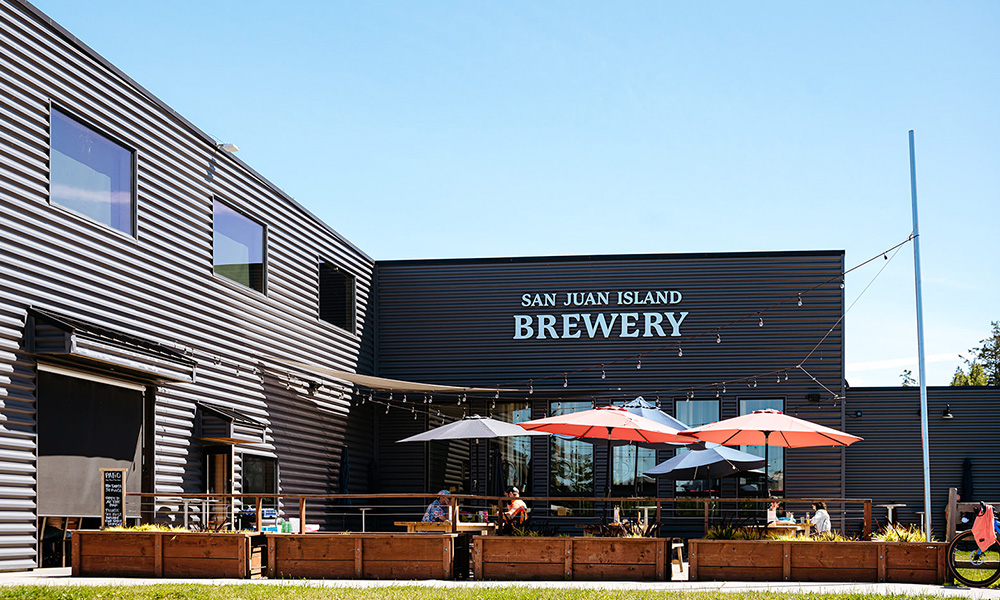 Waterfront Brewery | Key West
The southernmost island in the Florida Keys is Key West, just 90 miles north of Cuba. It's known for beautiful scenery, the home of Ernest Hemingway, Dry Tortugas National Park, and a bustling nightlife. On Waterfront Brewery's rotating beer list, you'll see brews such as Island Life Lager, Passionfruit Shandy, and Lighthouse Lager. Island specialties include a mahi-mahi sandwich, seafood ceviche, locally smoked fish dip, conch chowder, fried shrimp, and of course, Key lime pie. thewaterfrontbrewery.com
Padre Island Brewing Company | South Padre Island
Padre Island is in Southern Texas along the Gulf of Mexico and is the longest barrier island in the world. Since fishing is a favorite island pastime, at Padre Island Brewing, the kitchen team will actually cook your catch—broiled, fried, or blackened. Or you can just enjoy their extensive menu of Gulf Coast crab cakes, beer-battered shrimp, filet of snapper, seared ahi tuna, and more. Pair your choice with Tidal Wave Wheat or Padre Island Pale Ale. pibrewingcompany.com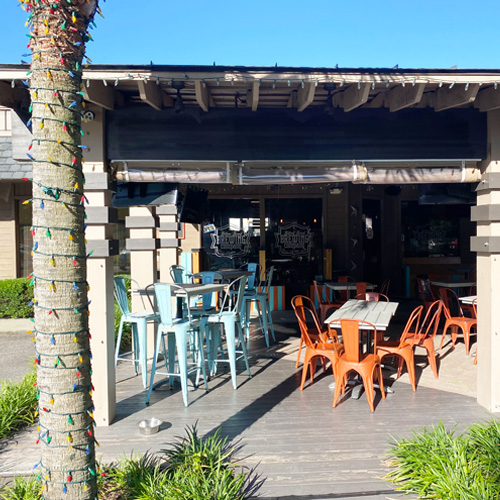 Hilton Head Brewing Company | Hilton Head
Famously known for golf courses, Hilton Head in South Carolina has 12 miles of beaches and plenty to do. Mainstay brews at Hilton Head Brewing Company include Tropical Lager, Folly 2X DIPA, and Crab Pilsner. For eats, the brewery offers local snacks such as boiled peanuts, crab & artichoke dip, IPA beer cheese dip, and burritos. hhbrewingco.com
Hilo Brewing Company | Island of Hawai'i
The island of Hawai'i, also known as the Big Island, is the largest of the Hawaiian islands and home to Hawai'i Volcanoes National Park. Many of the beers at Hilo Brewing Company, located on the east side of the island, are in honor of things that are special to the Island of Hawai'i. Mauna Kea Pale Ale is named after one of Hawaii's mountains, Volcano Pale Ale for the active volcanoes on the island, and Hawaiian Crow Porter for the Alala-Hawaiian crow. hilobrewing.com
Galveston Island Brewery | Galveston Island
About 50 miles southeast of Houston is Galveston Island, a Gulf Coast barrier island with 32 miles of beaches. A top tourist destination is Galveston Island Brewery, just one block away from the beach. It brews the "Official Beer of Galveston," Tiki Wheat, along with Flip Flop Pale Lager, Mardi Gras Blonde, and Loggerhead Lager, of which a portion of proceeds benefits the Gulf Center for Sea Turtle Research, helping to protect sea turtles and their vital habitats. galvestonislandbrewing.com
Alameda Island Brewing Company | Alameda Island
Alameda Island is in the San Francisco Bay Area and just over a 20-minute ferry ride away from San Francisco. Here you can enjoy shoreline parks and picnic areas, views of the San Francisco skyline, and more. At Alameda Island Brewing, you'll find a vast array of beers, including some non-traditional and Filipino-inspired offerings, such as a Pilsner with Calamansi (a Filipino citrus fruit) and a Pineapple Saison. alamedaislandbrewing.com
Hana Koa Brewing Co. | O'ahu
Hawaii's capital, Honolulu, is located on the island of O'ahu, home to popular beaches, surfing, and a bustling nightlife. Along with a rotating tap list, Hana Koa Brewing Co. offers a full bar serving Mai Tais, Lilikoi Mules, and house margaritas. Bites include house pickles spiced with Hawaiian chili peppers, loco moco, panko fried tofu with ginger sesame sauce, and Hawaiian sweet bread French toast for brunch. hanakoabrewing.com
CraftBeer.com is fully dedicated to small and independent U.S. breweries. We are published by the Brewers Association, the not-for-profit trade group dedicated to promoting and protecting America's small and independent craft brewers. Stories and opinions shared on CraftBeer.com do not imply endorsement by or positions taken by the Brewers Association or its members.