In a few short years, Zahra Tabatabai has turned a series of homebrewing trials into a brand garnering rave reviews, awards, and national media coverage. The beer industry, restaurant industry, and greater community of beer drinkers seemingly can't get enough of Back Home Beer's deftly brewed, complex yet easy-drinking offerings, embracing Middle Eastern flavors and ingredients.
Since launching in the fall of 2021 in Brooklyn, N.Y., the brand's presence has blossomed all over New York City as well as Washington D.C., but for now, remains a one-person operation. Back Home's momentum is little surprise, however, considering how dedicated Tabatabai is to craft beer, her Iranian heritage, and building community.
"One time when [Tabatabai] dropped off some cases, people at the bar were clapping for her," says Christa Sobier, owner of Brooklyn beer bar and bottle shop Beer Witch. "I said to her, 'Is that normal?' She laughed and said, 'No!' This is how much people love her. When there's a new release of her beer, people are outside waiting for us to open so they can get some."
Back Home may have launched in 2021, but its roots stretch decades into the past. Born from Tabatabai's mission to recreate her grandfather's homebrewed beer so treasured by her family, Back Home brings to life not only Iranian and Middle Eastern ingredients and flavors, but the communal joy of brewing beer and bonding with one another over beer, a joy taken away in Iran after the revolution in 1979, after which alcohol was banned.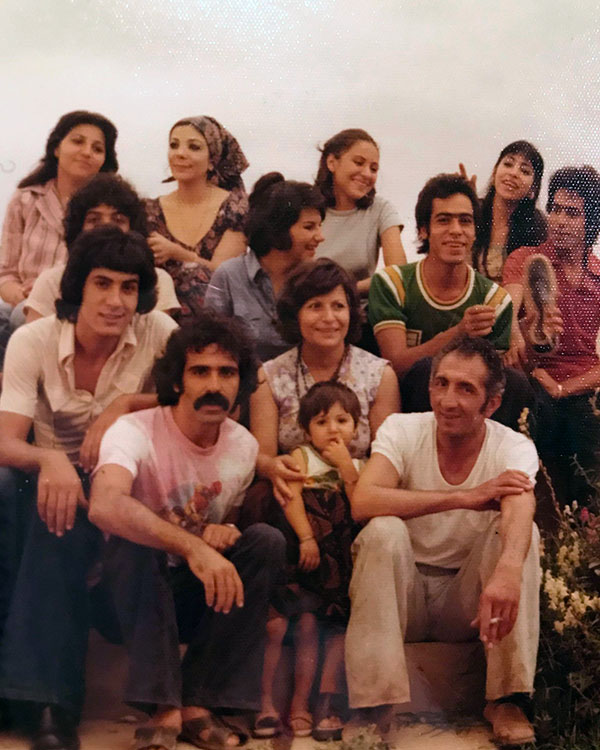 Back Home's story—which is also Tabatabai's story—begins before this revolution. Her father grew up in Tehran and her mother in Shiraz; both came to the United States for university and had intentions of returning to Iran to get married and have a family there. The revolution took place while they were still students in America, and the Iran they had known drastically changed.
"They outlawed so much," Tabatabai says. "Dancing, playing music outside, alcohol…women had to be covered. It went from being a completely free country to being so oppressed, with so many rules and regulations on people's bodies and freedoms." Her parents started their family in the States, settling in Atlanta, with special attention paid to maintaining Iranian culture and traditions in their home. Tabatabai's grandparents immigrated to the States as well. Her grandfather died when she was a toddler, and she got to know this beloved family member through stories.
"He was this larger-than-life man everybody knew in the community; he was the beer maker and the winemaker," Tabatabai says. "He hosted people at his house and would try these different concoctions. They were in southern Iran, where the weather is very hot and humid. It's great for growing cherries and oranges and lots of fruits and herbs. He would use things from his garden in his beer and wine." It wasn't until a few years ago, though, that her grandmother specifically commented on wishing she could enjoy his ab jo (Persian for beer) again.
Past Becomes Present
The wish became a sort of challenge for Tabatabai. Brooklyn-based by this point, Tabatabai was a freelance journalist who had worked at ESPN. She had no professional connection to beer, but the connection she did have is perhaps more important. Not only did she like to drink beer and visit breweries on her travels, but she understood the accessibility of the beverage and the way it was loved around the world across cultures.
"At home, I don't remember there ever being liquor or wine. It was always beer for my family. And that's kind of why I love beer, too. It's accessible and anyone who is poor or rich, it doesn't matter…anyone can drink beer. Black, white, Asian; everybody loves beer. It's consumed most widely in the world in terms of alcohol."
How, though, does a seasoned journalist dive into the complexities of brewing in order to bring a relative's memories to life? One important skill set helped: Tabatabai had grown up joining her relatives in the kitchen, learning to craft different Iranian dishes with love and how to use various Middle Eastern ingredients. The relationship with flavors, aromas, and how different components work together provided a valuable foundation for brewing. Building on that, Tabatabai watched YouTube videos, picked up classes at NYC homebrew shop Bitter & Esters, and joined Brooklyn homebrewing club Brewminaries. As Tabatabai continued to learn, hone her craft, and tinker with recipes, she'd share the fruits of her labor with family.
"They would tell me if they loved it or hated it or what tasted familiar or what I could change about it," she recalls. "It was a really a fun project. It would bring up stories about my grandfather. My grandmother would taste something that would ignite a memory."
At first, Tabatabai simply valued this bonding her beer fueled, but as brewers began to try and commend her barberry sour through beer swaps, her confidence began building. And the desire to embrace Middle Eastern ingredients in beer evolved into the realization that this brewing hobby could be an impactful business, prompting Tabatabai's decision to go all in on Back Home Beer in 2021.
An Expanding World
It's no secret that the craft beer industry has long been lacking in inclusivity, diversity, and representation. As Tabatabai points out, beer is universal, yet the people making craft beer in the United States too often don't reflect this—therefore neither do the actual ingredients and flavors in the beer. As the industry starts moving forward with more inclusive hiring, it makes sense for it to open up with beer styles and flavor profiles, too, fully welcoming all people with all palates. Fixating on North American and Eurocentric styles for nearly all of American craft beer's lifespan has resulted in Middle Eastern flavors being absent from the conversation here.
Some responses Tabatabai has received when people find out about Back Home Beer is the immediate assumption that this is "Muslim beer," and questions as to how such a thing can exist when Muslims don't consume alcohol. Back Home Beer isn't affiliated with religion, and reactions like these stem from sweeping generalizations. In fact,, as Tabatabai notes, people in the region surrounding what is today Iran invented beer. The earliest evidence we have of brewing beer is from over 2,500 years ago in modern-day Iraq and Iran. Forty years of an alcohol ban in Iran and a lack of diversity in American craft beer cannot erase thousands of years of brewing tradition; this is what Back Home Beer highlights.
Most reactions to Back Home are overwhelmingly positive, though, with people of Middle Eastern heritage embracing familiar flavors right alongside others who embrace learning about these flavors. Tabatabai says the intention with Back Home has never been to only fulfill a small niche, to only be "that Middle Eastern beer." Rather, she is exploring classic craft styles and expanding on what they can be, making lagers, goses, and IPAs stand out with the inspiration of Middle Eastern ingredients.
A crisp, refreshing lager is made just a bit complex with the addition of Persian blue salt, an idea born from Tabatabai's father and other people she noticed in the Middle East sprinkling salt into their lagers. Just as with food, she says, it works to enhance the beer's other flavors, like the grain's sweetness. A gose, too, becomes more layered with sumac and sour cherries—reflecting the wild ones that grow throughout Iran and the tradition of eating them, salted, with rice. The gose marries that tartness, sweetness, and saltiness with a hint of savoriness from the sumac. These beers pair as well with Middle Eastern food as with any other cuisine and can be enjoyed anywhere by anyone. They're a natural teaching tool for introducing beer drinkers to these ingredients, whether they've experienced them before in food or not.
Ahead of the Pack
Back Home has captivated craft beer connoisseurs while simultaneously breaking out of the craft beer pack to appear on the menus of not only Middle Eastern restaurants, but Korean, Mexican, American farm-to-table, and oyster-and-cocktail spots. Co-founder of in-demand Brooklyn destination Cool World, Julian Brizzi was turned onto Back Home by Ally Marrone, the bar director at sister restaurant Grand Army Bar, and says they're proud to serve the brand at both spots. At Dame, an English seafood eatery in Manhattan where you'd be lucky to snag a table, manager Megan Higgins calls Tabatabai "an absolute master at her craft," saying "the Sumac Gose strikes a perfect balance of tangy and fruity, with really subtle hop aromas and a slightly higher saline streak than you would find in most goses. [It] pairs really well with Dame's staple dishes…but honestly, I would crush more than one sitting outside on a warm spring day."
For Christopher Struck, beverage director at NYC- and DC-based Lebanese restaurant ilili, Back Home's message is as compelling as its beer's quality. "Back Home Beer is a good beer that does good for our society by offering better representation and diversity, both at and on the table. Zahra has given us something compelling to drink at a time when looking to the past may be comforting, but looking to the future will require something radically different."
With this upward trajectory, extending both within craft beer and beyond in the hospitality and dining scenes, what does the future look like for Back Home Beer? Since launching, Tabatabai has been contract brewing at Staten Island's Flagship Brewing Co., a relationship she treasures for how hands-on she can be but also how she can trust her beer is being cared for whenever she can't be there. As strong as the partnership is, though, recent media recognition and demand from restaurants, bars, and retail have made Tabatabai think about next steps. The founder has begun raising money with the plan of securing a production facility in Brooklyn, where, importantly, there will be a taproom.
"There will be street food from Iran that will go well with the beer…and it will just be a place for the community to come. It's tough right now because so many people reach out like, 'Where can I get the beer?' and I have to direct them everywhere else. Which is great, but I also want to be able to say, 'Come to me. You have a place to come at Back Home.'"
Until then, Tabatabai creates community even without a physical space, through each beer and her own passion for highlighting its ingredients. Sobier says the first time Beer Witch tapped Persian Blue Lager, the Back Home founder came to the bar with homemade roasted pistachios with lemon and sumac, sharing with each patron.
Beer lovers can simply crack open a can of Back Home beer to not only experience a delicious beverage, familiar in its well-executed style and exciting in its fresh flavors—it's also an ode to memories, family, and freedom, and an instant emotional and sensory journey back home.
CraftBeer.com is fully dedicated to small and independent U.S. breweries. We are published by the Brewers Association, the not-for-profit trade group dedicated to promoting and protecting America's small and independent craft brewers. Stories and opinions shared on CraftBeer.com do not imply endorsement by or positions taken by the Brewers Association or its members.