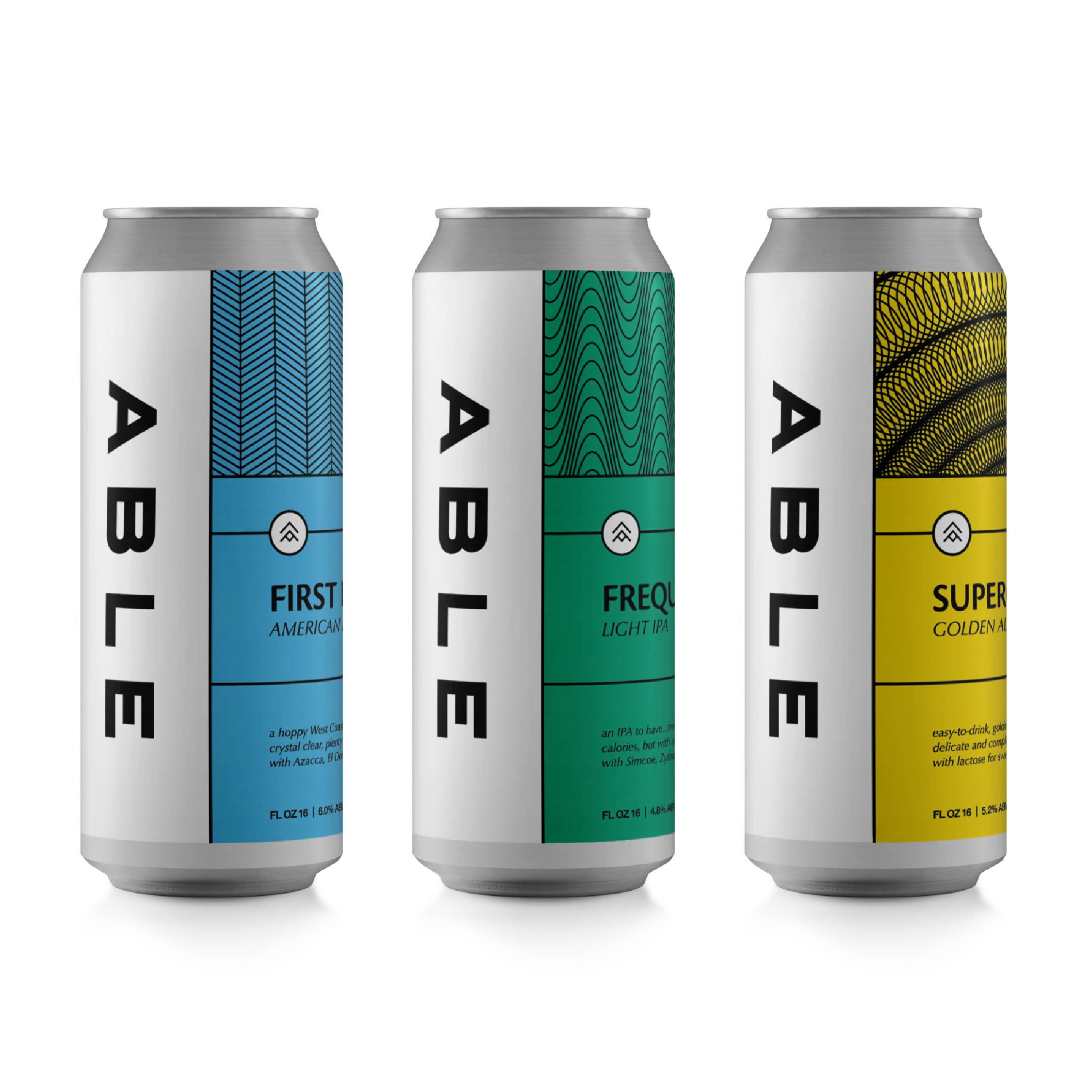 Able Flagships Now in 16 Oz Cans Plus New Light IPA On Tap for Summer
First Light and Supergiant Get Supersized and Frequency (Also 16oz) Hits the Taproom and Shelves
Minneapolis (May 13, 2020) –Able Seedhouse + Brewery in Northeast Minneapolis is showing off a new look for its trusty flagships First Light and Supergiant. Both are now available in 16-ounce cans along with the newest addition to the Able lineup: Frequency. This light, lower-calorie IPA is the perfect backyard sipper for grilling and chilling on a sunny afternoon.
"I took some new school hop varieties and melded their flavors of grapefruit, orange, berry, melon, papaya, and mango with a light, fresh maltiness," says Able Head Brewer Bobby Blasey. "It's got just the right amount of bitterness to accompany all types of summer foods and balanced enough to be enjoyed all alone.  Filtered to be nice and clear, I think it's gorgeous in the glass and tastes just crazy refreshing."
Frequency is a straw-colored IPA with 4.8% ABV and 12 IBU. Stop by Able's pick-up window to stock up onFrequency, First Light, Supergiant or any of your favorite Able beers. Frequency joins Able's flagship 16-ouncers on local liquor store shelves starting Monday, May 18th.
For samples, interview opportunities or additional details, please contact Kelly Plummer at
651-206-9852 or kelly@superstarpr.com.
ABLE Seedhouse + Brewery
Founded in 2015, Able Seedhouse + Brewery is a community of creative, hard-working and thoughtful people dedicated to building locally inspired and ultra-fresh beer. Every concept, piece of art, package, design, and beer poured at Able are the result of a very curious group of people and the community supporting them. ABLE is located in the Arts District of Northeast Minneapolis at 1121 Quincy St NE. ABLE is also home to Animals Barbeque Company. To learn more, go to: www.ablebeer.com.
BE YOU. BE ABLE
###
Contact Info
Company: Able Seedhouse + Brewery
Contact: Kelly Plummer
Email: kelly@superstarpr.com