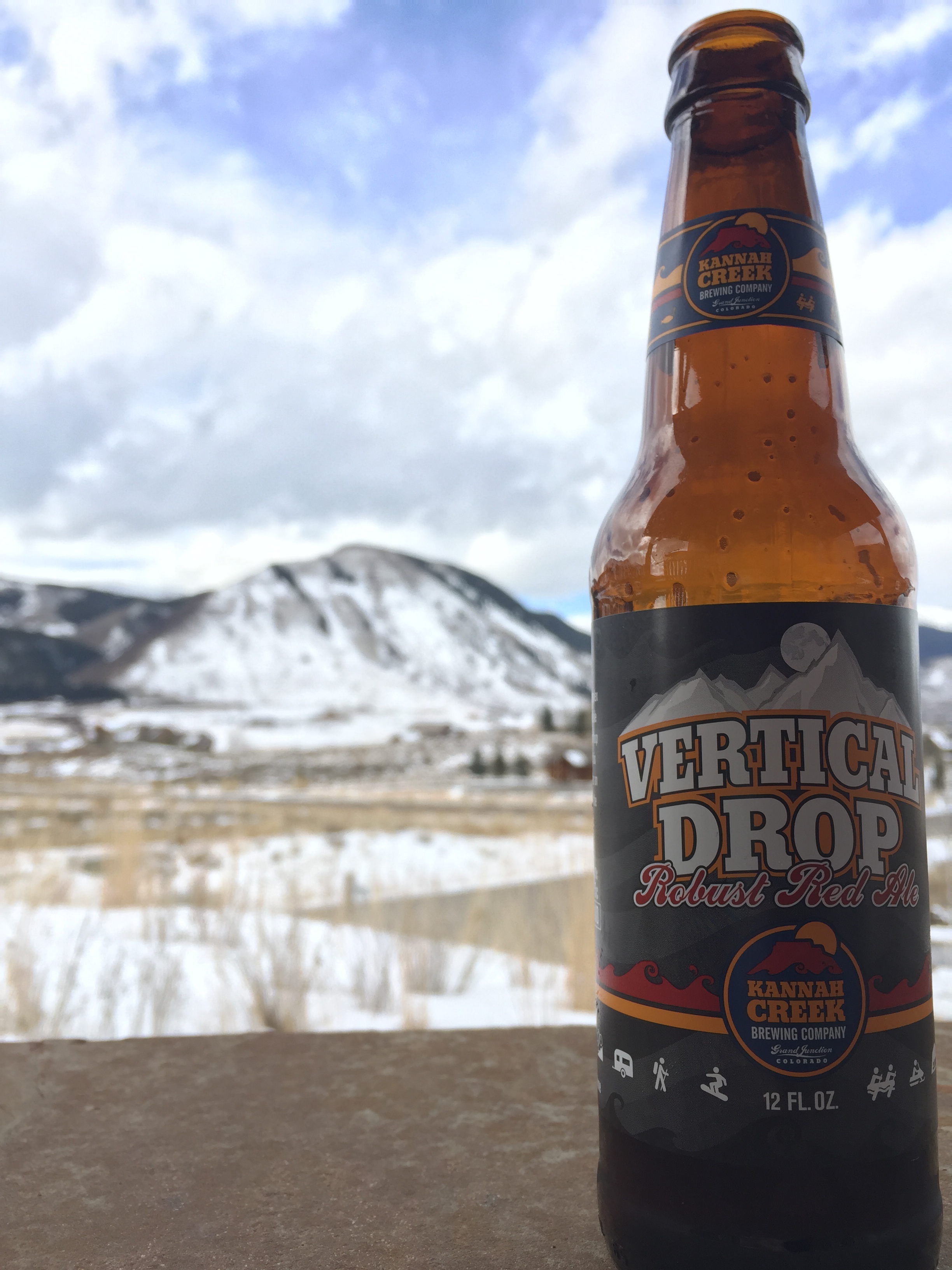 Be Bold, Enjoy the Ride with New Winter Release
Be Bold, Enjoy the Ride; the motto for Kannah Creek Brewing Company's newly released winter seasonal Vertical Drop Robust Red Ale.  An elaborate malt driven ruby red ale balanced with a light hop bitterness derived from American and English hops.  Vertical Drop is what you want and expect from a winter seasonal but with some weight to it.
"The complex grain bill keeps your palate guessing on the malt side of the beer. While the English hops, used as a transition between the American bittering and aromatic hops, create a nice round balance," describes Head Brewer, Matt Simpson. "Plus this beer has a beautiful deep red, garnet color, about as dark as you can get before entering a brown, which only adds to it being a perfect winter companion."
Vertical Drop is now available in 6-packs and on draft throughout Colorado through January 2016. This winter seasonal joins the ranks of Kannah Creek's other year round offerings including the Lands End Amber, Broken Oar IPA and Standing Wave Pale Ale.
Find the Vertical Drop Robust Red at your local liquor store by visiting Kannah Creek's Beer Locator. For more information on Kannah Creek Brewing Company visit http://www.kannahcreekbrewingco.com. You can also follow Kannah Creek on Faceboook at www.facebook.com/KannahCreekBrewingCompanyor follow on Twitter or Instagram @KannahCreekBrew.
About Kannah Creek Brewing Company
Starting as a small brewpub in 2005 in Grand Junction, CO., Kannah Creek Brewing Company has now grown to include a second restaurant and distribution facility taking Kannah Creek's bottled beers throughout Colorado. Focusing on producing an approachable line up of award winning American craft ales designed to deliver clean flavors rooted in quality and tradition. The mainstay bottled lineup includes Lands End Amber, Standing Wave Pale Ale, Broken Oar IPA accompanied by the seasonal lineup of Vertical Drop Robust Red, Crossed Irons Irish and Island Mesa Blonde.
Contact Info
Company: Kannah Creek Brewing Company
Contact: Katlin Birdsall
Email: katlin@kcbcgj.com