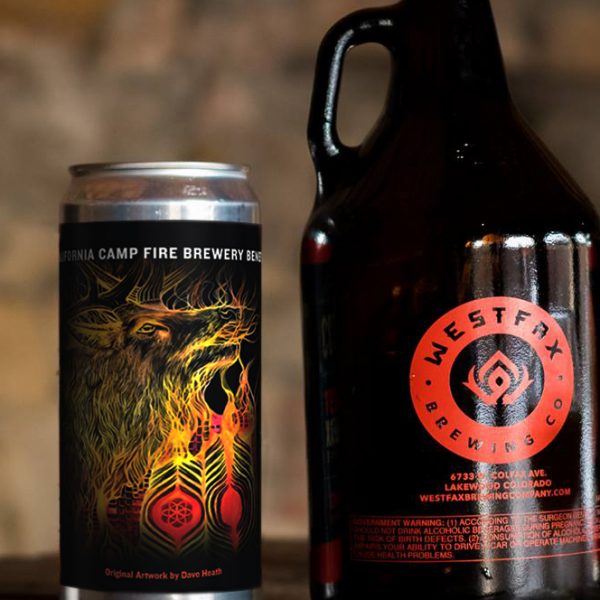 8 Colorado Breweries Partner for CA Camp Fire Benefit
Lakewood, CO – WestFax Brewing located at 6733 West Colfax Avenue in Lakewood, CO will host a California Camp Fire Brewery Benefit event along with 7 other Colorado breweries. The event will be held on Tuesday December 11th from 4-8PM where a limited edition crowler can will be released for purchase with beers from each brewery involved. The can artwork was painted as an homage to the tragic California Camp Fire by local Colorado artist David Heath and was donated for this event's cause. All the breweries involved (WestFax Brewing, Great Divide Brewing, Copper Kettle Brewing, Joyride Brewing, Westbound & Down Brewing, Hogshead Brewing, Four Noses Brewing and Woods Boss Brewing) are each donating 30 crowlers worth of beer to be sold in order to raise funds at the WestFax taproom during the event. Using a Limited Distribution Agreement, WestFax hopes to sell all of the 250 crowlers during the benefit, and all proceeds will go towards CA fire relief efforts.
Each brewery will be donating one type of beer in their respective crowlers for purchase during this event for $12 each. There will also be an art auction by local artist Noelle Phares, whose parents'/childhood home was destroyed in Paradise, CA during the fire.
"The hope is that people and craft beer lovers from all around Denver will come out to this event, share a pint with some people who've been impacted, and help us support those affected by this tragedy. I feel that it's our responsibility as a brewery culture to use our platform to help those in need as much as we can. So, when some close friends of mine were affected by these fires I knew we had to act." – Brian Haitz, Marketing & Operations Manager at WestFax Brewing Co.
Contact Info
Company: WestFax Brewing Company
Contact: Brian A Haitz
Email: brian@westfaxbrewingcompany.com